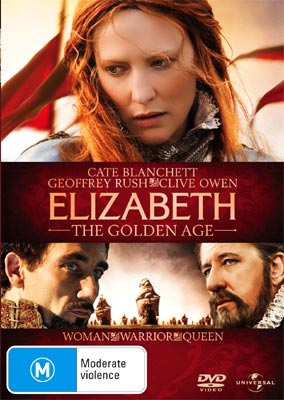 Starring: Cate Blanchett, Geoffrey Rush, Clive Owen, Jordi Molla
Director: Shekhar Kapur
Rated: M
Genre: Drama

Following the highly successful release of the Academy Award winning biopic masterpiece Elizabeth, in 1998, director Shekhar Kapur returns with the stunning sequel Elizabeth: The Golden Age.

Cate Blanchett reassumes her critically acclaimed role and leads an all-star cast starring Australias Geoffery Rush, reprising his role as Sir Francis Walsingham, and Abbie Cornish, delivering a strong first-time performance as Elizabeth Throckmorton.

Set against the backdrop of religious fanaticism and political uncertainty of late 16th century Europe, this historical thriller continues 15 years on from the events of Elizabeth. Woven with treachery and romance, it tells the story of one woman's crusade to control love, crush enemies and secure her position as a beloved icon of the western world.

As with the first instalment, Shekhar Kapur takes the audience on an authentic journey with a tale full of conflict, mystery, love, desire, betrayal, war and empowerment.

The feel of sheer theatre is captured through the use of amazingly detailed costumes, rich visual elements and stunning backdrops.

Synopsis
The Golden Age of England, a time where on the surface, romance and peace reign free. But behind the facade, Queen Elizabeth I is battling to overcome the struggles of holding on to her throne.As Elizabeth is challenged and prepares to go to war with Spain, she must contend with her undying love for Raleigh, a man she cannot have due to her position of power, and a society whose values are quickly changing for the worse. She must fend off treachery and an intricate assassination attempt in order to achieve victory. A victory that must come at any cost. Elizabeth: The Golden Age is the epic tale of what one woman must go through in order to stamp her legacy in history.

DVD BONUS MATERIAL
Feature Commentary with Director Shekhar Kapur
Deleted Scenes
The Reign Continues: Making Elizabeth: The Golden Age
Commanding the Winds: Creating the Armada

"It's a full-scale star performance in every sense...and I wouldn't be surprised if, like Helen Mirrenlast year, Blanchett walks away with an Elizabethan Oscar."
- Film Journal International.

www.elizabeththegoldenage.net

Price: $39.95
Alexandra Byrne Elizabeth The Golden Age Interview: www.femail.com.au/alexandra-byrne-elizabeth-the-golden-age.htm

ELIZABETH: THE GOLDEN AGE DVD is now available.