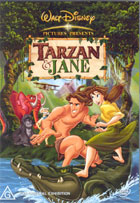 The legend of Disney's Tarzan continues in Tarzan & Jane, an all-new movie packed with action, suspese, toe-tapping new music and all your favourite characters!
As Tarzan and Jane celebrate their first year of life together in the jungle, Jane searches for the perfect gift for Tarzan, even enlisting the help of the hilarious Terk and Tantor. As they recall the many adventures they've shared so far, Jane realizes what an exciting year it's been in the jungle: from encounters with old friends and new foes to outsmarting prowling panthers to surfing the lava down an erupting volcano. Even though they come from different worlds, Tarzan and Jane discover that as a team, they can't be beat!
Featuring a duet of the hit song "Two Worlds," by Phil Collins and a special guest, Disney's Tarzan & Jane swings with fun, emotion and adventure the whol family will love.
Special Features:
Games - Build your own treehouse & Tarzan and Jane's adventure builderMusic Video - Mandy Moore "Singing to the song of life"
Run Time 72 mins
Rated: G
Review:
Young and old will love to join Tarzan & Jane through the enchanted and dangerous forest, sharing exciting adventures of the past year including lava & wild animals.
Order Now from CD Wow