Donna Hay Fast Fresh Simple Interview
Donna Hay's new book delivers more than 160 fast recipes, fresh flavours and simple standbys for every day and any occasion.

Time is of the essence and so to is the hunger for fast, fresh, simple and appealing meals. Donna has distilled her vast repertoire of short-cuts, tricks of the trade and ingenious ways to make simple, great-tasting and looking food into one break-through cookbook. With a section devoted just to achieving her signature style, Donna makes it easy to present amazing-looking food and the perfect table setting to go with it.

fast
The 'fast' chapter offers sweet and savoury options for cooks who need to deliver big results in the barest minimum of time. Home at six and dinner on the table by six-thirty? Donna's recipes are bound to save the day.

fresh
In the 'fresh' chapter, Donna looks to the classics and explains how to deliver all the flavour without the fuss of time-consuming preparation. Donna reinvents the old favourites and gives them a fresh edge, from the new Caesar salad to her chic and easy version of steak and three veg.

simple
If there is a short cut, trust Donna to have found it. In the 'simple' chapter, she reveals how to take fresh produce and a few store-bought standbys and turn them into a collection of recipes that will become essential weapons in your culinary arsenal.

No Donna Hay food journey is complete without the tips, hints and know-how to pull everything together. We eat with our eyes first and Donna knows the way to our hearts through images and presentation that lift smells, texture and tastes off the page and onto our plates.

fast, fresh, simple. is not just a cookbook, it's Donna Hay's antidote to today's whirlwind life. With Donna's help you can rediscover entertaining and cooking as the wonderful, relaxing shared adventure it's meant to be. If you buy just one cookbook this year, make sure it's fast, fresh, simple. It could just change your life.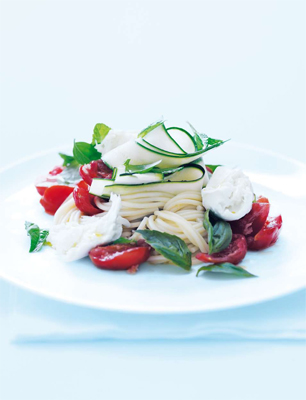 Summer Tomato Pasta
Serves 2.

Ingredients
200g spaghetti
300g cherry tomatoes
2 zucchini, sliced with a vegetable peeler
1 tablespoon lemon juice
1 tablespoon olive oil
1 clove garlic, crushed
? cup basil leaves
? cup mint leaves
sea salt and cracked black pepper
1 buffalo mozzarella, torn into pieces

Method
Cook the pasta in a large saucepan of boiling salted water for 8-10 minutes or until al dente. Drain.
While the pasta is cooking, make an incision in each tomato using a small, sharp knife. Tear in half, squeeze out the seeds and discard.
Toss the pasta with the tomato, zucchini, lemon juice, olive oil, garlic, basil, mint, salt and pepper.
Divide the pasta between serving plates and top with mozzarella to serve.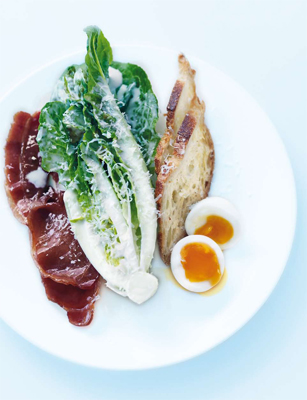 The New Caesar Salad
Serves 4.

Ingredients
8 rashers bacon, rind removed
¼ cup (60ml) maple syrup
2 baby cos lettuces, trimmed and halved
8 long thin slices baguette, toasted
4 eggs, soft boiled and peeled
¼ cup (20g) finely grated parmesan

Caesar dressing:
1 egg
2 anchovy fillets
1/2 teaspoon Worcestershire sauce
1 teaspoon lemon juice
3/4cup (180ml) vegetable or grape seed oil

Method
Preheat oven to 160°C.
Brush the bacon with maple syrup, place on a baking tray lined with non-stick baking paper and bake for 15 minutes or until golden.
To make the dressing, place the egg, anchovy, sauce and lemon juice in a food processor and process until combined. With the motor running, gradually add the oil and process until creamy. Add water to adjust the thickness.
To serve, place ingredients on plates.
Top with dressing and parmesan.






Cheat's Chocolate Fondant
Serves 4.

Ingredients
¼ cup (50g) plain flour, sifted
1/2 cup (55g) icing sugar, sifted
3/4 cup (90g) almond meal
2 eggwhites
100g butter, melted
160g dark chocolate, melted
4 small squares dark chocolate, extra

Method
Preheat oven to 150°C. Place the flour, sugar, almond meal, eggwhites, butter and melted chocolate in a bowl and mix well to combine.
Spoon half the mixture into 4 x ½-cup capacity (125ml) lightly greased dariole moulds. Divide the extra chocolate squares between the moulds and top with the remaining mixture.
Bake for 20-25 minutes or until cooked but soft in the middle.
Stand in tins for 5-7 minutes before turning out.









www.donnahay.com

At the age of eight, Donna Hay skipped into a kitchen, picked up a mixing bowl and never looked back. She later moved to the world of magazine test kitchens and publishing, where she established her trademark style of simple, smart and seasonal recipes all beautifully put together and photographed. It is food for every cook, every food lover, every day and every occasion. Her unique style turned her into an international food-publishing phenomenon as a best-selling author of 18 cookbooks, publisher of the bi-monthly donna hay magazine, weekly newspaper columnist, creator of homewares and a food range, and now shop owner of her first general store in Sydney, Australia.

Books by Donna Hay include: Seasons, no time to cook, off the shelf, modern classics, the instant cook, instant entertaining,the simple essentials collection and the marie claire cooking series.

Fast Fresh Simple
Donna Hay Magazine
Author: Donna Hay
Price: $39.99



Interview with Donna Hay
Question: What is a typical day like for Donna Hay?

Donna Hay: I'm in the office every day and each one tends to be different, whether it's planning content for the magazine or a new book, brainstorming ideas for props and styling for an upcoming photoshoot with the team, working on the new television series or endless meetings. The only constant is the array of dishes coming out of the test kitchen and photo studio every day - and they all need to be sampled, of course!


Question: What inspired you to put together the latest cookbook, Fast Fresh Simple?

Donna Hay: The title of the book basically sums up my approach to food and cooking - it's about fast quick-fixes for every day, fresh flavours that offer a new spin on old favourites and simple meal ideas to create easy standbys. This book is about sharing my secrets on how to get all the flavour with the fuss - just what everyone with a hectic work, family and social life (like me) needs!


Question: How do you present amazing-looking food?

Donna Hay: Keep it simple. There's no point trying to fit too many ingredients on a plate, it should be about flavour. Think about the dish - is it modern or rustic? The concept behind the dish will dictate the end result. Think about the elements in the dish - which one is the hero? Do all the colours and shapes fit together?


Question: Can you talk us through some of the tricks that will allow us to have dinner on the table in half an hour using the 'fast' section of Fast Fresh Simple?

Donna Hay: It's all about shortcuts that make the most of your pantry ingredients as well as a mixture of fresh and store-bought. Supermarkets and delis are full of great staple ingredients to make fuss-free and fast meals. For example, tinned chickpeas, lentils and beans are great lifesavers. As are dips such us hummus and tzatziki. I always have chicken breast in the freezer as it cooks easily and quickly in salads, stir-fries or on the barbecue. Use items that are easy, in season and keep some great basics in your pantry or fridge. Everyday eating does not have to be about the mad rush, just embrace the cheat's tricks that give you time to enjoy a meal.


Question: What shortcuts do you share with home-chefs in the 'simple' section of Fast Fresh Simple?

Donna Hay: This section of the book features all the short-order recipes I've picked up over the years. I show you how to take fresh ingredients and a few store-bought staples to give you a repertoire of weeknight standbys. I use items like store-bought chilli jam or harissa for a big hit of flavour. Store-bought pastry can become instant savoury pies and tarts. There's my easy vegetable soup that requires no chopping and a simple baked risotto that doesn't need stirring.


Interview by Brooke Hunter