Salter Weighing It Up For Mother's Day
Kitchen Bench-Top Personal Dietician
This fully functional Salter Kitchen Scale features a built-in dietary computer that calculates the nutritional value of 999 foods and displays all results on screen (calories, salt, protein, fat, carbohydrates, cholesterol and fibre). Other features include:
Memory function- enables the user to total nutritional values
Add and Weight function
Aquatronic™ function for measuring liquids
Quick reference guide included to food look up
Capacity: 5000g
15 year guarantee.
RRP: $149.95
The Perfect Seasonal Gift
As any good cook knows, seasoning is critical to perfect the taste of any savoury dish. The Salter Stainless Steel Salt and Pepper Mill set grinds salt and pepper. With a patented no-mess twist base, these mills eliminate crumbs when stored or placed on the table.
RRP: $49.95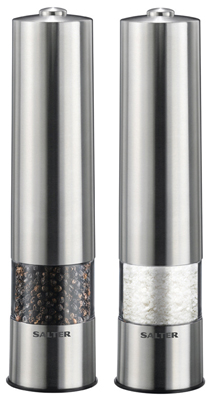 Coffee Connoisseur
For any serious barista, the Gourmet Cappuccino Thermometer is a must. An inbuilt clip attaches to most jugs and a bold easy to read display makes it easy to see when the perfect temperature is reached for optimum frothing.
This is the perfect accessory for any Mum with a coffee machine.
RRP:$24.95
Weigh It Up
Precision cooking (think Heston Blumenthal) needs a precision scale and the most versatile scale is the Salter Aquatronic Stainless Steel Scale. With this compact and beautifully designed unit, you can weigh liquids in mls or fl. Ozs and weigh ingredients directly onto the scale of use your own bowl. Hygienic and easy to clean, these scales also switch between metric and imperial measurements.
RRP: $89.95
Mums have been relying on Salter Housewares for more than 250 years. Salter is renowned world-wide for their leading edge range of precision scales and accessories in kitchen and bathrooms across the globe.