World-Renowned Celebrity Chef/Host and Award-Winning Artist
Celebrity chef, restaurateur, television host, cookbook author and Juno (Canadian Grammy) award-winning recording artist Roger Mooking has earned an international reputation as a renowned chef executing a culinary style that showcases his globally inspired vision. Roger is best known for being the host of Travel Channel's Greatest of America, the host and co-creator of the internationally broadcast television series Everyday Exotic on the Food Network, and co-host of Heat Seekers on the Food Network alongside celebrity renowned chef Aarón Sánchez. As if he didn't already have a full plate, Roger is currently the host of "Man's Greatest Food" in which he sets out on a culinary odyssey around the country on the ultimate search for man's greatest food and the host of "Man Fire Food," a grilling and barbecue show (over 100 episodes) in which Roger travels to different cities learning unique methods of barbecuing. Both shows air on SBS TV's Food Network (Channel 33) in Australia!

Taking his talents outside of the kitchen, this Juno award-winning recording artist has released albums and performed on stage for the last two decades. Abiding by the mantra "food feeds the body, music feeds the soul," Roger first stepped into the spotlight as a member of the soul trio, Bass is Base. Their early single "Funk-mobile" garnered the band a deal with A&M Records and their debut album First Impressions for the Bottom Jugglers, won a Juno Award in the Best R&B/Soul Recording category in 1995. A year later, the second consequential album, Memories of the Soul Shack Survivors, gave the band its first Top 20 hit, "I Cry." In 2013, Mooking released his second solo album "Feedback." As exotic as his food, blending Trinidadian and Venezuelan vibes to curate a kaleidoscopic Samba/Calypso experience, Roger's highly-anticipated album 'Eat Your Words' integrates sounds of authentic and old school hip hop, rock, and funk elements. Eat Your Words is currently available on all mainstream platforms including Spotify, Apple Music and Tidal.

The Trinidad-born, Canadian-raised chef is influenced by his culturally rich family background, his love of people and travel, and interest in global flavors to create new culinary experiences. After Roger's grandfather migrated to Trinidad from Quangdong Province, China, "Grandpa Moo" opened a grocery store and a bakery on the Caribbean Island. Ultimately, his grandfather went on to open one of the first Chinese restaurants in Bonaire which is a small island in the Caribbean Sea. This sparked the family's successful adventures into the restaurant and catering business, with Roger's father and extended family eventually overseeing many establishments over the years. While Roger's earliest influences are his family's Chinese and Caribbean specialties, Roger has also trained under Japanese, Chinese, French and Swiss German chefs including his formal training through the esteemed George Brown Culinary Management Program where he graduated with Top Honors. He continued his training at Toronto's world-renowned Royal York Hotel before opening and consulting on many food and beverage operations throughout his career including ""Twist by Roger Mooking" a restaurant showcasing Chef Mooking's flair of incorporating global flavors and ingredients into locally sourced North American dishes. Over the years, Roger's restaurants and affiliated projects have garnered many accolades including the prestigious "Premiers Award" in Ontario for excellence in the field of Creative Arts and Design.

His culinary talents have led him to travel worldwide and has made appearances throughout Southeast Asia, India, North America, Australia, the Caribbean and Latin America, and include features on The Today Show, Good Morning America, Top Chef Canada, Iron Chef, Guy's Grocery Games and Chopped as a guest judge as well as winning the special All-Star Chopped celebrity chef episode. Although Roger may be one of the busiest men in the entertainment culinary world, being a husband and father of four daughters is the most important to him. He enjoys educating himself and learning about different cultures by reading books on religion, anthropology, philosophy, and history and stays fit by boxing/kickboxing, weight training, yoga and living an active lifestyle.


Interview with Roger Mooking
Question: Can you tell us about "Man Fire Food" and "Man's Greatest Food"?

Roger Mooking: These are food travel shows that feature foods primarily in the continental Unites States. Man Fire Food is all about cooking with live fires. Man's Greatest Food is a list of featured foods along specific themes like Tacos, Burgers, Street Food, ect.


Question: What's the best part about filming the shows?

Roger Mooking: The best part is meeting people from all walks of life and visiting different cities, it helps me to get a broader perspective of the world that we live in.


Question: Can you share with us your experience of barbecuing in Australia?

Roger Mooking: I visited Sydney and Margaret River on the West Coast. In Margaret River I hosted some events with a few different Chefs from Australia, Canada and South America in the woods surrounded by trees. I had a variety of local ingredients for the first time and also got the chance to pet some Kangaroos. I would love to come back sometime, it's a beautiful country.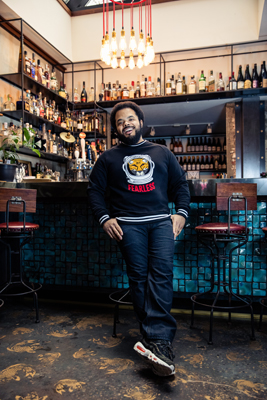 Question:
What are your top five barbecuing tricks?
Roger Mooking
: Don't cook everything on high heat. There is difference between something being charred and something being burnt, know the difference. Save adding sauces / glazes for the last few minutes of the cook. If you can, use wood or natural lump charcoal. Have a hose or fire extinguisher on hand.
Question:
What five foods could you not live without?
Roger Mooking
: Pho, Roti, Doubles, Eggs and Fresh Herbs.
Question:
What inspired the album, Eat Your Words and your new single "2 Bad 2 B Tru"?
Roger Mooking
: We live in a world where social media opinions run wild and folks end up saying and doing things that force them to eat their words. The social media outlet is such a limited framework for both meaningful discussion and context, so I'm not wildly opinionated on social media. Making albums allows me to speak my mind in a more all-encompassing framework. 2 Bad 2 B Tru, is a song about expectation versus reality wrapped up in a feel good upbeat record.
Question:
Where do you find motivation when creating music?
Roger Mooking
: The music motivates me to do the work. I have very vivid dreams complete with soundtracks, I come to realise that they are songs that I've never heard before; so I write full songs in my sleep. I'm constantly waking up in the middle of the night making voice memos of all the parts, vocals, harmonies and sounds I just heard. Quite a few songs have been born of me recreating songs from my dreams. Music is also my creative safe haven and allows me to work out my thoughts.
Question:
What's a typical day like, for you?
Roger Mooking
: There is no typical day, every single day is completely different. There is a song called Been The One from my album Eat Your Words that lets you into what my brain and days are like every day.
Question:
What's next?
Roger Mooking
: You will see, keep watching. Lots.
Interview by Brooke Hunter
Image by
Lumenville Inc.