75 Delicious Plant Based Recipes
Since becoming vegan on 20 January 2014, Cherie Tu has made it her mission to help inspire others through cooking.

Whether you're looking to incorporate more vegies in your diet or simply curious about plant-based foods, Thriving On Plants allows you to learn, create and have fun in the kitchen. This book is full of Cherie's favourite recipes for delicious breakfasts to start your day, satisfying mains to keep you going through the afternoon and an epic spread of scrumptious desserts and sweet treats. She also shares her list of must-have fridge and pantry staple ingredients as well as recipes for 12 essential basics which include nut butter, easy chocolate sauce and vanilla cashew cream. You'll also find simple recipes for vegan dressings, 'parmesan' and 'sour cream'.

Cherie shows just how easy it is to thrive on a vegan lifestyle, and how amazing it is to eat an abundance of delicious food without harming animals.

Thriving on Plants
Bauer Books
Author: Cherie Tu
ISBN: 9781925695908
RRP: $34.99


Fluffy Vanilla Pancakes
This pancake recipe is one that will leave you coming back for more every single time!
It's so sweet, light and fluffy that you won't believe it's both refined sugar-free and oil-free.

prep: 10 minutes
cook: 15 minutes
serves: 2

Ingredients
1 cup buckwheat flour (see notes)
2 tsp baking powder
1½ tbsp coconut sugar
½ tsp ground cinnamon
⅛ tsp sea salt
1 cup unsweetened almond milk
1 tsp vanilla extract
to serve:
Fresh fruit (figs, blueberries, raspberries, strawberries)
Icing sugar (optional)
Pure maple sryup
Method
Place the buckwheat flour, baking powder, coconut sugar, cinnamon and salt in a large bowl. Stir to combine.
Add the almond milk and vanilla extract. Whisk well to form a smooth batter.
Heat a non-stick frying pan (or lightly grease if required) on medium heat. Pour ¼ cup of the batter into the pan to form each pancake. Allow to cook for 2-3 minutes or until bubbles begin to form. Flip and cook on the other side for 2 minutes. Repeat until you have used up the batter.
Serve the pancakes with fresh fruit, dusted with icing sugar and drizzled with maple syrup.
Notes: I have chosen to use buckwheat flour as my flour of choice throughout this book so that it caters to those who are coeliac or gluten intolerant, however feel free to substitute with any other plain flour (wholemeal flour will also work well here).
Interview with Cherie Tu
Question: What originally inspired you to become a vegan in 2014?

Cherie Tu: Initially I was quite intrigued by this term "vegan" as it began to circle around social media during 2014, so I decided to do a little digging into it. As someone who was always interested in health and wellness, I was interested to see what people ate on a day to day basis as a vegan and why people were doing it. I then stumbled across a video on animal agriculture and realised that it was in fact an ethical movement, with any health benefits simply being a great bonus. I realised that I couldn't simply "unsee" what I had come across and wanted to align my actions with my beliefs, so going vegan was a no brainer!


Question: Were you surprised at how easy it was to thrive on a vegan diet?
Cherie Tu
: Yes and no! I went into it without any particular expectations (which really helped with the initial transition), so I simply waited it out to see if there would be any drastic changes. As my body adjusted to the new changes in my diet, I could instantly feel an improvement in my digestion and the foods I was eating simply made me feel vibrant, light and healthy! Overall I felt great because from the get go I was eating an abundance of whole foods such as fresh fruit and veg, nuts, seeds, grains and legumes which all helped nourish my body. Also, because of the way I felt I thought it would be appropriate to change my username to what it is today 'thriving on plants' as it perfectly encapsulates my life!

Question:
What tips do you for adding more vegetables, to all our diets?
Cherie Tu
: Simply find enjoyable ways to incorporate them into your meals. There is no use forcing yourself to eat something that you don't like, so it's important to find fun and delicious ways to make them appetising to you. For instance, you can finely chop or process a bunch of veggies (onion, celery, carrot, broccoli, zucchini...) and add them into your bolognese sauce with lentils and mushrooms to make a chunky, delicious and healthy pasta sauce! Another idea is finding your favourite sauce to use when whipping up a veggie stir-fry. I personally love the combination of sweet soy sauce and toasted sesame oil; however you might want to experiment with something like a peanut sauce or even a sweet and sour sauce.
Question:
Which of the recipes featured in Thriving On Plants holds the most memories, for you?
Cherie Tu
: Definitely the recipes in the Asian chapter. A lot of the dishes are "veganised" versions of my childhood favourites that I either enjoyed at home (thanks to my mum's cooking!) or at my favourite local restaurants. A part of me was definitely worried about not being able to eat these dishes anymore after going vegan, but that is totally not the case! It has been so enjoyable recreating these meals at home while trying to stick to authentic flavours and ingredients.
Question:
What's a typical day like, for you, currently?
Cherie Tu
: I work from home so as you can imagine it is quite flexible depending on what I personally have scheduled in for the week! Some weeks are more chaotic than others, but as a general run down, my day includes going through a tonne of e-mails, filming or taking photos or recipes, editing content, replying to comments and messages that I get from my audience and loads of cleaning due to the mess that I make from cooking (laughs)!
Interview by Brooke Hunter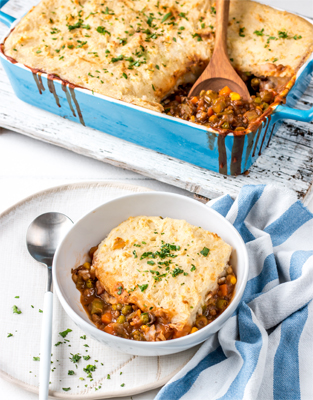 Shepherdless Pie
This 'shepherdless' pie is packed with all the good stuff.
I'm talking veggies, mushrooms, lentils and let's not forget the fluffy mashed potatoes piled on top!
This is a recipe you won't want to miss out on.
prep 15 minutes
cook 40 minutes
serves 6
Ingredients
5 medium potatoes (1kg), washed and peeled
⅓ cup unsweetened almond milk
1 tbsp vegan butter
Salt and pepper, to taste
1 brown onion, diced
2 garlic cloves, minced
2 stalks celery, diced
1 cup mushrooms, diced
2 tbsp cornflour
2 cups room temperature water
1 can (400g) lentils, drained then rinsed
3 cups frozen mixed veggies
2 tbsp tomato paste
1 tsp dried thyme
1 tsp dried rosemary
3 tbsp dark soy sauce
Method
Place potatoes into a large saucepan and cover with cold water. Bring to the boil and cook for 20 minutes or until a knife can easily pierce through and slide out of the potato.
Once cooked, drain the potatoes and return to the pot. Using a potato masher, mash the potatoes until smooth. Add the almond milk, vegan butter, salt and pepper and mix until creamy.
Preheat the oven to 200°C. In the meantime, heat a non-stick frying pan on high heat and sauté the onion, garlic, celery and mushrooms for 3-4 minutes or until the onion has softened.
Mix the cornflour with the water and pour into the pan then add the lentils, frozen mixed veggies, tomato paste, thyme, rosemary and soy sauce. Bring mixture to the boil then lower the heat and simmer until thickened.
Pour the filling into a large baking dish and spread evenly over the base. Distribute the potato mash on top and smooth it down until it completely covers the filling. Gently prick the surface with a fork to give the top some texture.
Bake uncovered for 25 minutes or until top is golden brown and bubbling. Allow to cool slightly before serving.
Thriving on Plants
Bauer Books
Author: Cherie Tu
ISBN: 9781925695908
RRP: $34.99