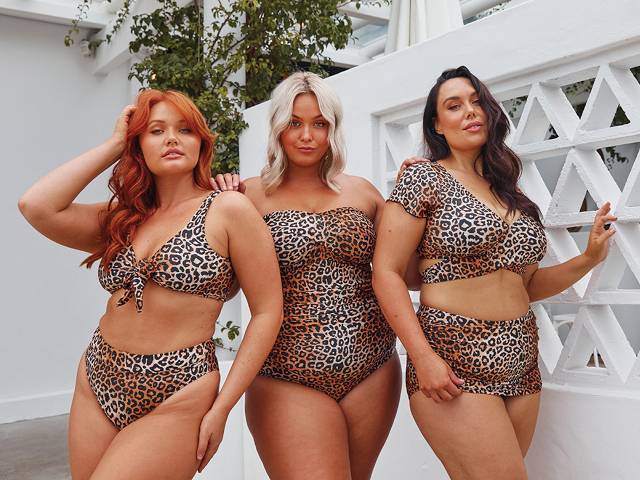 How Curvy Swimwear is Making the World More Body Positive
The world is a brutal place, but Australian brand Curvy Swimwear is dismantling the standard body narrative, striving to put an end to forced unachievable beauty standards.

Gone are the years of size 0, Vogue models with blonde hair and blue eyes being the beauty standard, with the world finally embracing girls of all shapes, sizes and colours.

Curvy Swimwear is an Australian Swimwear brand based on the sunny Gold Coast specialising in cute, comfortable and flattering swimwear for women sizes 10 through 30. They ensure curvy women don't just have to wear plain black or navy and stripes, but instead have an extensive selection of prints, patterns and solids, ranging from soft florals to bold animal prints.

The Fight Against Photoshop
It has become the norm to expect every image you see on Instagram to be photoshopped. Stretch marks are normally erased, cellulite smoothed and waists cinched, though this can make for a beautiful photo it has an impact on impressionable minds on the standard for beauty.

Curvy Swimwear aims to combat what they call the 'photoshop pandemic' by swearing to not photoshop their models. You can often see their images both online, on Instagram and in catalogues with non-photoshopped plus-size models. They are striving to normalise cellulite and stretch marks, and encourage body positivity for girls of all shapes and sizes.

2020 brought lots of challenges to the forefront, but unexpectedly, people's confidence took a huge hit. In the height of the global pandemic, apps like Zoom and TikTok skyrocketed in popularity, as did the use of filters and photo editing. The general population became heavily focused on their appearance and the ways they can alter it to make themselves appear 'more beautiful' or 'more appealing'.

Curvy Swimwear wants to change the way women see themselves, by sharing only untouched, real images of women of all shapes and sizes. This means women are now visualising people who look like them instead of comparing their bodies to unrealistic and retouched models.

There is No Beauty Standard
Unlike other brands on the market, Curvy Swimwear aims to use women of all shapes, sizes and skin tones, to further prove that no one person has a better body than another.

Their use of body positive influencers, plus size models and everyday women helps solidify their brand as inclusive and size friendly. Just a simple scroll on their Instagram will show you many different women, differing in size, shape and skin tone. Thus proving their product isn't designed for just one type of woman, but instead any and all women.

By showing all different women in their swimwear, their goal to make the world more body positive becomes more achievable. Studies show that constant exposure to Instagram models and photoshopped images distort one's idea of an attainable body. Knowing the heavy impact the media has on one's body image, Curvy Swimwear makes a focused attempt to combat this with realistic and beautiful images of women that represent over half of our population.

Body Positive Tips
A key element of Curvy Swimwears fight for body positivity is their sharing of body positive tips and blogs, reminding women of all shapes and sizes that they are enough, they are worthy and their bodies are perfect exactly as they are.

Often reminding their followers to be positive, get active, find something you love and to find your tribe, Curvy Swimwear knows the best tips to being body positive all year round. Positive affirmations have been known to lead to a positive mindset in the past (Steele, 1998), and constant reminders and positive words can do wonders for one's self esteem.

Inclusive Swimwear
One of the key ways Curvy Swimwear promotes a body positive mindset is through their inclusive sizing. After seeing the lack of plus size swimwear in patterns and colours they decided to make a conscious effort towards providing swimwear that women sizes 10 and up can feel beautiful in.

Not only do they carry the staple black and navy swimsuits, but fun florals, wild animal prints and colourful geometrics and everything in between. Curvy Swimwear has brought the fun and colour back to plus size fashion, giving plus size women an excuse to rock a bikini at the beach this summer.

Designed by women with women in mind, Curvy Swimwear delivers flattering swimsuits made to define curves and hide any areas of insecurity- giving women that boost of confidence they may need.

Though times may be tough for many in this world, it's time to dismantle forced beauty standards once and for all, are you on Curvy Swimwear's side?

You can find Curvy Swimwear's extended range of inclusive and flattering swimwear online.