Starring: Isla Fisher, Hugh Dancy, Krysten Ritter, Joan Cusack, John Goodman
Director: P.J. Hogan
Producers: Jerry Bruckheimer, Chad Oman, Mike Stenson, Ronald M. Bozman
Genre: Romantic Comedy
Rated: PG
Running Time: 100 minutes

Isla Fisher stars in Confessions of a Shopaholic, now available on DVD & Blu-ray!

Australia's own ISLA FISHER stars as Rebecca Bloomwood; the ultimate New York fashion tragedy with an out-of-control debt and an unquenchable thirst for the finer things in life, in the hilarious and romantic comedy, Confessions of a Shopaholic!

Follow Rebecca on her roller-coaster ride into debt, as she attempts to shop her way to the top. It's not long before her high-spending habits land her in trouble, and her career, home and love life start to unravel in this fashionably funny flick.

Having just moved to New York City, Rebecca manages to get by as an underpaid journalist living with the assistance of her best friend Suze (KRYSTEN RITTER), attempting to shop her way to success while chasing every girl's dream: a job at fashion bible, Alette magazine. Rebecca unsuccessfully goes for a columnist position at Alette and is told, on the sly, by the magazine's receptionist to try for a job at Successful Savings Magazine, Alette's sister publication. However, having recently borrowed money from a stranger on the street to reach the amount necessary to purchase a must-have, eye-catching green scarf, Rebecca is horrified to find that her interviewer is the very same person who lent her the money, Luke Brandon (HUGH DANCY).

Intrigued by this attractive strange girl who claims among other things to speak Finnish, Luke offers Rebecca the position at financial rag Successful Saver. Now, it's up to Rebecca to use the opportunity to prove she has what it takes - will Rebecca's addiction to spending and high fashion begin to take a toll? After a number of unfortunate events, Rebecca is forced to confront her addiction to win back her life and the trust of her boss Luke and best friend Suze.

Produced by Jerry Bruckheimer and based on the 'Shopaholic' series of books by Sophie Kinsella and directed by the great romantic comedy director P.J.Hogan (Muriel's Wedding, My Best Friends Wedding), audiences young and old have fallen in love with the performance of ISLA FISHER in Confessions of a Shopaholic, one of the most hilarious DVD releases of the year!

Packed with special bonus features including deleted scenes, bloopers, 'behind the fashion' and the music video 'Stuck with Each Other', it's time to unleash the shopaholic in you with Confessions of a Shopaholic, dressed to impress on DVD and Blu-ray.

CONFESSIONS OF A SHOPAHOLIC

Order Now from CD Wow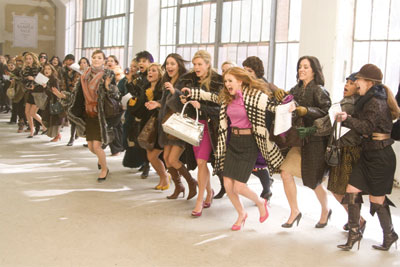 PATRICIA FIELD ON ROMANCE AND FASHION
Costume designer Patricia Field adds her unique sense of fashion to the romantic comedy, Confessions Of A Shopaholic. The story follows the adventures of a shopping addict who falls for a workaholic journalist - and there are plenty of laughs along the way. But what fashion advice can Patricia Field lend us when it comes to dating? The Oscar-nominated fashionista reveals all...


Do you think an outfit can make or break a date?

Patricia Field: It might. But if it does, then I don't think that's necessarily a bad thing. If it does, it's either a costume or it's superfluous. When I see a person, I initially don't look at what they're wearing. I might get to that at some point, but initially, it's about what someone's saying, how they're saying it and the expression on their face. Those are the first things I look at in a person. I don't look at their hairdo or things like that - unless it's a consciously attention-getting outfit. But if that's the case then you know the kind of person underneath that - the superfluous, outrageous one.


Are there any outfits you should avoid at all costs?

Patricia Field: As I've just mentioned, I think it's important to avoid anything that you put on and don't feel confident in. Confidence is key. Confidence in a person is sexy for men and women. I don't mean noisy or bragging in a person - but a certain confidence and ease is always very attractive. If you don't feel confident in an outfit, it will bring you down. Don't wear it.


Is there anything else to avoid?

Patricia Field: You should always avoid clothing that doesn't fit you. It has nothing to do with your taste, but if it doesn't fit you - no matter what it is - it's not going to look good. I see people who wear clothes that are too small for them, or they don't understand how certain clothes should be fitting, and that blows it off right from the start.


How do you find an outfit to suit your shape?

Patricia Field: I think it's important that people know their strengths and weaknesses when it comes to their body shape. I hate to use the word 'weakness', but it's important to know what works for you and what doesn't. For example, I have great shoulders and great arms. I have a lot of great things, but I'm high-waisted too. I have great long legs, but when you put all of this together you end up with someone who's got a short body and a high waist. I'm aware of that, so I know where to create a line on my body to distract from the high waist.


What's wrong with a high waist?

Patricia Field: In my case, a high waist is a big waist because the waist is basically right under the ribs. There's no space for the waist to be defined and go in. If you know that about yourself and you have great legs, then show your legs off and don't bring the eye to the place you don't want to show. Always show off your good stuff - but you have to know what your good stuff is. I don't think a lot of people realize what their assets and liabilities are. You have to be interested in this and show interest. That's the only way you're going to find out. I'm not saying everyone has to be interested in what they wear. Some people don't care how they dress at all. They're interested in other things and their attention goes elsewhere. That's perfectly acceptable.


Do you think it's important for people to have a unique sense of style?

Patricia Field: I think it depends on what's important to you. I like to see people with a unique sense of style because it communicates to me who you are. If you don't have a sense of style, it's less communicative. However, clothing isn't the only way to communicate - but it's one of the ways. When you meet someone, what they're wearing sometimes plays a part in first impressions.


What advice would you give to someone who is quite shy of fashion?

Patricia Field: If you're shy of fashion and you don't really care about it, enjoy yourself and do what makes you happy. You don't have to enjoy fashion to get along in this world. However, if you're shy of fashion but you don't want to feel shy, pay more attention to what's out there. Look around you and see what you can identify with personally. It's not just about opening up a magazine and seeing an outfit on somebody in there and then replicating it. It's about finding your own style. Plain and simple.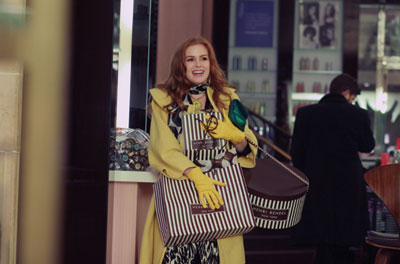 CONFESSIONS OF A SHOPAHOLIC - FUN FACTS
· The film shot inside of some of the most exclusive stores and boutiques in New York, including Barneys New York flagship store on Madison Avenue, Henri Bendel on Fifth Avenue, Scoop and Catherine Malandrino in the Meat Packing District, Alessi (upscale housewares) in Soho, and Kleinfeld (elaborate bridal shop) in Chelsea.

· The film also shot inside some of the most historic buildings in the city, including legendary British architect Lord Norman Foster's Hearst Tower (the only film to ever be allowed to shoot there) on 57th Street and 8th Avenue; 45 Rockefeller Center (the building that features the statue of Atlas holding up the world at its entrance); the Grand Salon inside of the 1931 Jumeirah Essex House hotel on Central Park South; inside and out of St. James Church (1884) on Madison Avenue between 71st and 72nd Streets; inside of the Beaux Arts and Art Nouveau styled Emigrant Industrial Savings Bank Building (1908-12) on Chambers Street in the Wall Street district; utilizing the exterior of St. Anthony of Padua on Sullivan Street at the intersection of Greenwich Village, Tribeca and Soho, founded in 1866.

· The production spent two all-nighters dressing the beautiful atrium of Henri Bendel with a Midsummer Night's Dream themed design, as well as the aviator-themed window displays. They also created window displays for the Hearst Tower with faux stores by Valentino, Anna Sui, Catherine Malandrino and Alberto Ferretti. Excited New Yorkers thought that actual stores had opened on the ground level of the Tower and were sorely disappointed to discover that they were only for the movie.

· Across the street from St. James Church, windows were re-dressed in actual Yves St. Laurent, Asprey and Sonia Rykiel stores for the film's climax.

· In the film, costume designer Patricia Field selected clothing and accessories to adorn Isla Fisher's Becky Bloomwood, including Balenciaga, Marc Jacobs, Christian Louboutin, Alexander McQueen, Zac Posen, Miu Miu, Salvatore Ferragamo, Prada, Christian Dior, Todd Oldham, Gucci and Matthew Williamson, among others.

· To create a lavish display in Henri Bendel's six-story atrium, as well as window decorations, production designer Kristi Zea and supervising art director Paul Kelly had to bring in a full complement of their department to pull an all-nighter with military precision, as they only had enough time between the store closing its doors to the public and reopening them again in the morning to pull off the impossible. Mission was accomplished, with legions of New Yorkers admiring the results before the cameras began rolling later that day.

· Filming in New York City gave the filmmakers access to the pool of local actors perhaps better known for their work in the theatre than on film, including Christine Ebersole (Tony Award winner as Best Actress in a Musical for "Grey Gardens"), LaChanze (Tony Award winner as Best Actress in a Musical for "The Color Purple") and Kaitlin Hopkins (star of the upcoming touring company of "Dirty Dancing: The Musical").

· Ed Helms of "The Office" is seen only on videotape in the movie as self-help money management guru Garrett E. Barton.

· A bank loan officer is portrayed by Jonathan Tisch, Loews Hotel Chairman and CEO; and in a publishing reception scene filmed in Chicago, another banker is played by Andy Serwer, managing editor of Fortune Magazine.

· Robert Stanton, who plays ruthless debt collector Derek Smeath, drew upon the only other job he ever had besides actor: a skip tracer for a student loan company, finding people who had defaulted on their debts. Stanton admits that he wasn't good at harassing people, since he would always burst out in laughter instead.

· Sophie Kinsella was on the "Confessions of a Shopaholic" set nearly every day as associate producer, consulting and watching her beloved creation of Rebecca Bloomwood come to life. Not so coincidentally considering the massive international sales of the "Shopaholic" novels, Kinsella was often approached by excited fans on New York, Connecticut and Miami locations as if she were more of a movie star than an author.