ZETA-JONES RESERVES PLACE AS GLAM MOVIE STAR.
Catherine Zeta JonesNo Reservations Interview By Paul Fischer
Catherine Zeta-Jones consistently epitomizes Hollywood glamour. The 38-year old Welsh actress arrives to greet the press in a New York hotel wearing a long dress with a slit up the side, which accentuates her prevalent beauty. In the Big Apple to promote her latest film, No Reservations, where she plays an overly blinkered chef whose focused professional life comes unglued when she takes in her niece following a family tragedy, this latest character represents quite the departure for the actress. Rarely is she seen in a less glamorized light playing this kitchen-focused workaholic, and it was a challenge, she says, she was ready for. "It was definitely one of the things that when I read the script, I went, wow. This is not a character that even as a director or producer would go, 'Oh, slam dunk, let's get Zeta Jones to do this,' which I think was exciting to me," Catherine Zeta-Jones says, with genuine enthusiasm.
"To be able to play a much more vulnerable character, is not so much my de-glamorization but meant come down a bit from what is necessarily the image of me onscreen. I had a great time doing it." Catherine Zeta-Jones has often joked to reporters in the past about her lack of cooking ability in her real life, the one she shares with husband Michael Douglas and their children, so the irony of her playing a highly successful chef in this remake of the German film Mostly Martha, does not entirely escape the Welsh Oscar winner. "The idea of being a chef, to me, to be quite honest was pretty terrifying, but I thought, if I can pull this one off, let me tell ya," she trails off amidst peals of laughter. "But Aaron [Eckhardt] and I had this intense training together, which was a laugh because we'd arrive in this kitchen and I've got my little apron on, looking ever so professional, looking at Aaron going, 'Oh God, my fingers will come off before you know it!' After we had a few weeks of that and we were up and running, I felt very comfortable in the kitchen - and I still do." The actress laughingly adds that " I have a new appreciation of being in the kitchen, of when a plate of food gets put on my table how much goes into it as opposed to going, 'Is this cooked right?' "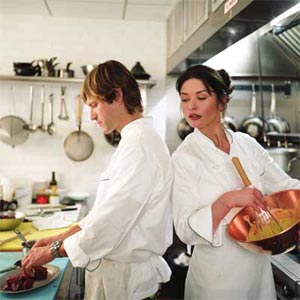 While Catherine Zeta-Jones plays a woman whose whole world is her career, the actress sees the character and being far more obsessed about her professional life than the actress, prior to her marriage. "I've always said I had a healthy ambition, because I did come from Wales and tried to do things other than theatre, I tried to do TV, and had that in me. But I wouldn't say I was such a control freak the way that Kate is or that there was nothing else in my life. I had my friends and my other life as well as my career." Asked about her own recipe for a long and successful relationship, Catherine Zeta-Jones says, "just to be kind to each other. We meet so many different people in life and sometimes we spend more time being nice and friendly to complete strangers than we do to the person you love more than anything else in the world, so just to have that in the back of your mind - to be respectful, kind and nice." Asked what traits she has in common with her character, Kate, Catherine Zeta-Jones pauses slightly. "I wouldn't say I'm a perfectionist in the way that Kate is because it's borderline anal retentive and I'd hate to give myself that title, but there is a much shyer quality to me that people don't usually see. I could relate to Kate, not in that stoic way but a little bit reserved because I get perceived sometimes as 'Ta da! Here comes the show girl!' In fact, I have many insecurities, I'm a lot more reserved and quiet than I let on to be and I do that for a reason sometimes but I found a quietness in her that I related to."
Perhaps that is the reason for the Catherine Zeta-Jones's own successful marriage and her ability to try and balance her personal and professional life. "I hate to say "balance" when it comes to my children because at the end of the day that is my life and everything else is a bonus," insists the actress. "What's changed for me considerably for me since I've had my family is that the logistics have completely gone crazy as opposed to me being offered a role in Romania for four months, I used to say, what time is my flight? I'll pack my case and I'm gone. Now I can't do that and I try to schedule my work in between times when they can either come with me or when Michael is definitely not working and he can be with them. Doing a movie here in New York, such as No Reservations, was great because our home is predominantly Bermuda, so we were working pretty much every day but we did have some time off and I'd go home to Bermuda even if it was just for a day or they'd come and see me. That's the only thing that I think is a balance and more of a struggle than whatever was before." Catherine Zeta-Jones says that retaining her and her family's privacy is also the lure of living outside of the country. "I must say there's a real sense of privacy in Bermuda. It's been very great bringing up the children, taking them to school without a hassle. There are no photographers hanging around, so for me it was the ideal choice to bring up my children. And it's easy to go to New York, we travel, we don't stay there the whole year 'round, so it's been fantastic."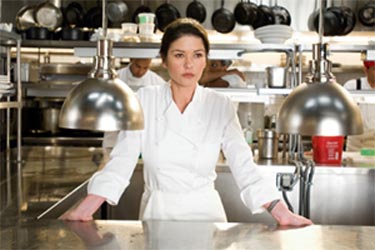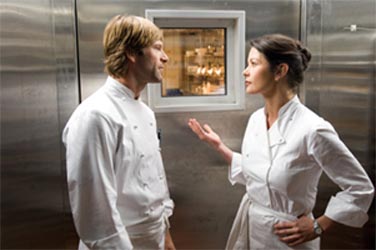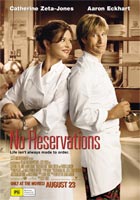 No Reservations
Starring
: Academy Award® winner Catherine Zeta-Jones (Chicago), Golden Globe nominee Aaron Eckhart (Thank You for Smoking), SAG Award winner and Oscar® nominee Abigail Breslin (Little Miss Sunshine) and Academy Award® nominee Patricia Clarkson (Pieces of April).
Director
: Scott Hicks
Rated
: PG Mild themes, Infrequent mild coarse language
Running Time
: 104 mins
Master chef Kate Armstrong (CATHERINE ZETA-JONES) lives her life like she runs the kitchen at upscale 22 Bleecker Restaurant in Manhattan - with a no-nonsense intensity that both captivates and intimidates everyone around her. With breathtaking precision, she powers through each hectic shift, coordinating hundreds of meals, preparing delicate sauces, seasoning and simmering each dish to absolute perfection.
Kate's perfectionist nature is put to the test when a brash new sous chef joins her staff, the high-spirited and freewheeling Nick Palmer (AARON ECKHART). A rising culinary star himself, Nick favors opera while working and loves to make everyone around him laugh. His casual approach to both life and cuisine couldn't be more different than Kate's, yet the chemistry between them is undeniable...as is the discord, like forks clanging off a granite countertop.
It might be easier to deal with this turbulence at work if Kate wasn't already off balance at home, struggling to connect with her nine-year-old niece, Zoe (ABIGAIL BRESLIN), who has recently - and very nexpectedly - come to live with her. A bright, perceptive child more comfortable with fish sticks than foie gras, Zoe is clearly out of place in Kate's routine but Kate is determined to make a home for her...just as soon as she figures out how.
If she wants to forge a real bond with Zoe, find happiness with Nick and rediscover her appetite for life, she will have to try something bold and new, and learn to express herself outside the realm of her kitchen. For Kate, that would be like trying to cook without a recipe.
In Cinemas 23rd August
www.noreservationsmovie.com