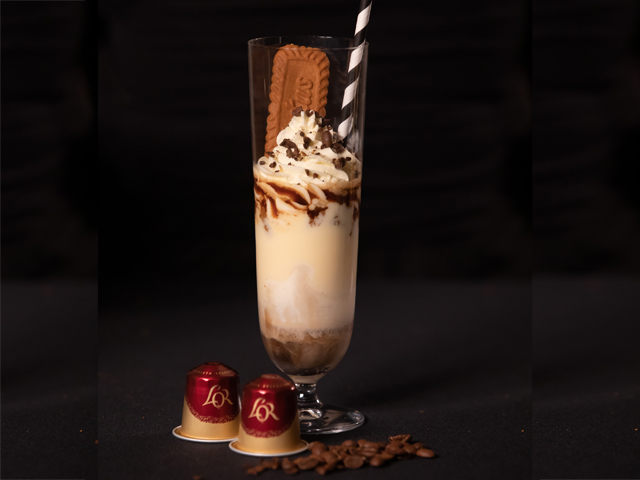 The Greatest Dessert You'll Ever Sip On: Café Liegeois au Kahlua
It's French for delicious

Serves: 6
Preparation: 20 minutes (plus 3-4 hours for freezing)

Ingredients
Coffee granite:
40g caster sugar
3 x double shot L'OR Barista Selection intensity 13 (freshly brewed, Espresso setting)
60ml dark rum

Mascarpone crème:
60g mascarpone
60ml pure cream
15g pure icing sugar
1 egg yolk
To serve:
500ml vanilla bean ice cream
100g Speculaas biscuits, half crushed and the remaining kept whole
3 x double shot L'OR Barista Selection intensity 13, ristretto pour freshly brewed and chilled
6 x 30ml Kahlua shots
Whipped cream, to serve
Crushed coffee beans, to decorate

Method
For the coffee granita, dissolve the sugar into 3 freshly brewed double shot L'OR Barista Selection intensity 13 (using Espresso setting) in a bowl. Allow to cool before adding the rum and pour into a shallow container. Freeze for 3-4 hours before scraping with a fork to break up into small ice crystals and freeze until required.
For the mascarpone cream, place all the ingredients in the bowl of an electric mixer and whisk until soft peaks form. Refrigerate until needed.
Several hours before serving, place 6 serving glasses in the freezer to chill.
To serve, place 1-2 scoops of vanilla bean ice cream into each serving glass, top with a spoonful of mascarpone cream, a spoonful of granita and a sprinkle of Speculaas biscuits. Drizzle over a single shot of chilled double shot L'OR Barista Selection intensity 13 per glass, a shot of Kahlua and finish with whipped cream, a whole Speculaas biscuit and crushed coffee beans as desired.


Coffee Lovers Rejoice!
Impress Your Friends With Manu's Indulgent Espresso Creations.

If there are two things Australians love it is coffee and dessert – so why not combine them for the ultimate sweet experience?! Show off your barista skills with a choice of easy to create dishes that are perfect for those seeking a shot (or double shot) of coffee pleasure.

Manu's coffee creations will hit the spot every time. Whether you are after one coffee shot or two, the L'OR Barista coffee machine has a capsule for every occasion.

Visit @lorespressoau for more inspiration.