Burlesque
Cast
: Cher, Christina Aguilera, Eric Dane, Stanley Tucci, Cam Gigandet, Kristen Bell, Alan Cumming, Julianne Hough and Peter Gallagher.
Director
: Steve Antin
Genre
: Drama, Musical
Rated
: M
Synopsis
: It Takes a Legend to Make a Star.
The Burlesque Lounge has its best days behind it. Tess (Cher), a retired dancer and owner of the venue, struggles to keep the aging theatre alive, facing all kinds of financial and artistic challenges. With the Lounge's troupe members becoming increasingly distracted by personal problems and a threat coming from a wealthy businessman's quest to buy the spot from Tess, the good fortune seems to have abandoned the club altogether.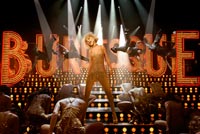 Meanwhile, the life of Ali (Christina Aguilera), a small-town girl from Iowa, is about to change dramatically. Hired by Tess as a waitress at the Lounge, Ali escapes a hollow past and quickly falls in love with the art of burlesque. Backed by newfound friends amongst the theatre's crew, she manages to fulfill her dreams of being on stage herself. Things take a dramatic turn though when Ali's big voice makes her become the main attraction of the revue.
Release Date
: January 13th, 2010
Website
:
www.burlesque-movie.com.au
Verdict
: Burlesque is my type of movie- a musical with drama and romance!
Burlesque begins in the small town of Iowa were Ali (Christina Aguilera) works as a waitress in a diner, after saving all her pay she heads to Los Angeles, on a bus, with dreams of being on stage. After searching high and low for a singing job she finally walks into a Burlesque Club with the 'Best View in Los Angeles' after catching, Burlesque dancer, Cocoa's eye. Ali hesitates as she pays the $20 entry but is blown away by the Burlesque performances. Ali, a dedicated soul, convinces Jack (Cam Joslin Gigandet) to employee her as their waitress and Ali begins to learn every move in the Burlesque show.
Christina Aguilera showcases her sensational voice and surprises audiences with her ability to act whilst Cher drives the film in her convincing role as Tess, the Burlesque Club owner.
Burlesque is a mix between Chicago and the modern music video clips; the knockout performances hit all the right buttons to create an exciting and enjoyable film.
Rating
: ****
Brooke Hunter