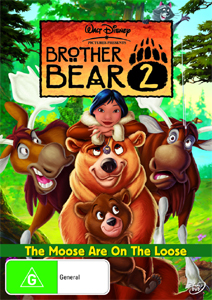 The remarkable adventure that began with Walt Disney Pictures' Oscar® nominated blockbuster "Brother Bear" continues with BROTHER BEAR 2, a hilarious and heart-warming original animated tale.
The all-new sequel, BROTHER BEAR 2 sees human-turned-bear Kenai (voiced by Patrick Dempsey star of TV's "Grey's Anatomy") travelling through the North American wilderness with his adoptive brother bear, Koda (voiced by Jeremy Suarez). The wild adventures of discovery and renewed friendship begins when the brothers are reunited with Nita (voiced by Mandy Moore, "A Walk To Remember," "The Princess Diaries"), Kenai's brave and spirited childhood friend and daughter of a tribal elder.
The renewed friends find themselves in some daunting situations while setting off on the chaotic journey over icy mountains, raging rivers and unforeseen obstacles. It's an adventure that redefines who they are and ultimately reveals that the Great Spirits have a surprising plan of their own.
Join Kenai, Koda and the crew, including everyone's favourite wisecracking moose duo - Rutt and Tuke, along with incredibly entertaining new characters, comprising of the self-absorbed 'Moosettes' - these ladies have bite! Plus meet the wise and magical Sha-woman - Innoko, who has the unique ability to interpret to the Great Spirits. The enchanting characters will take you on a wild journey full of laughs and many exciting adventures the whole family is sure to enjoy.
The three original songs performed for the all-new film, by two-time Grammy Award winner Melissa Etheridge, highlight BROTHER BEAR 2's magical themes of love; both brotherly and romantic. BROTHER BEAR 2 is also packed with never-before-seen bonus features, including: "Trample Off, Eh?" where viewers help Rutt and Tuke win a date with the 'Moosettes' by answering fun trivia questions about the movie; and an exclusive "Behind The Music" feature on Melissa Etheridge and how she was inspired to write songs for the movie.
Review: After the 4th time, it still brings tears of joy to my eyes and my daughter can't stop watching it.
Order Now from CD Wow