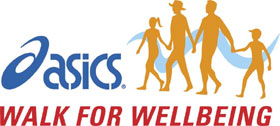 Diabetes is Australia's Sixth Biggest Killer. Regular exercise can prevent it.
Get On Your Walking Shoes To Fight Diabetes In The ASICS Walk For Wellbeing!

Melbourne - 19th September 2004
Brisbane -14th November 2004
Sydney - 28th November 2004

The issue of obesity levels in Australia has been discussed for a number of years, but there's another less obvious disease associated with the decline in our eating habits and activity levels that is a silent killer. Diabetes is Australia's sixth biggest killer, but by leading a more active, healthy lifestyle, many of us can prevent or delay Type 2 diabetes .

The ASICS WALK FOR WELLBEING is a new series of three events for all the family. The walks will be held in Melbourne, Brisbane and Sydney for the first year and ASICS hopes to expand this to other states next year. The events are designed to get the whole family out doing some healthy, non-strenuous activity, and ALL registration money goes directly to Diabetes Australia to help combat this killer disease.

The four or eight kilometre charity walk (you choose how far you want to walk) will be held in Melbourne on 19th September at Catani Gardens, St Kilda; Brisbane at South Bank Parklands on 14th November (WORLD DIABETES DAY) and in Sydney on 28th November at Sydney Olympic Park.

ASICS was started in 1949 in Japan by a Kihachiro Onitsuka who realised the Japanese youth needed direction and a healthier, more positive lifestyle; a new sense of community, optimism and awareness. ASICS (an acronym for Anima Sana in Corpore Sano - a sound mind in a sound body), has always had a strong sense of community responsibility and continues to advocate this original ideal. A supporter of research in to childhood obesity and xxx, ASICS also supports Sports Medicine Australia's "10 Thousand Steps" campaign.

Mark Doherty, General Manager, Marketing, ASICS said: "The increase in diabetes in Australia is extremely worrying and directly related to the deterioration in both our eating habits and our levels of activity and physical exercise. In the spirit of the ASICS ideal we started the Walk for Wellbeing series in order to motivate people to get up and out there.

He continued: "We don't want participants to feel pressured, or feel they're competing. It's important that the events are a fun day out, but the message is serious and we hope that those who take part continue to be motivated into moderate daily exercise and never become diabetes sufferers."

Diabetes Australia recently provided - The Facts about diabetes
Over three million Australians have diabetes or pre-diabetes, and many of them are unaware of their condition. It's also one of the fastest growing chronic diseases in the country with 70,271 people diagnosed in the last year. Diabetes Australia predicts that if this rate continues approximately 1.8 million Australians will have diabetes by 2010.

Two million Australians have pre-diabetes (the condition when blood glucose levels are higher then normal but not yet high enough for a diagnosis of Type 2 diabetes). If it is untreated may develop into Type 2 diabetes within five to 10 years. In addition to the risk of developing diabetes, people with pre-diabetes are more likely to have a heart attack or stroke.

By reducing body weight by five to seven per cent and doing 30 minutes of physical activity a day, five times a week could reduce the risk of developing Type 2 Diabetes by 60 percent. Barbara Sponza, Team Diabetes said: "??????Walking is a great exercise that the whole family can take part in. Just a few minutes a day can make a difference in most people's lives. We welcome Asics in joining DA and Team Diabetes in walking for wellbeing.

Walking for Health
Changing lifestyle does not have to mean hard graft at the gym. Walking can be just as beneficial to overall health.
Sports Medicine Australia President, Marilyn Feenstra said: "The biggest and fastest-growing threat to our state of health these days is the epidemic of inactivity-related problems among Australians of all ages. Unfortunately, we might be a sporting nation, but we're not a particularly fit one. Inactivity is associated with a range of chronic and debilitating illnesses such as type 2 diabetes, cardiovascular disease, stroke, depression and a host of other problems.

She continued: "Physical activity - and especially walking - for at least 30 minutes or for 10,000 steps a day is important for everyone's health and it can reduce the mortality rate in people with existing type 2 diabetes . Not only that, it's enjoyable. People should undertake a minimum of moderate-intensity exercise for 30 minutes at least most days of the week and the best and safest exercise is walking."

To participate in the ASICS WALK FOR WELLBEING in Melbourne, Sydney or Brisbane, go to www.asics.com.au and click on the link to the ASICS Walk for Wellbeing or call the event organizers on 07 5449 0711 during office hours.