Amanda Seyfried Lovelace
Cast: Amanda Seyfried, Peter Sarsgaard, Hank Azaria, Wes Bentley, Adam Brody, Bobby Cannavale, James Franco, Debi Mazar, Chris Noth, Robert Patrick, Eric Roberts, Sharon Stone, Chloe Sevigny, Juno Temple
Directors: Rob Epstein and Jeffrey Friedman
Genre: Drama, Adult, Documentary
Rated: MA15+
Running Time: 93 minutes

Synopsis: In 1972"before the internet, before the porn explosion"Deep Throat was a phenomenon: the first scripted pornographic theatrical feature film, featuring a story, some jokes, and an unknown and unlikely star, Linda Lovelace. Escaping a strict religious family, Linda discovered freedom and the high-life when she fell for and married charismatic hustler Chuck Traynor. As Linda Lovelace she became an international sensation"less centerfold fantasy than a charming girl-next-door with an impressive capacity for fellatio. Fully inhabiting her new identity, Linda became an enthusiastic spokesperson for sexual freedom and uninhibited hedonism. Six years later she presented another, utterly contradictory, narrative to the world"and herself as the survivor of a far darker story.

Lovelace
Release Date: September 26th, 2013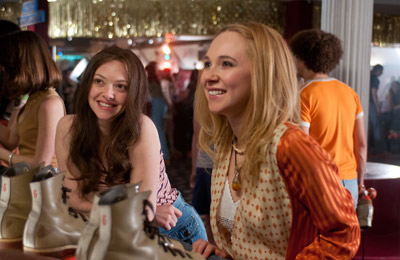 From the Oscar®-winning Common Threads: Stories From The Quilt, which made Americans understand that there was no such thing as a deserving AIDS victim; to adapting Vito Russo's groundbreaking study of the evolution of gay stereotypes in Hollywood movies in The Celluloid Closet; to examining the lives of homosexuals in Germany before and during the Third Reich in Paragraph 175, directing duo Rob Epstein and Jeffrey Friedman have always illustrated a keen understanding of riveting characters, cascading revelations and momentous breakthroughs, and in doing so changed the face of documentary filmmaking. Their thoughtful and considerate approach was applied to their first foray into scripted narrative, with the Allen Ginsberg biopic Howl, starring James Franco, Jeff Daniels, Jon Hamm and Mary-Louise Parker.

Rob Epstein and Jeffrey Friedman's compassion in depicting complex characters, combined with detailed and engaging storytelling, made the captivating life story of Linda Lovelace a perfect subject for their second feature. 'Linda had an amazing life, and she was a pivotal cultural figure at a time when society's sexual awareness was really blossoming," says Rob Epstein. 'There's the period we think of as the sexual revolution, which segues into the rise of feminism, and Linda was an important character in both those instances."

Long before the director duo came on board, Lovelace's story piqued the interest of producer Laura Rister and Jason Weinberg of Untitled Entertainment and Jim Young of Animus Films. In 2006, they originated the project with writer Merritt Johnson who developed and oversaw the first drafts of the script.

In 2008, during the Ischia Film Festival, Jason Weinberg and Merritt Johnson pitched the project to Heidi Jo Markel of Eclectic Pictures and Avi Lerner of Millennium Films. When Rister learned that Millennium was no longer financing Inferno – another project about Linda Lovelace – she suggested that Jim Young contact Markel to fund Loveface through Eclectic's output deal with Millennium. 'It was a fortuitous switch to an artistically and commercially viable project," says Heidi Jo Markel.

The producers shared the same interest in telling Linda's story and exploring a film about the sexual revolution of the time.

Producer Laura Rister thinks that Linda was 'an icon for an era", and even sees her as one of the very first reality stars – seeking fame, affection and love. 'She was an insecure woman who had a sheltered background, but she thought that what she did would feed her in some way. She was not a legitimate actress or dancer or singer, but known for something very specific. Yet she achieved this incredible notoriety, and to this day is identified with that moment in time on two sides of the fence – accessibility of the porn industry, but then also speaking out against the objectification of women."

In order to portray this snapshot of Lovelace's life on screen, the producers needed filmmakers who would not just implement a linear methodology and shoot an ordinary biopic. Fans of Rob Epstein and Jeffrey Friedman's documentary work, the producers thought their probing, journalistic approach to their subjects would be a good fit for this film. 'The idea that they could take a journalist's eye towards the material, and to investigate who this person, this enigma, is, really resonated with us," says Jim Young.

After watching Howl in Rob Epstein and Jeffrey Friedman's editing bay in San Francisco, the producers were won over by their approach to the material and their structural departure from the typical biopic. Their vision for Lovelace was to use Linda's psychology to tell the story of her life from Linda's different perspectives that evolved as she did.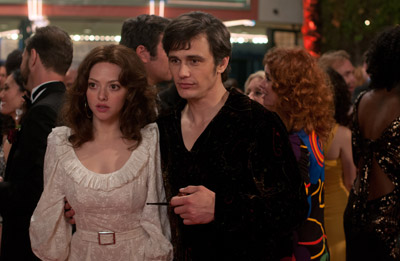 Heidi Jo Markel brought in Andy Bellin, with whom she had previously worked on Trust. Andy Bellin reconstructed and rewrote the original script, tailoring it to Rob Epstein and Jeffrey Friedman's vision.

The directors' starting point was to figure out what of the many parts of Linda's story seemed the truest to them. 'They were all very connected, but seemed contradictory in many ways," said Rob Epstein. The team decided to start with Linda living at home with a very domineering religious mother; then breaking away from her by falling into the hands of Chuck Traynor who then took over her life and coaxed her into doing porn. At the age of 22, she became a worldwide porn superstar; and only nine years later she had completely walked away from that world and denied having done any of it by choice. 'We wanted to find a structure that kind of married her psychological state at each of those points in time," adds Jeffrey Friedman. 'The idea of playing with those lenses through which we saw her life seemed to be a more interesting way of structuring the movie than strictly chronological."

In addition to the apparent resources used for their research – autobiographies, archive footage and interviews, as well as conversations with Catherine MacKinnon and Gloria Steinem, who were helpful in giving them a personal picture of who Linda was – the filmmakers also spent a day on a porn set just before production started. 'We wanted to get a sense of what that world was like and how people relate to each other on set when they weren't filming," says Jeffrey Friedman. 'It was very educational to learn that it is a very professional environment, very casual and matter-of-fact, yet very respectful to the performers, in particular the women who were basically calling the shots."

Shooting on location in Los Angeles proved to be a major advantage to the production. 'We were fortunate to secure the California state tax incentive, and thus gaining the benefits of shooting in and around Los Angeles, lining up great actors and crew on a tight budget, with period production and costume design elements," says Jim Young. California also doubled well for Florida, which is the setting for the majority of the story. For the small scenes set in New York City, the filmmakers used downtown L.A. and the Warner Bros lot. In the course of the 25 day shoot, production also shot at the Alex Theatre in Glendale, the Langham Huntington Hotel in Pasadena, the Moonlight Rollerway Skating Rink in Glendale, and on location in Long Beach.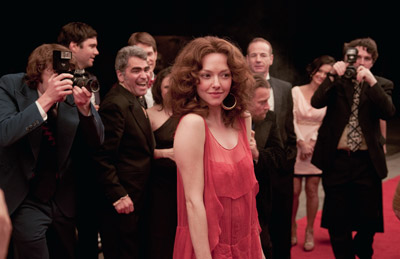 The casting for any movie is essential. However, the role of Linda Lovelace called for someone particularly committed to portraying the role. 'If I have two words to describe Amanda Seyfried - it's fearless and brave," says Heidi Jo Markel. 'She was the perfect actress for this part, because of her complete commitment to the character, her immersion from the very beginning – taking voice lessons, studying, reading every book there was about Linda." Rister agrees that Amanda Seyfried had a 'lack of inhibition and she was really ready to tackle this story with all that she can give."

After a lengthy dinner meeting with Rob Epstein and Jeffrey Friedman, Seyfried was impressed by the directors' 'perfect vision and meticulous preparation." It became clear to the actress that she was going to completely commit to making this character come to life. 'This was the first time I've stepped out of my comfort zone, and playing someone that existed comes with a lot of responsibility. Linda worked so hard for so many years for someone to listen and to find a voice that was going to be heard. It's a tale of survival, and it was important to me to validate everything she went through, because it is told through her point of view."

As Amanda Seyfried was not yet born when Deep Throat premiered, she had to do her research from scratch. 'I knew nothing about Linda Lovelace, and I think most people only know the idea of her. Yes, she was a porn star, but it comes with so much more." Amanda Seyfried had access to the original copies of Lovelace's autobiographies as well as exclusive footage over the years from the time she was in Deep Throat to the point she died. 'I had a lot to draw from, and her accent is ingrained in my head."

Amanda Seyfried ended up watching the infamous Deep Throat only halfway into the filming of Lovelace. 'It was really intense and hard to watch, knowing what happened and the story behind that movie. But at the same time it helped me to completely absorb what Linda was about."

In casting Linda's husband, Chuck Traynor, the filmmakers were looking for a leading man, as well as a character actor, that would be able to capture two contradictory sides to Chuck – the magnetic, charismatic personality, but also the tough and abuse force that was controlling Linda. 'Peter Sarsgaard came in and immediately showed such complexity and range," remembers Rister.

Peter Sarsgaard wasn't sure at first if he would be able to take on an intense role like this, especially out of consideration for his then-pregnant wife. 'But Maggie thought that it would be a good thing for me to do. I've done a lot of films that have dark material and she reminded me that I usually feel better after having done a movie like this than I might have otherwise. You get it all out of your system and sort of feel purged in the end. It definitely felt cathartic."

In exploring their characters, Amanda Seyfried and Peter Sarsgaard knew very early on what Chuck and Linda's relationship was like. 'Master and servant," observes Peter Sarsgaard. 'They are both deeply naïve, and I see them as a little girl and a little boy." He didn't let her out of his sight, and wouldn't even let her go to the bathroom without his permission. So when she became famous, there were so many other people involved that she almost felt like she was escaping it in a way. It allowed her distance from Chuck and from the reins of him, and that ultimately saved her life."

In addition to being the right actors for the roles, the chemistry between Peter Sarsgaard and Amanda Seyfried was vital. Both actors had mutual admiration for each other, which helped in making their characters even more believable. Says Amanda Seyfried, 'I could never believe that someone so charismatic can play such a menacing, evil monster. I mean, this guy was so unpredictable and weird, and Peter Sarsgarrd completely captured that. He absolutely understood that the audience needs to see that side of him that Linda initially fell in love with."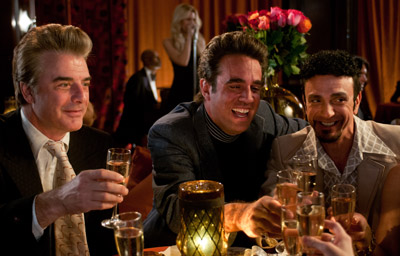 Peter Sarsgaard in return was 'inspired by her enthusiasm by someone who hasn't been in the business for ever. I'm experiencing things for the first time with her. She's making things seem brighter for me, and is more spontaneous and alive."

In summing it up, Amanda Seyfried adds that in the end 'it's about this woman's journey and this relationship that was unbelievably foul and impossible. It's a character study, and we are finally getting Linda's story told the right way."

Lovelace
Release Date: September 26th, 2013