Denzel Washington and Mark Wahlberg 2 Guns
Cast: Denzel Washington, Mark Wahlberg, Paula Patton, Bill Paxton, James Marsden, Fred Ward
Director: Baltasar Kormákur
Genre: Crime, Drama, Thriller
Running Time: 109 minutes

Synopsis: Academy Award® winner Denzel Washington and Mark Wahlberg lead an all-star cast in 2 Guns, an explosive action film that tracks two operatives from competing bureaus who are forced on the run together. But there is a big problem with their unique alliance: Neither knows that the other is an undercover federal agent.

For the past 12 months, DEA agent Bobby Trench (Washington) and U.S. naval intelligence officer Marcus Stigman (Wahlberg) have been reluctantly attached at the hip. Working undercover as members of a narcotics syndicate, each man distrusts his partner as much as the criminals they have both been tasked to take down.

When their attempt to infiltrate a Mexican drug cartel and recover millions goes haywire, Trench and Stigman are suddenly disavowed by their superiors. Now that everyone wants them in jail or in the ground, the only person they can count on is the other. Unfortunately for their pursuers, when good guys spend years pretending to be bad, they pick up a few tricks along the way.

2 Guns
Release Date: October 10th, 2013



About the Production
Attached at the Hip: 2 Guns Is Developed

BOOM! Studios published the first issue of writer Steven Grant and artist Mateus Santolouco's explosive five-issue miniseries, '2 Guns," in 2008. Steve Grant told the intriguing tale of Bobby Trench and Michael Stigman, two undercover agents who discover that the amount of cash locked in the bank vault that they are robbing is not remotely what they expected. When the two find themselves double-crossed by the very men who set them up to do the job, they must go on the run from the organisations they vowed to serve.

Founder and Chief Executive Officer of BOOM! Studios Ross Richie walks us through the source material: 'It's a story about characters ground up by the system, set within the framework of government agencies that pursue their goals, no matter the consequences. Steven Grant took the familiar noir trope of an undercover cop tale, and he deconstructed that. He also included lots of comedy and action to make it incredibly entertaining."

The series of graphic novels is written by a man with a curious take on this style of writing. 'I like doing crime comics," admits Steve Grant, who calls 2 Guns an 'anti-buddy" story. 'I don't actually believe in good and evil. From my perspective, people walk a line, fall on this side or that, and wobble back and forth. It's just a natural existence. I tend to view my material not as dramas, but as situational comedies where everybody in the story thinks they know what's going on, and actually nobody in it knows what's going on."

Producer Marc Platt, who has shepherded to the big screen action hits such as Wanted and Drive, was keen to develop the graphic novel series brought to him by his colleague, fellow 2 Guns producer Adam Siegel. Marc Platt discusses his initial interest in the source material: 'I always love stories where there are two characters who are seemingly very different, and the journey of the story is the way in which those two characters find their way to each other. Here were two guys who don't want to be in the same general vicinity of each other, but who are forced to work together and learn something about each other and themselves in the process."

Adam Siegel recalls what drew him to the project, and the manner in which he worked with a talented screenwriter to flesh it out: 'When I read Steven Grant's graphic novel, I was blown away by the great characters and the clear concept that these were two guys who were undercover from each other."

To develop the story into a film, Marc Platt and Adam Siegel found a writer who could turn this crime story series"replete with much humour and multiple twists"into a taut script. Explains Adam Siegel: 'I was a big fan of Blake Masters' work on the television drama Brotherhood, which I thought had two great masculine roles: two people on both sides of the law. Blake Masters sparked to the graphic novel immediately, especially the Butch & Sundance elements that he saw in them."

Fresh off of three seasons on an award-winning show, Blake Masters jumped at the chance to work on fare that was a bit lighter. '2 Guns is twisted in its own way, but I instantly saw the spine of the story and the chance to create some great characters in this world that the graphic novel set up," he offers. 'The characters and the humour of the movie are inextricably bound together. The humour is coming out of each character's worldview and the way in which those views clash. Everybody has their own code, and they can't believe everyone else doesn't share their code."

Marc Platt was pleased with the direction in which Blake Masters' script was headed, and he flew through a review of the initial treatment. The producer recalls: 'I read the first draft of the screenplay on an airplane between Los Angeles and New York, and got to around page 80 just before landing. I shot off an e-mail from the plane to Adam Siegel that said, -I love these first 80 pages, and if the last 40 are just as good, we're in!'"

Early on during the script's development, Mark Wahlberg expressed interest in joining 2 Guns. He came aboard as Navy Petty Officer Michael 'Stig" Stigman, a fast-talking sharpshooter who is as awkwardly charming as he is cunning. For more than a decade, Michael Stigman has served the Navy honourably. But when he does six months in the brig after attacking a military police officer (MP), Stig is drafted into one of the Navy's shadier ops and officially considered AWOL. He can manoeuvre in the dark, and he's now dispensable if he decides to go off the Navy's playbook.

The actor describes what drew him to the role: 'The story goes back to those great buddy action comedies that I've always been a huge fan of. Michael Stigman's that guy who just goes on impulse. Going into the bank heist, they've both been playing each other; neither has been completely honest about who they are or their motivations. Even though he's playing Bobby, and Bobby's playing him, Michael Stigman's still honest about how he feels. He's up for a good time, but if he gets rubbed the wrong way, he can go dark pretty quick."

Although their mission has them planning to steal approximately $3 million of drug kingpin Papi Greco's cash when we are introduced to the reluctant partners, Michael Stigman and Bobby get much more than they bargained for. When they open (read: blow up) the safety deposit boxes at Tres Cruces Savings & Loan, they discover more than $43 million"money that will most definitely be missed when they go on the run.

Mark Wahlberg brings us up to speed with the moment when it all goes to hell with the agent and the operative: 'After the heist is over, unfortunately it's either Bobby or Stig, and Stig gets the upper hand. Stig doesn't want to kill Bobby because he's very fond of him, but he has a job to do. In the scuffle, Bobby's DEA badge drops and Stig is upset"even though he's been double-crossing Bobby"that Bobby had the nerve to double-cross him."

For his part, DEA agent Robert Trench is called many names. And depending upon the role you play in his world, you may know him as Agent Trench, Bobby B. or Bobby Beans. He's spent three years infiltrating Manny 'Papi" Greco's Sonora, Mexico-based empire, and in the past 12 months, he's brought in Stig to work the job. Bobby's latest deal has him trading 500 American passports for cocaine, and Greco has come up with cash, not coke. As Bobby and Stig head back into the U.S."happy to still have their heads attached to their bodies"they are hauled into custody. Both of their superiors are less than pleased they've come back empty-handed.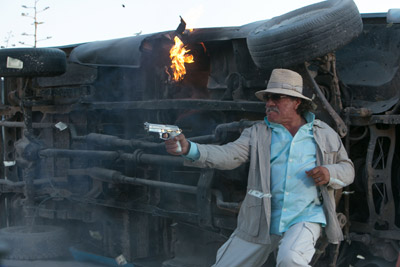 Masters expanded upon this rich world that Steven Grant created and underscored that when you're in deep with a drug lord, your handlers are bound to wonder if you are on the take, or as Papi puts it, you 'skim a little cream." After Bobby and Stig are questioned separately at immigration control, Bobby is given two more weeks before the DEA pulls the plug on his operation. Stig's plan of robbing the bank where the drug lord stashes his cash is looking like Bobby's best option for nabbing the criminal. Until they make the heist and realise they've actually stolen the CIA's money.

As the screenplay developed, producer Randall Emmett was sent the script by Wahlberg, with whom he collaborated on projects including Broken City and the upcoming Lone Survivor. Emmett was enthusiastic to come aboard and help finance the project starring his longtime friend. 'The script was a page-turner for me; it had tight dialogue and skillfully balanced drama and comedy," recalls the producer, who is partnered with George Furla in the production company Emmett/Furla Films. 'Watching the relationship between the two characters evolve, I knew it was the kind of film audiences would welcome."

When it came time to seek out a director for 2 Guns, the production team agreed with Wahlberg's assessment that his previous director Baltasar Kormákur would be a good match for the material. Indeed, when Wahlberg introduced Baltasar Kormákur to Masters' explosive screenplay, the director knew it should be his next project.

2 Guns is a natural progression of expression for Baltasar Kormákur, a critically acclaimed actor and director in his native country of Iceland who made his American studio film debut in 2012's hit Contraband, which starred Mark Wahlberg and Kate Beckinsale. Known for finding a story's strength in dark humour, his films include 101 Reykjavík, A Little Trip to Heaven, Jar City, Inhale and The Deep. Commends Mark Wahlberg: 'Balt comes from that school of guerilla filmmaking. He never goes to the trailer. He's always on set, always moving stuff himself, getting in there and making it happen."

Discussing his choice to join the team, Baltasar Kormákur says: 'The script had this modern Western feel, which felt like something that I could play with and be stylised in finding ways of visualising the story. There's a lot of humanity to the characters. We like them as we follow them, even though they're living in an elevated, but not necessarily unrealistic, criminal world." He sums: 'Ultimately, 2 Guns is a character-driven film that pays homage to Westerns through the feel and scope of the landscape."

Baltasar Kormákur readily admits that he is drawn to action scripts, but not simply for the sake of delivering adrenaline-fueled moments. 'I look at what I can add to it, and I ask myself if I connect with the material or if it will just be another day at work," he states. 'I get attached to material that I feel I can put myself into and help the actors; that gets me excited."

Platt knew it would take just the right director to walk that line between delivering the explosive set pieces of the screenplay and actually exploring the characters' comedy and drama. '2 Guns is an action movie with humour, but it's also about real people. Underlying Balt's work is tremendous humanity, which is vital to creating a movie that is entertaining and one that people care about," explains the producer. 'From day one, he saw the tone of 2 Guns and understood the masculinity of it: the nature of male friendship and the notion of two guys doing jobs that they believe in."

The production partners on 2 Guns were rounded out by two fellow producers, financier Norton Herrick and BOOM! Studios partner Andrew Cosby, and this proved to be the right group to finance and bring to life Kormákur's vision. 'Balt is an innovator," sums Furla. 'As an actor, as well as a director who has come up through the system, he knows how to accomplish creative shots that tell the story."

With one of the leads set for the action film, it was time to cast the fellow actors who could bring 2 Guns to life. And that began with one of the only performers working today who could wholly embody the complex Bobby Trench, whose motto is 'When this is over, I'm going to kill you": two-time Academy Award® winner Denzel Washington.

The Guy Fighting Next to You: Casting the Film

After portraying a series of intense characters in recent years, Denzel Washington was searching for some humour in his next role. He found that in agent Bobby Trench. 'I was looking to depart from heavier roles, and when I read this script it really made me laugh," the performer reports. 'Bobby does whatever is necessary to get the job done. He says there is no code; you do whatever you got to do, whatever it takes. I think he is an honest cop, but he doesn't live by the honour codes."

Working on both sides of the law for so many years has allowed Bobby to effortlessly manoeuvre between the worlds. Denzel Washington explains: '-I-know-a-guy Bobby,' my undercover character, can get anything for you that you need: a '63 Chevy, a '59 bottle of wine, a condo in the Himalayas. Whatever it is, he knows a guy; that's his modus operandi." Still, Bobby's not beyond being duped himself. 'Bobby and Stig are lying to each other for half the picture. I'm not what I told him I am, and he's not what he told me he is."

Partnering these two performers was an exciting prospect for Kormákur, who initially suggested to the team that Denzel Washington's Bobby would be the perfect foil for Mark Wahlberg's Stig. 'I hadn't seen Denzel play light," says the filmmaker. 'But the comedy in 2 Guns is based on reality, like Robert De Niro in Midnight Run. Denzel has such an immense presence, but actors with good drama sense have good timing. That timing is everything when it comes to comedy."

For his part, Emmett was thrilled that Denzel Washington signed onto the project. He says: 'We really wanted Denzel Washington to be a part of this, and we pushed to present the project to him. Once he said, -Yes,' we knew both Mark Wahlberg and Denzel Washington would make for an explosive combination!"

Mark Wahlberg was glad that the stars finally aligned for the two men to work together. Discussing Denzel Washington, he states: 'We have great chemistry. We've known each other for a while, and this was the perfect piece of material for both of us to show a different side of ourselves. People would be very surprised to see how playful Denzel Washington can be. I remember shooting our first scene, and every take I would do something completely different. He said, -Oh, I see what's happening here,' and he jumped right on board." Mark Wahlberg admits that he had a bit of an ulterior motive, and that was to get Denzel Washington to laugh. 'There's nothing better than seeing Denzel Washington smile. Usually you get to see that once or twice in a movie; in this film, we see it a lot."

The only other thing Bobby can't get straight is his relationship with his control officer, Agent Deb Rees. Portrayed by Paula Patton"who reunites with Washington for the first time since their pairing in Tony Scott's 2006 sci-fi thriller, Déjà Vu"Deb is torn between her feelings for Bobby and her desire to do right by herself. Patton shares graphic novelist Grant's take on one of the story's key themes: 'I've always had a theory that the line between a crook and a good guy is a very fine one. Still, it's challenging to work undercover and to pretend to be a crook. What is so great about 2 Guns is that it's rough, rugged, shoot-'em-up action with a bit of romance. But, more importantly, it also has a sense of humour about itself."

The attraction between Deb and Bobby is palpable in the border interrogation room, where Bobby is grilled by his handler and Marlon Jessup (played by Robert John Burke of television's Rescue Me and Army Wives) about Bobby's last encounter with Papi Greco. Their on-again/off-again relationship is best summed up by Bobby's bedroom comment to Deb that he 'really meant to love her."

Denzel Washington is quick to remind the audience that, even though Deb is more subdued than some of Patton's other roles, his co-star is the same ass-kicker from Mission: Impossible"Ghost Protocol. He commends: 'Paula's the toughest one in the bunch. She has a pretty face, but there's a tough element in there. She loves competition and fighting, and was always ready to jump right into it. She's, I dare say, one of the guys."

During preproduction, Baltasar Kormákur worked with Masters on developing the character beyond being just a femme fatale. Recalls the screenwriter: 'Baltasar Kormákur wanted to create a real humanising context for Deb, where we understood what it did to her to watch drug dealers walk every day for 10 years"the feeling that you are fighting an avalanche with a teaspoon"and the choices it can lead you to make. She may be duplicitous, but just like the men, she's doing it from a place where she feels justified in her behaviour."

Throughout the casting process, the director brought on actors to play against typecast. That was the case with the character of Manny 'Papi" Greco, the powerful drug cartel leader whom both Bobby and Stig are attempting to capture. Just because Greco has to make deals with other devils in order to get his product across the border, it doesn't mean he doesn't bristle at the inequity. Still, he bides his time, plays the game and pays off a mysterious partner at the Tres Cruces Savings & Loan.

Edward James Olmos, who portrays the dangerous drug lord, was taken by the powerful script. He commends: 'It's a very well-written action-comedy between two -buddies' that connects with the public. What drew me to the story is the humoristic, but very honest, look at the contributions of different parts of the American government in the actual drug situation."

Villains live on both sides of the 2 Guns drug war, and nowhere is that more evident than with Earl, a shadowy CIA affiliate whom everyone calls 'God's S.O.B." Earl is fond of preaching to his victims, meting out punishment to the 'guilty, ignorant or unlucky" as he deems fit. Earl is played by action-film staple Bill Paxton, who discusses his interest in the meaty role: 'When I read the script, I was struck with its central theme of honour. I liked the idea of all these supposedly honourable men who are loyal to these supposedly honourable organisations, but at the end of the day the only two men in the movie who have true honour are Bobby and Stig"because they're honourable to each other."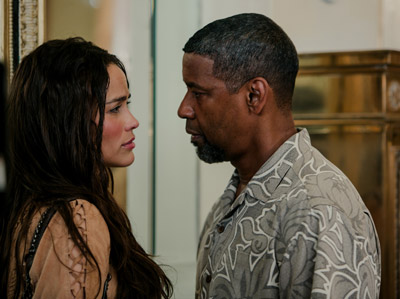 After the bank heist goes south and our heroes take $40 million more than they intended out of the CIA's pockets, Earl arrives on the scene to 'properly incentivise" anyone in his way and set things right. Everyone, including the FBI, scurries out of his path, especially when Earl starts playing Russian roulette with his prey. 'He may or may not work for the CIA," says Paxton. 'Earl's likely an independent contractor that they have to rely on occasionally when they're in a jam. He's somebody they don't want to call up because he creates a lot of paperwork for them. I describe him as a -human bloodhound.'"

The man pulling Stig's strings is none other than Quince, a spit-and-polish naval officer and the undercover agent's superior at Naval Air Station Corpus Christi. Stig considers Quince above suspicion, but Quince might not be the straight arrow he appears. Action-film veteran James Marsden discusses his reasons for joining the film: 'There's a great sense of fun to the action, and the tone of the movie is similar to Lethal Weapon."

Because Quince holds Stig's future over his head, the undercover agent bristles whenever his superior is around. Marsden explains their dynamic: 'They joined the Navy around the same time, but my character shot up the ranks through the academy, aced every test. He's a bit of a sociopath and very into his power; he's the puppet master, the intellectual behind the plot. Quince has got his muscle behind him, but there are times when he gets his guns out and isn't afraid to get his uniform dirty."

Rounding out the principal cast of 2 Guns is Fred Ward, who portrays Navy Adm. Tuwey, the only person whom Stig believes can get to the bottom of the cover-up. Ward brought a personal spin on the role; he had served as an enlisted airman when he was a young man. Discussing his process with Baltasar Kormákur, Fred Ward offers: 'Balt was very detailed with me during the shoot. The admiral's speech to Stig is a long one, and Balt was very patient. What I like about directors like him is that they'll pick up my ideas and give me theirs; it's a respectful conversation."

You're My People: Going Undercover

While neither Denzel Washington nor Mark Wahlberg are strangers to the action genre, they knew that understanding the world of deep undercover would take expert educators. When the production brought on board DEA technical advisor Richard Woodfolk and Navy SEAL technical advisor Jamie Wall, the cast and crew alike learned more about the drug war than they could have imagined.

Recalls Denzel Washington: 'Just observing Richard Woodfolk's personality and his style was important. I was able to ask him questions like -How do you not get shot on the job?' I think a lot of those men and women are, to a degree, adrenaline junkies because they put themselves in very dangerous situations. They thrive on that."

From Three Kings to Shooter, Mark Wahlberg has spent a good deal of time undergoing military-style training for his film career. 2 Guns represents his latest effort, and he was up for the challenge to train as and to portray Petty Officer Michael Stigman. Mark Wahlberg states that it was Stig's commitment to his code that was most reflective of the military the performer has grown to know: 'I had this mantra throughout the movie that I wrote on the front of my script, which was -duty, honour, loyalty and trust.' Those things are very important to Stig; there isn't anything that he wouldn't do for his brothers, for his people."

With this project and the upcoming epic Lone Survivor, Wahlberg shot two military-inspired films back to back. About his experience, he offers: 'I went into Navy SEAL training immediately after shooting 2 Guns, and I'd been doing a lot of research into and reading about that world before this film. I've been lucky enough to have played military guys before, and I've had quite a bit of military training for other roles."

For her part, Patton shares that working for the DEA is not remotely what she expected it to be. It turns out her role as Bobby's controller, Agent Deb Rees, would be one involving more intense questioning than action. The performer explains a few steps in her preparation: 'I like to start in a place of truth because it's so difficult to step in someone's shoes just on imagination. From there, you also want to make it entertaining and put your instincts into the character. Richard introduced me to an incredible woman who allowed me to have intense discussions with her about her job. She worked for many years in the DEA and brought down many narcotics syndicates during her time as an agent. I was able to learn not just about the work, but about her personal life as well."

As Patton surmised, a female undercover operative gets nowhere with her contacts by simply cracking their heads, although she has to be prepared for that distinct possibility. The actress reflects: 'A woman's experience as a DEA agent is very different from a man's. It takes a great deal of fearlessness to go into a dark room and handle a drug deal. What I found fascinating about my contact is that she has this very sweet voice. In order for her to become friends with her marks and lead them to believe that she's one of them, she couldn't be too brusque or off-putting. This agent used her femininity to help infiltrate these places, and yet she was fully confident in her strength, intelligence and wit."

Learning how to think and act like a double agent wasn't the only challenge on set for the performers. Figuring out what they would do to get out of being tortured was another matter entirely. All veterans of action films, our players would be required to rob banks, get thrown out of moving trucks and dodge bullets raining down upon them. Artfully choreographed by stunt coordinator Darrin Prescott and 2nd unit stunt coordinator Wade Allen, these sequences paled in comparison, however, when it came time to manoeuvre around some very angry livestock.

As Papi Greco runs a steer ranch in Sonora, Mexico, multiple scenes in 2 Guns"from our introduction to the drug kingpin to the film's explosive finale"occur there. Mark Wahlberg walks us through what it was like to be strung up by his feet and pummelled by the land baron with a baseball bat. He laughs: 'I didn't like being upside down. Edward loved it because there are different times in the movie where he has the upper hand, or we have the upper hand; we were always pushing it a little too far. He was milking it for everything it was worth. Denzel Washington didn't want to hang upside down too long either. So we shot the essentials and got out of there. Working with cattle is a completely different ball game."

Although bull handlers Marshall DeSouge and Reginald Purris kept the cast and crew out of harm's way, Denzel Washington would have preferred the two trainers were the ones with feet over heads during an interrogation. He dryly adds: 'My back is better now, much better, but I had fun doing that scene. Mark Wahlberg and I were both game and went for it. Still, with a bull snorting at you, that's enough to tell your secrets." Denzel Washington notes that they had a bit of unexpected competition on screen: 'That bull tried to steal the scene. He actually kicked his feet and started snorting at us, but thank goodness that the fence was between us. That was one big, mean animal."

New Mexico to Louisiana: Design, Shooting and Locations

2 Guns was shot on location in New Mexico and Louisiana, the latter doubling for Texas. Although the actioner was conceived as a Western in the classic sense"i.e., most of the exteriors were filmed in the wide-open spaces of New Mexico"much of the intense interaction was captured in and around New Orleans. States Emmett: 'We have shot many films in both New Mexico and Louisiana, taking advantage of their tax incentives. We felt that these locations not only could provide beautiful backdrops for 2 Guns, but also help the production's budget."

Discussing his collaboration with production designer Beth Mickle, Baltasar Kormákur says: 'Our vision for finding the balance between a modern film and a Western was in sync from day one."

The director had seen Beth Mickle's fantasy version of Los Angeles in Drive, and he was certain that they would work with one another. The designer recalls: 'When we first got together, Balt said he wanted to take that concept to the Southwest and see what we could do with New Mexico for Mexico, and Louisiana for the Texas settings. As reference, we drew upon the naturalistic feel of landscapes portrayed in films like No Country for Old Men and Once Upon a Time in the West, but we wanted to charge up the colours and bring in graphic elements"play with it and push it a bit more. One of the best things about Balt is that he's always happy to push the envelope."

As well, director of photography Oliver Wood was an early key hire. Oliver Wood not only created the reality-based aesthetic featured so prominently in the first three chapters of the Bourne series, he also lensed Denzel Washington in Safe House and Mark Wahlberg in The Other Guys. Together, the cinematographer and director decided to let the vistas speak for themselves and go anamorphic. Commends Platt: 'Oliver Wood is one of our great creative cinematographers, and he has such an intuitive feel for where to place the camera to best tell the story."

'There's a prestigious look to shooting anamorphic, or wide angle," adds Emmett. 'Baltasar Kormákur and Oliver Wood were going for the beautiful vistas and incredible close-ups. The location was elemental in telling the story; the fantastic landscape was as much a part of the film as the fantastic actors we were working with."

For the cast's part, there is nothing like getting offstage and going into the world to embody their characters. Sums Patton: 'I love it when a film shoots on location. It adds to the authenticity of the project and for you as an actor. Listen, we can act on green screen if we must, but it's more challenging and so fun to be able to come to New Mexico and New Orleans to shoot in these incredible locations. It helps you immerse yourself in a character and in the scene."

Lensing in New Mexico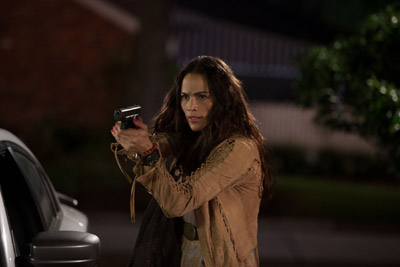 The company spent more than two weeks shooting exteriors throughout New Mexico. Outside of Santa Fe, the High Plains vistas of Lamy and La Bajada provided mythic backdrops for the double-crossing, double-crossed heroes, as they struggle to make sense of the massive pile of heist cash in the back of Bobby's Bronco, and then face off with one another when identities are revealed.

This region also established the setting for an ill-advised call to naval headquarters, when Stig realises he's been set up by his bosses. It also served as the backdrop for Bobby when he staggers through an unforgiving Texas desert and hijacks an ATV from a couple of stunned rednecks"played by Jason Kirkpatrick and Tony Sanford"in 'Freedom Ranger" jackets. Sums Baltasar Kormákur: 'I wanted to have the scope and the vision of the desert, and that's what I fought for."

Emmett appreciates his director's eye: 'There's a tone and authenticity that comes from a location such as New Mexico. I liked setting a contemporary action movie in this type of setting."

At the Oxbow Overlook of the Rio Chama, which doubled for the Rio Grande, Papi Greco's coyotes herd Bobby and Stig, along with a group of immigrants, across the ragged Mexico outback. With only 24 hours to deliver the heist money to the drug lord, Bobby and Stig are in a race against the clock to rescue Deb.

Denzel Washington recalls the exhausting filming sequence: 'For the Rio Grande scene, we shot in this semidry lake bed to get the Western feeling and broad landscapes that Balt wanted. I'm a good swimmer, so it wasn't that big of a deal. The water wasn't that deep, but the current was strong and it would sweep you down river pretty quickly. Fortunately, the stuntman I was playing opposite was also a good swimmer." He pauses and laughs. 'Swimming a bit, walking across the desert, shooting some bad guys and wearing gold teeth: all in a day's work."

Albuquerque's overpass at Lead Avenue and Broadway Boulevard was the perfect place to play out the colossal traffic jam one often finds at a Mexico-Texas border crossing. Framed by a steady stream of extras playing day labourers crossing on foot, Bobby and Stig sit in an idling car in dead-stop traffic. But when their purposefully flimsy explanation for their south-of-the-border travel provokes a swarm of Kevlar-clad customs agents with itchy trigger fingers, our boys are hauled into the arms of the DEA.

Baltasar Kormákur pushed for authenticity in the Mexico settings, so Mickle and New Mexico location manager Rebecca Puck Stair spent weeks searching for Papi Greco's ranch, a private kingdom nestled high in northern Mexico's desert plains. Although it was more than an hour's drive southeast of Albuquerque, it was very much worth it. 'At the end of this long driveway sat a stunning house that hit all the right notes," Mickle recalls. 'It had perfectly whitewashed stone walls, wrought-iron accents and nothing but blue sky and beautiful, tan sand as far as the eye could see."

Off to the side of the ranch is a circular driveway, where Bobby skids to a stop in a '63 Impala convertible for a three-way, heavily armed standoff. Beyond that driveway is a long house where ranch hands were slinging dominoes. It is in this Greco ranch barbecue scene at the beginning of the film that Bobby and Stig's cover begins to unravel.

Filming in Louisiana

Another eight weeks of photography took place in Louisiana, where existing locations brought life to the rich interior world of 2 Guns. Emmett /Furla Films had shot several movies in Louisiana, and Emmett felt it was a good location for this project. He states: 'I brought it up with Balt and discussed with him the pros of filming there. A location scout also thought it would be a good place; thus, the decision was made to film the movie in Louisiana."

One of the key scenes of the film is when we first meet Bobby and Stig in a picturesque, small Texas town at a diner across the street from the Tres Cruces Savings & Loan. As luck would have it, this S&L they're preparing to rob happens to be across the street from a police station.

Bobby and Stig stake out the bank from a well-worn window booth at Mama Maybelle's Diner (where you can get the best doughnuts in three counties). These street-corner scenes were shot in Amite City, Louisiana, and they represented a substantial build for Mickle's crew. To achieve the proper perspective on the bank, her team built the diner as a façade around the front of a historic house. She explains: 'That set was such a wild challenge because we weren't allowed to anchor anything onto the roof of the existing historic house behind it; it was just a miracle in engineering."

For the S&L, Mickle's crew completely rebuilt the building interior and turned back the clock on the approximately 80-year-old former bank, which is currently the Amite Chamber of Commerce. On the opposite corner, the city's police station, which is also seen in 2 Guns, is perfectly positioned alongside train tracks. Explains Baltasar Kormákur: 'I wanted to use the train to cut through the scene in a couple of places, and it's relevant because there are trains coming through those small towns like crazy. It's a wink at the Westerns."

After he wings Bobby in the shoulder, Stig dutifully delivers the entire take from the heist to Lt. Cmdr. Quince in San Antonio. For these scenes, the fictional Camino Royale hotel was re-created in a penthouse suite at Harrah's New Orleans, as well as the lobby of the century-old Le Pavillon Hotel "a few blocks from the infamous French Quarter.

Various neighbourhoods in New Orleans filled out the characters' personal lives: the sober, yet elegant, home of dedicated veteran DEA agent Marlon Jessup was found near Audubon Park. DEA agent Deb Rees' bohemian ranch-style home was lensed in the River Ridge neighbourhood. Finally, the neatly kept stucco-and-brick houses of Kenner provided a cushy neighbourhood for Papi Greco's mistress, Daisi (Snitch's Doris Morgado), and their son, Javier (newcomer Samuel Baca-Garcia).

No location offered more reality in Louisiana than Amite City's stockyard, which became Papi Greco's ranch stockyard interior. Located just two miles from the Tres Cruces bank set, the stockyard gives us our first glimpse of the deceptively charming drug lord. When Bobby attempts to make a deal with Papi Greco that will secure evidence and contribute to the takedown of the cartel, both their fates are sealed.

The crew returned to the stockyard to capture the unconventional interrogation of Bobby and Stig, with Papi Greco determined to recover his share of the heist from the now-fugitive operatives. The stockyard's maze of catwalks, chutes and cattle pens provided the perfect setting for an element of the film's dramatic finale, a Mexican standoff among Earl, Quince, Bobby and Stig.

For the scenes in which our heroes must race to Naval Air Station Corpus Christi to steal back money they believe is hiding in Quince's office safe, the production was off to its next locale. Federal City, a 155-acre former naval support facility on New Orleans' West Bank, hosted the cast and crew for five days as mayhem ensued. While Stig plays decoy on a tire-squealing chase with the MPs, Bobby discovers more than he bargained for in Quince's office and must concoct a not-so-discrete, three-alarm exit strategy.

2 Guns
Release Date: October 10th, 2013