Adriano Zumbo #mealforameal Interview
As part of their commitment to make mobile better, Virgin Mobile Australia are taking some of our silliest mobile phone behaviours and finding ways to make them better. The first initiative will target one of Australia's most popular mobile behaviours – taking pictures of meals and sharing them via social media – and make it better by turning those pictures into real meals for those in need, together with OzHarvest. It's called #mealforameal.

Australian chefs Adriano Zumbo, George Calombaris, Andrew Levins, and the team from Gelato Messina have thrown their weight behind the campaign, and will encourage their legions of devoted fans and followers to get behind the hashtag. Here's why…

Mobile phones have become as ubiquitous in the food world as cutlery. While it was once considered rude to have your phone at the table, now it's normal to see smartphones taking pride of place amongst the plates or in the hands of diners as they eagerly snap their meals and post them to Instagram. Our newsfeeds are overflowing with pictures of food as we share everything we're eating with everyone we know.

New Virgin Mobile research has shown that on average, Aussies are accessing social media apps through their smartphones for 14 hours a week! That's 26 days a year spent posting, tagging, liking, commenting and sharing. The research also showed that food pictures are the second most common type of photo taken by Australians and third most common to be seen on social media news feeds (behind location shots and selfies) with seven in ten Australians admitting they have posted a food picture on their social channels.

With 60 million photos shared on Instagram every day, one can only imagine how many of these are of food, with ninety new photos with the hashtag #foodporn uploaded every minute.

Unfortunately, it's not just our social media channels overflowing with food. According to OzHarvest, a charity that rescues excess food and delivers it to those in need, four million tonnes of food is wasted every year in Australia alone. In fact, we throw away food worth $8 billion annually. Where does it go?
Straight to landfill.
Despite all of this food being wasted, two million Australians are reliant on food relief every year, with 90 per cent of Australian food relief agencies not able to meet demand for meals. It would seem that while we're sharing meals on Instagram, we're not sharing meals where they are really needed.

Virgin Mobile want to correct this imbalance and are mobilising Australian smartphone users to get behind a new, world first campaign that takes food pics and turns them into real meals for those in need.

Every time someone takes a photo of a meal and shares it on their social channels with the hashtag #mealforameal, Virgin Mobile will donate to OzHarvest so they can deliver a real meal to someone in need. Virgin Mobile is aiming to deliver 400,000 meals through OzHarvest with its #mealforameal campaign.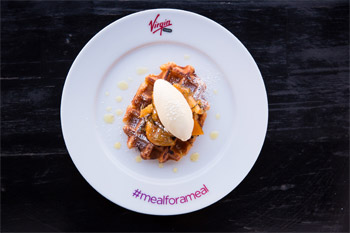 Ronni Kahn, founder and CEO of OzHarvest, explains further: 'Every single day, OzHarvest rescues perfectly good food that would otherwise go to waste and delivers it to over 500 charitable organisations around Australia. We are on a mission to eliminate hunger and food waste simultaneously and now you can help us do this simply by remembering one simple hashtag. So, next time you feel the impulse to snap that organic grass fed wagyu burger, tag it #mealforameal so Virgin Mobile can help us turn it into a real meal for someone in need. Then you can tuck in, feeling good in the knowledge someone in need is also getting fed thanks to the power of you and your mobile phone."

David Scribner, Head of Virgin Mobile Australia, concludes: 'These little pocket miracles we carry around with us every day are so powerful, they have revolutionised the way we communicate and also the way we live. This initiative, part of a wider campaign launched by Virgin Mobile called -Making mobile better', will remind people of just how incredible these devices can be and mobilise Australians to turn their everyday mobile behaviour into a force for good."

To find out more about the #mealforameal initiative and the incredible work that OzHarvest do, including further ways you can show your support, visit makingmobilebetter.com.au.



Interview with Adriano Zumbo
Question: What is #mealforameal?

Adriano Zumbo: When you're posting a picture of a meal you've cooked, eaten at a restaurant or bought you can hashtag #mealforameal and for every hashtag Virgin Mobile Australia will donate a meal to OzHarvest. We all post food onto social media, why not #mealforameal to help those in need?


Question: Why is this Virgin Mobile Australia campaign special, to you?

Adriano Zumbo: It's important to give back to those that need it most and also food waste is very important to my industry.


Question: What are your hopes for this Virgin Mobile Australia campaign?

Adriano Zumbo: I hope that with this campaign Australians can use their mobile phone behaviours to eliminate food wastage around Australia and help Virgin Mobile Australia raise money to help over 2 million Australians in need.


Question: How do you and your many stores try to eliminate food waste?

Adriano Zumbo: In a baking kitchen we don't have as much food waste as in a hot kitchen but we always reuse our bread for breadcrumbs or otherwise. It is very rare that we have a lot left over, at the end of the day too.


Question: Why do you think we've all been captivated by posting our food on social media?

Adriano Zumbo: We are all obsessed with following our favourite chefs and restaurants on social media, I do and I love that we can post photos to those that aren't with me. I'm very busy working and I like to show everyone what I'm doing or creating in the kitchen. I regularly post photos so you can see what I'm up to especially in the kitchen or what I'm eating and where I've bought it. I also hope that my photos encourage people to come into my stores.

Lately I don't think any of my creations haven't been posted on social media. It's a positive for me as the exposure for baking, food and restaurants as been incredible with the craze of posting photos on social media.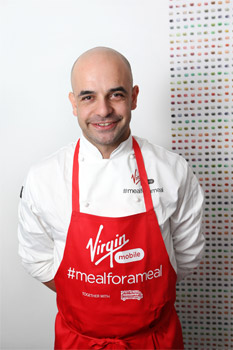 Question: What are your first memories of baking in the kitchen?

Adriano Zumbo: That would have been a long, long time ago but I used to get cake mixes from my parents grocery shop and then I'd mix them and pour them into ten bowls to colour them differently with food colouring. I'd always top the cakes with chocolate icing, that's a must!


Question: Is that what inspired your own Zumbo Baking range?

Adriano Zumbo: Yes, I wanted to make baking difficult treats easier and accessible for Australians. The baking range is great for those just starting out, for kids and people who live in small country towns (like I did) who don't have the access to certain baking ingredients.


Question: What inspires you when you're creating new treats in the kitchen?

Adriano Zumbo: Life! I am inspired by life and what surrounds me in the kitchen. I'll bake and play around with a recipe in the kitchen and tweak, taste and tweak and taste again until they're perfect.


Question: How can Australians support OzHarvest and the #mealforameal campaign?

Adriano Zumbo: All you have to do is post what you're eating or even your favourite meal onto social media and hashtag #mealforameal for Virgin Mobile Australia to donate a meal to OzHarvest.


Interview by Brooke Hunter