ABBIE'S ROAD TO STARDOM
BY PAUL FISCHER.
Australia's Abbie Cornish is having quite the year. The beautiful 25-year old has made inroads into Hollywood as both an actress and recent fodder for the tabloids. Now co-starring with Cate Blanchett and Clive Owen in Elizabeth the Golden Age, Abbie Cornish is clearly not interested in discussing recent rumours about her personal life, but asked how the rising star is dealing with media scrutiny, Abbie Cornish says that "I just spend a lot of time with my friends and family. I love them very much and I think that when you are close to them and in touch with them, then ultimately my time spent outside of working is, that's the focus for me."
Abbie Cornish's career skyrocketed after making an impressive turn in 2004's acclaimed Somersault and 2006's Candy, two Australian films that would lead her to Hollywood. It was the former, in which she played a damaged adolescent, that lead to her being cast in The Golden Age, in which she plays confidante and lady-in-waiting to Cate Blanchett's Elizabeth I. Yet, she says, nothing could prepare her for what lay ahead when she was working on Somersault. "When I went into Somersault, meaning the rehearsals and the shoot, I really felt like I stepped into this strange little creative bubble," she recalls. "That's as hard as I feel I've really worked on a film and as focussed as I've ever been. At that time I was really completely within it, and I was actually really surprised when I got the phone calls about the Australian Film Institute, If and Film Critic Circle awards. When I got phone calls about that and about festivals it was something else, from the outside and I never thought of that stuff."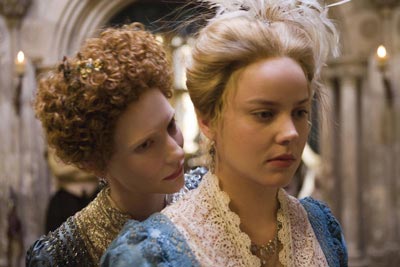 Abbie Cornish has effortlessly segued from the very contemporary and damaged women she payed in those two Australian films, to a soft-spoken British lady-in-waiting, whose passionate affair with Walter Raleigh would ultimately destroy her friendship with Elizabeth. Wearing an assortment of glorious costumes, Abbie Cornish says the dresses helped her define her character. "I unexpectedly found that the costumes for me became key to who Bess was, almost a passionate feeling about her life at that particular point in time. The first week on set of wearing the corset I felt very restricted and I couldn't breathe property, I didn't have my full lung capacity and I actually felt a little bit miserable and I started to wonder, 'Wow, this woman has one of the most prestigious jobs in the court and she has beautiful clothes, beautiful jewellery and yet she can't breathe properly. There's a lack of freedom'. And that got me thinking: 'How does she feel?' There's an exterior and then there's an interior which is quite constraining."
As for working with her fellow Australian Cate Blanchett, "Cate's an incredible woman and an incredible actress first of all. She's very focussed in what she does and I felt in working with her that she had this tremendous amount of work to do in relation to her own character and her own performance. She was always aware of everyone else around her and particularly for me, and I felt there was a watchful eye over my character, over scenes and the dialogue and it was nice to have that there. So there was a very comfortable feeling from me towards Cate, both professionally and personally."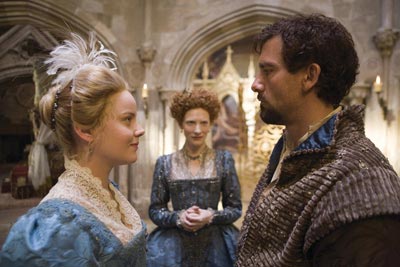 Abbie Cornish's career continues goes from strength to strength, and despite the rumours about being the next Bond girl, her upcoming slate did not mention the 007 flick. Abbie Cornish has, in fact, completed work on the Kimberly Peirce Iraq war film Stop Loss, starring Ryan Philippe, in which she plays a Texan girl indirectly caught up in the conflict. "I filmed in Texas at the end of last year, straight off the back of The Golden Age which was an interesting change," she laughingly recalls "I haven't seen the screening of the film so I can't talk in knowledge of how the film is now but it was interesting to do a contemporary piece, a very Texan sort of country girl dealing with the issues that we are dealing with today." The main issue "is this war we have going on and our involvement, whether it be direct or indirect, with that war. As soon as I read the script I knew I had to do that, because September 11 was a big event for me and in my generation and this is the biggest world wide war that we've seen."
Abbie Cornish is next booked to star in New Zealand director Jane Campion's Keats biopic Bright Star "will be really great. I'll be playing Fanny Brawne who is, in a sense I guess, really Keats' life love, but they were never allowed to marry. He died really young at 25 and her parents wouldn't let him marry her because he was broke, being a poet."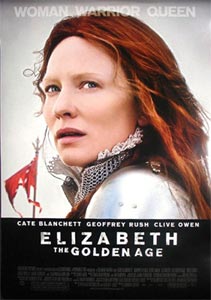 Elizabeth The Golden Age
Starring
: Cate Blanchett, Geoffrey Rush, Clive Owen, Rhys Ifans, Samantha Morton, Abbie Cornish, Jordi Molla
Director
: Shekhar Kapu
Reprising the roles they originated in seven-time Academy Award®-nominated Elizabeth, Cate Blanchett and Geoffrey Rush return for a gripping historical thriller laced with treachery and romance--The Golden Age. Joining them in the epic is Clive Owen as Sir Walter Raleigh, a dashing seafarer and newfound temptation for Elizabeth.
Elizabeth: The Golden Age finds Queen Elizabeth I (Oscar®-winner Cate Blanchett) facing bloodlust for her throne and familial betrayal. Growing keenly aware of the changing religious and political tides of late 16th century Europe, Elizabeth finds her rule openly challenged by the Spanish King Philip II (Jordi Molla)--with his powerful army and sea-dominating armada--determined to restore England to Catholicism.
Preparing to go to war to defend her empire, Elizabeth struggles to balance ancient royal duties with an unexpected vulnerability in her love for Raleigh. But he remains forbidden for a queen who has sworn body and soul to her country. Unable and unwilling to pursue her love, Elizabeth encourages her favorite lady-in-waiting, Bess (Abbie Cornish), to befriend Raleigh to keep him near. But this strategy forces Elizabeth to observe their growing intimacy.
As she charts her course abroad, her trusted advisor, Sir Francis Walsingham (Academy Award® winner Geoffrey Rush), continues his masterful puppetry of Elizabeth's court at home--and her campaign to solidify absolute power. Through an intricate spy network, Walsingham uncovers an assassination plot that could topple the throne. But as he unmasks traitors that may include Elizabeth's own cousin Mary Stuart (Samantha Morton), he unknowingly sets England up for destruction.
Elizabeth: The Golden Age tells the thrilling tale of an era...the story of one woman's crusade to control love, crush enemies and secure her position as a beloved icon of the western world.
Elizabeth The Golden Age Interview with Cate Blanchett -
www.femail.com.au/cate-blanchett-elizabeth-the-golden-age-interview.htm
Elizabeth The Golden Age Interview with Geoffrey Rush -
www.girl.com.au/geoffrey-rush-the-golden-age-interview.htm