Zoe Bingley-Pullin My Food Bag Interview
Celebrity chef and nutritionist Zoe Bingley-Pullin is the latest ambassador to join My Food Bag, the meal creator and delivery service that is changing the way Aussies eat dinner. The service offers the convenience of nutritionally-balanced, seasonal recipes with fresh, free-range and locally sourced ingredients delivered straight to the door.


Question: What is My Food Bag?

Zoe Bingley-Pullin: My Food Bag is an exciting home delivery service that brings the ingredients and recipes straight to you. Each week we offer the convenience of nutritionally-balanced and seasonal recipes combined with fresh, free-range and locally sourced ingredients. It's a great way to learn new recipes, stay healthy and reduce the stress of weekly shopping.


Question: How does the concept work?

Zoe Bingley-Pullin: My Food Bag is designed to be simple and to work for your family. There are three different food bags to choose from, each crafted to match the needs of different households. Instead of only focusing on the number of people, we carefully develop each bag to suit different taste buds and ages. The bags are then delivered to your house every one or two weeks, on a Sunday, for maximum convenience. And you don't have to worry about being away for a week or two – you can pause or cancel your subscription at any time.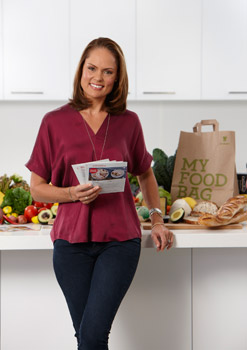 Question: How will this initiative help Australian mums?

Zoe Bingley-Pullin: With a daughter of my own, I completely understand how difficult it can be for busy working mums to juggle everything. It can be such a challenge to find the time to plan meals and prepare dinner, and on top of that keep nutrition in mind. My Food Bag solves this dilemma by delivering top notch ingredients and healthy recipes which your family will love.


Question: Can you talk about the nutrition content behind these meals?

Zoe Bingley-Pullin: Since joining the My Food Bag team, I've helped create a range of new healthy and inspiring recipes, which will help families eat for a better lifestyle. The recipes are designed to be easy to follow, quick to cook and serve balanced portions. There's even individual nutritional information provided so you know exactly what your family is eating.


Question: Are the My Food Bag meals appealing for children?

Zoe Bingley-Pullin: Yes, definitely! The Family Food Bag is made specifically with the fussiest eaters in mind. We explore classic family favourites, like meatballs and pasta, and develop new recipes that are flavoursome and nutritionally balanced. My daughter loves them and I have no doubt that your kids will too!


Question: How fresh is the produce provided by My Food Bag?

Zoe Bingley-Pullin: Fresh ingredients are essential for good meals. The recipes use fresh, seasonal produce and locally sourced ingredients that are never frozen. We have a paddock-to-plate approach, which means free-range and sustainably farmed products are used wherever possible.


Question: How can the My Food Bag meals be used as leftovers for lunch boxes?

Zoe Bingley-Pullin: We get a lot of feedback from our customers that the My Food Bag meals make great leftovers for lunch boxes. The biggest bonus is that this saves you having to prepare that extra meal the next morning. Some of our bags also include enough ingredients for a little extra, which leaves you with enough for tomorrow's lunch.


Question: What are your top tips for packing lunch boxes?

Zoe Bingley-Pullin: Just like everyone, kids need variety and interesting flavours. No matter how healthy your kids' lunches are, they won't offer nutritional value if they don't get eaten! I like to include a main meal, such as a chicken salad sandwich, a piece of fruit and core snacks such as hummus and vegetable sticks to get them through the day.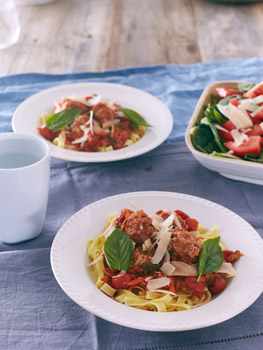 Question: Can you share your My Food Bag recipes, with us?

Zoe Bingley-Pullin: My daughter is a huge fan of my meatballs with fettuccine and tomato sauce. Please see recipes below:
Zoe's Meatballs With Fettuccine And Tomato Sauce
Ingredients:

Meatballs
500g pork and beef mince
onion, finely diced
1 clove garlic, minced
1 tablespoon finely chopped oregano leaves
teaspoon salt
Pinch black ground pepper

Tomato Sauce And Fettuccine
1 tablespoon olive oil
onion, finely diced
2 cloves garlic, minced
1 carrot, grated
1 can chopped tomatoes
1 can diced tomatoes
cup roughly torn basil leaves
2 tablespoons finely chopped oregano leaves
400g fettuccine

Salad
2-3 handfuls baby spinach leaves
1 truss tomato, roughly chopped
1 tablespoon shaved parmesan cheese
Dressing of your choice

To Serve
cup shaved parmesan cheese
2 tablespoons torn basil leaves

Method

Combine all meatball ingredients in a medium-size bowl and mix well. Use clean, damp hands to roll mixture into small balls (about 2 teaspoons per ball). Set aside.
Heat oil in a large fry-pan on medium heat. Sauté onion and garlic for 2-3 minutes, until soft. Add carrot and cook until softened, 2-3 minutes. Stir through tomatoes, basil and oregano and bring to a simmer (use the back of a wooden spoon to break up tomatoes). Add meatballs to the sauce, reduce heat to low, cover and cook for 10 minutes or until meatballs are cooked through. Turn meatballs once during cooking. Season with salt and pepper.
While the meatballs and sauce are cooking, bring a large pot of salted water to the boil. Cook fettuccine in boiling water for 8 minutes or until -al dente' (just tender). Drain.
Toss salad ingredients together in a large bowl.
To Serve, spoon fettuccine into bowls, top with a few meatballs and tomato sauce. Sprinkle with cheese and basil leaves. Serve salad on the side.




Lamb Backstrap With Tomato, Basil And Parmesan Sauce
Ingredients

1 punnet cocktail truss tomatoes, halved
1 cup basil leaves, roughly torn
1 teaspoon finely chopped oregano leaves
3 tablespoons grated parmesan cheese
2-3 tablespoons olive oil

Lamb
350g lamb backstrap
1 tablespoon olive oil
Juice of 1/2 lemon

To Serve
175g green beans, ends trimmed

Suggested Wine Match: Piont Noir or Shiraz Viognier

Method

Preheat Bbq grill to medium-high (if using). Bring a full kettle to the boil.
Combine tomatoes, basil, oregano, parmesan and olive oil in a medium-size bowl. Cover with plastic wrap and allow to stand for 20 minutes to allow the flavours to develop while you prepare the rest of the meal.
Pat lamb dry with paper towels and season with salt. Transfer to a plate and rub with olive oil and lemon juice.
Heat a griddle pan or BBQ grill (if using) to medium-high heat. Cook lamb for 1-2 minutes each side for medium-rare, or until done to your liking. Cover and set aside to rest for 5 minutes. Slice thinly.
While the lamb is resting, transfer tomato sauce ingredients to a saucepan on medium-high heat. Cook for 3-4 minutes, until tomatoes start breaking down. Stir every minute. Season to taste with salt and pepper.
Place green beans into a small bowl and cover with boiling water, leave for about 1 minute, drain and refresh in cold water.
To Serve, divide green beans between plates, top with sliced lamb and drizzle with tomato, basil and parmesan sauce.


Zoe's Thai Fish Cakes And Stir-Fry Vegetables With Dipping Sauce
Ingredients
Rice:
1 packet basmati rice
1 cups water
Pinch of salt

Fish Cakes
600g blue eye trevalla, roughly chopped
1 clove garlic, minced
1 tablespoon grated ginger
chilli, finely chopped (optional)
1 carrot, grated
1 cup grated sweet potato
¼ cup roughly chopped coriander leaves and stalks
3 tablespoons soy sauce
¼ cup plain flour

Asian Vegetables
1 teaspoon oil (e.g. peanut, canola, sunflower)
1 clove garlic, minced
1 packet baby corn, halved
1 bunch bok choy, end removed halved lengthways
200g button mushrooms, finely sliced
2 tablespoons kecap manis

Dipping Sauce
3-4 tablespoons kecap manis
2 tablespoons finely chopped coriander
1/2 chilli, finely chopped (optional)

Method

Combine all rice ingredients in a medium pot and bring to the boil. As soon as it boils, cover with a tight-fitting lid and reduce to the lowest heat to cook for 12 minutes. Turn off the heat and leave to steam, still covered, for a further 8 minutes. Do not lift the lid while cooking.
While the rice cooks, prepare the fishcakes. Place the fish in a food processor or blender and process until finely chopped. Add the garlic, ginger, chilli, carrot, sweet potato, coriander and soy sauce and process until well combined.
Divide the fish mixture into 8-10 equal portions, roll into patties and flatten slightly. Coat in flour (shaking off excess). Heat a drizzle of oil in a large fry-pan (preferably non-stick) on medium heat. Cook fish cakes in batches, for 2-3 minutes each side, until golden brown. Transfer to a plate and cover with tinfoil to keep warm.
While the fish cakes are cooking, heat oil in a large fry-pan or wok on high heat. Add garlic, baby corn, bok choy and mushrooms and stir-fry for 3-4 minutes, until tender. Stir through kecap manis.
Combine dipping sauce ingredients in a small bowl.
To Serve, divide rice, fish cakes and Asian vegetables between plates and serve with dipping sauce on the side

Interview by Brooke Hunter