The Lucky One
Cast: Zac Efron, Taylor Schilling, Blythe Danner
Director: Scott Hicks
Genre: Drama
Rated: PG

Synopsis: Romantic drama. U.S. Marine Sergeant Logan Thibault (Zac Efron) returns from his third tour of duty in Iraq, with the one thing he credits with keeping him alive-a photograph he found of a woman he doesn't even know.
Learning her name is Beth (Taylor Schilling) and where she lives, he shows up at her door, and ends up taking a job at her family-run local kennel.

Despite her initial mistrust and the complications in her life, a romance develops between them, giving Logan hope that Beth could be much more than his good luck charm.

Release Date: April 19th, 2012
Website: www.theluckyonemovie.co.uk



About the Production
Beth: You think life has a plan for you?
Logan: If so, it hasn't shared it with me yet.

Is there really such a thing as destiny? Is Fate shadowing our movements, stacking the deck, or are all our moments-ordinary and extraordinary-random? The age-old question of whether things happen by accident is at the core of Nicholas Sparks' The Lucky One.

Director Scott Hicks offers, "That premise immediately drew me in: the notion that a chance event-finding a photo in the middle of nowhere-could change not only one man's life, but the lives of everyone he comes into contact with, really hooked me at the outset. The idea of destiny is quite central, and I liked that it's treated in a very realistic fashion."

Nicholas Sparks reveals that a very real item was the basis for his story. "This is the first book I've ever written that was inspired by a single image: that of a soldier finding a picture half-buried in the sand and pulling it out. I became obsessed with what happens when he begins to view this photo as his lucky charm."

In "The Lucky One," the photo becomes more than a good luck charm; it serves as the catalyst for a journey of discovery and healing. The Lucky One marks the fourth of Nicholas Sparks' novels that producer Denise Di Novi has brought to the big screen. She relates, "I've been in love with Nicholas' books since I first read The Notebook. Every one of his stories renews your faith in love and in the power of love, and this one is no exception. I think everybody wants to believe that love can conquer all, despite the odds."

In the film's central role, Zac Efron stars as Logan, a Marine who has seemingly defied the odds during three tours of duty in Iraq. The actor responded to the story's interconnecting ideas of luck, love and destiny. "That's what you hope love is, destiny," he remarks. "You want it to be meant to be. It often feels like it is. Why can't it be? And that's what's so intriguing about the story."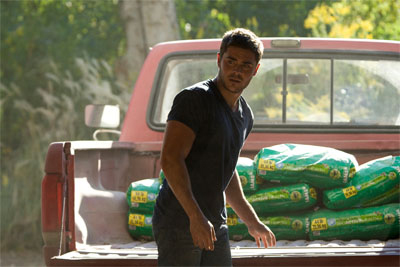 Producer Kevin McCormick agrees. "Nicolas Sparks beautifully entwined the two themes of love and Fate, and Scott Hicks delivered that in a way that creates feelings of both surprise and inevitability."

Will Fetters, who was responsible for adapting Nicolas Sparks' novel for the film, notes, "I can't say enough about how collaborative Scott Hicks was and how much his input helped me." The screenwriter adds that the author had given him the best possible foundation.

"Before I even picked up the book, I was caught by the idea of this soldier trying to piece together why he's still here, which brings up the question of whether or not things happen for a reason. The question remains unanswered, but it was woven through the subtext of the script."

Taylor Schilling plays the woman in the photograph, who becomes a talisman for a man she doesn't even know exists. "I got a feel for the character right off the page.

They're both living with a duality of tremendous loss and potential joy. Whether it's their destiny or not, it's incredibly romantic."

"I think most people have, at some point in their life, a lucky charm and, whether we truly believe in it or not, there's something hopeful about it," says Denise Di Novi.

Beth: Why did you come here?
Logan: To find you.

"The Lucky One" opens in Iraq, where Zac Efron's character, U.S. Marine Sergeant Logan Thibault, is on his third tour of duty. Almost immediately, he is thrust into a firefight that changes his life forever.

The role itself changed Zac Efron, who literally had to transform himself physically and emotionally, to look, move and react like a Marine who had served in a war zone and seen far more violence and loss than his family or peers at home could even imagine.

Scott Hicks explains, "When we first see Logan, we need to know what he's gone through and understand some of the sense of trauma that he carries with him out of this conflict. I was very impressed by Zac Efron's commitment to not only change his physique but also to get into the mindset of a soldier. He created the slightly stony exterior of someone a little mysterious-a character we don't know a great deal about at first."

"Initially I wasn't convinced I could pull this off," Zac Efron recalls, "but the more I thought about it, and the more I talked to Scott Hicks, I realised if there was ever going to be a chance to play a role so different from what I've played before, this was it. I knew I had to put in the work to be able to play Logan, and I felt capable in Scott Hick's hands."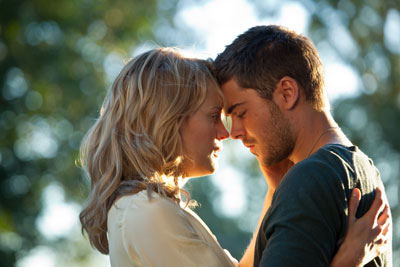 Denise Di Novi says, "One of my favorite things about being a producer is watching actors reinvent themselves, and that's what Zac Efron did. He just looks like a different person in this film. How he walks, how he stands, how he holds himself…it was a thrill to see him become Logan."

Kevin McCormick concurs, "Even though he'd never done anything like it before, Zac Efron was really able to bring a very specific and unique take on Logan. We literally saw somebody who's been so youthful in every other movie legitimately turn into a man in front of our very eyes. That really helped make Nicolas Spark's character come to life. Apart from looking like a Marine, Zac Efron brought a reservoir of pain and strength in equal measure."

Zac Efron's preparation to play a seasoned Marine included the physical rigors of training several months prior to production with military consultant James Dever, a retired Sergeant Major who spent twenty-five years in the U.S. Marine Corps, and rising at 3:30 a.m. during filming to continue the regimen. That and a strict diet added 20 pounds of bulk to the actor. To complete the exterior metamorphosis, Zac Efron buzzed his signature hair.

The internal work was equally, if not more, demanding. In order to get into his character's psyche, Zac Efron travelled with Scott Hicks to Camp Pendleton to talk to Marines and see combat through their eyes.

Zac Efron recalls, "When I got there it was like stepping into a different world. They stood with a purpose. They had laser focus, never broke eye contact. This is my generation, on the front lines. They've experienced some pretty gruesome things. We sat and talked for several hours and they were the most amazing conversations I've ever had with anybody. In terms of research, it was priceless. I can't thank them enough. The stories and personal feelings they shared became part of the canvas for Logan."

"We took very seriously what these young guys go through serving overseas," Denise Di Novi remarks. "Zac Efron respected it, absorbed it, really internalised it, and I think you see that on film. He does a great job in honoring those guys' experiences."

Interestingly, a number of the Marines with whom Zac Efron and Scott Hicks met had a variety of good luck charms that they had carried with them into battle. Scott Hicks describes, "One sergeant took out the remnants of what was barely recognisable as a playing card, which he'd taken with him on multiple tours. Once he'd lost it, which disturbed him deeply, but in the most extraordinary circumstances he found it again, quite by chance. The way he felt about it was very moving."

Central to the film is Logan's connection to what he comes to perceive as his own good luck charm-a photograph of a stranger he finds in the middle of the war zone.

Zac Efron offers, "Just the act of finding the picture directly saved his life. He was in the right place at the right time and after that he seems to survive situations he shouldn't be surviving, while others around him aren't as lucky, so it takes on special meaning."

Returning to the States, Logan is unable to fit back in with his own family. Will Fetters says many of his friends who served echo that sentiment. "The disconnect these veterans feel when they come home is so immense. It takes a while to get back into the rhythm of life. Their once usual surroundings feel alien. Nothing will ever be the same."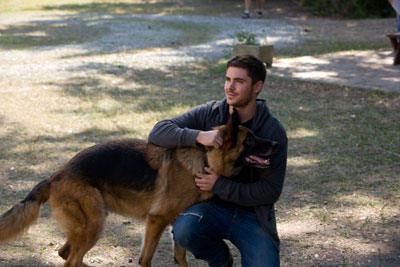 Logan is also unable to shake his curiosity about the woman in the photo, who inadvertently saved his life. Deciding he must try to locate her, he scours the internet to identify the lighthouse in the background, and finds the match. Soon he embarks on a trek from Colorado to Louisiana, with his dog Zeus at his side.

The filmmakers' own search to find the object of Logan's quest began and ended with actress Taylor Schilling, who was cast as Beth Green. "Taylor Schilling conveys a complexity of emotional expression that is really extraordinary," Scott Hicks says. "You read in her eyes so much depth and detail."

When the filmmakers put Taylor Schilling and Zac Efron together, their on-screen chemistry sealed the deal. "That's always the great unknown," notes Scott Hicks, "the question of what it's going to be like when you put your stars together. Is there going to be any chemistry? From the first moment, the connection between Zac Efron and Taylor Schilling was apparent."

However, when Beth meets Logan, there's immediate distrust. "They're both broken in a way," Zac Efron acknowledges. "She's guarded and he can't tell her the real reason he's there."

In the photo, Beth is smiling, but the woman Logan first encounters "has obviously experienced tremendous loss," says Taylor Schilling. "She can't help but bring all of her baggage to the table: her grief, her defensiveness, her pain, her vulnerability.

Whether she's ready or not, Logan shows up and presents an opportunity for her to heal. I so admire in Beth the courage and strength to go for it, even though it's scary."

Denise Di Novi adds, "Beth is a divorced single mother who put her dreams on hold until Logan comes into the picture and she begins to realise that maybe she does have a right to be happy and have love in her life again."

Beth lives at her family home, where she runs a dog kennel and training business with her grandmother. Veteran actress Blythe Danner plays Ellie, who, upon observing Logan's command over Zeus, hires him to help at the kennel, despite Beth's objections. Hicks comments that Ellie might also have ulterior motives. "Ellie observes a spark between Logan and Beth and sees the possibility of a relationship between them. Blythe Danner brought her consummate talent and wit to this atypical grandmother role."

"I enjoyed being involved in 'The Lucky One,'" Blythe Danner shares. "It's full of heart. Ellie discreetly observes everything, though she stays in the background. She's a protector, fervently loves her granddaughter and great-grandson, loves having them in her home, and they, along with her business, give her a zest for living. Although I don't believe in Fate, it was nice to play a character that does and take that journey because she has no doubt this is Logan's destiny-to become a part of their lives."

Kevin McCormick observes, "Ellie has a huge heart and is open to life, whatever it holds for her. Blythe Danner played her with so much humor. She lights up her scenes."

Another person who welcomes Logan's arrival is Beth's seven-year-old son, Ben, played by Riley Thomas Stewart. The filmmakers auditioned hundreds of children to find the right fit for Ben and, says Denise Di Novi, "We hit the jackpot with Riley Thomas Stewart."

Logan becomes fast friends with Ben, who delights in beating him in chess and showing off his magic tricks. Logan also not only accepts but encourages Ben's playing of the violin, something his own father dismisses. Riley Thomas Stewart took violin lessons in order to play his solo. "Learning to play the violin was difficult; I had to start right with the hard stuff," Riley Thomas Stewart recalls. "But my favorite thing was the magic. I got to learn a whole routine."

Taylor Schilling remarks, "In between takes, Riley Thomas Stewart wanted to play tag and race cars, but when the cameras rolled he could flip that switch. He was just remarkable."

Scott Hicks adds, "Finding Riley Thomas Stewart was an absolute gift. He has such a sweet natural charm and exuberance. He's just like bottled energy, which we channeled into his character."

Ben's father, and Beth's ex-husband, is the town's Deputy Sheriff, Keith Clayton, who uses their son Ben as a pawn to intimidate and control Beth. It only gets worse when he jealously starts to view Logan as an interloper in his family.

Jay R. Ferguson, who plays the role, states, "Keith uses his position as a sheriff and as Ben's father to his advantage. He likes to keep Beth in a box with that power. When Logan comes to town, it's the first time anyone has challenged him without backing down."

"He's the antagonist in the film but, as with all great antagonists, you have to feel for him in some way. Jay R. Ferguson has a great power and on-screen presence, which is layered and textured so you see a real conflict is going on inside him," Hicks notes.

"I found the series of interconnected relationships between these different people so compelling," the director continues. "It's not just the promise of romance between Logan and Beth. There are five individuals whose lives are ultimately changed when Logan finds that photo in the sand."

Logan: I just like dogs. More than people sometimes.

The canine cast members were also integral to the story, in particular, Zeus, Logan's dog and constant companion. Played by Rowdy, a six-year-old-German Shepherd, Zeus is the only living thing Logan relates to when he returns home from the war.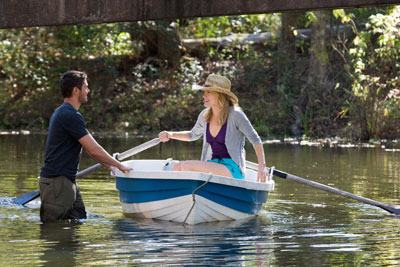 Like their counterparts, Zac Efron and Rowdy were inseparable on set. "It's interesting to have a sidekick like Rowdy," Zac Efron says. "Always having him right there with me immediately helped me identify with the character. We had an incredible bond."

Sparks based Zeus on his own German Shepherd, Rex, one of five dogs who the author calls his "co-workers," and who accompany him while he writes. Rowdy has been with the film's animal trainer, Boone Narr, since he was a year old, with a film resume including the lead role in the recent "Cats & Dogs: The Revenge of Kitty Galore." Boone Narr's company, Boone Narr's Animals for Hollywood, also provided the other dogs we see boarding and training at Beth and Ellie's kennel.

Scott Hicks wanted the relationship between the cast and the animals to feel as organic as possible, so Zac Efron, Taylor Schilling and Blythe Danner worked with the dogs for a month at Boone Narr's ten-acre ranch in Castaic, California, before shooting began in Louisiana.

Playing experienced dog trainers, Taylor Schilling and Blythe Danner had to learn how to handle the dogs on an agility course. Taylor Schilling also had to become adept at jogging while simultaneously handling several dogs on leashes. The trainers started her off running with one dog, then two dogs, then five.

"It may look easy but they are big, and they will take you down!" she laughs. "I didn't anticipate how much fun it was going to be. I think I became a part of the pack the day we all ended up in the pond by accident."

Boone Narr and two animal trainers drove from Los Angeles to New Orleans in a trailer with 15 varieties of dogs, from the largest, an Anatolian Shepherd weighing 160 pounds to the smallest, a Chihuahua mix weighing seven pounds. Among the other breeds that made the trip were a Bulldog, Rottweiler, Swedish Vallhund, Westie, and Golden Retriever. All the dogs were male, except for Jesse, an Irish Terrier. A black Labrador named Dexter, adopted from a Los Angeles animal shelter just a few weeks prior to filming, underwent extensive training to be featured as a military dog in the Iraq war sequence.

Beth : The thing is I don't wanna go anywhere else.
I want Ben to grow up here; this is our home... has been for generations.

"The Lucky One" was filmed entirely on location in Louisiana. The filmmakers chose to change the setting of the story in Nicholas Sparks' book from his familiar stomping ground of North Carolina to New Orleans, as well as to shoot on location there. "It was a big decision for us to shoot in New Orleans but I'm really glad we did," Denise Di Novi says. "There's something very magical there, a mystical quality to the people, the bayou, the whole Cajun influence is so unique. It has given the film a different texture and flavor. Scott Hicks really took advantage of the lushness and sensuality of the setting."

The first five weeks of shooting took place about thirteen miles from downtown New Orleans in St. Bernard Parish, which stood in for the fictitious town of Hamden, Louisiana. A private thirty-acre property, which had been a sugar plantation in the 1800s, served as the location of the Green family home.

Scott Hicks notes, "The most important location to find was the Green house and kennels. The thing that attracted me to that house was the extraordinary sight lines through it. Looking at behavior through windows or through doorways underlines the connections between people, or sometimes the distances between them."

Production designer Barbara Ling, who has worked with Hicks for a decade, relates, "We were looking for a rural farmhouse that was a little shabby chic, which had at one time been a great piece of architecture but through time had been pared down to a little bit less of its former self."

The original house had survived Hurricane Katrina, but most of the porch had been torn away. Barbara Ling and her team restored the porch, also connecting what was once an outside kitchen to the inside of the house.

"When Scott Hicks and I met and talked about the feeling of what this place was, we wanted to evoke that many generations of people had come through and left a piece of themselves... and I think we've achieved that," Barbara Ling adds. "The owners had saved from Hurricane Katrina an enormous amount of the original farmhouse furniture, huge vanities, beautiful old desks and we ended up using some of that, since it was actually built for the house."

She reveals, "There was an incredible woman who lived here until she passed away at 98 years old. We found out she was an artist, because we kept discovering her paintings tucked away throughout the house. We asked the family if we could display her art on the walls, so she's all over the place. She finally got her show."

To serve as the kennel, they built a barn from scratch; using pressure treated recycled wood, complete with tin roof, full electrical capability, real windows and a concrete slab with drainage. Although Barbara Ling had never constructed a kennel before, hers got a thumbs up from the dog trainers, who wanted to replicate it in California. The dogs liked it too.

A real rose garden was also planted and tended to six weeks leading up to the start of filming and a dilapidated chicken coop was turned into the kennel office, complete with a bulletin board sporting a collage of dog photos, many belonging to the crew.

The production also took advantage of other locations along the North Shore communities of Lake Pontchartrain, including the Iraq war sequences where we first meet Logan. Scott Hicks' vision for the opening scenes of the film stemmed from raw footage he had seen on YouTube taken by soldiers. "It panics you just watching it," Scott Hicks describes. "I wanted to recreate that feeling and also embrace the imperfections of that style of shooting so the audience would, on a raw emotional level, understand what Logan has seen and what haunts him when he returns home."

Barbara Ling transformed the existing rubble at St. Bernard Port in Chalmette, Louisiana, into the bombed out section of an Iraqi city. The night raid was shot with handheld cameras equipped with actual night-vision lenses. There was no movie lighting, so it was pitch black in the abandoned building in which they shot.

"The pandemonium was very real," director of photography Alar Kivilo recounts. "The only people who could see anything at all were the camera operators with their night-vision lenses, who were intent on keeping up with the fast action." Scott Hicks agrees. "The sheer adrenalin felt on the set comes across on the screen."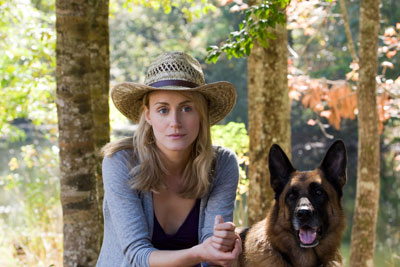 Barbara Ling added two bombed out walls to a rubble heap in a harbor just outside of New Orleans to create the aftermath of the night raid, where Logan first finds the photograph of Beth, a discovery which saves his life.

The photograph is also with Logan when he survives a sudden Humvee explosion, the slow-motion filming of which Scott Hicks based on a conversation with a Marine. The extreme close-up of Logan as his face gets contorted and bent out of shape was achieved by shooting an air cannon at Zac Efron and recording the result at 1000 frames per second with a Weisscam slow motion camera. "That suspension of time while everything goes chaotic was more interesting to me than showing a series of fireball explosions," the director says. "By getting right in there with Zac Efron, the audience is propelled right into Logan's point of view, and becomes more than just an objective observer."

"This kind of thinking is what I love about Scott Hicks," Alar Kivilo attests. "He thinks, feels and intuits like a storyteller. Whether it was a night raid or a conversation in the kitchen, he has a wonderful way of using the camera to tell the story."

Scott Hicks opted to use real Marines in uniform for the Iraq scenes, and Zac Efron wasn't spared any of the demands. The actor describes, "The gear is 100-plus pounds with the helmet. That along with wielding a machine gun was harder to handle than it looks. We spent weeks doing military drills and weapon practice. One day I was shooting a romantic scene in a row boat on a pond with Taylor Schilling, the next day I was holding a machine gun and in full camouflage."

Costume designer Dayna Pink says, "We do research when it comes to the military, but the reality is it doesn't matter if I thought, 'Oh, that hat would look a lot better if we could just tilt it a little.' It does not work like that. There was a very specific way that everything has to go. They're so meticulous on how they do everything because they really look at their uniform as an extension of themselves and their discipline."

Logan's civilian clothing was also utilitarian. Dayna Pink offers, "He's on the road, so if it can't fit in his backpack, he can't wear it. His clothes are jeans and t-shirts and boots, things he wears every day. The color palette of his wardrobe was deliberately dark, adding a heaviness to his character."

By contrast, Taylor Schilling's and Blythe Danner's clothes are lighter in color, though also casual and functional. Dayna Pink notes, "After Beth begins to spend more time with Logan, she starts transforming and you can see a more romantic aspect to what she wears."

Other New Orleans area locations included Camp Salmen Nature Park, where a 19th-century French-Creole trading post was used for Logan's fixer-upper; the Trinity Evangelical Lutheran Church in Abita Springs, where the actual Pastor, Dustin Bergene, and choir were featured in a scene; and the Houmas House Plantation and Gardens, once a flourishing sugar plantation on the Mississippi River, became the Clayton Family Estate, the site of an elaborate garden party.

The film's stormy climax was shot in St. Tammany Parish, a North Shore community of Lake Pontchartrain. The St. Joseph Abbey and Seminary College was the site of young Ben's tree house set and nearby bridge, suspended over a churning creek. A dam was built in order to make the water deeper. The special effects team had to rig wires that would keep a number of Jet-skis stationary in the water with their engines gunning to create a raging torrent. During the early December shoot, some of the camera crew had to wear wetsuits as they manned handheld cameras in the rumbling, freezing water. Between takes crew and cast alike would warm up by spraying each other with the hot water hoses that were hidden just below the surface. One of the film's most significant backdrops is the lighthouse seen in the photograph that leads Logan to Beth. The site is the River Lighthouse, located in Port Eads, Louisiana, at the southern tip of the Mississippi River. The white iron tower was one of the few structures still standing in the area after Hurricane Katrina. Perhaps the photograph Logan found a half a world away in a place of destruction saved his life for a new beginning. Perhaps it was just coincidence. The filmmakers and cast agree they will leave it to the audience to decide.

"Whether or not it's destiny, it's very tender and very real and I think it's a beautiful love story," Zac Efron states.

Taylor Schilling says, "I hope this film inspires someone, somewhere to trust a little more, or to find the courage to take a risk and follow their own heart, wherever that may lead."

Kevin McCormick remarks, "I think the audience will enjoy going on this journey with Logan and Beth because it's very emotionally told. In the end, I think the idea of Fate that Nicholas Sparks hints at in his book adds a twist to the romance."

Denise Di Novi agrees. "Nicolas Sparks embraces the concept of love and has found a way to tell these stories that give people hope-even if you lose someone, or have pain or grief or loss in your life, love can still remain a constant and it can come up and surprise you in the most mysterious ways."

Scott Hicks reflects, "There are some who believe we cross paths by chance, and others who are convinced that destiny brings people together. But either way, if you find love, you're the lucky one."

The Lucky One
Release Date: April 19th, 2012
Review: What a beautiful film with outstanding performances from Zac Efron, Taylor Schilling & Blythe Danner. Zac Efron plays Logan, an ex marine on a journey to thank what he believes is a good luck charm that saves him from a war that should have killed him. Taylor Schilling (Beth) annoyed by this traveller, is a victim her ex-husband who is to scared to believe that she deserves any happiness. When fate intervenes, Logan & Beth find in each other what they have been missing. Probably classified as a chic flick, I dare you not to enjoy this convincing romantic tale of loss, love, hope & fate.

Rating: *****
Michelle Warmuz