On the table in less than 35 minutes - Great Dessert Ideas
The Australian Women's Weekly has launched new compact and great value cookbook - Fast Desserts. Packed with scrumptious, easy-to-make after dinner treats, every recipe is accompanied by photography and tripe tested by the famous Australian Women's Weekly Test Kitchen for guaranteed success.

Joining other 'Fast' volumes such as 'Fast Seafood', 'Fast Pasta', 'Fast Vegies', 'Fast Healthy' and 'Fast Chicken'.... Fast Desserts offers more than 180 recipes.

Quick and easy to prepare, The Australian Women's Weekly Fast Desserts makes whipping up sweet treats wonderfully achievable, giving every meal a happy ending.

Fast Desserts covers the classics with fresh and fruity modern twists. From Creme catalana, to Pear and plum amaretti crumble, Berry mousse to Mocha liqueur sundaes - there are easy to make desserts to suit every occasion.

"All of these desserts are great tasting, easy to make and of course fast", added Pamalea Clark, The Australian Women's Weekly Test Kitchen Director.

Fast Desserts is currently available from bookstores, selected newsagents and at www.acpbooks.com.au
RRP: $19.95.


Review: Every page oozes with flavour & temptation. I look forward to spending a lifetime trying and perfecting every page of Fast Desserts.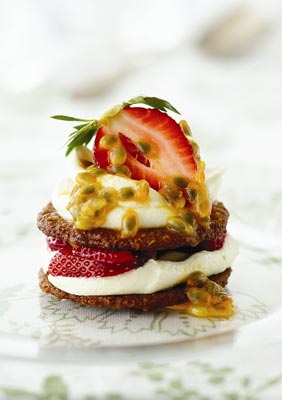 Brandy snaps with strawberries and cream
125g packaged cream cheese, softened
2 tablespoons icing sugar
1 tablespoon Grand Marnier
½ cup (125ml) thickened cream, whipped lightly
6 large strawberries
8 brandy snap biscuits
2 tablespoons passionfruit pulp

1 Beat cream cheese, icing sugar and liqueur in small bowl with electric mixer until smooth. Fold in cream.

2 Slice four of the strawberries and cut remaining two in half.

3 Place one biscuit on each serving plate; divide half of the cream cheese mixture among biscuits, top each with sliced strawberries.

4 Top with remaining biscuits, remaining cream cheese mixture, halved strawberries and passionfruit.

On the table in 10 minutes
Serves 4
Tips you will need two large passionfruit for this recipe. Cointreau can be substituted for Grand Marnier.




Picture by: Alan Benson and Mary Harris