The Other Guys
Cast
: Will Ferrell, Mark Wahlberg, Eva Mendes, Michael Keaton, Steve Coogan, Ray Stevenson, with Samuel L. Jackson, Dwayne Johnson
Director
: Adam McKay
Genre
: Comedy
Rated
: M
Running Time
: 107 minutes
Synopsis
: Detectives Christopher Danson and P.K. Highsmith (Dwayne Johnson and Samuel L. Jackson) are the baddest and most beloved cops around. They don't get tattoos - other men get tattoos of them. Two desks over and one back, sit Detectives Allen Gamble (Will Ferrell) and Terry Hoitz (Mark Wahlberg). You've seen them in the background of photos of Danson and Highsmith, out of focus and eyes closed. They're not heroes - they're "the Other Guys."
But every cop has his or her day and soon Gamble and Hoitz stumble into a seemingly innocuous case no other detective wants to touch that could turn into the city's biggest crime. It's the opportunity of their lives, but do these guys have the right stuff?
Release Date
: September 9th, 2010
Not every cop can be a hero. It takes all kinds to fill a police force - you got your superstars, the guys who get the medals, your hot shots, glory boys, vets - and then... there are the other guys. Guys like Detectives Allen Gamble and Terry Hoitz.
"Allen Gamble and Terry Hoitz are not necessarily what you think of when you think of the heroes of buddy cop movies," says Will Ferrell, who stars opposite Mark Wahlberg in The Other Guys, an action comedy about the cops who never make the headlines. "Gamble is a forensic accountant, a desk cop, the guy who never leaves the office, who's very much into his paperwork. Hoitz is more of the streetwise guy who's jonesing to get out there and make a name for himself."
"My character is obsessed with what he thinks is real crime: drug dealers, vice, murderers, and anything that's going on in the street," says Mark Wahlberg. "Will Ferrell's character's whole attitude and approach to police work is paperwork. That's all it basically comes down to - paperwork and white collar crime. But I'm stuck with him because of a mistake that I made."
Mark Wahlberg, the Academy Award®-nominated actor known for his tough-guy action movie roles, in a comedy opposite Will Ferrell? It's the fulfillment of a desire on both their parts. "I've been looking to do a comedy for a long time," says Mark Wahlberg. "I just wanted to make sure I was in the right hands. There were comedic elements to certain performances that I've done, but to do a full-blown comedy I wanted to make sure I was protected and who better to work with than the funniest guys in movies in my opinion, Will Ferrell and Adam Gamble. They invited me to dinner and said they wanted to do a movie. I was like, 'You got to be kidding me.' I said, 'I'll do whatever you want.'"
Will Ferrell added, "We - Adam McKay and I - are such big fans of Mark Wahlberg's. We always thought he would be great in a comedy, playing a character that maybe is similar in some ways to the role he had in The Departed, but to utilise that intensity he has and play it for laughs."
"Literally, around one in the morning that night after that first dinner, Adam McKay sent out an e-mail describing a cop movie where Will Ferrell is the guy who wants to do desk work and the opportunity arises for him to step up," says co-writer Chris Henchy. "From that, we started talking about it and danced around the idea and went in and pitched it."
"Adam McKay and Chris Henchy went to work writing the script, and then, eight or ten weeks later, they got it to me," says Mark Wahlberg. "I couldn't believe it. It was perfect - they wrote an amazing role for me where I just got to go crazy."
Strangely enough, the comedic outline of the plot would be inspired by the current headlines - and Will Ferrell's character, though outrageously silly, is a new kind of cop and perhaps the future of law enforcement. "We like the idea of Will Ferrell as a policeman, always on his computer, loving paperwork. He solves crimes from his desk, with a computer," Chris Henchy continues. "That's how you catch the Bernie Madoffs of the world - it's not hitting the streets, it's following the paper trail."
"Allen Gamble is a guy who loves - he actually relishes - paperwork," says Will Ferrell. "Working on the computer and organisation are police work for him. He's an earnest, sweetheart type - a guy who plays it very close to the vest, a buttoned-down type of guy who shows up right on time for work and stays to the very last minute."
The comic potential was redoubled by pairing that character with Mark Wahlberg's Terry Hoitz. Frustrated by his bad fortune and the abuse he endures from his cop colleagues, Terry is desperate to redeem himself. "He's your classic, iconic city cop. He thinks he's street smart and wants to go out, bust some heads, fire his weapon, and kick ass," says Mark Wahlberg. "He stampedes his way through everybody and everything. That's their relationship - a guy who wants to stay at his desk and a guy who wants to be a peacock."
Will Ferrell says that working with an actor like Mark Wahlberg afforded the filmmakers the opportunity to work the comedy in a way that emphasises his strengths. "Sometimes the comedy is conversational, and other times, it's broad and crazy and out of control. Adam McKay and I always feel like the best comedy is played straight - as real as possible. In fact, this might be the most real movie we've done tonally, which makes the situations that Allen and Terry get into so much funnier."
Mark Wahlberg describes the pure pleasure and problems keeping professional while working with Will Ferrell. "The biggest concern for me was just looking at Will Ferrell's face," says Mark Wahlberg. "He's just so funny that every once in a while I'd burst out laughing. Finally I'd look just to the left of him or just to the right of him and still appear as if I'm looking at him and reacting to what he's doing, just to keep from laughing."
Will Ferrell adds, "It's so funny to get to know someone like Mark Wahlberg, who has this reputation as a tough guy. He's actually a sweetheart and was dying to kind of do comedy like this. He wasn't thrown by anything."
"Mark Wahlberg is not only a great actor. He's also a family man and also the guy who could kick anyone's ass in the room, but also a jovial, lighthearted guy who in no way wants to kick anyone's ass," says Adam McKay. "It was very interesting watching him interact with Will, who, of course, is famous for his insane temper and grotesque ego."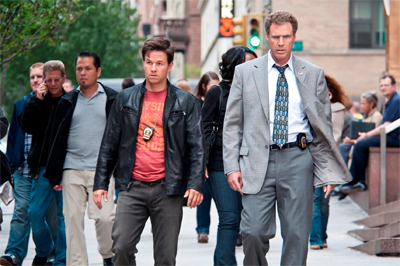 Working with Adam McKay
With just a handful of films, co-writer/director Adam McKay has established himself as one of the most original voices in the current generation of comedy directors. With Anchorman: The Legend of Ron Burgundy, Talladega Nights: The Ballad of Ricky Bobby, and Step Brothers, Adam McKay's style and sensibilities have not only proved popular with audiences, but made him an attractive creative partner for actors as well.
One of the reasons actors like to work with director Adam McKay is that they get the opportunity to stretch their creative muscles. It's something of a directing style for Adam McKay, who, Mark Wahlberg says, created an environment where there was no fear of failure and anything was possible. "It's fantastic," says Mark Wahlberg. "I kept waiting for someone to say, 'All right, quit screwing around,' but it never happened. Whatever you want to do, whatever you want to try, is okay. Adam McKay works completely differently from everybody else."
Other actors are even more effusive. For example, Eva Mendes, who joins the cast as Sheila, the wife of Will Ferrell's character, says, "I've been a Adam McKay/WillFerrell fan for a long time. A few years ago, the AFI asked me my opinion of the greatest movie of all time, and y'know, I could have said The Bicycle Thief, but I said Anchorman and I'm going to hold firm to that."
Adam McKay has long been Will Ferrell's creative and producing partner. After meeting on "Saturday Night Live" in 1995, the two have forged a close working relationship, with Adam McKay co-writing three movies with Will Ferrell, directing four, and executive producing another. "He's one of the most creative directors I've ever worked with," says Will Ferrell. "It's fun to be on set with actors who have never worked with Adam McKay before, watching their reaction as he creates an environment where everyone feels safe."
Adam McKay says that his challenge was to keep the set as open and free to experimentation as he could, while also keeping it grounded enough that the action sequences made sense. "Obviously, we like to do silly, absurd things," says Adam McKay. "The Other Guys is an action comedy, and I think it's just as funny as the movies we've made in the past. But it's also a bit more badass - we really tried to come up with action scenes we hadn't seen before, and I think we came up with some fantastic stuff."
About the Supporting Cast
Gamble and Hoitz idolise their colleagues, Detectives Danson and Highsmith. The quintessential hot rod stud cops who date models, go to red carpet events, and put on a great show for the city and for Captain Mauch (Michael Keaton), they also have no sense of proportion, causing billions of dollars in damage for small-time busts. "Danson and Highsmith might be the best cops ever to grace the force in New York City, so long as you ignore the billions, if not trillions, in damage they've caused the city," explains Chris Henchy.
Danson and Highsmith are played by Dwayne Johnson and Samuel L. Jackson, respectively. Dwayne Johnson describes them, succinctly: "They're the best of the best. The hell with the rest. Put you to the test."
For Samuel L. Jackson, as if the chance to parody his screen persona wasn't enough, the opportunity to do it opposite Will Ferrell and Mark Wahlberg was irresistible - sort of. Channeling his character, he says, "I really liked working with the tall honky with the Afro and the one who's not as tall with the mean look on his face."
"Obviously, you could make a legit action movie with Samuel L. Jackson and Dwayne Johnson," says Adam McKay. "We kept joking, 'It'd be called "Critical Hour."' We'd do the movie trailer: 'As the clock approaches midnight, where will you be?' For our movie - the whole premise being that the other guys replace the superstar cops - they were perfect."
Eva Mendes joins the cast as Sheila, the wife of Will Ferrell's bookish cop. "What people don't know about me is that I will do anything for a laugh," Eva Mendes says. "Once Adam McKay and Will Ferrell and Chris Henchy knew I was game and that I don't care about looking ridiculous or ugly or silly, it gave them more freedom to go even further with my character. It was a great collaboration."
"Sheila's a doctor and the all-around perfect wife, perfect for Will Ferrell's character," says Eva Mendes. "She performs surgery during the day, then she goes shopping for lingerie, takes a Pilates class and does all of it in time to have a four-course dinner on the table when her husband gets home. She's always looking for ways to make him happy because she sees how exceptional he is."
"The joke is that no one can believe that this guy Allen has a wife as beautiful as Eva Mendes," says Will Ferrell. "Terry can't quite get over that and it becomes a gag throughout the film. All these attractive women stop in their tracks and are always saying hi to Allen and it's driving Terry crazy. Allen is so completely oblivious to what is going on - it's a really fun thing to play."
When Danson and Highsmith fall out of the picture, there's a power vacuum in the precinct. Hoitz and Gamble are convinced this is their chance to step up - but so are Detectives Martin and Fosse, played by Rob Riggle and Damon Wayans, Jr.
Rob Riggle says his character, Martin, "has the talent, the skills, the intellect, the muscular build, to be a supermodel, really, if he'd chosen that, but he didn't. He went into law enforcement and he wants it all. He wants to be the top dog."
"And together with my partner, Rick Fosse, we're going to do it," he continues. "The only thing in our way is Detective Terry Hoitz and Detective Alan Gamble, a couple of real knobs from the department that are a blight, an embarrassment to the force, but they're in our precinct, so we have compete with them."
"Basically, everything Fosse and Martin do in this movie," says Damon Wayans, Jr, "is to sabotage Terry and Allen, making Fosse and Martin's rise to grace that much easier."
Michael Keaton plays the precinct's Captain Mauch, a guy who's seen it all and despite his lofty perch is having a little trouble making ends meet. "He's the type of guy who just wants to get to the end of his shift and call it a day, so we wanted to bring in some real world problems with Mauch," says Chris Henchy. "I come from a family of cops and I know about the pensions and working 20 years and getting two kids through school, so he has a second job at Bed, Bath, and Beyond. It's tough to come from running a police precinct and then going to run the housewares section."
"What I decided," says Michael Keaton, "is that his second job is not just something he has to do. It's something he loves. He's way more at home at BB&B than he is in the precinct."
For Michael Keaton, the acting job was a dream. "I got up, I read my Times, I grabbed my coffee, I walked to the set - I love walking in New York. Then I started laughing, right from the time I got on set, and I finished laughing after I got back to the hotel, because I'd be thinking about everything that happened during the day. I stayed in a nice hotel, I went to bed, and I woke up and did it all over again. How great is that job?"
"I've been a fan of Michael Keaton since his stand-up days, and then Beetlejuice and Night Shift were movies I watched over and over," says Adam McKay. "As soon as he got on set, I thought, 'Oh, he's still got his fastball.' One of the biggest treats on this movie was to work with Michael Keaton."
Steve Coogan joins the cast as David Ershson, a banker caught in the middle of a high-stakes crime. "I'm like a British Bernie Madoff," he says. "He's a stockbroker, trader, hedge fund guy, who has embezzled billions from different people. It's the new bad guy in movies - the financial bad guy."
In keeping with Adam McKay's and Will Ferrell's goal of playing the both the comedy and the action as real as possible, Steve Coogan says he walked a fine line. "I did play him quite smooth, quite suave, but also to get the comedy out of it, I hiccupped and tripped over my words occasionally. I tried to find the humor in that, and Will Ferrell helped a lot. Will shares out the laughs."
Ray Stevenson rounds out the cast as Wesley, formerly of the Australian Special Forces, who will become an antagonist for Gamble and Hoitz. "My character, Roger Wesley, is Australian, and I decided that he's as dry as the great western desert," he says. "This is the first full-blown comedy I've done, and it's best to leave the comedy to the people who are so good at it - Adam McKay, Will Ferrell, Mark Wahlberg, and Steve Coogan, who's very well-known in Britain. The more real I play my character, the more foil they have to bounce off of."
About the Production and Stunts
Most of the film was shot in New York. "We were so lucky to get to shoot in New York and to get to show off all the different locations in the city, from Wall Street to Rockefeller Center," says Ferrell. "Almost every part of the city you can think of, we put on film. On top of that, we had a full second unit going the whole time, doing scene work with car crashes and guns a-blazing."
Producer Patrick Crowley says that as they began to scout for locations in New York, "it became apparent that Adam McKay was really interested in iconic New York locations. Our production designer, Clayton Hartley, was as well. For example, we ended up building Ershon's office loft at 30 Rockefeller Plaza. At the Time Warner Building, there's a jazz venue there which has got huge windows, 30 feet high and 40 feet wide - it was perfect."
Other locations lent a New York feel just as well. "We created an iconic upscale jewelry store and slammed a wrecking ball through it for a robbery scene. We staged a high-speed chase going the wrong way down Park Avenue. We shot at a Knicks basketball game." Other New York locations included Wall St, City Hall Park, The Plaza Hotel, Bed, Bath and Beyond, and the famous Nathan's Hot Dogs in Coney Island.
When it came to the action sequences, Adam McKay knew exactly the approach he wanted to take. "It was something we discovered on Talladega Nights - the action has got to be decent," he says. "It's OK to have a scene that's not overtly funny, but if it's not, it had better be cool or badass or interesting or clever. We tried really hard to come up with action scenes we hadn't seen before."
To deliver the big action, the filmmakers teamed with Patrick Crowley, who had previously overseen the Bourne series. Patrick Crowley says that if the filmmakers took a natural, realistic approach to the comedy, so, too, when it came to the action. "Adam McKay said that he wanted a very contemporary kind of action, as real as it can be," says Patrick Crowley. "He said, 'I really want you to believe that this is happening to the characters.' That's unusual for a comedy, where the action can be like a caricature, but it works when you have a star like Mark Wahlberg."
Mark Wahlberg jokes, "I was a bit concerned - I signed up for a comedy, and then next thing you know, I'm getting thrown around and jumping through glass windows! But it was all stuff that I'm very comfortable with doing. The action takes this movie to a whole other level."
Patrick Crowley also says that he knew the action would look great on-screen. "Oliver Wood was not only Adam McKay's director of photography for Step Brothers and Talladega Nights - he was also the D.P. on all three Bourne movies," he notes. "With him, I knew we'd be able to figure out a way to give Adam all the action stuff he and the audience would really want."
Overseeing the stunts was stunt coordinator Brad Martin. "We tried not to do anything tongue-in-cheek," says Martin. "We planned it, choreographed it, and shot it in a realistic, hardcore manner."
For example, Martin suggested Parkour athletes for one chase sequence. "Parkour is a gymnastics dynamic in which people use buildings and cars and surfaces in order to propel themselves in the air and do flips and bounce off of things," says Patrick Crowley. "It really made the bad guys seem that much more of a threat."
In another sequence, Danson and Highsmith drive through a bus, commandeer it, and proceed on a high-speed chase through Manhattan with their car stuck perpendicularly out of the bus; at the end of the sequence, the car comes flying out of the bus. The stunt was, for the most part, a practical effect. "We had to test the jump a number of times -what ramp, at what speed, and at what distance, does it take for a Chevelle to make a certain-sized hole in a bus?" asks Martin. "For the second part of the sequence, we had Rick Seaman driving the bus, doubling as Highsmith. It's very, very difficult to slide a bus, and Rick's one of the best stunt drivers out there. He slid the bus at a ninety-degree turn, and the rest of it was the special effects team. They ratcheted the car out of the bus and through the air, and then they ratcheted it back into the Trump Tower."
"For the jewelry store heist," Martin continues, "we had special effects build us a wrecking ball. It wasn't that heavy -- maybe 700 pounds. We needed it to crash through a building and then hit a van. Well, how do we flip the van? We ended up putting the van on an arm. When the stunt driver hit the mark, he could hit a button that would flip the van. It was one of my favorite shots in the movie-- it's a great wreck."
To research his role, Ferrell spent time preparing at police precincts and with cops, following the routine of daily life. "I actually got to do a little bit of research, go to a shooting range. I visited a couple of the precincts to see what the mentality of these guys are, and for all of the exciting headlines you read about, there's so much day-to-day work that goes unseen. Which is kind of the core belief of my character that it's just as important, but we don't really hear about it."
Mark Wahlberg was also invited to research by going to the firing range, but, the action movie vet, chuckles, "I was like, for what? I've done it all."
In the end, Patrick Crowley says, the collaboration with Adam McKay and Will Ferrell was "the most fun by far I've ever had on a movie. Adam McKay fosters a spirit of generosity and openness on the set - there's no tension or pressure. He's very good at shaping all of those forces so that he's able to get exactly what he wants and produces great laughs."