Grown Ups
Cast
: Adam Sandler, Kevin James, Chris Rock, David Spade, Rob Schneider
Director
: Dennis Dugan
Genre
: Comedy
Rated
: PG
Running Time
: 102 minutes
Synopsis
: Grown Ups, Starring Adam Sandler, Kevin James, Chris Rock, David Spade, and Rob Schneider, is a full-on comedy about five men who were best friends when they were young kids and are now getting together with their families on the Fourth of July weekend for the first time in thirty years. Picking up where they left off, they discover that growing older doesn't mean growing up.
Release Date
: June 24th, 2010
About the Film
Adam Sandler, Kevin James, Chris Rock, David Spade, and Rob Schneider head up an all-star comedy cast in Grown Ups, the story of five childhood friends who reunite thirty years later to meet each others' families for the first time. When their beloved former basketball coach dies, they return to their home town to spend the summer at the lake house where they celebrated their championship years earlier.
Adam Sandler came up with the idea of a guy who feels like he and his family have lost their perspective of what's important in life. So, when he unexpectedly has to go back to his home town, he decides to use it as an opportunity to get back to his roots and get his family on the right track. To do this, he rents a lake house and invites his old friends and their families to come and stay with them for the Fourth of July weekend.
"The whole project was really appealing," says director Dennis Dugan. "These reallife friends get together for a summer to make a movie about friends who get together for a summer at a lake house. It's a bittersweet reunion, because their coach has died, but they're also happy to see each other. They're meeting each other's families - it's them and their wives and girlfriends and kids and dogs - at a moment when they're all transitioning in their lives."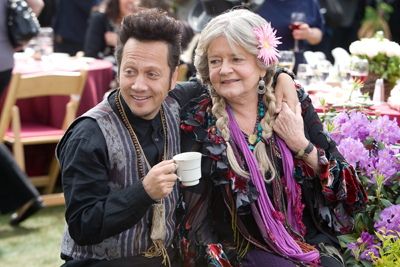 The underlying sweetness to the story proved to be the key in bringing the all-star talent together. "It's a really, really good script that Adam Sandler wrote with Fred Wolf," says Rob Schneider. "It's very funny and it has interesting characters. Dennis Dugan really encouraged us to make it real - get out there, play around with it, and make it a natural performance."
As Maya Rudolph puts it, "There are a lot of funny people in this movie, but it's not just a lot of funny people in this movie. It's a movie about old friends played by people who really are old friends. You can see that history come out in the relationships."
Once Adam Sandler and Fred Wolf finished the script, it wasn't hard to get everyone on board. "Adam Sandler's whole idea was that everyone would bring their families and we'd all have a nice summer at the lake house," remembers Dennis Dugan. "It was one of the best summers of my life. Because everyone knew everyone else so well, it was like going to a really great party. Adam Sandler really wanted that kind of atmosphere to come across in the movie."
"Adam Sandler created something special for all of us," notes Salma Hayek. "All of our children are about the same age, and mostly girls, and they all bonded immediately. It was really a family environment - it was perfect."
"We wanted the whole movie to have a nostalgic feel and element to it," says the production designer, Perry Andelin Blake. "Everything harks back to a simpler time. The movie really is about getting back to family, roots, and being together with people."
So the real-life chemistry between the actors would translate seamlessly to the characters they play on screen. In fact, many of the stars of Grown Ups have known each other for years. Chris Rock says, "Most of the guys met at 'Saturday Night Live.' I met Adam Sandler doing stand-up 20 years ago easily at Comic Strip in New York. We just hit it off when we were the younger funnier guys in the club. David Spade I met at 'Saturday Night Live.' Rob Schneider I met at 'Saturday Night Live.'"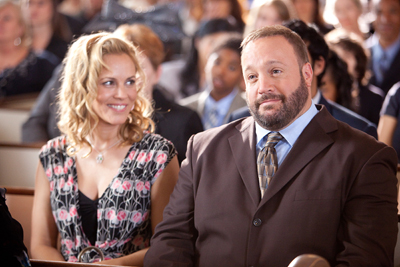 "When the 'Saturday Night Live' stories came out, I'd just see Kevin James sort of fading away," laughs Rob Schneider. "Honestly, though, it seemed like Kevin James is cut from the same cloth. Having done stand-up comedy and surviving, he gets it." "If you hang around comics or comic actors a lot, you sometimes see really competitive guys: 'oh, he just told a joke and now I've got to tell a better joke,'" says Dennis Dugan. "But this set was really relaxed - partly, I think, because Adam Sandler brought everybody together. Everybody came in with a great attitude - 'Let's just start riffing and see how much fun we can have."
In the movie, the five characters are supposed to have enough natural basketball talent that as children they could win a local championship. However, the guys agree: only Adam Sandler and Kevin James have game, with David Spade and Rob Schneider a step back, and Chris Rock bringing up the rear. "I'm OK - I have a few trick shots," says David Spade. "Adam Sandler's the best of us, and Kevin Jame's pretty good. I'm OK, Rob Schneider's OK… sorry, Chris Rock."
"I am not an athlete," admits Chris Rock. "Can I play? No. I couldn't play when I was young, but at least then, I played a lot, so I found ways to contribute. Now that I'm older, I really suck. It's just horrible."
"Adam Sandler and I are the best. I say that like it's close. It's not - the rest of them suck," says Colin Quinn, who plays one of the former opponents from their hometown who has stayed and raised a family in town. "There's no other way to describe it. This is the problem, or maybe the good thing, about comedians - they all have the confidence. They'll shoot 50 air balls in a row, and then they'll mock you if you miss a shot. But that's all right - it's how it is."
To train for the big basketball rematch that closes the film, the filmmakers brought in former NBA player Pooh Richardson to work with the guys on their basketball skills. "I thought, 'OK, we aren't supposed to be that good,' so I thought we were just going to run and goof around with Pooh Richardson," says David Spade. "But he got there and he had us run plays. We ran a zip 45, bounce pass, switch around, underneath, reverse layup. It was fun - we learned about 18 plays. We never got any better, but we looked really cool."
The job of balancing all of the talent and realising the vision for the film falls to Dennis Dugan, a veteran Happy Madison collaborator. "I've lost count of how many movies I've made with Adam Sandler," he jokes. "I've done four movies with Rob Schneider, three with David Spade, three with Chris Rock, and this is my second with Kevin James."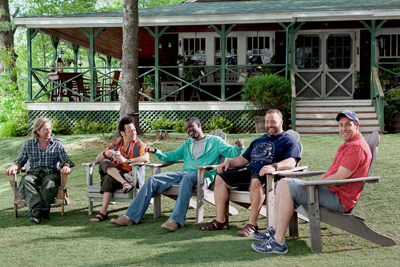 It's not an easy thing to be the man in charge of a film with 18 principal actors. Just one example: "The logistics of the funeral scene," Dennis Dugan remembers. "Each of the five leads has to have his hero shot. Each of the characters is meeting each of the other characters. There are about 600 extras. You have to keep everybody's spirit up for six days while you're doing the same scene over and over again so you can get all the coverage and close-ups you need. And since this scene is at the beginning of the movie, when the audience is getting to know these characters that we're going to follow, you have to go into the editing room and figure out how to make it shorter and funnier and livelier. It was crazy."
Adam Sandler
plays Lenny Feder, who was once the ringleader-of-sorts among the kids, the one who could convince the others to do the silly things kids do. He's since grown up to be a wheeling, dealing Hollywood agent.
Was Adam Sandler worried before starting production that there would be any unhealthy one-upmanship amongst the stars? "No, no," he says. "I think we might have been competitive in our 20s, but that's the beauty of doing a movie together in our 40s."
Adam Sandler and Dennis Dugan have worked together many times and enjoy their collaboration. Dennis Dugan admits, "It's very fun and very challenging. I always thought I was the hardest worker on earth until I met Adam Sandler and then I realised that I was at best second. Like this one - Adam Sandler thought up the movie, co-wrote the movie, stars in the movie, and produces the movie, so he's pretty involved. He's very challenging - he always wants your work to be fresh, new, and creative."
Kevin James
describes his character Eric Lamonsoff as, "Basically a nice guy who just wants to pretend he's a little bit better than he is, but he doesn't need to do that around his buddies. He remembers he can be himself and they'll help."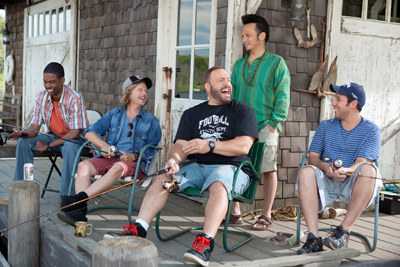 Kevin James was the only one of the main five guys who was not an alum of "Saturday Night Live," but he fit right in. "This was the best time working I've ever had," he says. "It was natural. We are all good friends so that translates to the film."
Kevin James says, "These guys are all icons. Every day, I was laughing and just having the best time. You always want to work with comedians you respect and trust - if you can make them laugh, you think, 'Well, then, it's funny. I can trust it.'"
Chris Rock
plays Kurt McKenzie. "He's a househusband. He stays home with the kids," he says.
Chris Rock says that off-screen, the comic actors behave very similarly to their on-screen counterparts. "Any time we're not shooting, we're just saying horrible things about each other. Things most people, civilians, couldn't take. Comedians have to have thicker skin."
Still, for Chris Rock, being funny around his friends comes naturally. "It's a funny thing, even when I'm writing my stand-up act. I can perform for 20,000 people, but any joke I write is just for my friends to laugh at."
David Spade
plays Marcus Higgins. "He's a little bit of a skirt chaser and he's a flirt with girls," explains David Spade. "Because all the other characters are married, he likes to mix it up with the group."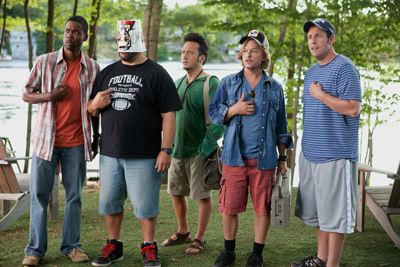 David Spade points out that his character is a pivotal counterpoint to the other four main characters. "The other four are all jealous of him, because he doesn't have to deal with a wife, kids, he can date whoever he wants. But what's cool when you're 20 isn't so cool when you're 40, and Marcus is jealous of his friends for what they have."
David Spade admits he got involved in this film, "Because I'm lucky. Lucky that I'm still friends with Adam Sandler and we have fun hanging out. Lucky because I love comedies, just like all these guys. This was a lot of fun."
"Each of us has a slightly different sense of humor," says David Spade. "All of these guys are all funny, but I also respect them because they each have something that I can't do. Like Kevin James has a move I can't do and so it's fun to watch him do that. Chris Rock is obviously his own guy. We all have similar jokes, but there's a delivery that makes everyone different."
David Spade points out that though Adam Sandler has been a collaborator for years, this is the first time they've co-starred in a movie. "He got Joe Dirt going, Dickie Roberts, Benchwarmers, 'Rules of Engagement.' I mean, it's like he's my agent. He's always been cool to me. I just didn't think it would ever happen that we would be in a movie together, and that was OK - I thought it was just something that wasn't in the cards - but it was really nice when he said he wanted me for this one."
Rob Schneider
thinks his character Rob Hilliard is a normal guy, but admits, "My character is obsessed with certain things to avoid emotional issues in his life. He gives advice but doesn't apply it to his own life."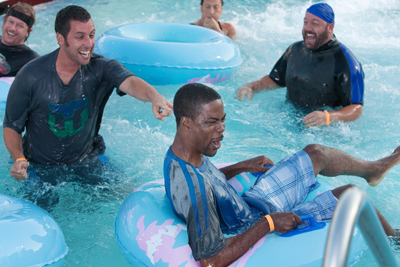 "It's good to have your friends around, because you understand each other," says Rob Schneider. "Adam Sandler can work with anybody he wants, and he wants to work with the people he knows and trusts. Those relationships come through in the movie, and I think that's part of what audiences like to see in his movies."
The Wives
In Grown Ups, the filmmakers found a trio of extremely talented women to play the characters' better halves. "Salma Hayek, Maria Bello, and Maya Rudloph are all really excellent actresses and comediennes," says Dennis Dugan. "When the girls have their scenes together, it's a very different kind of comedy than what's going on with the guys. A movie needs that kind of change of pace, and these women, all incredible talents, gave us that."
Salma Hayek
plays Lenny's wife, Roxanne, a glamorous fashion designer who's in for a bit of a culture shock when Lenny brings his family to the lake house.
"They're supposed to be on their way to see her fashion show in Milan," says Salma Hayek.
"It's a culture shock. She's definitely a fish out of water."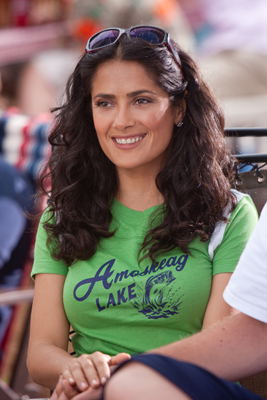 What was it like to be surrounded by so many comedians? "It was intimidating at the beginning. I was thinking, 'Oh, they're all used to stand-up comedy, and they're making up all these jokes,'" admits Salma Hayek. "But everybody was so nice - no one had an attitude. I just relaxed, and soon, I came up with little things - not even jokes at the beginning, just little actions - and they were so supportive. I was so excited - they were laughing at my stuff!"
"The other thing I discovered is that Adam Sandler is incredibly generous," she says. "Adam Sandler never says, 'Oh, this is the best joke, I'm going to say it.' He gives the joke to the best character to say it. He also figures out who hasn't had a funny thing in the previous scene - he looks after everyone."
Salma Hayek has equally high praise for the director, Dennis Dugan. "At times, we had 18 people, 21 people, even 300 people in a scene," she notes. "He had to block those scenes, some of them with animals and children, and sometimes it would rain and he'd have to do it all over again. But he never lost his temper. He's a comedian and actor himself, and I think that helped a lot. He knew what the actors would be thinking - what are we going to shoot today?! - and he was there, level-headed, in a good mood, and calm."
Maria Bello
, who plays Sally, Kevin James' character's wife, went so far as to invent an entire backstory for her character. "I think Sally was probably a cheerleader back then. Eric was probably the captain of the football team. We have two kids and I'm the ultimate mother. They're the two from town who stayed in town."
"Kevin James is the loveliest, yummiest, most beautiful man," says Maria Bello. "I just fell in love with him from the moment we met. He reminds me of my brother, Joey, from Philly - he's the ultimate dad, a husband who's really committed to his family, committed to his work, down to earth. He's very funny, but he also has great depth to him - he has real moments that moved me so much. I even cried in one scene, he was so authentic."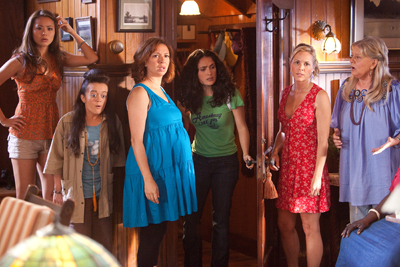 Maria Bello says it was important to Adam Sandler to create a family atmosphere on the set of the film. "He put a swimming pool up, put a park in, did a whole basketball court," she says. "My 8-year old son is obsessed with basketball. He was just in heaven when he was there. It was a real family environment to be there for the summer. It's nice to spend the summer on the east coast."
"Adam Sandler took a chance, seeing me in a light comedy," says Maria Bello. "I'd never done that kind of a movie before, and it was a challenge. But Sally is a real character. She's the kind of person who's obsessed with celebrities - she reads all the tabloids - but she's also so good-hearted and compassionate. She's funny, simple, and sweet, and loves everybody."
Maya Rudolph
plays Deanne, the wife of Chris Rock's character. "She's the breadwinner of the family, so it sort of leaves Chris' character to take care of the household, which includes their two children as well as Deanne's mother. That provides a little bit of a tension in the household."
"It's been a lot of fun watching Chris Rock play this part - the dainty, sensitive, stay-at-home husband," says Maya Rudolph. "It's really different from anything I've seen him do before. I think he really enjoyed it, allowing my character to run over him a bit. He really made me laugh and forget I was really pregnant."
Maya Rudolph, like so many of her co-stars, first rose to fame on "Saturday Night Live." "They all feel like family because we all belong to the same club," she says. "I was a member later, but it doesn't matter - it's like different generations of the same family.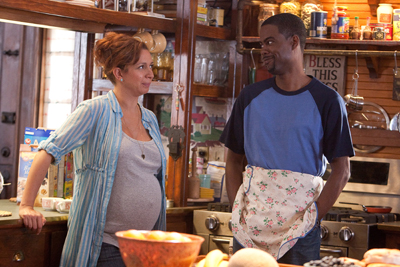 We're all children of Lorne Michaels and that bonds you for life." In addition, Maya Rudolph collaborated with Salma Hayek when the latter hosted "Saturday Night Live," and, as she puts it, "I worked with Maria Bello before I knew I was funny for a living," she says.
"Being in this movie reminds me of growing up," says Maya Rudolph. "I had an older brother that was funny - he was older enough that when his friends would come over, I was excited - 'The cool kids are at our house! I was always trying to be funny with the cool kids. This was just like that."
The Hometown Boys
In the film, the five friends return to their home town, where they find that some of their former schoolmates haven't moved on. As with the other key roles in the film, these characters are played by actors who fit in well with the Happy Madison regulars.
Colin Quinn
, another "Saturday Night Live" veteran, plays Dickie Bailey, who is perhaps the hometown boys' ringleader. Colin Quinn says it was easy to find the appealing part of his character, even if he does play an antagonist of sorts. "On the set, they called our characters the bad guys. 'OK, bad guys up.' So we're the bad guys? The local guys who stayed in town, worked in their community, fought for their country, we're the bad guys? The good guys are the guys who fled town, drained whatever community they lived in of money and then come back to mock the local yokels during a holiday weekend at the lake house - those are the good guys? Only in Hollywood."
Despite his role in the film, Colin Quinn was one more old friend who was invited to join in the fun. "Actually, I've known Adam Sandler since he was 17 years old. Jack Giarraputo, too, and Tim Herlihy and Allen Covert, and David Spade - I know all of them from stand-up. Chris Rock and I started comedy almost on the same night. When we weren't shooting, it was like the old days, in the back of the comedy club, sitting with the other comedians."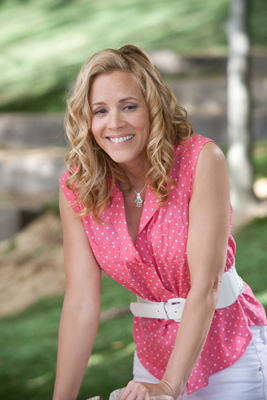 Time Meadows
plays Malcolm, another of the former opponents. Of his character's look he says, "It's a joke that went bad. I went to dinner with David Spade and I said my character should have a receding hairline. Well, he mentioned it to Adam Sandler, and Adam Sandler loves it - 'Yeah, you gotta do it.' All during the production, I had to wear a hat everywhere. I'm a single guy - the hairline did not work for the ladies. Everyone felt sorry for me."
About the Lake House and The Production Design
From the beginning, it was important to the filmmakers to shoot Grown Ups on location, outdoors, at a real house on a real east coast lake. Production designer Perry Andelin Blake describes the appeal: "We really wanted it to feel real and to get the flavor of what the lake looks like when the sun is shining on the water. Being on a lake, being outside, it makes for the nice changes of mood - the light and background changes, depending on the time of day. We really took advantage - at the end of the day, the sun that would be streaming through the windows, or in the mornings, you could see the light shimmering on the water. When we're inside the house, you can see the real lake, not a blue screen lake or backdrop. It makes the whole set feel more alive."
Still, the filmmakers would have to choose their location carefully. A film production is an enormous undertaking - not just metaphorically speaking. The square footage required is immense. To shoot in a real-world location for an entire summer could have been highly inconveniencing for the people who live there.
So, in January, 2009, Perry Andelin Blake and director Dennis Dugan went on the search for the perfect east coast location. Perry Andelin Blake says, "This movie takes place in summer, but we were scouting in winter. We were looking at frozen lakes and woods with leafless trees."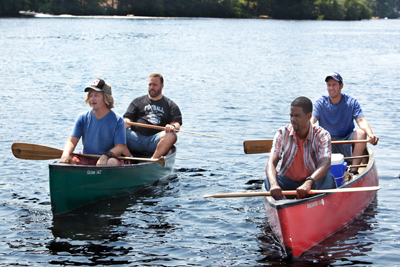 They finally settled on a 25-acre chunk of land in Essex, Massachusetts. "We got lucky with the town of Essex," says Dennis Dugan. "The town owns a peninsula on Lake Chebacco. We rented it from them and basically made it into a back lot."
The little house in Essex sat on a hill overlooking the lake in a way that the filmmakers found extremely appealing; coupled with the large space, it was the perfect location. However, the house itself would need a lot of work - it had once served as a rec center, but was no longer in use and showed it. "It was in pretty sad shape. It was all closed up and had been broken up into a bunch of little rooms," says Perry Andelin Blake.
So the filmmakers began the work of transforming the location into the perfect lake house. "We took the old house and gutted it," says Perry Andelin Blake. "It had a low ceiling, which we opened up and put in rafters. We were able to make a big room where we could have a sense of the controlled chaos that occurs whenever several families get together. That was the most important thing; we needed a place where all of our characters could interact and flow around - the great room that everybody hangs out in."
The filmmakers also put in a new entryway with a new front door and added a bathroom to the property, and these changes remained for the local citizens to enjoy. "We put in old wood and made it to look like it was an 80- or 90-year-old house," Perry Andelin Blake adds. "It's exciting to know that after we left, it's still a rec center for kids. We really did strive to leave the place better than when we got there."
The film production did make a few more additions to the building that were movie sets only. This includes the back wing, which wraps around a tree. "This big tree was five feet back from the old building," says Perry Andelin Blake. "Obviously, we weren't going to cut down the tree. So we left it there in the center of the house. We worked our stairway right around it - there was even a branch coming off of it that we turned into one of the handrails. It really makes the house a unique piece of architecture - it was cool to do something that unusual. You look at the house from the outside and there it is, a living tree, growing right out the roof of the house.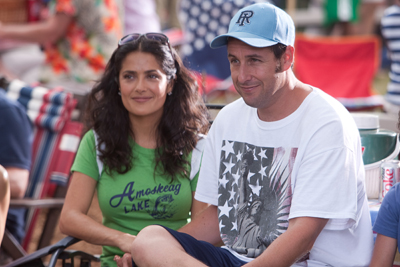 The filmmakers also needed to add the house's supporting buildings. "Since the rec center wasn't a real lake house, we needed to build a dock, a boathouse, a beach, and a big grass area out to the side of it. I took a look at a lot of different boathouses and I saw some that had a rooftop deck. We thought that design would work well for certain scenes in the movie - the 1978 awards dinner, a fight between David Spade and Rob Schneider. It seemed like a small decision at the time - instead of building a boathouse with a pitched roof, we built the deck - worked its way into the movie in a pretty big way." The filmmakers also cleaned up the lakefront, built a dock, and trucked in sand to make a little beach.
Perry Andelin Blake had a blast dressing the inside of the boathouse set. "We had to make it look like the boathouse had been there for 80 years and was still in use," he says. "There are some brand-new life preservers and kayaks, but there's also stuff fifty years old and stuff 80 years old, all mixed in, to make it look like different generations have been there."
Other filmmaker additions that were kept in place after the filming was completed were a brand-new basketball court and little league baseball diamond. "There was a beautiful park adjacent to our house - we always loved it, from the moment we got here. It's a beautiful spot, with hills rolling down to the beach and one of the most beautiful views of the lake," says Perry Andelin Blake. "The only problem was the basketball court- it only had a half-court, and we really wanted a full court, because this would be the climax of our movie, when the five friends take on their former rivals in a rematch. So we built the full court, which was fine with us, of course, because that was something else we could leave for the town after we left. We also renovated the Little League baseball diamond in the park. Part of what makes it such a nice ending for the movie is that you really feel a sense of community, with the whole town there for the Fourth of July celebration, and even after we were done filming, we really felt like we were part of the community, too."