Will Ferrell and Christina Applegate Anchorman 2: The Legend Continues
Cast: Will Ferrell, Christina Applegate, Paul Rudd
Director: Adam McKay
Genre: Comedy
Rated: MA
Running Time: 119 minutes

Synopsis: With the 70s behind him, San Diego's top rated newsman, Ron Burgundy, returns to take New York's first 24-hour news channel by storm.

Verdict: The cinema erupted in roars of laughter right from the beginning of Anchorman 2: The Legend Continues and the laughter did not cease, until the very end.

Audiences will welcome the return of the charming Ron Burgundy (Will Ferrell) and his news team Brian Fantana (Paul Rudd), Champ Kind (David Koechner) and Brick Tamland (Steve Carrell). As Anchorman 2: The Legend Continues takes 1970s newsman Ron Burgundy into the early 80's with a three hour spot on New York's first 24-hour news channel, GNN.

Although slightly less quotable than the original, Anchorman 2: The Legend Continues will appeal to all the fans with its creative, yet hilarious take on comedy which appeals to all. The main difference is that Anchorman 2: The Legend Continues actually has a storyline that showcases the growth of 24-hour news along with the expansion of what news is and the way that these developments changed news journalism, worldwide.

Watch out for the surprising cameos from huge names such as Jim Carrey, Liam Neeson, Kirsten Dunst, Sacha Baron Cohen, Tina Fey, Amy Poehler and Kanye West.
Rating: ****

Brooke Hunter

Anchorman 2: The Legend Continues
Release Date: December 19th, 2013
About the Film

Anchorman 2 Director/Co-writer/Producer Adam McKay and Star/Co-writer/Producer Will Ferrell have apparently always shared one comedic brain. 'We think the same things are funny – and that's half the battle," says Will Ferrell.

The two easily finish each other's lines while writing, Will Ferrell explains. 'He'll throw lines out, and that triggers thoughts in my head, and we'll just feed off each other, back and forth," he explains. 'It so was so easy and fun to work together, that we eventually just said, -Why don't we try writing a script?' That's how it started."

The first Burgundy film, 'Anchorman: The Legend Of Ron Burgundy," released by DreamWorks in the summer of 2004, came about after Will Ferrell had seen a Philadelphia news anchor paired with a woman for the first time. 'I said to Adam McKay, -What if we base a story in the 70s news world, about the first time a woman comes into that world, and how these men are just petulant, and she's smarter and more capable?'" he recalls. Adam McKay agreed, and the two brought the idea to producer Judd Apatow, creating one of the most successful creative partnerships in Hollywood today. 'Getting to work with Will Ferrell and Adam McKay has been one of the highlights of my career," says Judd Apatow. 'Just being allowed to watch them do what they do on set is a comedy nerd's dream."

While the Adam McKay/Will Ferrell/Judd Apatow trifecta reteamed for the comedy hits 'Talladega Nights: The Ballad of Ricky Bobby" and 'Step Brothers," the original 'Anchorman" was quietly growing into a phenomenon. 'It's kind of grown into cult status," Will Ferrell notes. 'Anchors on ESPN SportCenter refer to the San Diego Chargers as -the San-de-AH-go Chargers,'" a reference to Ron Burgundy's now-classic mispronunciation of his home city's name. 'And we got a photo e-mailed to us of a troop transport carrier in the middle of Baghdad with a stencil of Ron Burgundy's face that said, -Stay Classy Baghdad,'" paraphrasing Burgundy's popular sign-off. 'It just keeps coming up in pop culture. People in news tell us all the time they know somebody like Burgundy. And the fan base keeps growing."

By 2010, with several projects completed together in between, Will Ferrell and Adam McKay began considering a sequel. 'We weren't really huge proponents of sequels," Will Ferrell says. 'It's a tall order to fill, and, creatively, you ask yourself why do a sequel, when you could just write an original movie? But if we were going to do a sequel to any of our projects, this would be the one." Adam McKay agrees. 'The first Anchorman was the first movie I had directed, so it was new. But let's face it, 70% of sequels aren't as good as the first one – a lot because the element of surprise is gone, people know what's coming."

Will Ferrell and Adam McKay began thinking of story ideas – something that would bring the news team's world forward. 'The challenge for us was to have the same feel, to pay homage to some of the elements of first movie, but, at the same time, give it a feel of not only a brand new story, but one that's satisfying and feels completely different," Will Ferrell says. 'One that, even if you haven't seen the first one, can stand on its own."

That aspect was helped by the fact that it had been nine years since the last film. 'Adam and Will have lived with these characters for almost ten years," comments Steve Carrell.

Christina Applegate agrees. 'They wanted to leave well enough alone, and I think that was actually a smarter way to go. We waited ten years, as opposed to three, like a lot of sequels, and I think that's allowed more people to get to know the original movie. Now it's like an anniversary."

The duo pitched a number of ideas, most of them outlandish, of course. 'There was one where the news team explores the moon for no good reason," Will Ferrell remembers. Adam McKay even thought of a prequel. 'When we were shooting the first one," he says, 'we talked about doing the prequel and having Burgundy in Vietnam, covering the war, and having him meet the news team over there." The hero, of course, would have been Brick Tamland, a highly-decorated lieutenant. 'But one day an explosion went off, and he was never the same again, and that's why they love him so much and are always cool with him."

Eventually, Adam McKay and Will Ferrell found themselves talking about the introduction of cable TV and the media explosion that began to happen in 1980. 'If you do any research," Will Ferrell says, 'you realise that was a crucial year. Prior to that, there were just three or four channels in most cities, but then this explosion happened. Once you pass that point, it becomes modern television – and modern news – as we know it." It was a perfect fit to overwhelm the pompous Burgundy, Adam McKay says. 'We kept talking about it, and we realised, -That's what Ron Burgundy should deal with.'"

24 hour cable news, of course, also made its appearance at that time, indeed setting up a fertile ground for comedy for Burgundy and his news team. 'This was a huge step for a network like CNN," Will Ferrell points out. 'They needed bodies, literally around the clock. And we thought that's a great world to force these guys into. They're incompetent, but Ron Burgundy is charismatic enough that they're good enough to be on at two in the morning."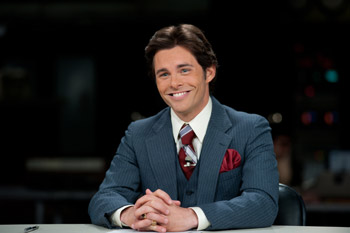 The period also began the deregulation of news reporting, with the disappearance of The Fairness Doctrine, Adam McKay explains. 'That's when media started falling apart. That's when the first trash news stories appeared, like the Pee-wee Herman story and, in the early 90s, OJ. News no longer served any kind of function. So we thought that was a great thing, having a moral conundrum: do you chase ratings or do you do what you're supposed to do? That's perfect for Burgundy. Because right away, he's gonna fail the moral test."

The concept had immediate appeal to the team members, who also liked Adam McKay and Will Ferrell's ability to add social commentary in alongside the comedy. 'The 24 hour news cycle changed the way we all digest news," says Koechner. 'News used to be a half hour, an hour at most. Now they have 24 hours of news, and they think they have to fill it. And they do it by trying to grab the viewer by seeing who's the loudest. And we hang on like we want to know every detail, so we have to dig up every detail."

Adds Steve Carell, 'The idea of how 24 hour news has changed our culture is a smart theme that Adam McKay and Will Ferrell are writing about in this movie, but they never hit it too hard – they don't put too fine a point on anything. All of these things are gently woven in to an otherwise extremely silly and absurd movie." Rudd notes, 'I love what this actually says about news today – and then it goes in all these different directions that have nothing to do with that."

The News Team Returns

McKay and Ferrell wrote a working draft of their script, with McKay covering the first half and Ferrell the latter. A table read was held in Los Angeles in November 2012, with most of the cast in attendance (except for Rudd and Carell, who were working on other projects, other comics subbing in their stead).

'I couldn't believe the security on this," Paul Rudd laughs. 'I had to sign a form and read the script on a computer (before the table read), and then it just vanished after a couple of hours. But when it did show up, I started reading it immediately and was just cracking up!" The team was clearly excited by what they saw. 'In the first movie, every scene had a bunch of jokes," says Koechner, 'but this had a flurry of jokes in every scene and always ends with a knockout punch. Even without Paul Rudd and Steve Carrell there, it was clear this was going to work – and be very, very funny."

The film begins with Ron and Veronica, now weekend co-anchors on national network news, getting called into lead anchor Mack Tannen's office, hopefully for some important news of their own. 'They're doing well, but they're not quite there yet," comments Adam McKay. 'So we decided to make them weekend network anchors."

It is expected that Mark Tannen – the Tom Brokaw of their world – is going to announce his retirement and, so the duo assumes, will name them as his replacement. But when they meet with him, it's quickly made clear what kind of job Burgundy has been doing: Veronica is named Mark Tannen's replacement, and Ron is fired – immediately.

'Burgundy's ego is touchy to begin with," Adam McKay explains. 'But when he gets fired and his wife gets the dream job of dream jobs, he's not built to handle that. He collapses immediately."

As for Veronica, time and success have smoothed her feathers, to a large degree. 'In the first film, I was kind of the villain. But she's softened. It's seven years later, and she isn't driven for success the way she was then. She's reached her success, and they're parents now. Having a kid has really grounded her – I think I like the new, softer, supportive, loving Veronica."

Upon receiving Tannen's job offer, Veronica finds herself in a difficult predicament, her husband forcing her to choose between him and her career. 'It's an unfair ultimatum, and it's very selfish of him," she informs. 'I think, out of anger, she takes the job, just to punish him for being so ridiculous about it."

Ron and Veronica separate, and within six months, we find Burgundy at his new job: an obnoxious, drunken host at Sea World, booed even by the smallest of children. 'That's the thing about Burgundy," Adam McKay explains, 'you give him bad news, and he bottoms out as he is wont to do. You go in the other room, and he's already dirty and drinking."

It's not long, though, before he is approached by Freddie Shapp, a mid-level producer at upstart cable news network, GNN, played by actor Dylan Baker. 'I saw something in Ron when I watched him in San Diego, and I knew, since no one else was available, that Ron was the guy to get" for the network, Baker says of his character.

Dylan Baker was an actor always on the radar for Will Ferrell and Adam McKay, who had wanted him for a role in the original Anchorman, though Dylan Baker was unavailable due to a television commitment. 'We've just loved him forever," Adam McKay says. 'He's one of those actors that every actor knows is good. He's super collaborative, game, funny and can play dramatic, comedy, anything he wants. That was just a treat."

Working with this group of comic actors was still a challenge, even for the veteran Dylan Baker. 'There were scenes when I'd just be sitting there crying, I was laughing so hard," he says. 'There was one closeup on me, where we had to keep going, but behind these little glasses I wear, there were tears just rolling down my face. This is the funniest thing I've ever been around, bar none."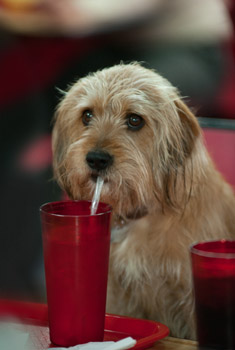 Shapp offers Burgundy the golden apple – an invitation to become an anchor at the network in the bigger apple, New York City. He offers to provide a support team of reporters, but, of course. . . Burgundy already has one.

As if getting four busy actors together in one place isn't hard enough – try getting Ron Burgundy's news team back together. Burgundy, committed to his new cable news pursuit, hits the road in his tricked out Winnebago to round up the gang, in a classic 'getting the band back together" road trip. 'That's one of those clichés in movies you see over and over again, be it The Dirty Dozen, The Blues Brothers or any other – and any time you do that in a movie, it's enjoyable," says Adam McKay, particularly with these lunatics. 'We go looking to find out where each of the guys has been for the last five years, and, for the most part, they haven't been doing so well."

Champ is in the poorest state. 'We don't know if he's homeless, out murdering people, we're not quite sure," notes David Koechner. One thing we do know is that he now has a chain of 'Whammy Chicken" franchises. Of course, that's not actually chicken under all that batter. 'He's secretly serving bats to save money," Adam McKay explains. 'And he's so earnest about his absolute refusal to even try chicken." Besides, bats are 'chicken of the cave," as Champ calls them.

Not that Champ doesn't thoroughly believe in the good fowl, as he touts in his Whammy TV commercials, David Koechner points out. 'He believes in delicious chicken – and also that the census is a way for the UN to turn your children gay. He believes in good chicken and the coming race war in ten years, for which he intends to be armed." That's our Champ. 'He's a borderline full-on psychopath," says Paul Rudd.

But his team nonetheless can see past all that. 'In another context," Adam McKay points out, 'he'd be a horrible guy. But these guys are able to see his best side." In fact, that's always the case with this news team. 'They're all buffoons in their own way," Pau Rudd says. 'And yet there's still something about these guys that is innocent. We love the other guys on this news team. We would never judge them or call them out for what they clearly are."

Paul Rudd's Brian Fantana is clearly on the other end of the scale: a successful kitty photographer. As in Cat Fancy kitties. 'Brian is the preeminent cat photographer," Paul Rudd describes. 'You know, like all those -I Hate Mondays' posters you see in dentist offices. And I make a ton of cash." He's got the mansion and he's got the girls– they all hang out with Brian.

The guys show up to gauge Brian's interest in rejoining the team. 'The second they show up, I lose it all – I'm getting sued for using the word -pussy' inappropriately. So I'm onboard right away," says Rudd. Not that he actually has anything to offer the good folks at GNN. 'He has no understanding of journalism and no idea what he's doing," Adam McKay notes.

The team continues their quest to round out the pack, but end up, unfortunately, at Brick Tamland's funeral – at which Brick is delivering his own eulogy. 'Brick has gone away for a little while, and we're not sure where Brick has been," Steve Carell explains. 'I don't think Brick knows where he has gone." Brick has certainly not evolved in any way. 'He hasn't come a long way since -I love lamp,'" his classic observation from the first film. 'Brick has not evolved. And I'm committed to keeping Brick from ever evolving in any way, shape or form."

Apparently, though, he has drowned at sea. His compadres inform him at the funeral that the dead person being spoken so fondly about – by Brick, actually – is Brick. 'He's relieved," comments Steve Carell, 'as I think anyone would be, but who wouldn't want to go to their own funeral and give their own eulogy?"

The boys take a rather eventful trip together to The Big Apple in Ron's tricked-out RV. The sequence represented the first time all four actors worked together on the new film, save for a short teaser trailer shot even before the script was completed. 'It's a rare chemistry, with these four guys," David Koechner observes. 'Adam McKay and Will Ferrell are always able to put all these pieces together that fit just perfectly. But the cast just meshes. When we're working together, doing it, you really don't over think it, it just happens."

Will Ferrell notes, 'We all have the same comedy mindset, which is just fantastic. We're all very creative in how we do stupid. When we're all four in the same scene, everyone's excited to hear what the other guy's gonna say, and then you're trying to think of a joke that'll top it. But at the same time, we all support the act of listening, which a lot of people in comedy don't. If someone comes up with a winning idea, we all naturally just go with it."

That work ethic spilled over into cast members outside the news team, as well. 'It was a little daunting, at first, joining this group, seeing how close they are," says James Marsden. 'But they all want everyone else to be funny. I figured it would be everyone trying to win the -funny race.' But they're incredibly generous. They'll set you up for a line. They're in the game to help you." Adds David Koechner, 'Everyone's pulling for everyone else here. Everybody gets to score."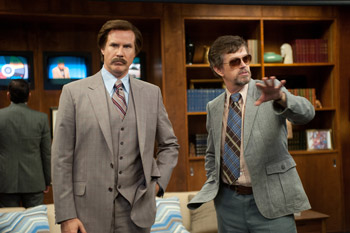 The team are also all skilled improvisers – Ferrell chief among them. 'Will Ferrell is so good at throwing something out there that's unexpected and so far out of left field," Paul Rudd informs, 'it'll just bust me up, even when I know what he's going to say." James Marsden concurs. 'Even if you know what line is coming, he still does it different than anyone expects," often causing fellow cast members to lose it. But are the tables ever turned? 'When you're able to bust Will Ferrell up, then you know you're doing something good," James Marsden notes. 'That's the Holy Grail."

Improv is all part of the show when making an Adam McKay film. The director, in fact, sits at the monitors in his 'video village" tent, regularly spouting out hilarious suggestions to his cast over a mic and P.A. system set up for just that purpose. 'They're all very collaborative," the director notes. 'They basically let me jump into the scene with them – and they like it. I used to have to run to the set or yell, but this is much easier. You put yourself in the scene, ride it, feel it out, and just feel where there's an opportunity where you can help them, or if they get a great improv idea, to help them sharpen it."

The cast do indeed enjoy the process. 'You try to come pretty prepared with a few ideas, so that in case a scene gets off track, you can toss something out there to keep it alive," James Marsden explains. 'And as soon as you think there's nothing more for your character to say, Adam McKay pulls stuff out that's just so backwards and full of his own brand of humor, he's brilliant. And it's never-ending." Adds David Koechner, 'I think Adam McKay must have had three or four lines for each character in every scene when he was doing the script, he just didn't write them down. So we get to benefit from his genius."

'He sits in his little tent with a microphone and watches a scene," Steve Carell says. 'And he's so adept at throwing out the most perfect suggestions at the most ideal times. When Adam McKay is on the microphone, you feel like your brain has been multiplied by four, because you've got your stuff you can improvise, but then you also have his brain working for you as well, at your disposal."

Welcome to New York

Upon their arrival at GNN, the team is quickly confronted by a new nemesis. 'I am not the villain this time," Christina Applegate points out. 'There's a new gal in town, and her name is Jack Lime." The 'new gal" is actually the studly Jack Lime (portrayed by James Marsden), the hotshot lead anchor just imported from Chicago for a reportedly whopping $1 million! 'He's the next level of anchorman," James Marsden describes. 'He's top shelf stuff, wears expensive threads, and is a completely cocky bully, full of himself."

Jack immediately zeroes in on Burgundy, whom he spots from across the studio bullpen, and begins picking on him. 'It was this really fun scene in this massive room," says Will Ferrell, 'and he immediately turns alpha male on Ron. It was something James Marsden had nailed in the table read we had done, and that's what got him the job."

Lime's bully attitude is one James Marsden drew from his childhood. 'I got along with everybody, but there was always that one guy that just looked at you and for no good reason, selected you and said, -I don't like you. I'm never gonna like you,'" the actor relates. 'That's what Jack's doing with Burgundy."

The trouble is, Lime is so irresistibly good looking and charismatic that even Ron's own team laughs at his digs at their friend. 'And his jokes aren't even that good," quips Will Ferrell. It's simple. 'It's hard not to like Jack Lime," says James Marsden, 'which is hilarious, because I'm such a prick."

'We'd all hate him if he wasn't so cool," Paul Rudd notes. David Koechner adds, 'James Marsden has great stones, and he can just do it. Plus, he's so beautiful, we're all enamored of him. He gives Ron a ration of grief, and we go along with him. We just lose ourselves. We'll do anything to be his friend," causing Mr. Burgundy to find himself insecure for the first time in a news environment.

The network boss is an inspired Australian by the name of Kench Allenby ('Kench" short for 'Ken," of course). 'He's our Ted Turner meets Rupert Murdock meets Richard Branson," describes Will Ferrell. 'He's like all three of those guys if they had a baby."

Australian native Josh Lawson plays the boisterous Kench. 'He's a multi, multi, multi-millionaire who had this idea to start a 24-hour news initiative," the actor explains. 'He's a real moneyman. He inherited three hundred million dollars from his dad, and he's worked his whole life to turn that into three hundred and five million, so he knows the value of the dollar."

Kench loves whoever it is that, in the moment, is going to make him the most money. 'In the beginning, that's Jack Lime. But it becomes very clear that the real golden goose is the great Ron Burgundy. I treat him like the son I never had. Even though he's decades older than me."

The entrepreneur loves the spotlight, happily giving speeches at the drop of hat to his minions that worship him. 'He loves being adored by people, so any opportunity he can get up and stand in front of a microphone, he'll do it," even if no one can understand him through his immense Aussie accent. 'Yeah, when he gets excited, it does get a bit thick," the actor relates.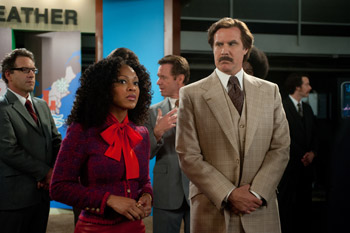 'That was Adam McKay's idea. On the first day, he said to me, -Try one now where your accent's so thick we can't understand you.'" Lawson just tossed in a few tricks from back home. 'You can take an easy sentence like -How are you? Haven't seen you in years,' and then you Aussie-ise it by adding a few words here and there. And then you just make the tongue a little lazy, and then the jaw a little sloppy, and there you have it" – even if no one knows what 'it" means. 'Kench is actually saying things in those moments. You just don't know what the hell it is."

Running the network for Allenby is station manager Linda Jackson, played by the stunning Meagan Good. 'Linda is wildly educated, knows journalism, knows news, and she sees Burgundy as a clown," Adam McKay explains. 'We wanted a woman who could kick Burgundy's ass, put him in line, and play sophisticated sharp, but at the same time had a comedy bone. We auditioned a lot of actresses, and Meagan just kept standing out. She's beautiful, really talented, and, most of all, she's just game." Says the actress, 'When I found out I got this part, I literally cried for 30 minutes. I was just shocked – and so happy Adam McKay and Will Ferrell saw me as this character."

Good, like a lot of us, had been a fan of the first film since its release – as was her sister, who, during production of Anchorman 2, could be found in Good's trailer watching Anchorman. 'She'd be in there every day playing it, and people would start coming by, and the next thing you know, they'd be in the doorway watching it and laughing," she says.

As mentioned, Linda's initial impression of Burgundy and his team isn't a good one. 'She thinks they're idiots," Meagan Good says. Burgundy has his own initial impression, upon coming face to face with not only a new female boss, but an African-American one.

'In the first film, which takes place in the 70s, it was a big deal to have a woman doing the news," Adam McKay explains. 'Then, in the 80s, lots of different people began doing the news, it became multi-ethnic," something the team wasn't quite used to experiencing back home in beautiful white bread San Diego. 'This is something the team hasn't really thought much about, that the world is a rainbow," Steve Carell points out. 'I don't think they had ever really confronted or considered having a boss that is a very strong, attractive, smart black woman. I think Ron is a bit taken aback, and he needs to figure out how he's feeling."

Though Linda has underestimated Burgundy, she finds herself undeniably attracted to the bumbling San Dee-ahh-gun with perfect hair. 'She starts to fall for Ron Burgundy," Good says. 'She really feels that he is a maverick and someone who walks to the beat of his own drum." He reminds her of herself – he's a go-getter, and he just does whatever is in his heart. 'She decides that she wants him, and that he's gonna be her man, and she is going to aggressively pursue him until that happens. And it does."

Burgundy isn't the only one who finds romance in Anchorman 2. 'We decided Brick needed a love interest," Adam McKay says. 'In the last movie, he was sort of like the sniper of comedy. He would come in with funny lines and have funny moments, but most scenes weren't about him." But Brick is so beloved a character that he and Will Ferrell decided it was time to have his own arc. 'He's sort of the Harpo Marx of the gang. So we just wanted to do a little more with him."

Upon arriving at GNN, Brick quickly finds an equally quirky, clueless girl named Chani, someone who is confused by the operation of a simple telephone. 'She's the female version of Brick," explains Kristen Wiig, who plays object of his affection. 'She's smart, but she stares at walls a lot, and is fully entertained by it." Brick spots her from across the room, and the attraction is instantaneous, though neither seems to know quite what attraction actually is or how to deal with it. 'They're both star struck, like a bolt of lightning," Steve Carell says. 'They speak the same language, which nobody else speaks. They get each other." Brick takes her on a romantic date to his favorite soda machine at a laundromat, though not before getting some dating advice from his friends on the news team. 'Brian introduces him to the world of safe sex," Steve Carell explains, courtesy of a custom condom collection housed in a mahogany case, similar to the one that housed his ultra-offensive Sex Panther cologne in the last film.

Paul Rudd had a whale of a time improv-ing away shooting the scene, as he describes to his pals the many exotic condom choices. 'Hooded Ghost, I think, was one of the less gross ones," Steve Carell laughs. Another was offered up by one of the props people – Coney Island White Fish. 'I found out when the guy was growing up in New York," Paul Rudd explains, 'he and his buddies would go down to Coney Island, and there were always used condoms in the water. So they were Coney Island White Fish." Yuk.

A New Kind of News, A Short Bout of Blindness, and (Of Course) A News Team Gang Fight

To get better ratings, the news team resorts to what they know best: trash news. Brian Fantana brings his 'news from the street" in the form of a recipe for crack cocaine, which he and Burgundy try out on the air. 'He has no idea what it is," Paul Rudd explains. 'To him, it's like, -Hey, the hip new drug for those who can't afford cocaine – move over, coke, here's your more affordable, hipper, younger brother, crack.' They actually teach everybody how to make it on the air, like it's a cooking show."

To everyone's surprise, the Burgundy approach takes off like wildfire, as audiences find their relatable niche, including the obligatory – and now commonplace – two hour car chase. 'People are seeing something they'd never seen before, two hours of a car chase," Christina Applegate comments. 'I loved it. It's really putting a big mirror up to society: we create a news station where they literally make stuff up to fill time."

GNN holds a Caligula-esque celebration at an ice skating rink to tout its success, but not everyone at the network is thrilled. 'Jack (Lime) is upset that he's been dethroned," James Marsden explains. 'Plus, he's a bit of a sociopath." In the midst of the festivities, Lime commits a petty act of sabotage which leads to Ron Burgundy dramatically losing his vision.

With his teleprompter skills now gone, Burgundy disappears to live out his days in a lighthouse off the coast of Maine and feel sorry for himself. 'He's really bad at being blind," Will Ferrell says. 'He does things like brushing his teeth with lobsters and puts all the dishes in the fireplace."

'That's one of the scenes when Adam McKay and I were writing that we could have probably written a 25 page scene, because it was just so fun to wallow in his self pity," the star laughs. Adds Adam McKay, 'He makes no effort to adapt."

Help comes from an unexpected source: Veronica arrives with the couple's 6-year-old son, Walter, to help Ron get back on his feet. Adam McKay and Will Ferrell, again fans of sequels, looked to the 'Rocky" series for inspiration. 'The coolest thing in 'Rocky 3" is where Apollo Creed comes back to train Rocky," Adam McKay relates. 'We thought about doing it with Vince Vaughn," Burgundy's competitor Wes Mantooth, 'but then we realised the person doing it should be Corningstone. She's really Ron's Apollo Creed in this movie."

Ron and Walter (Judah Nelson) finally find ways to truly bond together. 'We thought that would be something really funny to explore, Ron Burgundy having to be a dad," Will Ferrell says. 'As you can guess, he struggles with it."

Judah Nelson was among the last actors seen during casting, but it was clear he was up to the task. 'We really needed someone who played things very real and serious, yet was comfortable with all the improv we'd throw at him. And Judah Nelson was phenomenal." Christina Applegate was indeed impressed with the youngster's improv abilities. 'Judah Nelson was so game to say the things that Adam McKay wanted him to say, most of which were so inappropriate for a 6-year-old to say or even hear," she notes. 'But, let's face it, when little kids cuss, it's really funny."

Spiritually restored, Burgundy regains his sight and returns to reclaim his kingship at GNN. But something has clearly changed – evident when Veronica arrives to tell him of a piano recital of Walter's in which the child will be performing a piece specifically written for his dad. But just as he prepares to go, an opportunity to cover yet another wild car chase arrives, and he must choose. 'It's the juiciest bone any dog could ever hope for, but Burgundy made a promise," Adam McKay explains. Says Will Ferrell, 'He has an epiphany. He realises that, even though he's back in a world he thought he missed, it has lead him to create something that's horrible for news, news that isn't news at all."

He gives up the ghost, on the air, and heads off to his son's recital. But he's quickly accosted by Jack Lime, in a news team gang fight even more epic than the one seen in the original 'Anchorman." 'We knew we wanted to do a second gang fight," says Adam McKay, 'but we didn't want to just repeat ourselves. We felt like if we were going to do one, we would have to do it bigger. It would be too much fun not to."

Shot over a five-day period in an Atlanta park (compared to the single day's shoot of the fight in the first film), Judd Apatow, Adam McKay, and Will Ferrell opened up their respective Rolodexes to fill the sequence with a plethora of BIG stars portraying every kind of news team in existence (and surprise audiences as each takes the screen, no doubt prompting plenty of 'Wait – isn't that. . . ?"). 'It was all brand new in 1980 – 24 hours of sports, 24 hours of music," Koecher points out. Indeed, teams from the worlds of sports, entertainment, history, and even ones from Canada suddenly appear, as does Burgundy's news team to help in the battle to get their leader to his son's recital.

'It was pretty surreal to have that many big stars willing to play the way we play," Will Ferrell comments. Adds James Marsden, 'That's the barometer of how popular this has become, truly."

The result is not only the most ridiculous news team fight ever presented on the big screen, but a memorable event for all involved. 'One of our stars told me, -It's like a Vanity Fair party, except fun," David Koechner relates. 'It was like comedy summer camp."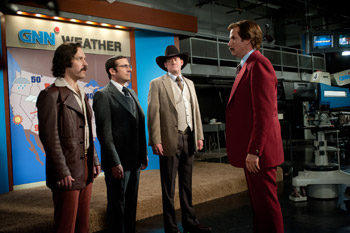 Thanks For Stopping By

The news team, to this day, still finds the popularity of Anchorman a happy accident. 'We when we were shooting the first one, we had no idea it would be this much fun and this popular," says Steve Carell. 'Broadcasters saw it and didn't embrace it immediately, but they've since come to regard it as their movie, which is great."

Will Ferrell concurs. 'When the original came out, I remember one of the San Diego papers said -They really missed the mark. They had a real opportunity to comment on the news. This is not very realistic.' Now, for the city of San Diego, this movie is a piece of their identity, and to the people in the news industry, as well."

Working together again with his team of newshound misfits flowed as smoothly for Adam McKay on set as it appears on screen. 'When you have a four-person team, it ought to be really tricky. You expect them to be stepping on each other's toes, but those guys are so good with each other, you can get away with anything," he says. 'They have this crazy chemistry – they balance each other out. It's like doing harmonies, one of them has the high voice, one has the low voice, and it just blends. They're just incredible to work with."

Thankfully, Burgundy and his team have remained the same, presenting their same brand of empty-headed news that keeps audiences laughing through another bout of Anchorman. 'They know people want to be entertained, they want to see fun news, they want someone who looks good – and that's what Ron Burgundy can do," says Adam McKay. 'That's his magic secret every single time."

Anchorman 2: The Legend Continues
Release Date: December 19th, 2013