Idris Elba Mandela: Long Walk To Freedom
Cast: Idris Elba, Naomie Harris, Tony Kgoroge, Riaad Moosa, Jamie Bartlett, Lindiwi Matshikiza, Deon Lotz
Director: Justin Chadwick
Genre: Biography, Drama, History
Rated: PG
Running Time: 141 minute

Synopsis: Mandela: Long Walk To Freedom is the long awaited motion picture adaptation of the personal story of one of the world's most revered leaders, an esteemed statesman in modern history and an international icon, Nelson Rolihlahla Mandela. Based on his autobiography, the motion picture rights to which were entrusted exclusively to producer Anant Singh, this is the first film to tell Mandela's whole story. The epic film spans Mandela's exceptional life journey from his early years as a herd boy in rural Transkei to his inauguration as the first democratically elected President of South Africa.

Mandela: Long Walk To Freedom
Release Date: February 23rd, 2014



A Conversation With Director Justin Chadwick
Director, Justin Chadwick acknowledges that he faced an enormous challenge in making a movie not just about one of the most revered statesmen of the 20th Century, but also an international icon and a most loved individual. 'My instincts told me that I should concentrate the story on him as a man. When I met his daughters and other people who were close to him and I discussed my approach to the film, all of them stressed: 'Yes, treat him like a man. Tell the story of him as a man. The most informative for me was Anant Singh's input. Over the extensive period in which he put this film together, he formed deep and honest relationships with people who were involved in the anti-apartheid struggle. Anant Singh sent me huge parcels of books and amazing imagery from this period – I have a bookcase full of material! Likewise, the Nelson Mandela Foundation has done a formidable job in cataloguing that period of history and allowed me open access to it. I've viewed very shocking footage that has been broadcast, but also material that has never been seen, such as uncut interviews with Winnie and Madiba (Mandela's clan name)".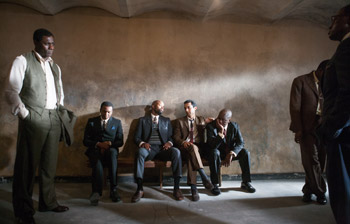 'Although I knew the film I wanted to make, I was very conscious – as a native of Manchester - of coming from -the outside' and I listened to Madiba's comrades and those close to him and that helped me find my way into the film. Because his autobiography is a very sprawling book, one could make a 24-part mini-series and still not do it justice, I wanted this to be a cinematic experience to take place in one viewing, so I believed it needed a point of view – rather than an extended story from him as a little boy to being an old man. It's just too much. So it was really through those personal conversations that I was able to get the emotion into the story."

'When Anant Singh first talked to me about the project, he stressed that the centre of the story was the human narrative; the cost to the man, the cost to the family, and to his relationship with Winnie. As a filmmaker that seemed to be a way to focus the lens of the camera. Yes, we could remember those television images and the iconic moments when he was released from prison, but I wanted to take the camera behind the closed doors right before that moment, and his personal interaction with his daughters, and our screenwriter, William Nicholson, embraced that."

'I think because the project had been worked on for such a long time there were great expectations about how his story would be told. Was it going to be a reverential biopic? Yes, of course we wanted to get the settings 100% authentic, but I was very set on approaching it as we would a modern movie; if there is a car chase in the story we would do it as we would in a modern movie. We wanted the film to have a visceral quality. Mandela's life was a roller coaster before he went to prison, whilst he was in prison - his personal heartache at being torn away from his family – and after he was released when as a relatively old man he had to face a very violent time in South African history. We deal with all that in the film."

'The way that we've made the film is going to entertain, and I think it's going to shock a lot of people because, while the backdrop of his life was a most turbulent period of history, as a young man he was living fast, and what these men were doing in their fight for liberation was incredible; the film involves action sequences and hard-hitting drama and, at the heart of it, is a unique love story."

'We incorporated that energy and dynamism into the film so that the audience is in the moment of those events and can really feel what it was like for Mandela and his comrades who were involved in it. We set out to get under the skin of the man, because many brilliant documentaries have been made from the outside looking in, but this isn't about that. This is an audience gathering together in a cinema, and we want to give them a roller coaster ride –with all the emotion of loss and sacrifice, struggle and danger."

'If you're dealing with events that have shattered people's lives, you can't do anything other than your very best, and everybody on this production gave this film their 100% commitment. We owe it, because it is the official Mandela movie. But it's so much more than just the Mandela family story, it's about The Struggle and this is still very present in everybody's lives today, you feel it when you're on those streets with the people we were working with, you feel it from the crew; the struggle is still ongoing, and this film has to be worthy of those people."

Developing The Film

The journey to bring to the big screen the personal narrative of one of the greatest humanitarians in history was a formidable 16 year-long odyssey for the producer, Anant Singh. As a third generation of Indian descent born in South Africa, and classed as a -non-white' citizen by the apartheid government, Anant Singh was part of the liberation struggle. 'Madiba was that icon for everyone in that struggle and when I started making movies I believed that the story of this liberation was so profound, it had to be told." Anant Singh, who started his career in film production during the height of apartheid, brought the country's first anti-apartheid films to world screens. Ironically he was prohibited from watching them in South Africa's segregated cinemas together with any white director.

It was through his close relationship with the prominent anti-apartheid activist, Fatima Meer (who wrote the Mandela biography, Higher than Hope, which was approved by Mandela while he was still in prison), that Anant Singh was introduced to Mandela. Six weeks after Mandela's triumphant release from prison Anant Singh had the most significant meeting of his life. 'Fatima invited me to her home and there sat Madiba! I had no idea he would be there." recalls Anant Singh who spent an hour with Mandela at the very start of his freedom.

'What struck me was his humility, his knowledge of everything, and most notably his desire to know my point of view. He made everything so easy. Here you are with a person who you've been in awe of all your life, but you feel like you're talking to a friend. That was the day that my relationship with him began."

Before Long Walk to Freedom was published in 1995, Mandela invited Anant Singh to look at the manuscript. 'It took me the weekend to read and I immediately said to him: -There is a significant movie here, I have to make it!' When the book hit international agencies two months later, the offers came in from Hollywood and a bidding contest began. Anant Singh recollects that Madiba said: -This is a South African story, and I want you to tell it.' The great leader personally awarded Anant Singh the coveted rights to adapt his personal memoirs to the motion picture medium. 'All I could promise Madiba was my commitment and that I would do the very best I could to make a movie that I hoped he would be proud of." While Anant Singh acknowledged the very real honour bestowed upon him, he now faced a daunting challenge to get the movie made.

The film marks a reunion of sorts for Anant Singh, Screenwriter William Nicholson, Justin Chadwick, and producer David Thompson - with whom Anant Singh produced Sarafina!, Red Dust and Bravo Two Zero. William Nicholson penned the Sarafina! screenplay, and both David Thompson and Anant Singh were producers of Justin Chadwick's multiple award-winning The First Grader, shot in Kenya.

Cameron McCracken, now Managing Director of Pathe in the UK, was working for British Screen (predecessor to the British Film Institute), when he first met Anant Singh who was at the start of the development process. Sixteen years later, Pathe was the first distributor to board the project, acquiring the UK and French rights and the international sales mandate. 'Anant Singh has carried this project for 16 years – his passion for it has never dimmed because he lived this history." avers Cameron McCracken, who believes that Anant Singh's film will be a departure from previous movies about Mandela. 'One of the biggest differences is the sheer cinematic scale. If you are going to tell the story of one of the most iconic individuals on the planet - you have to mount the biggest African production ever, because it demands a big canvas."

Telling Mandela's Story

Clearly, the greatest challenge the filmmakers faced was to encapsulate almost 80 years of an overwhelming life into a film that is less than three hours. Having previously collaborated with William Nicholson 23 years ago when he wrote the Sarafina! screenplay, Anant Singh first offered the adaptation to the two time Academy Award® nominee. 'William Nicholson doesn't often do adaptations, so it was wonderful when he agreed."

William Nicholson picks up: 'I said, -I'm a Brit, why don't you go to a South African, as you know there are some wonderful South African screenwriters, even some who's heritage has been to live through these very difficult times', and Anant Singh said to me: -we need this to be an international movie, this is for the world, it is not just for South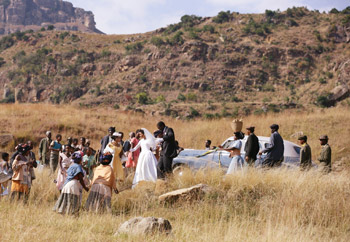 Africa.'

Anant Singh had thought carefully about the potential risks of a writer – whether white or black – getting lost in the complexities of the struggle. 'I wanted somebody who could stand back from it and see a big story for the world. I didn't realise it would take William Nicholson 16 years and 34 drafts!" he muses. The global film community is well versed with the fact that a movie can typically spend years 'in development", but Anant Singh stayed with the project and countless incarnations of the screenplay.

Speaking of David Thompson and Anant Singh, William Nicholson says -they're both old friends of mine - we were all together on Sarafina! – and so we hung on in there, and kept coming back to it. Anant Singh, crucially kept on saying, -it's not over, we're going to make this film. I have promised Madiba, and I'm going to do it. But we're not going to do it until we've got all the elements in place.'

Anant Singh rejoins: "I wanted to portray Madiba's journey in a way that would be a fitting tribute to that amazing life, so every screenplay draft over the years was important."

'The film is more than a book," says Wiliam Nicholson. 'It's a shelf full of direct personal experiences, by Mandela, by Winnie, and by all the other players in this series of events. An average screenplay is 120 pages long, so it's insane to think you can incorporate all that. It's not a compression of a book at all."

'In some ways, it was very intimidating. I felt an enormous sense of responsibility. It's a very important story, and it's a true story – that I had to tell right. On the other hand, if one worries too much about the responsibility, one could end up not telling the story in the best way possible. One becomes so terrified of offending, or leaving something out, or misrepresenting any or all of the people who lived through this period, some of whom gave their lives, or at the least a large portion of it. But, one can't let that weigh on you too much because then one is unable to create the drama. One ends up creating something else, which is like a documentary.

My job, in a way, was to forget about the sense of historic responsibility and fashion the material into the most powerful story that I could, which captures the essence and the spirit of what Mandela achieved. That was my task. And I knew from the beginning I would have to leave out an enormous amount and tell the story through the relationship between him and Winnie. At the heart of this narrative there are two stories: Mandela's and Winnie's. He is a man who didn't originally want to be politically engaged, he just wanted to make a success of his life, but found himself drawn into a political struggle. The further he was drawn in, the more he realised he had a lot to lose. We watch him going through so many changes; first of all, absolutely abiding by the ANC commitment to non-violence, then realising that that isn't going to work and that violence is the only way forward."

Anant Singh continues: 'I think everybody believes they know something about Madiba, and that's probably reasonably accurate, but what they know just scratches the surface. Madiba's life as a child growing up in the village, being groomed to become the leader of the Madiba clan, was the foundation that made him the leader that he became. Nobody knows anything about his life with his first wife Evelyn. His life with Winnie is more documented, and we have highlighted that they had a very traumatic life in those early years, and we've tried to give the world a very introspective look in the film, but equally to put the film on a canvas that's fitting of Mandela's epic journey. Mandela is a myth in many ways, and I think transformed the myth to reality." 'It's a very difficult story to give a dramatic shape to," adds David Thompson. 'The earlier drafts of the script were a bit too respectful in tone, and we were in awe of the subject which is so huge and Mandela is such an icon. But, Anant Singh was tenacious, and just cut what had to be cut."

Mandela famously wrote of himself that he didn't wish to be treated like a saint, that he was a human being, with a beating heart, and flesh and blood, who had all the foibles of human beings.

'The love story is possibly the most powerfully moving part of Nelson Mandela's story" says Cameron McCracken. "In so much of what he achieved he appears almost super human. But that is why he was absolutely right to press Anant Singh not to forget that he is just a man, that even extraordinary human beings have feet of clay. Even so, when you have done something so momentous with your life, it's inspirational and that's why this script, like the film, is triumphant. It's a joyful film. It's not dull politics. It's totally lived."

Mandela's Autobiography

Ahmed Kathrada, one of the seven political prisoners sentenced alongside Nelson Mandela in the Rivonia Trial, recalls the birth of Mandela's autobiography: 'The manuscript Madiba wrote on Robben Island was not as dense as Long Walk To Freedom which was much more developed and researched. It was used as the basis for his book. When Madiba turned 60 and we had been in prison for 10 years, we thought that the time had come for us to make a political statement and that getting him to write his autobiography would be the way. This was kept a secret even from ANC people, except those of us who were directly involved. The process was that he would write whatever he could and give it to me for my comments, which I would write in the margin, and then pass on to Walter Sisulu for his comments. Then, with our comments, Madiba would write the final version and send it to Mac Maharaj who – in miniscule writing - reduced 600 pages to 50 double-sided pages."

Ahmed Kathrada describes the cautious planning of their undercover process. As Maharaj was being released after serving a 12 year sentence, the job to smuggle the manuscript off the Island and send it to exiles in London fell to him. Once he reached his destination the plan was to send Ahmed Kathrada an innocuous postcard confirming that it was out of danger and that they could destroy the original - which they had compressed into small plastic containers and buried in the garden. 'We thought we were safe and didn't destroy it, but when the prison authorities built a wall through the garden we hastily managed to retrieve and destroy some of the notes, but the rest was confiscated and our punishment was a 4 year deprivation of studies for writing this illegal document."

Ahmed Kathrada discusses the movie: 'We do not want Robben Island to be a Museum of our Suffering. It's a prison that symbolises victory, because it has never occurred in history that an individual has stepped out of the shoes of a prisoner, into Parliament and on to become President in such a short space of time. It is my hope that the movie will go beyond Madiba and highlight his legacy; what he stood for, and what he's always emphasised." He himself has gone out of his way to say that he is very worried that people have built him up into a saint. In fact, that quotation is in his Book of Quotations. It worried him all the time. As he has always emphasised, he is part of a collective. He doesn't take decisions on his own."

'Telling Madiba's story and those of the people around him is a very big privilege, and even more significant is that we have access to people like Ahmed Kathrada, who spent 26 years right alongside Madiba in the cell next door to him. It has been invaluable to have a resource like him, but more importantly that he could experience and share the development of the movie through its journey and incarnations over the years. He's been there from the first day that I got the rights." says Anant Singh.

Choosing A Director

'I had just done The First Grader with Justin Chadwick and I saw his ability to dig very deeply into a story and tell it with power, emotion and authenticity. This was key to the decision," says Anant Singh.

Cameron McCracken continues: 'Justin Chadwick is not at all intimidated by scale and you can see his range of skills from The Other Boleyn Girl to The First Grader to (shot in Kenya), from a big sweeping period drama to an intimate emotional story. Marrying his experience (and evident joy) in making films in Africa with his confidence to tackle grand scale projects seemed a winning combination for this film."

'Justin Chadwick came in with a very fresh eye," says Wiliam Nicholson. 'From the beginning he discussed his vision for the film to have a visual freedom and immediacy about it, and while audiences may be expecting a solemn and stately tribute to a grand old man, he wanted to get right in there, -fast and dirty'. So we worked the script to find ways to stop the movie ever settling down into a series of solemn speeches."

Casting Nelson Mandela

The filmmakers faced the daunting task of doing justice to iconic figures like Nelson and Winnie Mandela, and with the added challenge of capturing the spirit of the -Mandela Magic' which has been experienced by every person that has ever met him.

'I am British and this is a South African film and it was important to me to have South Africans tell this story, and so I began my search in South Africa." Says Justin Chadwick.

'Mandela is a once-off in world history, but I didn't want a reverential kind of portrayal. I wanted someone who could scratch underneath the surface of the story; make him human and let us see him as a flawed man, a man who's under pressure, but also who has intelligence and that magnetism. I wasn't looking for an actor who would try to impersonate Mandela" says Justin Chadwick who paid special attention to the discussions he had with Mandela's comrades and those who knew him as a young man. 'They all talk about the electricity around him, about his astuteness and about how striking he was as a man who lit up any room he entered."

Justin Chadwick discusses his respect for Idris Elba's talent: 'I had an instinct about Idris Elba. I loved his work in The Wire. He's very truthful, and a very brave actor. I travelled to Toronto to meet him and as soon as I started talking to him I knew he was the one. He understood how I wanted to make the film, and he was respectful of the subject but not daunted. It was more important to me to cast somebody in that role who was true to what the film was about."

Anant Singh adds: 'When Idris Elba came up in our discussions, he was at a place in his career where this role was perfect for him. I thought his performance was so powerful in the Rwandan genocide movie, Sometimes In April, and it is one of the reasons that he's doing this film. But equally he has a stature and a presence like Madiba. At the end of the day it's about performance, and it's about getting that -Madiba magic' which Idris Elba has got – that charisma and that charm that we all know of Madiba. There was no one else we felt who could actually pull that off."

Casting Winnie Mandela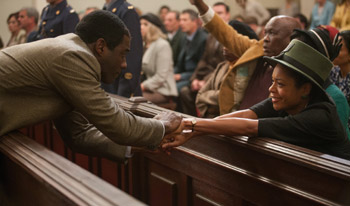 While Mandela's intense struggle to dismantle apartheid had put him at the forefront of South Africa's political stage, his private life is a more tragic story. His incarceration on Robben Island isolated him from his beloved young wife, Winnie (she was 23 years-old at the time and they had been married only 4 years), as well as his children; wrenching from him the very essence of his life. Ultimately Mandela won the quintessential reward, which was freedom for his country, but he paid an appallingly high price in his personal life.

'Film is about characters." says screenwriter, William Nicholson, 'and my job wasn't to give a history lesson. I think Winnie's story is almost as fascinating and as rich and complex as Mandela's story, and to have them both so intimately linked, tracing them through the movie, to the end when he finds himself obliged to separate publicly from her, is just very powerful.'

'While Mandela was imprisoned, many believed that it was Winnie who was effectively being tortured, and that violence at the hands of her tormentors turned a beautiful, loving wife into a person filled with rage, and finally to war. At the same time, Mandela was reaching the opposite conclusion in prison. The independent events in their lives forced them in irreconcilable directions. 'One could not construct a more dramatic conflict than that." says William Nicholson.

As part of his research Justin Chadwick talked to individuals who witnessed these two very dynamic people coming together. 'Madiba was a young man on fire, and it was as if two forces came together. The photographs show a radiant couple and it must have been a true, passionate love. I think the great tragedy was when he came out of prison to find that she was no longer the woman with whom he had fallen in love. She had lived through war on the streets."

To bring to life a formidable and multifarious woman who is both loved and hated, the filmmakers turned to Naomie Harris who had delivered such a commanding performance in The First Grader. Anant Singh recalls: 'At that time, when I asked Naomie Harris to think about playing Winnie Mandela, she was blown away."

Naomie Harris considers the rare opportunity for an actress to interpret a multi-dimensional character who travels an exceptional journey. 'Winnie is propelled from life as a young bride and mother to the harsh reality of being married to a political prisoner, abandoned with two young children. In order to survive she has to draw on an incredible strength as she is victimised and harassed by the police. While she starts out non-political by the time Mandela is released she is a very militant, pro-violence and embittered woman."

To assist her prep for the role, Anant Singh sent Naomie Harris a wealth of reading material, documentaries, and television interviews as well as uncut footage of her rallies, and details of her ghastly torture. In South Africa, Naomie Harris further developed her research by meeting people who knew Winnie. 'It was interesting because opinions of her are very polarised. So, I came up with my own idea of the person she was, and my interpretation of her life."

She was also very relieved when she was finally able to meet the -real' Winnie. 'She was incredibly kind and I said to her: -what do you want people to take away watching this movie, and how would you want them to perceive you?' She replied that -the most important thing to me is for people come away with the truth, I trust that you have done your research and you should faithfully create your own interpretation of my life.' This was very generous of her and very liberating for me as an actress."

Naomie Harris shares that she went on her own emotional and spiritual journey and that she felt distressed in many scenes. 'When I was dragged from the house, wrenched from my children, whipped and torched by my interrogators and then held in solitary confinement it was harrowing, and I can't imagine how it must have been for Winnie; she was completely alone, there were no rules or regulations to save her; she was at the mercy of a brutal police force who acted with impunity to get at Mandela."

'As well of immense enthusiasm and passion, Justin Chadwick also has a wonderful sensitivity and I felt very supported." reflects Naomie Harris. '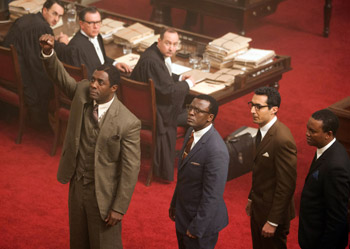 He was uncompromising about one fact, however, and that was 'no acting"! He wanted it to feel real, and these harrowing scenes made it very real for me."

'Naomie Harris has found something very complex, something very dark and very powerful in Winnie." says David Thompson. 'In many ways she's the more complicated of the two characters to play because there are so many different facets to her character: she's loving, she's sweet, she's cruel, she's tough, she's vindictive, she's full of revenge and she's full of tenderness. There's a huge emotional range the actress playing Winnie has to cover and I think Naomie Harris has really reached for this part in an incredibly graphic and vivid way. It's a real challenge because Winnie is unfathomable in many ways."

Finding a Supporting Cast

Justin Chadwick enlisted the help of South Africa's casting veteran, Moonyeenn Lee, who had cast The First Grader for him. 'Justin Chadwick is a real actors' director, he loves and respect actors." says Lee. 'His critical requirement is that an actor must not appear to be -acting', they've got to be really truthful. This is a quality that I could immediately determine in an audition, so I didn't have to waste Justin's time going through thousands of people, so we did it for him."

The actors who played the roles of the prisoners who received life sentences alongside Mandela, were affectionately referred to by the cast and crew during production as 'The Magnificent Seven".

The cream of South Africa's acting talent was cast in the pivotal roles of Mandela's comrades and co-prisoners on Robben Island. Tony Kgoroge – who also starred in The First Grader – stepped into the shoes of Walter Sisulu, Riaad Moosa inhabited the role of Ahmed Kathrada, Govan Mbeki is played by Fana Mokoena, while Raymond Mhlaba is played by the acclaimed praise poet, Zolani Mkiva, and Simo Magwaza and Thapelo Mokoena play Andrew Mlangeni and Elias Motsoaledi, respectively.

'They all came together, almost like a rat pack," muses Anant Singh. 'Whenever I met Walter Sisulu, Ahmed Kathrada and Madiba together, I experienced a spirit and a camaraderie that I felt also existed with the guys that we put together for this film. This is important, as this energy ultimately comes out on screen." says Singh.

Justin Chadwick worked very hard to identify actors who could not only play the roles of the most celebrated leaders in the anti-apartheid struggle, but could also work together as a cohesive group. In addition to the Robben Island prisoners, Lee and Chadwick assembled a remarkable cast to play other characters central to Mandela's life, the numerous layers starting with his family; his daughter 'Zindzi" is played by Lindiwe Matshikiza, his first wife 'Eveleyn Mase" by Terry Pheto, and Mandela's mother 'Nosekeni" is played by Zikhona ZIdlaka. The younger Mandela (age 16-23) is portrayed by Atandwa Kani, son of the acclaimed actor, John Kani, and Siza Pina plays Mandela as a child.

S'Thandiwe Kgoroge (real wife of Tony Kgoroge) plays the role of Walter Sisulu's wife, 'Albertina" – also a staunch freedom fighter. Other ANC stalwarts, 'Oliver Tambo" and 'Albert Luthuli", are played by Tshallo Chokwe and Sello Maake respectively. Mandela's guard on the island, 'James Gregory", is brought to life by Jamie Bartlett, 'President F.W de Klerk" is played by Gys de Villiers, and other apartheid government officials who played a role in the transition included Minister of Justice, 'Kobie Coetzee", played by Deon Lotz, and Head of Intelligence Service, 'Neil Barnard" played by Carl Beukes.

The Rivonia Trial brought together Mandela's lawyer, 'George Bizos", played by James Cunningham, and 'Bram Fischer" - who led Mandela's defence team - is played by Andre Jacobs. Louis van Niekerk takes on the role of Judge Quartus de Wet, with Adam Neill as Chief Prosecutor, 'Percy Yutar".

'We had to find actors who could deliver a powerful performance, even though their parts are quite concise." says David Thompson, 'Although they haven't got a lot of screen time, one and all play an essential role and the trick was to make them prominent!"

Determined to fulfill Justin Chadwick's call for a visceral quality, Lee in searching for -real' prisoners, took her camera and sound crew to Robben Island where numerous former prisoners, ironically, are gainfully employed. The film is, therefore, cast with many individuals who had first-hand experience of incarceration on the island, and if not a relationship, then at least an encounter with vital persons in Mandela's life. In total, including in the key roles, Lee cast a staggering 140 artists, and those who didn't have dialogue were all seriously featured and had to be able to deliver a performance.

Embodying Mandela

Born to Ghanaian and Sierra Leonean parents, Justin Chadwick grants that Idris Elba is not from South Africa. 'My first words to Idris Elba were: -I know that you haven't been brought up in the cultural tradition of the Eastern Cape, but I am not making a -lookey-likey' film.' It was very important to Idris Elba to culturally understand this character, and he came here and did his research and got underneath the surface of it. He had soaked it up way before we started shooting."

Mandela's sweeping story covers more than seven decades, and the film features him from his childhood in his rural village to his life as a young, dapper lawyer, his imprisonment and then election as President. While two young actors play Mandela, the child and Mandela, the teenager, at 40 years of age Elba was physically able to play the bulk of Mandela spanning his years from 23 through to 76.

'Having just one actor carrying the film was brilliant," says Anant Singh. 'there aren't many films that have been able to achieve this." As his journey progresses Mandela's personality ranges from an ambitious lawyer to an angry young man, to an incredibly skilled operator who plays politics in a sophisticated way. 'For a young actor to cover that range of years and also a variety of emotions, skills and characteristics is quite extraordinary. So I think it's a pretty devastating performance that Idris Elba has given us." says David Thompson.

'Very little is photographed or known about the young Mandela that we needed to capture, and to have an actor who could play it with speed and agility and be true to the spirit of Mandela - and that just clicked with Idris Elba." says Justin Chadwick.

Thompson continues: 'Idris Elba is an incredibly instinctive actor, he just steps into the scene and finds the moment although of course he does a lot of studying and works incredibly hard to research and think it all through. For example, when he came on to do the scene in which he addresses the Nation on SABC television, that was the first time he played the old Madiba. It was absolutely extraordinary; he walked in the room and like 'Ping!" He did it in the first take. He got the spirit of it and reflected the whole mood of Madiba's voice and personality and movement. I don't know quite how he found this, but something took over perhaps. He seems to have just sailed into this part and made it his own from day one, an incredibly difficult thing to do."

'When Idris Elba finished that scene you could hear a pin drop in the room, and everyone spontaneously applauded because the way he pulled it off was so magical." says Anant Singh. 'He did his homework, and when we saw the first dailies we knew we had something very special. In addition to Madiba's unique accent, Idris Elba had the presence, the charm and the dignity - all of these qualities we know of Madiba, he nailed it, just like that!"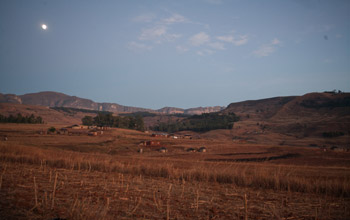 Dialogue coach, Fiona Ramsey, makes important reference to the broad spectrum of accents in South Africa's 11 official languages. Fiona Ramsey's priority was to assist Idris Elba to lose his London cockney accent, and become familiar with Mandela's famous enunciation. There is limited recorded footage of Mandela as a young man, and working alongside Ramsey the isiXhosa coach, Nomboniso Paile, they had to imagine how he spoke. 'It was interesting to create an accent for Idris Elba that spans so many years. What we toyed with was the idea between the private and public figure because the majority of Mandela footage features his public persona. We tried to establish a slight difference between the way that he speaks with his family, or even intimately to a warder whom he's become close to, and that of his official voice. I think that this texture has allowed Idris Elba to play around a lot more with the sounds." Fiona Ramsey stresses that acquiring an accent is not just about changing a sound. 'You inhabit it. It has a very specific cultural orientation."

'We've done our research and now we have got to feel it," says Justin Chadwick who reiterates, 'I didn't want to create a look-like, sound-like individual. I wanted to catch the spirit of it and that made sense to Idris. His acting is an absolute revelation."

About The Production Design

Responsible for the spectacular design of the film in authenticity and scope is Production Designer, Johnny Breedt, who Singh recruited on the project some 15 years ago as -action vehicle coordinator'. Over the years while the project was in various stages of development, Johnny Breedt's involvement increased to location scouting and research. This extensive period of -prep' time enabled him to assemble a staggering body of material. The results of his research via books, films, documentaries and museums were housed in the Art Department where more than 300 books and 5000 photographs served as a dynamic reference tool for actors, the director, the costume people, and the researchers throughout the movie.

The design of the movie was a key component of Justin Chadwick's stance to tell the story in the form of a -modern' movie. 'I told them yes, get it 100% authentic, but get the action sequences, if there's a car chase in the film, we will shoot it suspenseful and fast. We don't want a load of old cars puttering around. You want to have a visceral quality to the film."

Johnny Breedt recalls that he was somewhat bemused when the director gave reference to a couple of movies that -are probably very far from what people would expect, such as City Of God and Elite Squad.'

Despite having made a number of biographical pictures such as Dickens for the BBC and The Other Boleyn Girl, Chadwick states that he is not a fan of period movies. 'Who wants to watch a historical drama? I wanted our crew to experience the energy and excitement seen in many South American movies." The director adds that behind the scenes he was also watching movies like The Godfather, and David Lean's movies. 'We are shooting on 35mm film and have this extensive landscape, but I did not want to shoot it with the traditional wide shot, close up, and mid shot. I wanted the camera right in there with the actors, capturing the emotion of the scene – as you would in a contemporary movie."

Johnny Breedt recalls: 'Justin Chadwick wanted to keep it as real as possible and design a world into which the actors could literally step and perform their scene in the genuine environment of their characters, and we would just shoot it.

'You don't want to see the direction, or the art directing, or costumes," says Justin Chadwick. We just wanted to drop the camera into an absolute real situation."

To obtain this veracity, Johnny Breedt shares that 'There was no specific plan as to how the shots would be set up, Justin just filmed the world and the sets simply served to energise it." Johnny Breedt believes that this approach had an impactful effect. 'Idris Elba spent a night in Mandela's actual cell on Robben Island by himself and when he walked onto the set that we designed he told me he was -totally in that world'."

As the film spans so many decades, Johnny Breedt's major task was delivering a vast, yet detailed canvas, highlighting the different impression and mood of each decade. These ranged from Mandela's rural village to the vibrant city of Johannesburg in the early 1940's where white citizens owned vehicles, and blacks travelled in buses and trams.

'In those years of segregation, blacks were mainly migrant workers and domestic servants, and not that -visible in the city."

Johnny Breedt and the Location Managers, Robert Bentley and Edu Klarenbeeck, scouted some four hundred locations and filming took place in approximately two hundred of them. By the time Justin Chadwick joined the production, many of the buildings that featured in the original script had been torn down.

Johnny Breedt discusses their efforts to create the world in and around Mandela's life, starting in his childhood village that was a pristine preserve of nature and beauty, steeped in tribal culture. As there is no documented visual history of the villages of that period, Johnny Breedt's challenge also presented him with the opportunity to be inventive.

Since the 1920s, Mandela's village has changed so drastically - now featuring a museum and a hotel for tourists – that the team had to identify a new location that was as visually breathtaking as the Transkei. The magnificent Drakensberg in the KwaZulu Natal Province provided this environment. In South Africa significant tracts of rural and countryside land is tribal-owned and to procure agreement to film in these locations required direct interaction with the head of the local tribe. Johnny Breedt explains: 'It is a conventional system in which elders are invited to participate. Before we worked in their locations we had to take offerings; traditionally they would slaughter a goat, and we had a barbecue for the locals and invested in the community by recruiting local labour."

Most scenes scripted for Cape Town were shot in authentic sites in that city. However, today Robben Island is a major tourist destination and this limited access, together with logistical difficulties, meant that shooting only exterior scenes - such as the spectacular view of Table Mountain - were feasible. The world-class Cape Town Film Studios served as the backbone for the production with a number of set-builds on the backlot. The courtyard of B Section of the Robben Island prison, including interiors of the cells and visiting rooms, as well as rows of streets and homes which established the township of Orlando in the 1940s, were replicated with precision and authenticity.

The immense project required professional construction companies and industrial equipment to excavate an area of some 15 000 square meters on the backlot in order to clear a space to build the sets. The build of the impressive Robben Island set includes authentic roof and drainage and is classified a permanent structure. A professional road construction company constructed tar surfaced streets for the Orlando township – where Breedt's 200-strong construction crew of skilled, and semi-skilled laborers from the local communities built twenty period homes for exterior shots.

Breedt points out that the Robben Island set was designed for the 1960s, 'in the years following, as the world press put pressure on the authorities they became more lenient and facilities on the Island were improved; such as a dedicated room for cinema, study facilities, toilets were fitted with doors and the cells were furnished with beds."

The magnificent Palace of Justice in Pretoria is the establishment where the most prominent case in South African history, the Rivonia Trial was held, and where Mandela delivered his famous speech. Today it acts as the headquarters for the Gauteng division of the High Court and is off limits to the public. The rigorous rules of access called for another majestic set build at the studios – the interior of the Palace of Justice complete with the first floor gallery and the holding cells below the courtroom.

While Mandela's famous speech was recorded and documented, no film footage of the case exists. 'Apart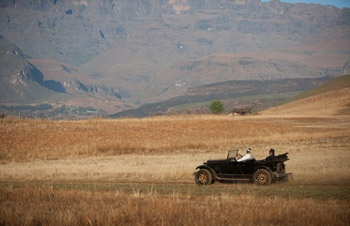 from the people who were there, no one knows what the courtrooms looked like at the trial." Says Johnny Breedt. 'In addition, one doesn't get a sense of why it is named the Palace of Justice - until you go into the building. In Italian Renaissance-style it is a regal establishment, and all the interior features make a statement; the soaring lobby, towering gold columns, spectacular balustrade, elaborate chandeliers and light filtrating through the glass dome – it's pretty intimidating. Furthermore, the acoustics in the Palace wouldn't have worked for the film."

Co-Producer, Vlokkie Gordon, discusses the value of shooting at the Studios. 'Not only did the cost-saving enable us to build phenomenal sets, but it gave us flexibility to transition to the real townships which have changed dramatically since the 1940s and 1950s."

Most critically, it enabled the production to have control over riot scenes that featured army tanks and petrol bombs in the township streets. 'Obviously these actions are central to the story, but re-enacting such violence and taking military hardware into public spaces is not an option, these events are still traumatic for township communities." stresses Vlokkie Gordon.

It is considered that with its modern houses and satellite dishes, there is no -real' Soweto anymore and the famous Vilakazi Street where Mandela and Winnie resided has a totally different look. However, Kliptown – situated in an older area of Soweto - served as the base to shoot numerous scenes set in Soweto, and the team was able to build 30 sets there. 'The 'City Of God' feel will be evident in those Soweto scenes." Says Johnny Breedt.

Sophiatown produced some of South Africa's most famous writers, poets, musicians and artists, but it was the great Jazz legend, Miriam Makeba, who put the Black -suburb' on the world map. In the 1950s when White South Africans wore Safari suits and inhabited cloistered and privileged lives, Sophiatown, like a mini Soho, was the nerve centre of the country's entertainment scene.

Unlike other townships in South Africa, Sophiatown was a freehold township, having been established prior to the law preventing black people from owning land being passed. It was the last remaining area occupied by a multi-racial community. Something of an anomaly for its time, this cosmopolitan, hip and happening area became a popular cultural hub where Whites, Coloreds, Indians and Blacks converged to experience a vibrant world of dance and swinging music in nightclubs. The strong influence of American movies was seen in the high fashion of the women, as well as the snappy outfits worn by the gangsters – infamously known as -Tsotsis'.

Given its close proximity to central Johannesburg, the apartheid government razed the shantytown to the ground dispossessing this unique community of their homes.

This brutal act of destruction represented the apartheid government's contempt for people of colour, and thus serves as a vital element of the film, and Justin Chadwick wanted to approach the scene of the demolition in a substantial and gritty manner. Johnny Breedt, who located a ruin at an old mine site, says: 'We added to the remnants of the mine turning it into (part-ruined) Sophiatown, but we built it for real, with bricks and cement, so when the bulldozers physically slam into it the collapse will look authentic."

Justin Chadwick's tough and true-to-life rendering of Mandela's powerful journey is expressed through the cinematographer Lol Crawley's work. 'Justin Chadwick's great achievement in this film has been to create something very vivid, lively, and entertaining which will keep you on the edge of your seat." says David Thompson. 'He has infused it with a fantastic amount of energy; Lol's cameras are very restless, vigorous, and probing, capturing the tension in this story. Even the scenes that might have been potentially dull were brought to life by the quality of the acting, the genius of the camerawork and the rigor of the director."

Finding The Extras

Extras Coordinator, JP van der Merwe faced a considerable assignment to identify and recruit the thousands of individuals that were in Mandela's life; from the innermost layer of family and close friends, to rural villagers, to freedom fighters, policemen, government officials, guards, and Island prisoners, to the wider layer of township residents to the masses of angry rioters, and finally the colossal crowd assembled at Victor Verster to welcome their hero as he took his first steps to freedom. The final count exceeded 10,000.

Staying consistent with Justin Chadwick's desire to imbue the picture with a deep-seated quality, van der Merwe explains. 'I didn't want to go with the regular procedure of casting agency extras. They are used to doing movies and have lost their innocence. I wanted to get in real people, who are still living the struggle every day."

With the impossible task of navigating the relatively haphazard framework of communication in impoverished communities, van der Merwe relied on the community leaders to nominate individuals who were unemployed and desperate for work. From there, van der Merwe set up a systematic process to fulfill the scheduling requirements of the production. On many occasions van der Merwe worked through the night trying to locate and confirm the extras on call the following day. 'Most of these people don't have regular phones or cellphones, it was a humungous job to run smoothly, and we also had to be sensitive to their expectations; you can't have 2 000 extras arrive and face the disappointment that only 200 are needed."

Involving the local communities provided much needed employment, and Vlokkie Gordon emphasises the production's commitment to invest in the community. 'A film is an entity moving into someone else's space and our aim was to empower people, the story is very much their own."

Discussing the vast challenges of executing a movie with 283 scenes; 200 sets, each with a minimum of 2 or 3 set pieces and a cast and crew of hundreds travelling throughout South Africa, Vlokkie Gordon considers that the most difficult aspect, in her point of view, was the restrictive scheduling. 'A typical day would involve: -what period are we in, what do they look like and in what stage of make-up, and this would take a team of 14 skilled prosthetic make-up artists up to 4 hours to transform a character. By Call Time on a -period' day, we would have up to 80 people who had been working since 3:30am."

With nearly 10 000 individuals involved in the production, – the film in production scope, and budget - is the largest African movie ever made on the continent. 'This film is empowering, its employing, its training and educating and it breaks new ground in our industry," states Vlokkie Gordon.

The Look Of The Film

'From the very first meeting with Justin it was clear that he wanted to approach the epic story of Nelson Mandela's life with a very fresh, visceral and original stylistic approach," says cinematographer, Lol Crawley.

'Citing the films of Fernando Meirelles, Matteo Garrone and Jacques Audiard as important influences, we looked at the hand held style and naturalistic lighting used in City Of God, Gomorrah and A Prophet and compared them to the more classical cinematic grammar of films such as Gandhi and Lawrence of Arabia. We felt that we needed to explore and celebrate the -epic' inherent in the life of Mandela but also to refrain from putting him on a pedestal. We felt that the earlier part of the story, Mandela's childhood in the Transkei, lent itself to calmer, more considered, classical camerawork which would play in stark contrast to the increasingly visceral and raw camera movements depicting Mandela's life from his arrival in 1940s Jo'burg through to the Rivonia trial.

Where possible we felt it important to shoot on location where the events actually occurred in order to achieve the maximum level of authenticity.

Obviously one of the biggest choices facing filmmakers is whether to shoot on film or digital but for this project there was never any doubt that film would be the preferred medium. There is an inherent alchemy to be explored in the weeks leading up to the start of principal photography in which different makes and ages of lenses are tested in combination with a myriad of different stocks and post production techniques. How these choices render the different landscapes, time periods of the story, costume and set design is a crucial part of the creative process.

The Costumes

Justin Chadwick's brief to -keep it real' was also essential to the work of costume designers Diana Cilliers and Ruy Filipe, who replicated outfits right out of history. Diana Cilliers points out that in addition to authenticity, Justin Chadwick was intent on the cinematic value of the costume.

The wardrobe team took on the herculean task of designing costumes spanning nearly a century. 'This is a designer's dream project," remarks Ruy Filipe.

The passionate duo paid the finest attention to the smallest detail of texture, colour and stitching to magnify the narrative of each character - from the leads, bit parts to the extras – and the mood and style of each decade, the locations and the pivotal events – in the tens, hundreds and thousands.

Filipe considers that he and Diana Cilliers had a -Ying and Yang' partnership that enabled them get a 360 degree view of the significant requirements of what they describe as a puzzle.

Starting with Mandela's childhood the Designers had to conceive of costume imagery from the 1920s to the 1990s.

In the village of Qunu in rural Transkei, Mandela was born into the Madiba clan. He was christened as Rolihlahla (which means 'troublemaker") and was later given the English name of -Nelson' by his schoolteacher. He is the son of a hereditary chief, and grandson of the Thembu King and leader of the Madiba clan, and thus considered royalty. The rich cultural heritage of the Xhosa tribe into which he was born together with his lineage, plays a vital visual role in the movie.

Ruy Filipe was enthusiastic to highlight the organic elements of his wholesome life in the countryside; the community characterised by the practice of agriculture, and living in close proximity to animal herds and having a meaningful relationship with the land. Filipe's use of earthy tones reflected that relationship.

Atandwa Kani, who plays the young Mandela, is also of Xhosa descent and relates that the vivid culture resonates with him. 'We are proud of our rich culture which is also expressed through embellished outfits."

Many aspects of the daily life of the Xhosa people are guided by their inextricable link to their ancestors and they honor tradition and are respectful of their elders. One's rank in the hierarchal society and lineage is represented in one's attire, every bead, colour and pattern is symbolic. 'Our attire is a celebration of the Xhosa self." says Atandwa Kani, who is pleased to be able to wear the wardrobe emblematic of Mandela's royalty and great stature. A Xhosa boy's initiation rites to manhood is marked by white clay painted on his body, and the ritual – which transcends time - encompasses a festive celebration for the whole community as they honour the step from boy to man.

It is when he arrives in the bustling city of Johannesburg in the 1940s that Mandela sees for the first time what White people wear. 'This sparks his discriminating taste for fine suits which he had tailored to fit his body. He took great care in his personal appearance." says Ruy Filipe whose team handmade 19 suits for the young lawyer. 'It was fantastic to dress Idris Elba. He has great stature and looks good in whatever he has to wear."

Despite being a hero to millions, Mandela was something of mythical figure. When he was incarcerated his photographs were destroyed and for nearly 3 decades virtually no one in the world had any idea of his appearance. Like most of the designers on the production, the Costume team had limited reference material at their disposal. Many of the prisoners who were released from Robben Island in the 1990s donated their personal belongings packed in apple boxes to the Mayibuye Centre at the University of the Western Cape. It is here that Cilliers uncovered a goldmine of archive material. 'We had access to their actual prison outfits and not only were we able to copy them in styling and fabric, but we could introduce personal details; little add-ons, and idiosyncratic methods that they had used to adapt their outfits to make their lives easier. We found a beautifully preserved jersey Kathrada had been gifted, probably from someone who had corresponded with him. It was both haunting and inspiring."

Naomie Harris, discussing Winnie's wardrobe says: 'She was always immaculately dressed, no matter what she was going through. I think it helped lift her spirits."

The festive jazz era of Sophiatown gave birth to a vibrant style of fashion that Cilliers considers was never featured in the White community. 'The society was very influenced by American images; women were exhilarated with fashion and took great care in their grooming. That style of wide skirts and petticoats, hats, bags and gloves has never been repeated in the Black community." says Cilliers who makes reference to the magnificent photographs shot by the celebrated photographer, Alf Khumalo, and those featured in the Bailey Archives from Drum Magazine. 'These images reflected an incredible, pulsating society – despite its poverty."

Cilliers mentions that she was specifically inspired by designing Ahmed Kathrada's outfits. 'His sense of style was different to the others in the -Magnificent Seven'. He was from a younger generation and different culture, so I tried to give him a completely different look. While the others wore formal thre piece suit attire, Ahmed Kathrada often wore leather jackets and he had cravats, we tried to imbue a more mischievous energy in him."

Tasked to create diverse layers of society and multiple layers of apartheid, Ruy Filipe imparts that Justin Chadwick wanted costumes through which one would really feel the grit and the reality of what the apartheid years were like. There was always evidence of some opulence among the Whites, and while the Blacks wore -hand me downs' and lived in disgraceful poverty we can always see a dignity amongst them."

Together with the large cast of main characters wearing different styles of wardrobe throughout the period, one day players and thousands of extras, Cilliers informs that the total count of bodies that they dressed exceeded 15,000.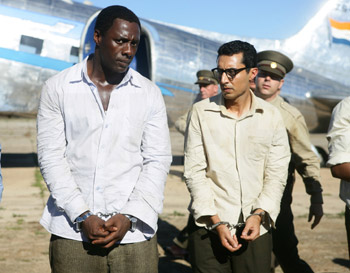 Make Up and Prosthetics

The challenge to faithfully portray the changing look over the extensive period of Mandela's journey was presented to the Make-Up and Prosthetics team.

Make-Up Designer, Meg Tanner, and her outstanding team had to create the diverse appearance of 12 000 extras, 105 cast members, and seven leads spanning over five decades. Inspired by the story and Justin Chadwick as a visionary director, Meg Tanner worked from accurate photographic references. 'We wanted to give honour to the people who are represented in the film."

Meg Tanner, enjoyed meaningful input from Elba and she designed seven looks for Mandela's changing appearance over the years. As a young man, Mandela's hairstyle was distinguished by a pronounced side parting. His dashing good looks, statuesque body, self-confidence and mischievous charm made him popular among the ladies. 'Idris Elba doesn't feel forced into looking like Madiba, he has a twinkle in his eye, and his own powerful presence and it works." says Meg Tanner who weaved a human hair wig for Elba's young Mandela. 'It really becomes a part of his head and movements and for Idris it feels like it's a part of him and not a foreign object that has been placed on his head. We wanted to give Justin his vision to capture the spirit of the man and not create a look alike replica."

Ageing several of the main characters including Mandela, his fellow prisoners and Winnie over a 40-year period called for significant prosthetic work to take the ageing further than straight make-up could achieve. 'We needed to find a way to age the actors and have them look like their real life counterparts, and specifically we discussed ways how to get Idris Elba to resemble Nelson Mandela, but without the look alike approach that Justin Chadwick was so against." recalls David Thompson. 'We decided not to unduly concentrate on -duplicating' Idris Elba into Mandela, or add too much rubber to his face to change the structure of his face."

Tanner's design boards served as a critical guide for the make-up and prosthetics team to tackle the project in a cohesive way. She worked very closely with Academy Award® winning (The Iron Lady, World War Z) British Prosthetics designer, Mark Coulier, and they configured a way to avoid a glaring -jump' between natural ageing and the final prosthetics.

Many of the key characters went through two stages of prosthetics. Stage One was the gradual aging of the cast members to the point of 18 years into their sentence. Stage Two prosthetics was when the prisoners were transferred to Pollsmoor Prison in 1982. To accomplish this stage of prosthetics involved four hours of application, hair and final make-up. On these days, the actors would be in the chair at 3:30am.

Mark Coulier worked with South African prosthetics and sculpting specialist, Clinton Aiden-Smith and together the team of some twenty prosthetic artists from the United Kingdom and South Africa, created their magic in Aiden-Smith's workshop -Cosmesis'.

Mark Coulier discusses the challenges of prepping, creating moulds, and painting details as fine as eyebrows. 'There are new set of pieces every single day for every character, and in a scene that features six characters we had to prepare 36 pieces for one days filming!"

In addition to the massive scope of prosthetics that sometimes required twelve artists working on one character, Aiden Smith states that creating Winnie was the most difficult: 'It was a very involved process to blend all those fine little prosthetic edges into Naomie Harris's flawless skin."

In awe of the skill of the makeup artists, David Thompson says, 'They are so sensationally good, they have transformed Idris Elba into a 75-year-old Mandela, and you completely believe it. We can have the same actor go right through the ages. We could not have done this when the project originated 16 years ago when makeup was less advanced."

Capturing A Legacy On Film

Nelson Mandela is considered to be a man who changed the world. His triumph had worldwide repercussions. Beyond his strategic political skills and fierce intellect Mandela managed to achieve peace for his country on the brink of civil war. He did this in a manner that no other leader in history has been able to achieve: by getting into the mind of the enemy, understanding the enemy, and finally forgiving the enemy. He has already gone down in a history as not only the greatest statesman of his time, but also as a great humanitarian.

'Each and every crew and cast member knuckled-down to contribute his or her expertise to make the best possible movie," acknowledges Anant Singh. 'The story resonates with every South African and everyone felt pride and ownership. Despite the size of the film we were one big family and regardless of the position anyone held, we all felt very privileged to have had the once-in-a-lifetime opportunity to work on this remarkable story."

'Every day when I walked on that set, it reminded me that I was in a moment when I was part of something really special, something that will always be remembered." says Gordon.

Anant Singh adds: 'Here we are today, able to tell this story in a way that is so accurate, so that the world in fifty years or even a hundred years from now, can see this film and be able to say, -You know, that was an amazing journey. You can't believe that happened.' Mandela's story stands apart and above. It is a cinematic acknowledgement that will hopefully inspire us, and the world."

Zolani Mkiva who in addition to playing the role of Raymond Mhlaba also served as the cultural advisor on the film, says: 'I want to see MANDELA: LONG WALK TO FREEDOM in Russian, in Arabic, in French, in Portuguese, in Swahili, and all our own mother tongue languages because this is a story that will inspire billions of people across the world. This is the first movie of its kind to be made in a liberated South Africa, we have never had a production of this magnitude and gravitas that will communicate to all the four quarters of the globe - a message flowing from South Africa. Many people know that Nelson Mandela went to prison, but what they do not know is what in essence he endured as a man."

Executive producer, Sanjeev Singh adds: 'As filmmakers we hope to leave behind a legacy for South Africa's future generations about the man who fought for their democracy."

Anant Singh reflects: 'I had also the good fortune to meet Madiba a few times while we were filming. He was looking strong, and he was in good spirits. We are very fortunate to have him with us at the age of 95, and hopefully many more years to come. Most importantly, I want to make sure that he gets to see this film." Was it their ancestors who guided Mandela's parents to christen him Rolihlahla – the Xhosa word for 'troublemaker"? Was it possible that these ordinary people of the land could ever imagine that the infant they held was destined to live an extraordinary life that that would one day change the world?

Mandela: Long Walk To Freedom
Release Date: February 23rd, 2014