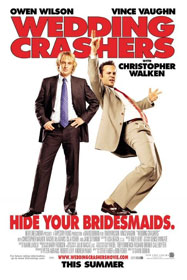 Cast: Owen Wilson, Vince Vaughn, Christopher Walken, Rachel McAdams, Isla Fisher, Jane Seymour
Director: David Dobkin
Screenplay: Steve Faber & Bob Fisher
Genre: Comedy
Rated: M frequent sexual references, frequent coarse language
Running Time: 119 Minutes

Life's A Party. Crash It.

Synopsis:
In the outrageous comedy, Wedding Crashers, divorce mediators John Beckwith (Owen Wilson) and Jeremy Grey (Vince Vaughn) are business partners and life-long friends who share one truly unique springtime hobby - crashing weddings! Whatever the ethnicity of the wedding party - Jewish, Italian, Irish, Chinese, Hindu - the charismatic and charming duo always have clever back stories for inquisitive guests and inevitably become the hit of every reception, where they strictly adhere to their proven "rules of wedding crashing" to meet and pick up women aroused by the very thought of marriage.

My Verdict:
Owen Wilson as John Beckwith and Vince Vaughn as Jeremy Grey team up as life-long friends and co-workers, who live life for the moment. They are into crashing weddings purely to meet women and the season is upon them, 17 in all, which takes its toll. But there is one final wedding of the season that will be the icing on the cake - the opulent, society wedding of the Treasury Secretary's daughter. They crash this wedding in their usual cool, smooth style but aren't expecting the results - actually falling for the women they have targeted, in this case, the sisters of the bride, Claire and Gloria Cleary. This presents a dilemma for the pair who have to deal with their emotions on a new level and take stock of their lives.

Invited back to the Cleary household after the formalities, John and Jeremy find themselves desperate to make sense of the extraordinary family they end up spending a few days with, play along, but soon discover that they are getting more than they bargained for.

'Wedding Crashers' is at long last, a comedy that actually lives up to the genre. It is the teaming of Wilson and Vaughn that really works - two comedians in the perfect roles that suit their talents playing off each other. Vaughn is totally on fire as Jeremy who is in over his head and delivers his often-sarcastic and cynical lines with such impeccable timing. Wilson is also sizzling, but on another level being less overt than Vaughn, but still more than capable of firing off quips faultlessly. They both make their jobs look effortless.

Wilson and Vaughn also have a great supporting cast, which certainly helps their cause. Christopher Walken as Treasury Secretary William Cleary has the hard edge of a leader, yet retains softer family values. Jane Seymour is Kathleen, Williams's sexually uninhibited wife who doesn't mind a few martinis. Rachel McAdams is so right as Claire Cleary, with a strong head on her shoulders yet able to appreciate some fun and spontaneity, always with a sparkle in her eyes. Isla Fisher is a revelation as the loose cannon Gloria, showing two distinctly different sides to her character. An added bonus in 'Wedding Crashers' is a small cameo from Will Ferrell as a fellow crasher who has moved on from crashing weddings to crashing funerals - this is so morbid and Ferrell makes a complete meal of it.

Some of the events that take place during 'Wedding Crashers' are a little too unbelievable, but it's easy to forgive when there is so much fun to be had because of it. Perhaps just a little too long (and this is getting very picky), the movie does actually slow down after an intense and fast opening. Still, it's all worth it as Wilson and Vaughn give their best, producing one of the best comedies seen for a long while.

Rating : ***

Christina Bruce



Editors Notes:
If you see one movie this year, make sure it's Wedding Crashers.