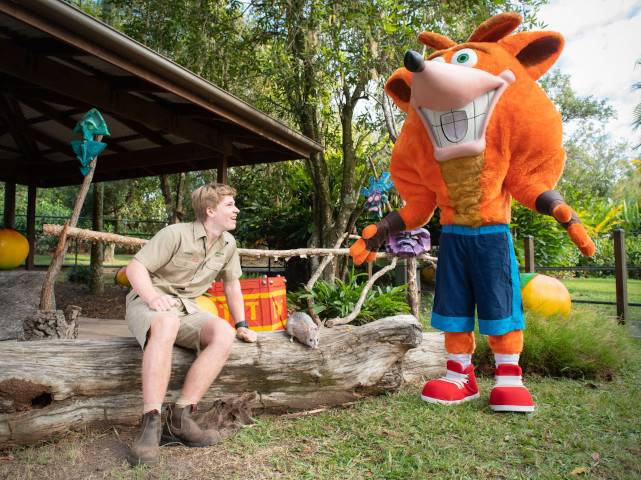 Crikey! A typical day turned zany in a flash (of orange) when Robert Irwin's documentary shoot was interrupted by a mysterious visitor.
A trail of Wumpa fruit, TNT crates and a time-freezing Kupuna-Wa Quantum Mask led Robert on a crazy chase around Australia Zoo as he tried to figure out what, or who, was responsible for this wumpy ride. All became clear when the trail ended in the bilby enclosure with Crash Bandicoot waiting to introduce everyone to his new game Crash Bandicoot 4: It's About Time.
"To celebrate the launch of Crash Bandicoot 4: It's About Time, we wanted to take everyone on an adventure around Australia Zoo, before finally meeting the ultimate icon, Crash Bandicoot." said Robert Irwin. "Our mission at Australia Zoo is to make sure that nature is protected and appreciated, and we are so grateful for a collaboration that raises awareness and protects our Aussie wildlife and endangered species such as the bandicoot."
As the first original Crash Bandicoot title in more than a decade, and the biggest Crash game ever*, Crash Bandicoot 4: It's About Time is built from the ground up and brings with it an onslaught of absurd challenges for players to conquer. The long-awaited sequel is out now on PlayStation® 4, PlayStation® 4 Pro and the family of Xbox One devices from Microsoft, including the Xbox One X.
Developed by Toys For Bob and published by Activision, Crash Bandicoot 4: It's About Time is available for the suggested retail price of $99.95 AUD and rated PG in Australia. For more information on the Crash Bandicoot franchise, please visit www.crashbandicoot.com and follow @CrashBandicoot on Instagram, Twitter and Facebook.