New Sustainable Challenger to Fast Fashion
Launched online at the end of 2019, entirely sustainable international label ZAVI is rivalling Australia's fast fashion scene. Founded by designer Vibhuti Vazirani, the brand offers men and women timeless and affordable pieces created wholly from quality natural fibres.

Conscious consumerism is on the rise, with Australians increasingly gravitating towards vegan and vegetarian diets, 90% of the country concerned about environmental sustainability, and rising demand to know about the practices behind clothing production.

"Australia is a highly conscious society in terms of environment, health and sustainability," said Vazirani. "The biggest challenge in the industry is converting awareness about sustainable fashion to action; ZAVI is my personal mission to fight fast fashion and change buyer patterns, one design at a time".

ZAVI uses only natural fibres3: 100% hemp, 100% organic cotton and bamboo blend, 100% organic cotton, 100% vegan silk, 100% pro-viscose (a lyocell and viscose blend created from recycled wood cellulose), and recycled polyester only for the purpose of waterproofing outerwear.

All fabrics are coloured using non-toxic dye, and meet Global Organic Textile Standards (GOTS). Even trims – buttons, zippers, and eyelets – are carefully tested in compliance with Oeko-Tex to minimise metals and chemicals that are harmful to the planet, sealife, and the human body. All packaging is made from recycled materials, with a strict avoidance of PVC.

"There are a number of brands in Australia that claim to be eco-friendly, however only a handful are actually 100% sustainable, with the rest using poly and synthetic blends. For the select few that are sustainable, the price tag often dissuades buyers from shopping responsibly. Choosing the inexpensive option may save money in the short-term, but can ultimately affect your life's quality, and length," said Vazirani.

ZAVI designs are clean, elegant and enduring; made to be worn time and time again. The brand offers ranges for casual dressing, activewear and business attire for both the sexes, with fresh lines dropping every 3-4 weeks.

Block colours are the mainstay, with a muted tonal palette of nudes, pastels, charcoals, blacks and whites. Accents of colour are given with shades of cerise pink, emerald green, olive green and lemon yellow, and occasional metallic trims. The adaptable palette makes the collection perfect for transeasonal dressing and easy to incorporate into existing wardrobes.

Statement peace silk shirts and cocktail dresses come in an array of colourways for women, while tailored hemp shirts and organic knit shorts are a staple in the men's collection.

Women's sizing ranges from XS – XL, and spans S-XL for men, with woven bottoms in 32 – 44. Prices range between $80 - $300.

Vazirani plans to launch The Basics Store by ZAVI in mid-2020. With all pieces available for under $100, this affordable, yet sustainable diffusion line is set to be a strong and desirable alternative to polyester based fast fashion brands.

Vazirani's eclectic education history is a testament to her business, scientific and creative mind, and includes stints studying Architecture (Parsons Design School, New York), Business & Economics (University of Exeter, England), and Bio-Chemistry (University of Massachusetts, Boston).

As Vazirani made her foray into fashion, she was naturally drawn to the story behind the fabrics and their environmental impact. Quickly learning of the disastrous repercussions many chemicals, dyes and materials have on the world and its sea life, she made an oath to remain pro-environment. "Rigorous product testing ensures ZAVI makes educated choices for the consumer, and the world," said Vazirani.

Business, fashion, and social impact run in the family. Vazirani's sister runs an e-commerce start-up in Mumbai, called Taglr; while her brother runs the London division of the family diagnostic company Erba Mannheim. Parents, Suresh and Mala, are the founders and directors of the Erba Mannheim Group. Vazirani's father is the president of Initiatives of Change – a global organisation dedicated to effecting social change, beginning with personal change.

Based in Mumbai, Vazirani works with one other designer and a small production team to bring her ideas to fruition. ZAVI launches this month at www.shop-zavi.com


Interview with Vibhuti Vazirani
Question: Can you tell us about Zavi?
Vibhuti Vazirani
: ZAVI was created with the vision to be a strong alternative to fast fashion for shoppers. We are starting small, but to make a real change and take on the fast fashion giants, we need to gain scale. We are driven, committed and dedicated to achieving our vision.
ZAVI is primarily targeted toward current day millennials (aged 24 - 39). Young adults and young parents in this age group make up the bulk of shoppers; they are social media fans and they earn their own living, so their choices are key to social impact.
However, our timeless and elegant styles are created with high quality fabrics and finishes to last a lifetime so we can appeal to a variety of ages. Our mission is to make high quality fashion that is not harmful to us or our planet.
Question:
What inspires the Zavi collections?
Vibhuti Vazirani
: ZAVI collection is derived directly from my aesthetic. Every piece is something I would love to own and wear, so it is really my dream wardrobe. When I started off, my yardstick was "I will sell what I would wear for how much I would pay", and that's coming from a really thrifty person. I was tired of seeing the same "trendy" stuff from store to store, with low polyester fabric, in low quality for exorbitant prices.
I work with designers to make my vision a reality, but every piece has either been created by me or run past me to be aligned with my aesthetic. Every piece is a vision of my own, inspired from all I see around me. Sometimes I watch a movie & see something that immediately sparks a vision in me, or observing different sorts of architecture inspire a drape or a pattern, or picking up details from other cultural clothing. I am like a moving mind on the go, like all brands we have an initial collection, but every time we arrive at fittings or samples, I have to tweak it to make it a little more me. So I would say, my inspiration is my own dream wardrobe & for men, I would say it is my dream man's wardrobe.
Question:
Why was it crucial for you to create an eco-conscious and fashion savvy brand?
Vibhuti Vazirani
: As I mentioned before, when I started off, it was about adding fresh style to a world that is recycling trends, while also making it good quality and affordable. However, with a brief background in the sciences, when it was time to learn about textiles to order our fabrics, I discovered the dark side of this beautiful industry. This discovery sparked curiosity so I continued reading and learning. Eventually I simply couldn't make the popular choices due to their health and environmental drawbacks, I decided to take the path less travelled though it would be harder and more expensive. We are constantly researching and working with our vendors to innovate better and more sustainable fabrics, currently we are working closely with our vendors to be produce our fabrics from recycled cotton instead of organic cotton.
As a team, we are also constantly finding new ways we can upcycle from textile waste inside and outside our company.
Question:
How have you become a 100% sustainable international retailer?
Vibhuti Vazirani
: At ZAVI, we work very hard to source the best quality, most ecofriendly and economical option of raw materials for our customers. To be a relevant alternative to fast fashion, we have to meet affordable price points & that is a big challenge for us as a start-up compared to the scale of the garment retail & manufacturing giants. We are in the process of being Organic Cotton Standard (OCS) certified. We started off planning for the future where we will be Global Organic Textile Standard (GOTS) certified so we have always tested all our fabrics & dyes to ensure they meet GOTS standards, if they did not, we had several back and forths working tirelessly with our vendors to ensure the lack of harmful chemicals in processing and dying. We are proud to say that our fabrics are up to a 100% sustainable; No polyester or acrylic blends and no harmful chemicals.
Question:
Why is it important for Australians to support sustainable retailer over the fast fashion industry?
Vibhuti Vazirani
: The name has it all, sustainable retail is going to sustain you for the long run, the money you spend will provide value to you for much longer than the money you spend on fast fashion - the value you receive there is fast to come and fast leave. Fast fashion offers trendy styles, shapes and designs that may appeal to you in the moment but will definitely not appeal to you within a few weeks or months when you evolve to a different phase of your life or when the world evolves to a different trend. Timeless and elegant pieces can be worn through a lifetime, they never go out of trend and will always keep your looking at your best no matter what phase of life you may be in. In today's world of constant change, your wardrobe can stay as your loyal constant.
A health concern is a chemical called "formaldehyde" that is commonly found in dyes across fast fashion and even premium retailers. Formaldehyde is highly carcinogenic, its purpose is to keep garments crease free. We had to insist that our vendors that are not GOTS certified find a way to keep it out of our post processes. This is a reason our garments may slightly crease more than others, but we were certain you love your life more than crease free shirts!
For us millennials, with the widespread use of social media, we have become vulnerable to companies trying to sell us things everywhere we look. Adopting habits that our parents and grandparents had, such as value-driven purchases, will saves us a ton of our earnings. Another problem with my generation is we find it hard to save for future security, most millennials are living pay cheque to pay cheque because we are giving into "trends". Giving into trends will have you buying something all through the year! The last few years that I have become a conscious consumer, I have saved so much money because most stuff out there is just trending synthetic garbage that is suffocating the body and the environment. This is a revolution waiting to happen, just like vegetarianism and veganism, people need to adopt it as a religion "plant based clothing".
Question:
How can we ensure we're supporting sustainable retailers especially when shopping online?
Vibhuti Vazirani
: One thing I do and is terribly embarrassing for my friends abnd family is that every store I go to, I am always sticking my head inside the garment to find the fabric content tag. Online, my eyes look at the price and then the fabric content, a lot of times that is a saving grace for my bank account because a lot of "Sustainable" brands are actually polyester, polyamide, acrylic mixes. However, I would say, the best way to ensure you're making a conscious choice is to read the fine print, the fabric tags in stores, the fabric content section on the websites and research whatever you may not find familiar. Before being a conscious customer, you must be an informed one.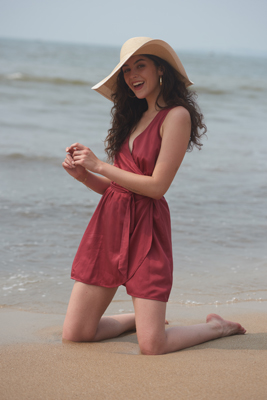 Question:
Which products in the current Zavi collection are you wearing, most?
Vibhuti Vazirani
: This is a tricky question; it's almost like asking me to pick a favourite child!
I love our silk options, they are so lovely to feel & fit, I throw them on with a pair of skinny bottoms, comfy wedges & some dangling earrings & I'm ready to take the town. The Valencia top is my favourite & I would say one of the early reasons I wanted to create a clothing brand!
The Anatalya top is another favourite, I rock it in white depending on the vibe, sometimes with a pair of cute shorts & flats by the pool with my girls or with skinny bottoms & stilettos for dinner with bae, it's a lovely holiday staple.
The Florence top in emerald is a dream come true for me, I love waist flair, I think it's so elegant & chic for a lady. This top can be dressed up or down based on my mood.
The Lucia top is my formal work go - to, a feminist's staple I would say, it's just right to portray power & perfectly feminine to stand out.
Question:
What's next for Zavi?
Vibhuti Vazirani
: Coming up next is a spread of pop up stores, and working with retailers & stockists to build brand awareness & trust from customers. While building a brand which takes time, persistence & investment, it is a necessity to grow sales so we can sustain.
In terms of products and innovation, we are currently working on really cool collections made of eco innovations in low impact suede & denim, as well as recycled polyester - key for waterproofing outerwear.
Soon, we will be working to upcycle textiles and yarns as much as we can, not only in clothing but other long-lasting products as well as a waterproof line for pets from a patchwork of our recycled polyester. We are constantly on the lookout for start-ups that are innovating new solutions. We may we getting into vegan leather soon.
Currently all our waste goes into making accessories or sanitary pads and blankets for underprivileged communities of India, we are exploring other upcycling ways for greater impact.
Interview by Brooke Hunter