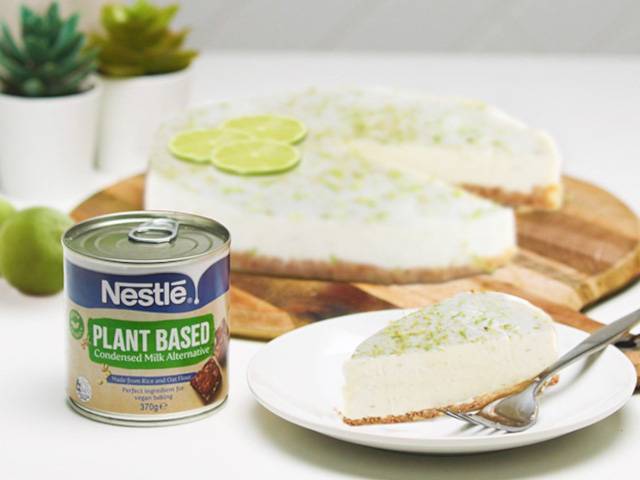 Vegan Key Lime Pie
Adapted by: Cherie Tu (Thriving on Plants influencer & chef)

Prep Time: 20 min
Cook Time: 10 min
Chill Time: 2-3 hours
Serves: 16

Ingredients

For the Base:
200g vegan caramelised biscuits
85g vegan spread, melted

For the Filling:
1/3 cup (50g) cornflour
200g canned full-fat coconut cream, chilled (white solid part only)
1 x 370g can Nestlé Plant Based Condensed Milk Alternative
Zest of 3 small limes
¼ cup (60mL) lime juice

For the Topping:
1 can (400g) full-fat coconut cream, chilled
2 tbsp icing sugar
1 lime

You will also need:
20cm fluted loose bottomed flan tin, lightly greased

Method
1. Place the biscuits into a food process or blender and blitz until it becomes a fine crumb. Add into a large bowl and pour in the vegan spread. Mix well until the mixture resembles wet sand. Tip the crumbs into the tin and push them against the sides and base of the tin to make the base. Chill or freeze for 10 minutes.
2. Add the cornflour and coconut cream into a small non-stick saucepan. Whisk well until combined then gradually whisk in Nestlé Plant Based Condensed Milk Alternative, lime zest and juice until smooth.
3. Turn the heat up to high and bring to the boil, stirring constantly. Once the mixture begins to bubble, it should become very thick. Once thickened, turn off the heat and set aside to cool for 10 minutes. (Optional: Whisk in green food colouring)
4. Pour the filling into the base and smooth over the top. Chill for 2-3 hours or overnight. 5. When ready to serve take the coconut cream out of the fridge. Open the cans carefully and scoop out the thick creamy part of the coconut leaving the watery syrup behind in the can. Place the thick coconut cream and icing sugar in a small bowl and whip until thick and creamy. Use to top the pie and sprinkle with extra lime zest. Chill until ready to serve.