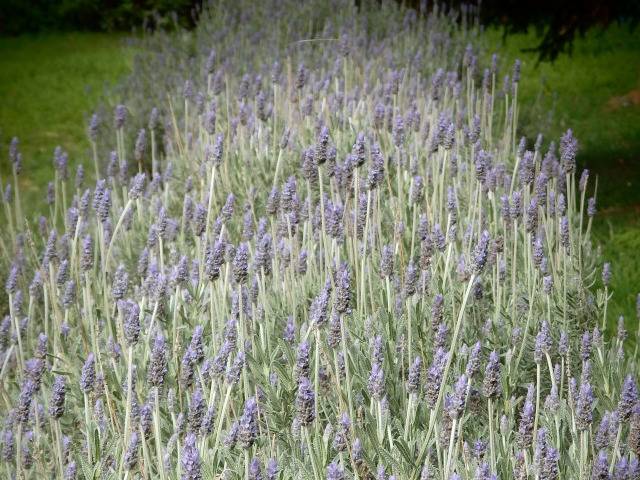 If you have sandy soil at your place, you are in luck for a change! As a Mediterranean plant, lavenders enjoy a well-drained soil that isn't too rich and they enjoy full sun. Feel free to combine different lavender species. Stacey has both Spanish lavender (L. stoechas) and English lavender (L. angustifolia) in the garden. Not only are the Spanish lavender's little bunny ears appealing, the bees seem to enjoy the differences and the colour varieties, including white, look wonderful together.

When the flowers bloom they attract pollinators including bees, which will buzz all over them very loudly! Pick and dry the spikes when they are just beginning to lose the fullness of bloom. Then gently tease the 'seeds' apart from the bloom.

Remember to cut off the flowers when they begin to brown, as deadheading encourages more new flowers to grow.

How you can use the plant:

LAVENDER AND DANDELION COOKIES

You'll need
± 100 g salted butter, chilled
± ¾ cup plain flour
± 1/3 cup caster sugar
± 1 teaspoon dried lavender petals
± 1 teaspoon dried dandelion petals
± 1 egg yolk
± Icing sugar and extra dried petals, to serve

How to
Blitz the butter, flour, sugar and dried blooms in a food processor until the mixture forms a breadcrumb consistency. Transfer to a bowl and stir through the egg yolk until just combined.
Turn out onto a floured surface and knead gently to form a smooth dough. Then scatter more flour and roll out the dough to about 1 cm thick. Place the rolled-out dough flat in the refrigerator for 1 hour.
Preheat oven to 180°C and line a baking tray.
Cut the dough using a cookie cutter or small jar to the required size. Place on the baking tray and bake for 10 minutes on the middle rack of your oven, turning the tray once at the halfway mark to ensure the batch is baking evenly.
When golden brown, turn out onto a cooling rack.
To serve, dust with a little icing sugar and arrange on a plate with a scatter of lavender and dandelion.

HEALTHY HEAD OIL
There has always been a link between lavender and issues of the 'head'. Migraines, headaches, lack of clarity, restlessness and sadness have all been treated with lavender. However, this old remedy to help restore the health of the scalp and assist with hair growth and alopaecia is gaining popularity again.

You'll need
± 3 drops lavender essential oil
± 3 drops rosemary essential oil
± 2 drops thyme essential oil
± 2 drops sandalwood essential oil
± 50 ml carrier oil
± A small bottle, sterilised

How to
Combine the essential oils with the carrier oil and pour into the sterilised bottle. Apply by placing 7 drops of the mixture on your hands and then massaging it into your scalp. Leave in overnight or wash off after 30 minutes.

Recipe from Plants of Power
New 'Plants of Power' book explores 66 foundational plants you can grow in any size garden; includes recipes, history, magic & medicinal benefits
Rockpool Publishing
ISBN: 9781925924350
RRP: $39.99

About the authors
Stacey Demarco is a bestselling author who specialises in pagan, nature and mythos-based subjects. She is internationally respected, with works translated into many different languages. She is the author of the popular annual Lunar and Seasonal Diary for both the Northern and Southern hemispheres and is known widely as 'the Modern Witch'. Stacey has an eclectic collection of plant friends and seedsaves and lives in Sydney's Northern Beaches in a small house with a big garden with her husband, animal companions and about 10,000 bees. Her favourite plant is chickweed because, being clumsy, she often finds an anti-inflammatory very handy.

Miranda Mueller is a permaculturalist who lives with her husband and two children, chickens and other animals in the Dandenong Ranges. She runs a successful herb and vegetable seedling nursery encompassing a gardening business and teaches permaculture from the home farm. Miranda regularly opens the farm gates to encourage others to reconnect with the art of growing food, for people's health as well as for the earth's wellbeing. Her favourite plant is the dandelion, a plant that has been labelled a weed, yet delivers so much wisdom and nutrition whilst growing in the cracks of concrete!