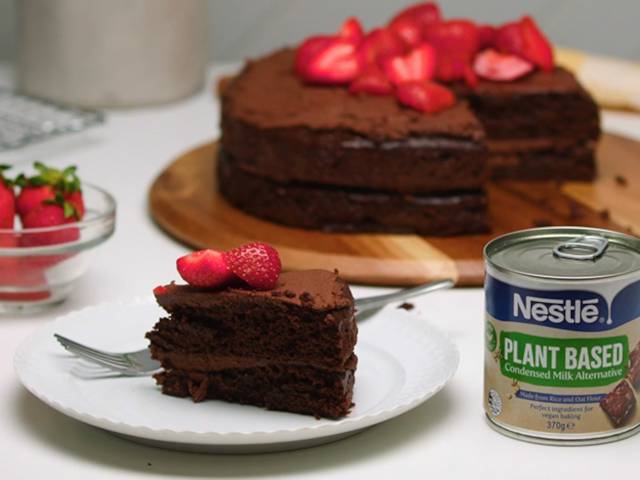 Vegan Chocolate Fudge Cake
Adapted by: Nestle Australia Innovation Kitchen

Prep time: 20 min
Cook time: 35 min
Serves: 12

Ingredients

For the cake:
100g Nestlé Plant Based Condensed Milk Alternative
175g light soft brown sugar
1 2/3 cup (250g) plain flour
1/3 cup (35g) Nestle Bakers Choice Cocoa
½ tsp bicarbonate of soda
1 tsp baking powder
1 cup (250mL) unsweetened vegan milk alternative
100ml vegetable oil
2 tsp vanilla extract


For the frosting
100g vegan dark chocolate
55g Nestlé Plant Based Condensed Milk Alternative
55g vegan butter or spread
175g pure icing sugar, sifted
1 tbsp Nestle Bakers Choice Cocoa
1 tsp vanilla extract


You will also need:
2 x 18cm sandwich cake tins, greased and base lined with baking paper


Method
1. Heat oven to 160°C, (140°C for fan ovens).
2. Beat the cake ingredients in a large mixing bowl slowly with an electric hand mixer until you have a smooth cake batter.
3. Divide the mixture between the tins and bake for about 25 mins or until fully risen and a skewer inserted into the middle of the cakes comes out clean.
4. Cool in the tins for 5 mins, then turn the cakes onto a rack to cool completely.
5. Make the frosting while the cakes cool.
6. Break the chocolate into chunks and heat on low to medium power in the microwave, stirring frequently until the chocolate has melted. Cool for 10 minutes.
7. Beat together the Nestlé Plant Based Condensed Milk Alternative and vegan butter with electric beaters until creamy and smooth
8. Gradually add icing sugar, cocoa, vanilla and the melted chocolate. Beat until thick and smooth. Chill for 30 minutes then re-whip for a thick spreadable icing, adding extra icing sugar if it's not thick enough to spread.
9. To assemble the cake: place one half of the cake onto a plate, spread just under half the chocolate frosting on top then sandwich with the other cake and use the remaining frosting on top of the cake.