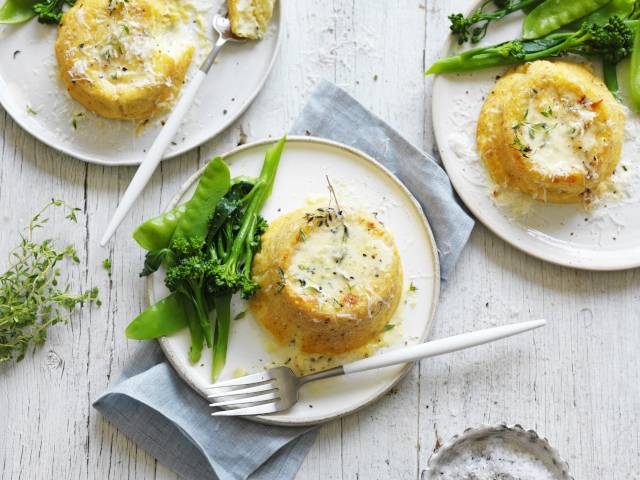 This winter, rug up with a delicious bowl of comfort food - sure to warm you from the inside out!
Delicious winter warmer recipe ideas from Australian Eggs - from fast and simple comfort meals to slow and steady recipes that the whole family can get involved with! Recipes include a delicious Salmon and Rice Egg Pie, Mac and Cheese, Twice Baked Cheese Souffles (perfect for a Sunday brunch!), Kedgeree, Egg and Lentil Dahl.

Twice baked cheese souffles

Prep and cook time: 45 mins
Serves: 4

Ingredients
• 60g butter
• ¼ cup dried breadcrumbs
• 2 tablespoons plain flour
• 1 cup milk
• 1 ¼ cups (100g) grated gruyere cheese
• 3 teaspoons thyme leaves, chopped, plus extra sprigs to serve
• 3 eggs, separated
• ½ cup pure cream
• 1/3 cup finely grated parmesan, plus extra to serve
• 1 bunch broccolini, trimmed, halved lengthways
• 120g snow peas, trimmed, thinly sliced lengthways

Method
1. Preheat oven to 180°C/160°C fan forced. Melt one-third of the butter in a small saucepan over medium heat Brush 4x ¾ cup capacity ramekins with butter. Line base with baking paper and brush butter over base. Add breadcrumbs to ramekins and coat, shaking out excess.
2. Melt remaining butter in a small saucepan over medium heat. Add flour stirring until well combined and cook for 1 minute or until bubbly. Remove from heat and gradually add milk, stirring constantly. Return to heat and cook, stirring, until mixture thickens and comes to the boil. Reduce heat to low and simmer for 1 minute.
3. Remove from heat and stir through the gruyere and thyme leaves. Cool for 5 minutes. Add egg yolks and stir until well combined. Season.
4. Beat egg whites until firm peaks form. Add a quarter of egg whites to gruyere mixture and gently stir until combined. Fold remaining egg white into mixture, then spoon mixture into prepared ramekins. Place ramekins in a roasting pan. Add enough boiling water to come halfway up the sides of ramekins. Bake for 25 minutes or until golden and risen. Stand for 10 minutes.
5. Line a baking tray with baking paper. Carefully turn soufflés out onto prepared tray. Cool. Cover and refrigerate for up to 2 days.
6. Remove soufflés from fridge and bring to room temperature. Preheat oven to 180°C/160°C fan forced. Gently pour cream evenly over souffles and sprinkle with parmesan. Bake for 15 minutes or until light golden and warmed through.
7. Meanwhile, bring a large deep frying pan of water to the boil. Add broccolini and peas and cook for 1 minute or until tender. Drain.
8. Scatter soufflés with extra parmesan and thyme sprigs and serve with cooked greens.
For all your ingredients shop Woolworths