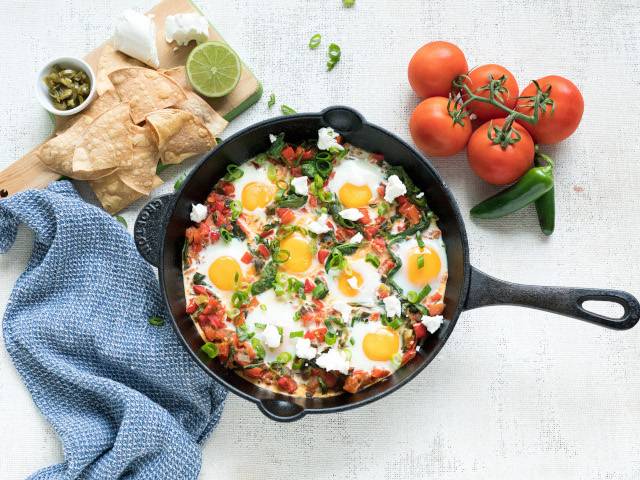 Healthy Recipes for the whole family to enjoy!
Australian Eggs have curated a collection of healthy recipes that can cater to everyone's taste buds. These recipes are a mixture of Low fodmap, Gluten free and Heart healthy, while being sure to be family favourites.

Huevos Rancheros – Low Fodmap

Prep Time: 10 mins
Cook Time: 20 mins
Serves: 4

Ingredients:
• 1 tbs garlic-infused extra virgin olive oil
• 2 green onions, green parts only, sliced, plus extra to garnish
• 2 red capsicums, diced
• 1 jalapeno chilli, finely chopped
• 3 large tomatoes on vine, diced
• 1 tsp iodised salt
• Juice of 1 lime
• 1/3 cup parsley, finely chopped
• 80g baby spinach
• 8 eggs
• 75g goat cheese (chevre)
• Pickled jalapenos
• 4 x corn tortillas to serve

Method:
1. Heat an oven-proof frying pan over moderate heat and drizzle with the garlic-infused extra virgin olive oil. Add the green onion tops, capsicum and jalapeno chilli and sauté for a few minutes until softened.
2. Add the tomatoes, salt, and lime juice. Simmer for about 10 minutes
3. Blend half of the sauce and return to the pan. Add the spinach and parsley. Simmer until the spinach is wilted.
4. Preheat the oven to 180°C.
5. Crack each egg and place into a small dent in the sauce. Pop pan into the oven and cook for about 10 minutes or until eggs cooked to your liking.
6. Cut the corn tortillas into quarters and place on a baking tray. Pop into same oven to crisp up.
7. Serve the huevos rancheros topped with dots of goat cheese, green onion tops & pickled jalapenos.