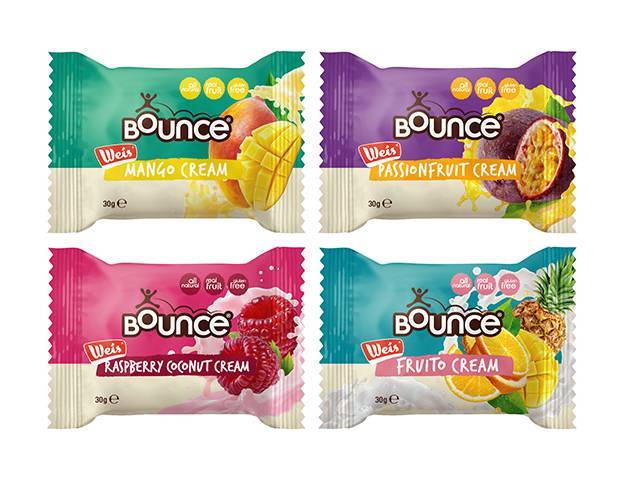 Bounce is excited to announce its collaboration with Weis to create a refreshing and new approach to snacking. Enjoy the taste of summer all year round with Bounce's tasty nut butter ball that is filled with the iconic fruit and cream combo Aussies know and love from Weis ice creams.


Australian made from natural ingredients and real fruit, the new range includes:
• Mango Cream: Sun-soaked mangoes, cream and coconut – it's the ultimate reminder of fun in the sun.
• Raspberry Coconut Cream: Plump raspberries blended with coconut cream is a summery flavour sensation.
• Fruito Cream: Sweet pineapple, ripe bananas and zingy passionfruit is the tropical take anywhere treat.
• Passionfruit Cream: Zesty passionfruit balanced with cream will have you booking your next holiday.


Enjoy endless summers with Bounce x Weis snack ball range:
• Innovative, smooth fruit and cream centre that replicates the iconic Weis ice cream flavours
• Australian made from 100% natural ingredients including real fruit, nut butters and milk
• 10g or less natural sugar (from real fruit) per ball
• 123 calories or less per ball
• Zero refined sugar
• Gluten-freeThe new
Bounce x Weis range is now available in the muesli bar aisle at Woolworths for $6 for a 4-pack, or in bulk at bouncefoods.com.au.
Use code BOUNCECREW to enjoy a %20 discount.
@bounce_aus #snacksmarter
Review: We love the new Bounce x Weis Snack Ball range, packed with flavour, these delicious snack balls really satisfy, giving you the right energy to fuel your day or add a pick me up, in perfect pocket/handbag size. Hard to choose a favourite flavour, they are all so delicious.