Tracey Birdsall Dawn Of The Crescent Moon Interview
Dawn Of The Crescent Moon Cast: Barry Corbin, Brooke Coleman, Kurt Cole
Director: Kirk Loudon
Genre: Drama, Sci-Fi, Thriller
Running Time: 95 minutes

Synopsis: A group of college students travel to a small Texas town to research the Legend of Blood Lake, an obscure folktale forged by events surrounding the horrible massacre of a Comanche village.

Dawn Of The Crescent Moon



Interview with Tracey Birdsall
Question: What attracted you to the script of Dawn Of The Crescent Moon?

Tracey Birdsall: I was most attracted to the idea of doing a horror film, and also of working with Kevin Coleman and Kirk Loudin. Once they attached my (now good buddy) Barry Corbin to the film, I was super amped to be a part of it! It's a fantastic script with a great cult following already, so there's nothing not to like!


Question: Can you tell us about the film, Dawn Of The Crescent Moon?

Tracey Birdsall: Dawn of the Crescent Moon is a horror/thriller set in a very small town about unearthing a legend… The Legend of Blood Lake. It has a mystical aspect as it also delves deep into the lives of the college students assigned to the task…


Question: What was it like working with Barry Corbin?

Tracey Birdsall: Well, Barry is the best! He's a legend, an icon, and a dear friend. Working with him reinforced the things I already knew, and raised the bar a bit. We learn from those who inspire us…


Question: What do you enjoy about filming supernatural thrillers?

Tracey Birdsall: What's not to like?! It's exciting to say the least, the characters have oftentimes an expiration date, and it keeps you on the edge of your seat. Supernatural thrillers always make people think, and therefore the filming of them is an anticipation of that curiosity and satisfaction that the ending brings.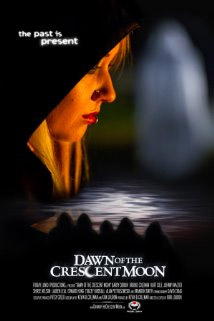 Question: Can you talk us through the filming of Dawn Of The Crescent Moon?

Tracey Birdsall: Filming the movie was an absolute blast as we were based in Fayetteville, Texas… a town of about 264 people! The location was small and remote, the actors shared a bed and breakfast, and everyone was extremely professional. The filming was a breeze to say the least. It was a small group of well-connected people who told a story which unfolded before our eyes. In the meantime, the actors, crew, and support team bonded and formed relationships that would last a lifetime.


Question: Do you have a preference of acting for film or TV?

Tracey Birdsall: I love film as it allows you to go deep within a character over a set amount of time. That said, if I was offered a television role on a network show, I wouldn't balk at it! It is just about consistency when you work on TV. Film is the unknown delving into a new character and a new world… over and over again.


Question: The character of Tracey was specifically written with you in mind; how are you similar to your character?

Tracey Birdsall: There were a lot of similarities, but then again, Kevin Coleman (producer and writer) is a good friend of mine. When he sent over the script, he said 'hey – see if there's a role in there you would like to do" and of course I saw the role named Tracey who was exactly me…. Maybe just a bit more conservative. Kevin is a brilliant man


Question: What's a typical day like for you?

Tracey Birdsall: I start my days out with the gym, then go to fighting training right now to prepare for my next role, then I eat (a lot!), followed by whatever impending duties I have. Right now I'm in pre-production on a new Science Fiction Film 'Descent of the Maelstrom" so there's really no downtime at all. I'm foregoing auditions as I'm booked out for months between this film and my next comedy 'Who's Jenna Jameson?" Between working out, working, finding locations, and staying up on everything, there is no downtime right now. I'll vacation next year


Question: If you could work with any other actor/actress, who would you like to work with next?

Tracey Birdsall: I would really like to work with Sean Penn. I know him from the gym and I respect his work and who he is… I know that he's a bit controversial in his appeal, but I like that. I think he's brilliant and I would welcome the opportunity. Mostly, however, I would like to work with Meryl Streep (of course.) The woman is brilliant, and any of us would be fortunate to work with her. They say some of it rubs off when we work with people (which I believe having worked with the likes of Barry Corbin and Dennis Hopper) so I can only dream that dreams do come true… as they do…


Question: What's next, for you?

Tracey Birdsall: I start shooting Descent of the Maelstrom next month (a science fiction time travel movie) in the role of Dijanne – a badass character that any actress would be proud to portray! Then at the beginning of the year, I start on the hilarious comedy film 'Who's Jenna Jameson?" as Jenna – the lead in the film. All in all, it's going to be a very exciting year for me!


Dawn Of The Crescent Moon
Interview by Brooke Hunter