March is always one of my favourite months of the year, cause it's when the Toy, Hobby & Nursery Fair is held for those lucky few who get an insight into what coming this year in toys. Here is a sneak peak & our tips on what's hot this year.
This year's toy fair the main focus was on collectables & pets.
With some great innovation this year, there was also a lot more boys' toys than in previous years... let's hope they make it to the shelves.
Funtastic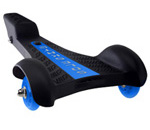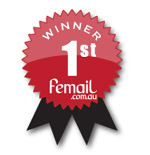 Razor Sole Skate
Definitely the coolest skate board to date. Femail.com.au award for best outdoor toy.
This unique 3 wheeled compact skate is the perfect way to travel to school or play on weekends. Small enough to fit in your backpack & locker, Razor Sole Skate while compact is mighty with infinite trick possibilities. Plus unlike skateboards, it won't roll off down the hill without you, as it has a roll restrictor so it automatically stops when you do.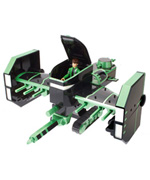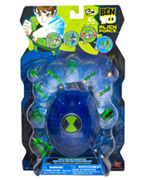 Ben 10 Alien Force Galvanic Gunship
Can someone please tell me what boys aged 4-9 did before Ben 10? Because for this age group it's a high priority.
Last year we saw the introduction of the Alien Chamber, which has now gone mini, great for school holidays and simplifying to the toy box.
But this year the must have is Ship, full name Ben 10 Alien Force Galvanic Gunship. This ultimate role playing Ben 10 ship ties in with the recent DVD releases and best of all glows in the dark. The gun ship also includes eight missiles (three different types) and the exclusive figure 'ship'.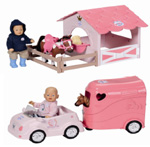 My Mini Baby Born
A favourite with young girls My Mini Baby Born is a great travel toy that encourages role playing.
This year is about collectables, with many variations to the collection like Horse & Trailer + Off Roader, Horse Stable, Horse Racing Cart Set and outfit packs to match.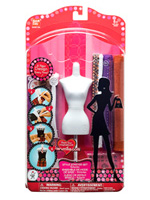 Harumika
Style your imagination!
This prototype from last year is finally with us. Harumika is the perfect creation kit for those fashion designing girls.
With a range of styling kits between $12.75 - $89, your basic Harumika mannequin pack is around $30 and includes fabric, jewels, stickers, carrybag & bracelet. For creative kids, this is a dream toy.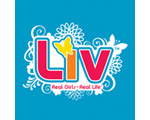 Liv Dolls with Pets
Coming this year, Liv Dolls with their own pets and school themes. What girl doesn't love a pet? We look forward to the arrival of our four furry friends this year and any accessories they may have.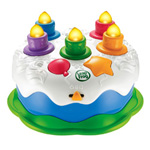 LeapFrog Counting Candles Birthday Cake
Every day can be a celebration! This clever cake will not only keep kids entertained with pretend birthdays, it's also great for real birthdays at kinders or at home.
With up to five candles, kids can preselect how many candles light up, then sing along to happy birthday or other songs about counting and growing up. Children can actually blow out the candles like on a real cake.
Leapfrog Text & Learn
Kids love to role play especially as parents so LeapFrogs Text & Learn, is a great introduction to learning how to use a PDA. Includes LeapFrog learning games that focus on letters, numbers and basic computer skills.
Text & Learn also allows parents to text messages on your child's PDA, like 'I Love You'. But rest assure messages are only one way so it's completely secure.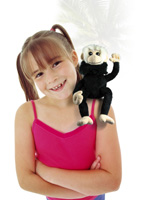 Cheeky Monkey
This gorgeous interactive monkey sits on your shoulder like a puppet but with the help of a remote that fits easily into your pocket, you can make your trained monkey perform.
Look out for this cute, clever and exceptionally cheeky monkey around September.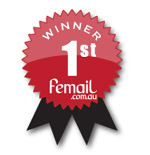 Tech Deck
Tech Deck Basic Finger Boards have been the coolest pocket money toys for boys for the last few months.
But now you can build your own skate park and master finger tricks.
But watch out, now skaters have a rival in the ranks, Flick Trix, also a great pocket money collectable.
All these toys and more information on the Funtastic Toy Range current releases can be found at
http://funtastic.com.au
---
Gogo crazy bones was such a huge success last year, seems every manufacturer is on the collectable bandwagon this year.
So for collectable this year let's start with the ones that sent schools mad last year
Moose
Gogo Crazy Bones
This year we see the introduction of some luminescent Gogos from Moose. Definitely will be great in the winter months when they glow in the dark.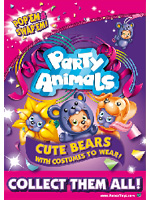 Party Animals
But hot on their heals are Party Animals, the girls version of gogos from Moose. With cute collectable animals, and snap on clothing for you party animals, these pocket size friends are set to be a hit with young girls. With a pocket money price point, Party Animals are available in 1, 2 & 4 figurine packs (great 'starter' kits for birthdays & special treats).
Party Animals are one of my favourites for this year for girls. These collectable plastic animal figurines (similar to gogos) feature only happy faces. But best of all they combine collectability with more imaginative play with their interchangeable rubber costumes.
There are currently 54 figurines to collect.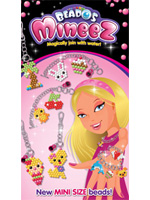 Beados
Last year saw the introduction of Mixi Chix, a great innovation that saw young girls creating their own combination of dolls that they then join together with water, complete with beado themed accessories.
This year Beados have introduced
Beados Mineez
, the super small beados you create are the perfect size for key chains & charm bracelets. So this year it's all about accessorising with beados.
Also coming out this year is
Beados Colour & Create
, allowing you to use templates or custom design your own Beados creation from your very own drawing.
Look out for Pet Parade & the Mixi Chix Dreamhouse.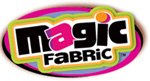 Magic Fabric
A hit with girls last year, this year Magic Fabric is going to sparkle. With the introduction of Diamonte sets, you can glam up your Magic Fabric creations.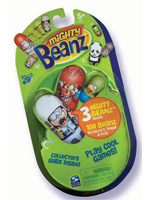 Might Beanz
The plastic bean characters with unpredictable movement that can be swapped, collected and raced!
Using a ball weight inside the Mighty Beanz allows them to turn their way down surfaces. Currently available with a mini track, watch out near June for the full track coming out.
An alternative to racing cars or marbles, Mighty Beanz are the next big thing for boys! Start collecting now, there are currently 100 Mighty Beanz available in 1, 3 & 6 packs.
Also available is the Mighty Beanz Flip Track & collectable case.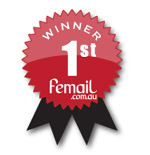 Moon Dough
Out in September, Femail.com.au award for best preschool toy.Hurray for Moon Dough, moulds like play dough but doesn't dry out. I love this product, feels great, moulds easily and I'm sure it will be a huge favourite with kids & parents because you can leave it out. Moon Dough is a soft, magically light and fluffy moulding compound that never dries out! Its amazing! Launching September in 8 bright colours that don't stick or stain!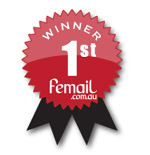 Golden Coin Maker
Out in September, Femail.com.au award for best cooking/craft toy.
The Golden Coin Maker is bound to be a favourite for parents and children. Create your own chocolate coins, using a variety of personalised stamps to suit many occasions like Birthdays, Christmas, Treasure Hunts and more. The Golden Coin Maker enables you to make hundreds of foil wrapped golden chocolate coins in your home! The Golden Coin Maker comes with 130g of chocolate & includes net bags so you can bundle them up as gifts or party bags.
Creepy Crawlers
It's creepy, slimy and the perfect gift for boys. Look out for these slimy sensations in September.
Create your own gross and gory bug collection with the new Creepy Crawlers range. Just Lower, Press and Inject to create stretchy, sticky bugs that you can fling, stick or crawl down walls. Then fill them with all sorts of gross guts so you can smash em, smush em and crush em. And the fun doesnt stop there because you can grind them all up and start again.
With Creepy Crawlers gross play is here to stay!
All these toys and more information on the Moose Toy Range current releases can be found at
www.mooseworld.com.au