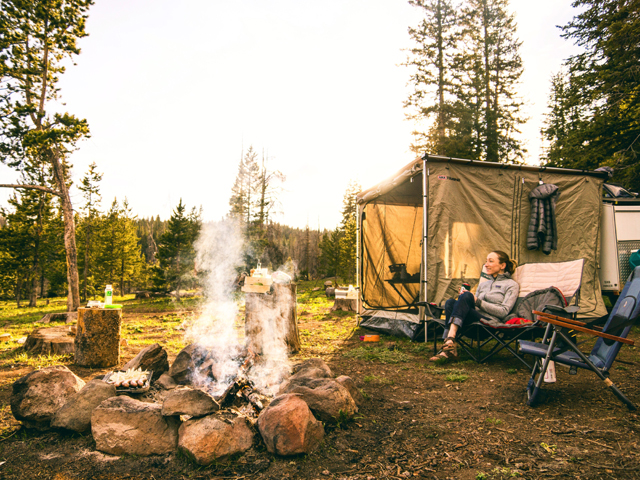 With the long weekend approaching, Avis Car Rental Australia has all your camping needs covered with its Avis Signature Series Luxury Utes range.

The Toyota Hilux SR5 4X4 Auto Diesel and Ford Ranger Wildtrak 4X4 Auto Diesel are available within the Avis Signature Series. Whether it's a family road trip or romantic getaway, the Luxury Ute range can help transform the rental journey into a premium experience.

To help you have the best trip, Avis have pulled together some top tips and tricks to help nail your camping trip:

Stay warm, cool and hydrated
When exposed to the elements on a weekend away, it's important to stay warm at night, keep your perishables cold and stay hydrated. Instead of bringing bulky, cumbersome hot water bottles and ice bricks, try using something you will already have – water bottles! Before you set off for your trip away, freeze your water bottles. On the trip they can keep your perishable food items cold, and you can drink them as they thaw. Also, some summer nights can get chilly, so fill up a water bottle with hot water and stick it in your sleeping bag as a makeshift hot water bottle.

DIY Lantern
When it isn't keeping your food cool or keeping your sleeping bag warm, your water bottles can light up the darkest nights. Simply strap on your elastic head torch to your bottle and the water will glow, illuminating your campsite!

Keep your camping trip charged up
Whether you're using it to navigate, take photos of the scenery or watching a movie around the campfire, you'll want your phone or laptop to stay charged. Invest in a solar powered charger you can attach to the roof of your car.

Organise, organise, organise
To get the most of your weekend away and not spend the whole time packing and unpacking the car, you need to ensure you're efficient and organised. Pack what you need, NOT what you want. Also, put the items you need last, in first. That way you won't need to unpack the entire car to get to your tent.

Make your camping trip a culinary experience
Outdoor adventures aren't always gastronomic adventures, but they can be! Dutch ovens are one of the best and easiest methods of cooking when camping. Simply dig a hole in the ground away from overhanging branches or dry leaves that may catch alight, burn a fire inside down to coals, place the iron oven on top and cover the top with dirt. By covering the hole, the coals will burn slowly, providing, controlled heat for many hours. Once complete, ensure to drown the fire with water and make sure all embers, coals and sticks are wet. Do not bury your coals as they can smoulder and break out.

Turn your car into an open shelter
Your car is, of course, how you get to your campsite, but who says it can't be part of the campsite itself? Attach a tarp or invest in a dedicated add-on to your car or Ute to create a shelter from rain, wind or sun for you to relax in before you're ready to head to your tent for the night!

For those who want to transform their road trip into a premium experience, the Avis Signature Series Luxury Utes is available across Australia at airports and other select locations. Both models will come equipped with leather accented interiors, climate control, satellite navigation and lockable load spaces, including a hard lid on the Hilux and a roller top on the Ranger.

For more information, head to www.avis.com.au.