Australian Adventurer of the Year Climbs into Guinness World Records History
Local Australian mountaineer, Steve Plain, has defied all odds after breaking his neck and has climbed into Guinness World Records history. The global authority on record-breaking achievements has announced Steve's inspiring story of breaking the record for Fastest time to climb the Seven Summits including Cartensz in celebration of Guinness World Records Day.

Steve, from Albury, New South Wales, now based in Perth, accomplished all Seven Summits including Mount Everest, Aconcagua, Denali, Mount Kilimanjaro, Vinson, Mount Elbrus, Puncak Jaya (Carstensz) in just 117 days, 6 hours and 50 minutes, surpassing the previous record by 131 days.

Named Australian Adventurer of the Year 2018, Steve has an inspiring story of strength, determination and triumph. After being rushed to hospital with a broken neck in December 2014, Steve's doctors were unsure if he would ever walk again. Setting himself a goal and daring to dream, Steve accomplished the impossible and four and a half years later, he is an official Guinness World Records title holder.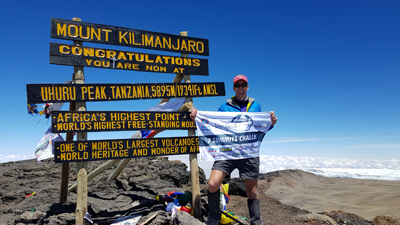 Looking ahead to Guinness World Records Day (GWR Day) in November, the theme for this year's Day has been announced as 'Spirit of Adventures', heroing all the incredible people from around the world who have accomplished truly inspiring feats.

To highlight this, Guinness World Records is encouraging people to apply to set or break a record on GWR Day. Aiming to inspire people to discover their true potential by uniting people across the world from all walks of life and all of whom have one common goal – to be Officially Amazing!

As part of the launch and to celebrate the new Spirit of Adventures theme, Steve will be championing Australia for GWR Day.

Steve said: "I set myself this goal to prove that I can master anything because I believe that the greater the challenge, the greater the satisfaction in overcoming it. Being able to represent Australia on the world stage has been humbling and I'm astonished that I am now a Guinness World Records holder".

Craig Glenday, Guinness World Records Editor in Chief, said: "The announcement of Steve's record helps launch this year's Guinness World Records Day (GWR Day); the annual celebration of record breaking that takes place in November each year."

"This year GWR Day will celebrate the Spirit of Adventure and it's open to everyone around the world to take part, whether you have a thirst for adrenaline, curious for more knowledge or simply want to push yourself and try something you have never tried before. We encourage everyone to put their Spirit of Adventure to the test and become officially amazing!"

For more information about how to attempt a record in celebration of Guinness World Records Day, please visit: http://www.guinnessworldrecords.com/records/apply-to-set-or-break-a-record/

Across the world, records being announced in celebration of the GWR Day 2019 launch include; the Fastest time to visit all sovereign countries (female) and (overall), achieved by Taylor Demonbreun (USA), who completed the journey in 1 year, 189 days, and the Fastest circumnavigation by bicycle (female), achieved by Jenny Graham (UK), who completed the challenge in 124 days and 11 hours. Guinness World Records Day 2019 will take place this year on Thursday 14th November.


Interview with Steve Plain
Question: What originally inspired you to attempt the Guinness World Record for "The fastest time to climb the Seven Summits including Carstensz (male)"?

Steve Plain: Breaking my neck was the inspiration to go and do it; lying in hospital gave me a lifetime to think and reflect on what I had done with my life. I had an interest in mountaineering; I did a trek to Everest Base Camp in 1998 as high mountains captivated my imagination, I had heard about the Seven Summits challenge and thought it would be incredible. From there I did the sensible thing: finished school, went to University, got a job and 20 years after that I woke up in hospital with a broken neck, reflecting on what I had achieved. I knew if I could get through breaking my neck, I would attempt the Seven Summits record.


Question: What was the biggest challenge you faced during these climbs?

Steve Plain: There were numerous challenges through the Seven Summits and the aspects of the climbs. It's not just the actual climb but the logistical planning to get to every continent in the timeframe. Planning travel, booking flights and organising the equipment required was very difficult. Obviously there is the physical aspect of trying to travel, overcome jetlag, climbing and then travelling again. The hardest part of all was the Denali, in North America; to achieve the world record time we had to climb out of season, in the tail-end of Winter – it was very tough conditions, extremely cold and we were the only ones on the mountain (I had a small team on that expedition); we were in temperatures of minus 45. The physical toll of Denali was by far the hardest.



Question: Where do you find strength and determination to take on these climbs?

Steve Plain: Passion; I am passionate about it; I set myself a goal that I enjoyed. Nobody was telling me to do it and the only incentive was that it was something I wanted to do. Passion makes a huge difference and the strength of pushing through situations comes from the endurance sports I had competed in, before my accident. I had competed quite heavily in triathlons and ironman triathlon so the concept of super long endurance skills carried to the mountains.


Question: You beat the previous Guinness World Record by 14 days; what was your first thought when you knew you'd achieved the record?

Steve Plain: We did! Although, the last climb was frustrating as after Denali we went to Everest and the aim was to do the climb as early in the season as possible – we had arrived early in the climbing season and as Everest is highest we had to acclimatize gradually. By early May we were fit and ready to go but due to weather and other delays, that season, we were sitting in Base Camp for over a week waiting for a suitable Summit window to go to the top. It was definitely the most frustrating part of the trip, knowing that the clock was counting and every day was another day gone, sitting waiting and waiting...


Question: What advice do you have for Australians hoping to also become an official Guinness World Records title holder?

Steve Plain: I didn't do the Seven Summits for the record, for me it was a personal challenge that I set myself to help my recovery from my neck injury. I also wanted to give back to those who had helped me; I used the mission to raise funds and awareness for Surf Life Saving and SpinalCure.

When I was ten years old, my parents gave me a Guinness World Records book for my birthday – it was the only book I wanted back in 1991. I pulled the book out the other day and looked through, I remember being a kid and looking at all the crazy records and thinking how incredible it would be the have your name in there – it's quite surreal to think that I will have one of those records.

In terms of advice, it's important to find something you're truly passionate about because it will get tough and when it does you'll be prepared to stick it out.


Question: What's next, for you?

Steve Plain: I wish I had an answer (laughs)! I wish I could say I'm preparing for a climb in the Himalayas but unfortunately I don't have any specific goals planned at this stage. I'd love to go back to the Himalayas as I love high-altitude mountaineering and I'm very keen to set another big objective in the not too distant future. Unfortunately mountaineering doesn't pay the bills… back to my day job and trying to save, again!


Interview by Brooke Hunter