TOP SEVEN SKI DESTINATIONS ANNOUNCED FOR THIS DECEMBERS NORTHERN SEASON LAUNCH
For those wanting to get out of the sweltering sun this Summer, www.sevendescents.com.au a hub which connects Australian skiers and boarders with the most exciting ski experiences, has announced its top 7 destinations for the 2008 Northern Hemisphere season, which starts this December. These exciting picks will have any keen skier or snowboarder forget the global credit crunch, as the only crunch theyll feel is of fresh snow crushing under their boots as they smell fresh Alpine air, and feast their eyes on some of the most magnificent backdrops in the world.
1. Gulmarg, India. Situated at 2,700m in the Kashmir Region of Northern India, this is the new frontier of big mountain, big powder skiing. Ascending to nearly 4,000m, it has one of the highest lift accessed skiing areas in the world, boasting near limitless powder with an exotic Himalayan backdrop.
2. Terrace BC, Heliskiing, Canada. With a direct flight to Canada, and a luxury mountain lodge only 30 minutes from Terrace airport, this is the most accessible Heli skiing in North America. Small ski groups, huge vertical and amazing snowfall, make this the ultimate place to score the best powder stash. A bonus here is that the Aussie dollar has held up much better against resource rich Canada versus US and Japan destinations.
3. Haute Route, France and Switzerland. This one is for the traditionalists out there that prefer to earn their skiing rather than taking a lift, snowcat or helicopter. This classic hut to hut ski tour offers great skiing and spectacular scenery as one ascends past Mt. Blanc in Chamonix then descents past the Matterhorn to Zermatt 6 days later.
4. Whistler, Canada. This place has it all; big snowfalls, massive terrain, backcountry opportunities, scenic beauty combined with a pumping nightlife, great restaurants, and shopping. Its been voted 12 years in a row as North Americas top ski resort for good reason. Add a stop in Vancouver to take in great winter city atmosphere.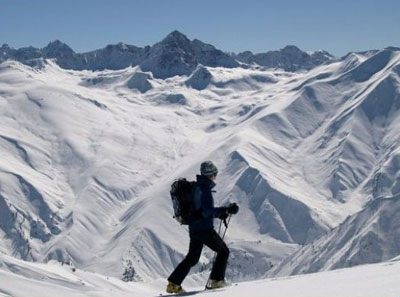 5. Dolomites, Italy. Perfect for those seeking world class ski resorts along with stunning and romantic European villages. The Dolomites are the largest interlinked resort group with 450 lifts and 45 resorts. Enjoy a ski culture that views gorgeous food, wine and lunch with friends as an essential part of the days ski experience.
6. La Grave, France. Less famous than Chamonix but the real home of off-piste ski extremists in France. With over 2,100m of vertical, 1 groomed run, limited lifts and wild terrain, this place is not for the faint hearted. You must take a guide if you want to ski here.
7. Stockton Beach, NSW. Deciding to stay home this year... why not try sand boarding on the dunes. Bring sunscreen and watch out for sand burns!
For info on these destinations and other adventure ski experiences, visit
www.sevendescents.com.au
or call 1 300 66 76 77. Packages start from $2,300 (excl airfares).
Seven Descents is all about the thrill and passion for skiing. The website features inspiring images from noted ski photographers with loads of details on all trips available. Knowledgeable staff are happy to make recommendations and create customised trips to suit all levels.