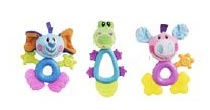 Listening to a crying baby can be distressing, not to mention the cause of sleepless nights for you and the rest of the family. Now, with Tommee Tippee there will be no more tears thanks to their great new soothing range.
When your baby's tooth starts to bite, Fun Pal Teethers will help relieve the pain and tears of teething and make your baby smile!
With three, fun friends to choose from, including an elephant, alligator and piglet, this latest teething collection is not just cute. These Tommee Tippee teethers assist in the emerging and strengthening of new teeth and they also feature soft and hard surfaces to massage and stimulate babys gums.
Whats more - the unique, non-toxic pûrICE gel stays colder for longer than water filled teethers and provides a numbing, cool textured surface for baby to bite.
Easy to clean and oh-so adorable look no further than Tommee Tippee Fun Pal Teethers to soothe away the teething tears!
Tommee Tippee Fun Pal Teethers - RRP$12.95
Stockist No: 1800 890 011 or
www.tommeetippee.com.au