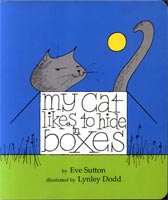 My Cat likes to hide in Boxes was the first book that much-loved author and illustrator Lynley Dodd ever worked on.
It was a collaboration with her cousin-by-law, Eve Sutton, and was based upon the Dodd family cat, Wooskit, who, like all cats, liked to hide in boxes, supermarket bags, cupboards and hidey holes of all kinds.
After the book's publication, Eve went on to write books for older children and Lynley continued writing and illustrating for younger children, which eventually led to the enormously popular Hairy Maclary series of books.
The shows that cats from different countries do strange and exotic things, but this ordinary cat likes to hide in boxes.
Young children will delight in the fun illustrations and whimsical rhyme.
Review: Clever repeative rhymes to help children mimic and learn. Cute & enjoyable hard card book, perfect for children 0-6.
ABC Books
Author: Eve Sutton
Illustrator: Lynley Dodd
ISBN: 9780733321559
RRP: $14.95
My Cat likes to hide in Boxes is available through ABC Shops, ABC Centres, leading video retailers or online at
www.abcshop.com.au