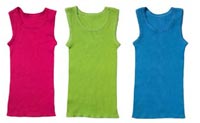 The chances are you probably know someone who is about to have a baby and babybuds« offers the perfect gift to celebrate.
Buying one present for a mother and her newborn baby has never been easier or so much fun with babybuds« - beautiful bouquets of flowers that mum will adore and baby can wear, because the flower buds are actually made of quality baby clothing!
Babybuds Bright & Classic Summer Singlets come in a range of colours and sizes.
Comfortable, wash well and extra long to ensure babies back stays covered
RRP: $7.95
www.femail.com.au/babybuds_gift_ideas.htm