Larry Crowne
Cast
: Tom Hanks, Julia Roberts, Bryan Cranston, Cedric the Entertainer, Taraji P. Henson, Gugu Mbatha Raw, Wilmer Valderrama, Pam Grier, Rami Malek, Geroge Takei, Grace Fummer, Rita Wilson, Jon Seda.
Director
: Tom Hanks
Genre
: Comedy, Drama
Rated
: PG
Running Time
: 99 minutes
Synopsis
: Until he was downsized, affable, amiable Larry Crowne (Tom Hanks) was a superstar team leader at the big-box company where he's worked since his time in the Navy. Underwater on his mortgage and unclear on what to do with his suddenly free days, Larry heads to his local college to start over. There he becomes part of a colourful community of outcasts, also-rans and the overlooked all trying to find a better future for themselves… often moving around town in a herd of scooters. In his public-speaking class, Larry develops an unexpected crush on his teacher Mercedes Tainot (Julia Roberts), who has lost as much passion for teaching as she has for her husband.
The simple guy who has every reason to think his life has stalled will come to learn an unexpected lesson: when you think everything worth having has passed you by, you just might discover your reason to live.
Release Date
: July 21st, 2011
Website
:
www.larrycrowne.com
Starting Over: Larry Crowne Begins
For Tom Hanks, the story of Larry Crowne was one that was years in the making. Just after high school, Tom Hanks attended junior college, and his experiences there had a huge impact. He notes: "This was in the mid-'70s, and there was a sensibility of flux. In my class, there was somebody who was middle-aged, somebody in his fifties, somebody who was just back from Vietnam. I became friends with almost everybody in class, and I found this rich life experience amongst them."
Along with Playtone partner and Larry Crowne producer Gary Goetzman, Tom Hanks spent the past decade producing such hit films as The Polar Express, Charlie Wilson's War, Mamma Mia! and Where the Wild Things Are; the Emmy Award-winning HBO miniseries The Pacific, Band of Brothers and John Adams; and the critically acclaimed HBO television series Big Love. Simultaneously, Tom Hanks took on acting roles in such blockbuster films as The Da Vinci Code, Angels & Demons, Catch Me If You Can and Toy Story 3. Throughout this time, the writer/director continued to take notes and build scenes as he reflected upon the idea of what would happen to a man who starts over at the point in his life in which many would find it unthinkable.
Shares Tom Hanks: "Out of my experience in junior college came this character of Larry Crowne. He has his life completely altered by the fact that he gets fired. They let him go under the pretense that he couldn't advance because he didn't go to college. So what does Larry do? Much like when I was out of high school, thank goodness, there's a place called junior college, where nothing is expected of you except what you put into the day when you drive to campus."
In 2006, Tom Hanks further developed the concept with screenwriter Nia Vardalos, with whom he had collaborated as a producer on the blockbuster breakout film My Big Fat Greek Wedding. He says, "I wanted to work with Nia Vardalos because I needed her expertise. There are characters in this film that needed to have complete voices and complete arcs; they had to be authentic. She worked on Larry Crowne for many drafts, and then I took it and began to edit. The give and take with Nia Vardalos continued right up until the end." In their screenplay, the writers explored the emotional toll of unemployment on a middle-aged navy vet who, until now, had been a standout worker at U-Mart. His frustration is matched by the financial toll of divorce, a whopping mortgage and a gasguzzling SUV. In an attempt to widen his job prospects, Larry enrolls in East Valley Community College (EVCC) to secure a degree and make himself more marketable. Little does he realise that this one small step will alter the course of his life. The idea of the blue-collar guy who loses his job and has to reinvent himself was one that came to Tom Hanks years before the recent fiscal crisis hit the U.S. economy. In the midst of co-writing the screenplay and witnessing the aftereffects that have left millions of Americans in financial turmoil and with uncertain futures, Hanks could not help but be influenced and incorporate these elements into the material.
Nia Vardalos appreciated that the story Tom Hanks had constructed was one that is not so far-fetched. She notes: "What I like about this story is that it's very real. It is for every man, every woman out there who has felt: 'I'm working really hard, and I don't know if I'm appreciated or part of an infrastructure that will make America a better place.' All of us are replaceable, and that's a harsh reality. When that happens, you have to adapt. You have to reconstruct, pick up the pieces of your life and find a way to move on." It has been well over a decade since Tom Hanks made his screenwriting/directorial debut with the 1996 comedy That Thing You Do!, but it has long been the plan for Tom Hanks to direct this original screenplay. Though he took a supporting role in his last directorial film, he always had an eye to portray the title character in this romantic comedy.
Gary Goetzman elaborates on the details of our protagonist's life: "Larry is a regular, hard-working guy who has always tried to do the right thing. But look what happens to him? He has a home that he's underwater on, and the bank won't give him any leeway on his payments…so he gives up gives up his house to find a much simpler lifestyle."
For Tom Hanks' longtime collaborator, production flowed in the efficient manner to which they had grown accustomed over their decades of work together. Says Gary Goetzman: "As a filmmaker, Tom Hanks doesn't procrastinate or overthink every decision. He's very focused, and directing for him is a natural process. Even though he's the director and stars in the film, he was able to divide his time between these roles efficiently and effectively."
New and Old Friends: Casting the Romantic Comedy
With the shooting script ready, Tom Hanks would make one of his first casting calls to fellow Oscar® winner Julia Roberts. The writer/director and the actress have been friends for years but it was their memorable pairing in director Mike Nichols' last film, CharlieWilson's War, which, according to Julia Roberts, "cemented" their friendship. She was in Rome on the set of Eat Pray Love when she was asked to consider working with Tom Hanks again.
Julia Roberts was impressed with the part of Mercedes Tainot, the lushy college professor who studied to become an expert in political comparative discourse between Shakespeare and Shaw before she arrived at junior college. Much like Larry, Mercedes has a catharsis of her own. The performer didn't just bring her megawatt star power to the production, Julia Roberts proved her commitment to the project daily. Gary Goetzman commends the actress' work ethic on the set of Larry Crowne: "I've never seen anyone so prepared. She brought fascinating nuances to the character and shaped Mercedes into the complicated woman you see on screen. She's pitch perfect."
Tom Hanks describes that Mercedes has found herself in a place where she feels she is stuck. Of the character's arc, he notes, "There comes a time when you have to stop suffering fools…even if that means the one who sleeps in your bed every night and gets up every morning with you. Maybe that fool has to go."
Julia Roberts liked the challenge of portraying the teacher with an escalating need to drink her day away and a husband who was more interested in online porn than in his wife. Says the performer: "The story was charming, yet topical, for so many of the characters who are losing faith and trying to cope by rediscovering themselves. I was intrigued by it all, especially Mercedes and her drinking problem. As an actor to be able to play that, it is so fun and heartbreaking and challenging. She has pickled herself into this cocoon of an unhappy life. So without hesitation, I called Tom Hanks back and said I would hitch my wagon to his."
The unlikely pairing of Larry and Mercedes plays out in the classroom, when Larry's yearning to express himself motivates the professor to challenge her numbed existence. "Mercedes has issues," explains Julia Roberts. "She's in a position where her dreams are not coming to fruition the way she pictured them. In a way, she's in opposition to what Larry has decided to do for his life. She's given up a bit, and he inspires her to reinvigorate herself."
While it required a great deal of juggling, Tom Hanks' actors were impressed that he was able to pull off his multiple roles on the set effortlessly. Says Julia Roberts: "Tom Hanks gives 100 percent in every department all day long. He's happy. He's buoyant. He's present. It's mind-boggling that this is his second time directing, and he has it down. He can shape-shift from acting to directing. It's pretty impressive."
Once Julia Roberts had been cast as his leading lady, Tom Hanks seeded his eclectic ensemble with a mix of familiar and up-and-coming performers. The process proved to be easier than expected, as Tom Hanks and Gary Goetzman knew early on what performers they wanted for each role. They began by upping the comedy with Bryan Cranston as Mercedes' husband, Dean Tainot, as well as Cedric the Entertainer and Academy Award® nominee Taraji P. Henson as Larry's close friends and neighbors, Lamar and B'Ella.
Bryan Cranston, an old friend of Tom Hanks since their work together on That Thing You Do!, welcomed the call and carved out time during the hiatus of his critically acclaimed AMC series Breaking Bad to lens Larry Crowne. Preparing for the role of Dean Tainot, the self-published author with a penchant for porn, turned out to be an interesting one for Bryan Cranston. Referring to any online research, he laughs, "I didn't go there." The performer does admit: "I was a bit intimidated. I needed to look as young and vibrant as possible, so I dropped weight, got a spray tan, bleached my teeth and made sure I was firmed up. Otherwise, how would you believe that Bryan Cranston was in Julia Roberts' league?"
When discussing the crumbling of Dean Tainot and Mercedes' marriage, Bryan Cranston captures the subtext: "Any time you see couples who are separating slowly, almost at a glacial speed, it's not easily identifiable; it just starts slipping away. There's the natural instinct to self-medicate, and for the Dean Tainots, self-medication is alcohol and the escape of online porn. Dean Tainot justifies this as research for his next great novel, but we know better."
Memorable characters such as Larry's lottery-winning neighbors Lamar and B'Ella, who host a daily yard sale on the cul-de-sac, punctuate the irreverence of the story. Admittedly, the opportunity to work with Tom Hanks and Julia Roberts sparked Cedric the Entertainer's interest in the project, but the wisecracking character of Lamar is what fully captured his attention. He states, "Lamar is a really funny cat. He runs a daily yard sale as a business after winning the lottery. He didn't move when he won the big money. He stayed in his neighborhood and is officially the big man on the block."
As Larry's close friends, Lamar and B'Ella have front-row seats to observe the changes in Larry's world. They watch with initial dismay, and then cautious delight, as Larry starts a new chapter in his life. The actors, who have known one another for years, looked forward to working together again and easily fell into the rhythms of a longmarried couple.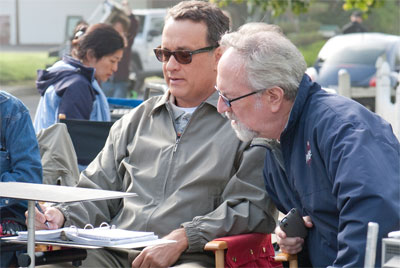 Tom Hanks' interactions with his cast as a director and leading man blended on set. Each of the cast can cite instances in which they were working with Tom Hanks and the actor forgot their director was not just a fellow cast member. That is, until Tom Hanks would yell "cut" after a take and run to the video monitor to check out what had been shot. Sums Taraji P. Henson: "He trusts his actors. It gives us all a lot of freedom, which is very rare."
Fellow community college students provide just the spark Larry needs to get his life together. Leading the motor-scooter pack is Talia, portrayed by British performer Gugu Mbatha-Raw, who most recently starred in the NBC series Undercovers. The actress was eager to take on the role of the insouciant beauty who is a catalyst for Larry's transformation.Gugu Mbatha-Raw reflects: "I just fell in love with Talia, who is quite a free spirit and inspires Larry to be the person he can be. That's the beautiful message of this movie: the end is not just the end; it's also a new beginning. Larry is faced with this potentially devastating experience, yet it inspires him to meet new people who have such an impact on his life."
The vibrantly quirky Talia's desire to makeover Crowne from head to toe ultimately leads to his hipper incarnation, one she nicknames Lance Corona. She also did the same with her beau Dell Gordo, whose own real name, Don Gordon, doesn't quite match the black leather-clad persona she's created.
This plays out alongside Larry's budding crush on Mercedes. The unlikely pairing of the attractive intellectual with a fondness for daily margaritas and the seemingly nerdy guy with his bad haircut and pleated khakis is the heart of the story and lends it charm.
Tom Hanks and Gary Goetzman called in veteran actors Pam Grier, Geroge Takei and Rita Wilson to add even more star power to the romantic comedy. The performers play, respectively, Mercedes' best friend, fellow EVCC professor Frances; quirky economics professor Dr. Matsutani; and bank loan officer Wilma Q. Gammelgaard.
1970s film icon Pam Grier recently starred in the television series The L Word and stars in the upcoming actioner The Man with the Iron Fists, alongside Russell Crowe and RZA. After a number of dramas, Pam Grier was looking forward to flexing her comedy muscle once again. "I thought, 'Hey, if I have any comedic chops left I'm going to do it for Tom Hanks," says the actress. But she couldn't overlook the dramatic strength Tom Hanks brought to the film. "The moments that Tom Hanks takes to portray his emotions, it's easy to forget anything else. Just watching him and everyone else react to that, it's incredible.
Audiences are going to feel a connection to this character who is going through so much."
George Takei, known for his iconic role of Mr. Sulu in the television and film series Star Trek, portrays Dr. Ed Matsutani, Larry's pompous but encouraging economics professor. Says George Takei of his preparation for the teacher who plays a part in Crowne's evolution: "There's a little bit of John Houseman, the college professor in The Paper Chase [1980s television series], in Dr. Matsutani. I also mixed in one of my English lit professors from UCLA. I tap into people I know and some of the things that I have in me." He jokes, "I hope people don't think I've got the ego of a Dr. Matsutani. Although I am brilliant, and people would be wise to follow my guidance."
For supporting roles in Larry Crowne, Tom Hanks and Gary Goetzman culled from a stable of actors with whom they have worked over the years, including My Big Fat Greek Wedding's Ian Gomez as Larry's café boss, Frank; The Pacific alumnae Rami Malek as Larry's classmate Dibiasi, Tom Budge as Stan, Jon Seda as Officer Diamond and Joshua Biton as Officer Baker; and That Thing You Do!'s Holmes Osbourne as Dave Busik.
Newcomers to the Playtone family include The Hangover's Rob Riggle as Larry's cocky former supervisor at U-Mart, Jack Strang, and Margin Call's Grace Gummer and Wizards of Waverly Place's Maria Canals-Barrera as, respectively, fellow EVCC classmates Natalie and Lala.
Back to School: Shooting the Film
Principal photography on Larry Crowne began in spring 2010, and the comedy filmed on locations throughout the Los Angeles area including the San Fernando Valley, Long Beach and Burbank. The filmmakers gathered a behind-the-scenes team made up of experienced veterans and longtime friends with whom Tom Hanks and Gary Goetzman have worked over the years.
One of the first locations to be shot was a Northridge neighborhood that served as the backdrop for the cul-de-sac where Larry lives next door to Lamar and B'Ella. His neighbors have a lawn littered with thousands of collectibles and bric-a-brac that any yard sale aficionado would covet. Kempster, set decorator Cheryl Carasik and their respective departments spent days making sure that these items were meticulously placed for filming.
Frank's Coffee Shop in Burbank played host to the production for a week as cast and crew filmed interior and exterior scenes of the small diner where Larry works as a line cook while attending community college at EVCC.
The team traversed multiple locations before decamping to the studio lot for filming of the interior sets of Larry's home, Mercedes and Dean's town house and several of the school classrooms and offices. The crew also spent a week filming on the campus of California State University, Dominguez Hills, where actual faculty and students stumbled upon the production as they walked across campus. The idyllic grounds allowed for cast and crew to ride on bicycles, golf carts and the occasional scooter as they moved from one end of campus to the other.
True to his interest in improvisational style, Tom Hanks gave all his actors an assignment for the film's public-speaking scenes: select your own topic and talk about it for several minutes. Tom Hanks explains the process: "Larry's first class is like speech class for boneheads. You take people who do not know how to stand up and give informal remarks and teach them how to do that. I've taken classes like that in junior college, where you have to get up and read things you've never read, and you think you're going to die the first time you have to do them. But by the end of the semester, it's the most fun class you've ever had. You look around, and everybody is enthusiastic about the final."
Admittedly, the public-speaking aspect of those scenes proved to be the most disconcerting of the shoot for all the trained actors. Julia Roberts is the first to admit the experience was awkward: "One of my first days of filming, we shot in the classroom, and I was standing in front of this group of 10 people. I was unhinged. If I locked eyes with somebody, I would forget my place. It was nerve-wracking. It wasn't until the end of that week where, one by one, everyone else had to get up and sit in my spot to give their final essay to the class." She laughs, "Every single person who got up there, including Tom Hanks, said, 'It is horrible up here.'"
Scooting Through Life: Cast and Crew Get Moving
Tom Hanks and production designer Victor Kempster led the search for the film's many scooters, which would serve as an integral force behind Larry Crowne's transformation. Supported by transportation coordinator Dan Marrow, Victor Kempster and Tom Hanks matched up each actor with his or her scooter. Their aim was to ensure that the vehicles in the film were not simply set dressing and would complement the color palette requested by cinematographer Philippe Rousselot.
When Larry purchases a scooter from Lamar and B'Ella's yard sale, his life begins to change. Explains Tom Hanks of Larry's rationale: "There's a big difference between driving to school in a huge SUV with a radio on and the air conditioning blasting versus riding to school on a noisy, oil-belching scooter. You have to have a helmet, the wind is in your face and you're feeling every element. If it's cold, you're cold; if it's hot, you're hot. Right off the bat, Larry has a new tactile experience of simply getting to class."
A sizable scooter-loving subculture exists across the U.S., and fortunately, Victor Kempster's team discovered an abundance of clubs and owners who were excited to share their passion for the vehicles-whether vintage or new models. Most were willing to loan them out, and the enthusiasts provided information on where to get parts. Still, others offered up themselves to ride as part of Larry's posse.
Pairing a scooter to each character took some thought, and Victor Kempster, Gary Goetzman and Tom Hanks began meticulously researching the aesthetics and mechanics of the cast of vehicles. The search went far beyond suburban Los Angeles to all corners of the United States. From postings on Craigslist to putting out the call to scooter clubs nationwide, the crew was tasked to secure multiple bikes…at least two each of the core-character scooters.
When assembling the primary and the background scooters was almost complete, the filmmakers had still not decided on a bike for Tom Hanks' character. Serendipitously, as Tom Hanks, Gary Goetzman and their production crew were scouting locations, they stumbled upon the perfect bike at CSU Dominguez Hills, the location they would use for the fictitious East Valley Community College.
Tom Hanks left a note for the owner that explained how he was making a film and wanted to use the scooter. The owner, a middle-aged man who himself had recently returned to college, was initially a bit skeptical. After he Googled "Tom Hanks and Larry Crowne," he called the number…still thinking it was a prank. His fears assuaged, his 1983 Yamaha Riva 180 was cast in the film, along with three other identical scooters that Marrow tracked down from different corners of California.
In all, key crew-along with several L.A.-based shops that work specifically with scooters-borrowed and refurbished a total of 30 bikes, a mix of vintage and fresh off the assembly line. Valderrama's leader of the pack, Dell Gordo, rocks a black Vespa Vino, while Mbatha-Raw's Talia zooms around on a rare Italian import, an Italjet Bella Figura that had its manual transmission converted to a specialised electric engine. This made the Figura an easier ride for the non-driving Brit, who had to take driving lessons and get a driver's license for the role. Finally, a vintage 1960s Lambretta X200 Special, an Italjet Velocifero, a three-wheel Piaggio and genuine Stella scooters round out the core group of bikes.
As invaluable as the technical and mechanical scooter-club resources were for the team, they also provided a wealth of background material for the actors portraying the scooter posse that indoctrinates Larry into its club. Valderrama, admittedly a car guy who had never ridden a scooter prior to his involvement in Larry Crowne, was inclined to do some research. "I discovered this wonderful community that was so passionate and proud about their scooting," he says. "It was so charming and special to see people who enjoy something so much. It's terrific that Tom Hanks is able to highlight this unique culture."
Mbatha-Raw was able to experience a little of that magic when she went with Tom Hanks and a group of 20 scooter enthusiasts to take over streets in the San Fernando Valley for the filming of a montage sequence on the open road. "Tom Hanks and I were scooting in the Californian sunshine, and then we were joined by the whole group," the actress recounts. "I felt that sense of unity, and it was wonderful."
To ensure that the entire cast was comfortable handling the bikes, the filmmakers conducted a training camp that gave all the opportunity to get acquainted with their bikes as they navigated an obstacle course. "No green screen for us, we just went for it," laughs Valderrama.