Innovative augmented reality (AR) App allows children to star in The Wiggles videos as their favourite characters… and so much more!
Australian tech start-up, Weyo, has partnered with The Wiggles and ABC Music to launch a ground-breaking new App, 'The Wiggles - Fun Time with Faces'.

This dynamic App uses first of its kind interactive video technology and cutting-edge AR 3D masks to delight and excite children as they use their imagination and creativity to play along with The Wiggles.

'The Wiggles - Fun Time with Faces' App contains safe and engaging interactive content from the world's most loved children's entertainment group, The Wiggles, easily accessed on iPhone and iPad.

Children can star in their own unique Wiggles interactive stories narrated by the delightful Yellow Wiggle Emma, become Dorothy Dinosaur, have fun with face masks and filters, and sing and play along to The Wiggles' videos. Kids (and grown-ups!) will love using their imagination and creativity playing the starring role in their very own Wiggles journey.

'The Wiggles - Fun Time with Faces' App features four fun houses to play in:
Each house on the App stays fresh and fun with more stories, songs, videos, masks and stickers added regularly, all to keep the little ones engaged and interactively entertained.

1) 'Fun Time with Videos' house is where children can stream their favourite video clips by The Wiggles directly to their device via the App. There's a host of Wiggles videos to enjoy including Rock-a-bye Your Bear, Emma (With the Bow In Her Hair), Old MacDonald Had a Farm, Hot Potato and more.

2) 'Play Time with Faces' house is an open 'play your own way' sandbox encouraging children to express themselves in their own way with 2D masks, and the iPhone X, iPhone XS and iPhone XS Max and iPhone XR also has 3D masks. There are no rules, no time limits and children are free to create and play how they please.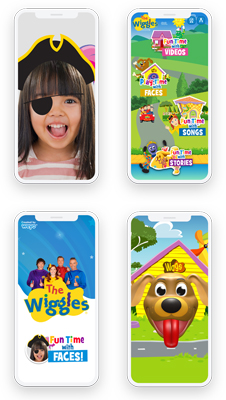 3) 'Fun Time with Songs' house is a new way of telling stories and singing songs with interactive AR video enabling children to learn and engage with their favourite Wiggles' characters like never before.

While watching their favourite Wiggles' songs, children can star in them too, as they film themselves singing along and wearing Wiggles-inspired AR masks.

Featuring favourite Wiggles songs like Hot Potato, Do the Propeller and Rock-a-Bye Your Bear, kids (or mums, dads and grandparents) have the camera turned on them to record themselves into the Wiggles video, as fun masks appear on their face.

'Fun Time with Songs' also features the 'Funny Button' that keeps the kids engaged and having fun as they can add their choice of unique Wiggles stickers to the video, like stickers of Wags the Dog barking, Captain Feathersword's Sword or Emma's 'bowtiful' bow in their hair.

Children can replay and record as many times as desired and save the video to their device's library.

4) 'Fun Time with Stories' house brings a 'learn-through-play' immersive experience to two to five year olds, narrated by Emma Wiggle. Using Apple's ARKit, children become their favourite characters with animated emoji-style 3D masks, including Wags the Dog, Dorothy Dinosaur and Henry the Octopus. Emma guides the children on an interactive journey through song, language and structured play encouraging them to become their favourite character – they can bark and catch bones as Wags the Dog or munch on roses as Dorothy Dinosaur using Apple's amazing face tracking and tongue detection technology.

'Fun Time with Stories' house is an iPhone X, iPhone XS, and iPhone XS Max and iPhone XR exclusive at launch and this is The Wiggles' first ever ARKit App experience.

Of the launch of the new App, The Wiggles' Founder and Blue Wiggle Anthony Field said: "It's exciting for us to bring the fun of The Wiggles into an App where children can safely play offline on mum and dad's iPhone or iPad and enjoy their favourite Wiggles characters and songs. Whether they're playing their part as Dorothy Dinosaur, barking as Wags the Dog, or settling in for a story with Emma, we love that this App will bring happiness and joy to children which, after all, is what The Wiggles are all about."

Weyo's Co-founder Baz Palmer continues: "These days 95% of kids under the age of five have access to a mobile device and parents worry about online safety and their kids consuming junk. When creating Weyo, our aim was to deliver quality content for children, so for our first launch App, we've teamed up with the most trusted brands - The Wiggles and ABC Music - to deliver the best age-appropriate content, all in one great premium App. With 'The Wiggles - Fun Time with Faces' App, children can use their imaginations and get creative with their most loved Wiggles characters, all in a safe environment, giving parents much needed peace of mind."

Children's safety is paramount to Weyo, 'The Wiggles -Fun Time with Faces' App is fully compliant with COPPA (The Children's Online Privacy Protection Act) and GDPR (General Data Protection Regulation). This means the App is fully contained in the user's device, with no user data collected and no user content saved on the App's servers. All in-app purchasing for subscription is managed by the Apple App Store.

'The Wiggles - Fun Time with Faces App' by Weyo, is free to download and try for one week (with full content access), and reduced content is still available free after the trial has ended. Then, to access full and exclusive content, a monthly subscription fee of AUD$1.99 per month is offered (opt-out anytime), or a discounted yearly fee of AUD$19.99 per year. 'The Wiggles - Fun Time with Faces' App can be downloaded from Apple's App Store.
ᐧ