The Stoning of Soraya M.
Cast
: Shohreh Aghdashloo, Mozhan Marnò, James Caviezel, Navid Negahban, Ali Pourtash, David Diaan, Parviz Sayyad
Director
: Cyrus Nowrasteh
Genre
: Crime, Drama
Rated
: MA
Running Time
: 114 minutes
Synopsis
: In a world of secrecy, corruption and injustice, a single courageous voice can tell a true story that changes everything. This is what lies at the heart of the emotionally charged experience of The Stoning of Soraya M.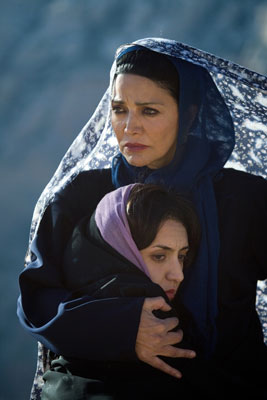 Based on an incredible true story, this powerful tale of a village's persecution of an innocent woman becomes both a daring act of witness and a compelling parable about mob rule. Who will join forces with the plot against her, who will surrender to the mob, and who will dare to stand up for what is right. It is both a classic fable of good and evil and an inspiring tribute to the many fighting against injustice all around the world.
The Stoning of Soraya M. was a rousing runner-up to "Slumdog Millionaire" as the Audience Favorite at the Toronto Film Festival. Academy Award® nominee Shohreh Aghdashloo ("House of Sand and Fog") stars in the heroic role of Zahra, an Iranian woman with a burning secret. When a journalist (Jim Caviezel, "The Passion Of The Christ," "Déjà Vu") is stranded in her remote village, she takes a bold chance to reveal what the villagers will stop at nothing to keep hidden. Thus begins the remarkable account of what happened to Soraya (Mozhan Marnò), a kind, spirited woman whose bad marriage leads her cruel, divorce-seeking husband to conspire against her, trumping up charges of infidelity, which carry an unimaginable penalty. Moving through a minefield of scheming, lies and deceit, Soraya and Zahra will attempt to prove Soraya's innocence in a legal system stacked against her. But when all else fails, Zahra will risk everything to use the only weapon she has left - her fearless, passionate voice that can share Soraya's story with a shocked world.
The Stoning of Soraya M. is inspired by Paris-based journalist Freidoune Sahebjam's acclaimed international best-seller of the same name which, rife with intrigue and moral outrage, first brought global attention to the real Soraya, who in 1986 was buried to her waist in her hometown square and stoned to death by her fellow villagers.
Director Cyrus Nowrasteh, along with his wife and fellow screenwriter Betsy Giffen, Nowrasteh, saw in Soraya one story that stands for thousands of untold tales around the world, from Africa to Asia, from Europe to America, wherever people are battling prejudice and injustice. Their screenplay takes the hard facts surrounding Soraya's fate and carves from them a lyrical, fable-like passion play that gets under the skin by posing a provocative question: who among us would throw stones and who would take a stand against them?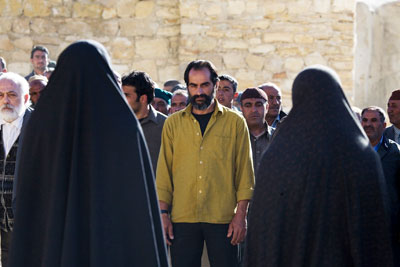 Verdict
: You may have heard through the media stories about honor killings, and the brutal and archaic torture of stoning. But it is hard to comprehend the true horror of what happens. That is until it is shown to you through the story of the last days of Soraya, in a film by director Cyrus Nowratech.
The movie is an adaptation of the book published in 1994 by world renowned journalist Freidoune Sahebjam. It is a true story about a 35 year old Iranian woman falsely accused of infidelity by her husband, convicted by the leaders of her village and killed by her family, neighbours and community. The motivation behind her brutal treatment is that her husband wants to marry a 13 year old girl he desires. And although polygamy in Iran is legal, Ali chooses not to take this path as he does not want the expense of having two wives - Soraya in the movie describes herself chillingly as an inconvenient wife.
The murder of Soraya happened in a town in Iran called Kupayeh in 1986 - the movie is shot in a beautiful town made of stone, the Middle East location has never been disclosed, but the film was made with the gentle help of the town's people.
The movie begins pre dawn, a women silently leaves her home to walk down to the river. There she shoos away a dog nursling some bones looking for the last scraps of a meal. The scattered bones are what are left of the body of Soraya, ordered by the mullah of the town not to be buried but rather left for the beasts to devour. The woman is Zahra, Soraya's beloved aunt; she quietly washes the bones of her niece and buries her remains in the sand.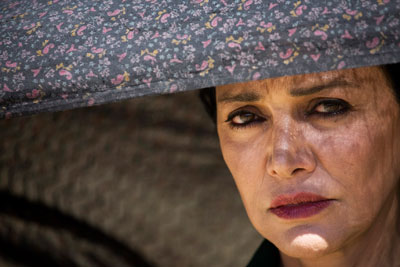 The film is narrated from Zahra's point of view, and is as much about Sorayas last days as it is about the bravery, strength and determination that Zahra shows in getting the story out to the world.
It is also a damning portrayal of the men in the village, and highlights the position of weakness that women living in these regimes find themselves in.
Nowrasteh pulls no punches, especially with the stoning scene, it is graphic and terrifying, but cinematically never reduces what is happening to gratuitous violence. It is the first time that this brutal torturous punishment has ever been depicted on film, and shows what happened to Soraya, and to others that still die in this way.
Release Date
: Screening exclusively at Kino Cinemas, Melbourne from 27th of May 2010
Website
:
www.thestoning.com