The Killer Inside Me
Cast
: Casey Affleck, Kate Hudson, Jessica Alba, Simon Baker
Director
: Michael Winterbottom
Genre
: Crime, Drama, Thriller
Rated
: MA
Running Time
: 108 minutes
Synopsis
: Based on the novel by legendary pulp writer Jim Thompson, Michael Winterbottom's The Killer Inside Me tells the story of handsome, charming, unassuming small town sheriff's deputy Lou Ford.
Lou has a bunch of problems. Woman problems. Law enforcement problems. An ever-growing pile of murder victims in his west Texas jurisdiction. And the fact he's a sadist, a psychopath, a killer. Suspicion begins to fall on Lou, and it's only a matter of time before he runs out of alibis. But in Thompson's savage, bleak, blacker than noir universe nothing is ever what it seems, and it turns out that the investigators pursuing him might have a secret of their own.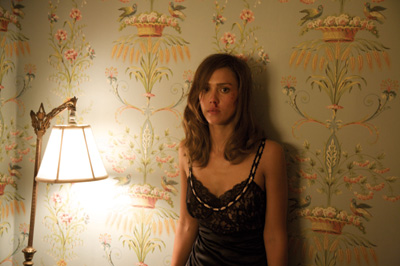 Verdict
: The Killer Inside Me is a psychological crime thriller that although predictable is extremely horrifying. The violence in this film is expected, but is still shocking and will have audiences, Australia wide, gasping.
The Killer Inside Me is a dark film that will take audiences on a journey through the mind and story of the mad and eerily creepy Lou Ford.
Casey Affleck is convincing in his performance as unbearable Lou Ford. Audiences will be surprised and shocked by the thoughts and decisions, the disturbed murder, Lou makes throughout the film as he becomes enthralled in the killing rampage. Kate Hudson and Jessica Alba both showcase their amazing acting talents in this drama although they are acting as female objects rather than real human beings.
I thoroughly enjoyed the 1950's appearance of the film; from the costumes and music to the Texas location and lingo.
Surprising, graphic and interesting; The Killer Inside Me is for the older audience and I recommend a good debrief afterwards.
Rating
: **
Brooke Hunter
Release Date
: August 26th, 2010.
Website
:
www.killerinsideme.com
The Killer Inside Me Interviews
Michael Winterbottom - www.femail.com.au\michael-winterbottom-the-killer-inside-me.htm
Kate Hudson - www.femail.com.au/jessica-alba-the-killer-inside-me.htm
Jessica Alba - www.femail.com.au/kate-hudson-the-killer-inside-me.htm
Casey Affleck - www.femail.com.au/casey-affleck-the-killer-inside-me.htm