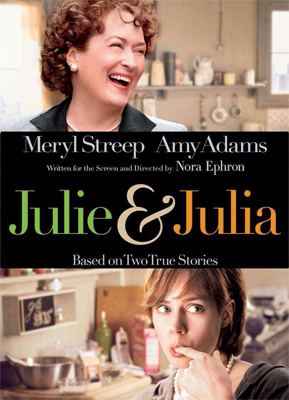 Julie and Julia
Cast
: Meryl Streep, Amy Adams, Stanley Tucci, Chris Messina, Jane Lynch
Director
: Nora Ephron
Genre
: Biography, Comedy, Drama, Romance
Rated
: PG
Running Time
: 123 minutes
Synopsis
: Meryl Streep is Julia Child and Amy Adams is writer Julie Powell in Nora Ephron's comedy Julie & Julia.
Before Ina, before Rachael, before Emeril, there was Julia, the woman who forever changed the way America cooks. But in 1948, Julia Child (Meryl Streep) was just an American woman living in France. Her husband's job has brought them to Paris, and with her indefatigable spirit, she yearned for something to do.
Fifty years later, Julie Powell (Amy Adams) is stuck. Pushing 30, living in Queens and working in a cubicle as her friends achieve stunning successes, she seizes on a seemingly insane plan to focus her energies. Julie decides to spend exactly a year cooking all 524 recipes in Julia Child's Mastering the Art of French Cooking (which Child co-wrote with Louise Bertholle and Simone Beck) - and write a blog about herexperiences.
Director-writer-producer Nora Ephron seamlessly melds these two remarkable true stories into a comedy that proves that if you have the right combination of passion, obsession, and butter, you can change your life and achieve your dreams.
Release Date
: October 8th, 2009
Website
:
www.JulieAndJulia.com.au