The Hunter
Cast
: Willem Dafoe, Frances O'Connor and Sam Neill
Director
: Daniel Nettheim
Genre
: Drama, Adventure
Rated
: M
Running Time
: 100 minutes
Synopsis
:The Hunter is a powerful psychological drama that tells the story of Martin (Willem Dafoe), a mercenary sent from Europe by an anonymous biotech company to the Tasmanian wilderness on a hunt for the last Tasmanian Tiger.
Local guide, Jack Mindy (Sam Neill) provides Martin with a base camp - the ramshackle home of spirited children Sass (Morgana Davies) and Bike (Finn Woodlock), and their despondent mother Lucy (Frances O'Connor), whose husband, a zoologist, has been missing in the wilderness for months. Keeping his mission to find the Tiger a secret from the family and the local townspeople, Martin's suspicions are raised when his traps and equipment are sabotaged and he is followed during his solitary expeditions into the harsh country.
As he is drawn into the search for the elusive Tiger, Martin's empathy for the family deepens and his unexpected connection to them, and majestic wilderness around him, forces him to confront the reality of his work and personal morality, with dramatic consequences.
Release Date
: 6th of October, 2011
Website
:
www.thehuntermovie.com
From Page to Screen
The Hunter, co-financed by Screen Australia, Screen New South Wales and Screen Tasmania, was developed and produced by Porchlight Films, the Sydney based production behind last year's Academy Award® nominated independent hit Animal Kingdom.
The film tells the story of Martin (Willem Dafoe), who has been sent to Tasmania to search for the last Tasmanian Tiger, rumoured to be roaming the remote Tasmanian wilderness. Set against the rugged, mysterious landscape The Hunter is a taut, psychological drama about the human condition, the choices we make and the implications they have.
Director Daniel Nettheim was attracted to the idea of turning the book into a film because it told an intimate story set against an epic backdrop. He felt it was "a highly focussed narrative with a strong emotional core, exploring the themes of isolation, loneliness, grief, survival and compassion. It is a story about the fragility and vulnerability that occurs when we open ourselves up to the experience of human emotions". He explains, The Hunter is a story about lonely people and asks the question "is it possible to find a connection in a harsh and cruel world, is it possible to have another chance in life?"
The original novel The Hunter resonated with readers and producer Vincent Sheehan was compelled to make the film because he felt that the book "was a really striking piece of literature that also had a very cinematic world; a powerful journey of a central character. While being distinctly Australian its themes had strong international appeal."
Daniel Nettheim and Vincent Sheehan first met at Sydney College of the Arts in the 1980s and remained friends. Vincent Sheehan shares "both Daniel Nettheim and I were interested in adapting the book at the same time, and we spoke about it and shared a very similar vision for what it could be. So I optioned the book, with Daniel Nettheim as the director, and we went from there."
It is always a unique transition from page to screen, and the screenplay extracts the intense emotions, relationships and beauty of the original story, heightening the mystery and thriller elements to drive the action forward and build suspense.
Daniel Nettheim wrote an initial treatment and then worked with Melbourne based writer Wain Fimeri on early drafts. Sydney based writer Alice Addison took over as the principle writer, developing core elements of the existing script and adding her own unique perspective.
The cast were encouraged to read the book to further enhance their understanding of the world; all the same Willem Dafoe (who plays Martin) says, "I didn't read the book for the longest time because I had my hands full with reading the scripts and seeing what was coming off the script, without having an allegiance to another source. And then once I felt the script was really well developed I asked Daniel Nettheim, 'Do you think I should read the book?' and he said 'yeah, go ahead'. It's faithful in a certain way, but it's really a different story…"
Frances O'Connor (who plays Lucy Armstrong) has starred in other screen adaptations and says reading the novel "helps to flesh things out. There are a lot of differences between the novel and the adaptation, but I am glad I read it. There was some nice detail about my character that wasn't necessarily in the final draft of the script."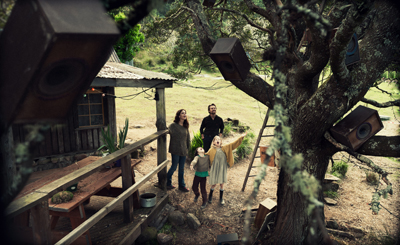 Funding the Hunter
It's never easy getting film finance together and producer Vincent Sheehan says "The Hunter certainly had its challenges. We initially had a lot of interest from investors based on the book, but it was also a complex film in terms of logistics and shooting so you couldn't make it on an ultra low budget." A strong cast and script were always going to be the key.
By the time a final draft had been developed and a compelling vision for the film realized, one question remained, "Who would play Martin? Who would play 'the foreigner'? "This was key for us making a distinctive and appealing international film and Daniel became the lynchpin in securing Willem Dafoe" claims Vincent Sheehan. Daniel Nettheim met Willem Dafoe New York in October 2009 and they immediately connected. With Willem Dafoe attached there was a new pitch, "Willem Dafoe is The Hunter". So now many of the dots were joined both creatively and in terms of the distribution partners and, as is often the case, "other elements started to fall into place quickly" Vincent Sheehan explains.
Discovering Family - Casting The Hunter
Martin is in every scene and although this was important to financing the production, it was also essential to ensuring that audiences connected to Martin's journey towards self-realisation and possible redemption.
Director Daniel Nettheim says, "It is crucial that Martin is much more than merely enigmatic. The audience needs to find him compelling to watch, strong, physically attractive, surprising, intelligent, resourceful, sexy, compassionate, and ultimately Lucy's saviour and a realistic father figure for Sass and Bike." At the really early stages of development Academy Award® nominee Willem Dafoe was at the top of the list for Martin.
Vincent Sheehan adds, "It had to be an actor who offered leading man qualities as well as being believably old enough to be facing his 'last chance of redemption' while also being profoundly physically fit. There are very few actors who match all of these categories. Willem Dafoe does, and as one of the most charismatic actors of his generation, he remained high on our list. When Willem Dafoe got involved, everything about him made us think 'Yes! We're on the right track to where we thought Martin Dafoe wanted to be'… it was the perfect casting."
With more than 60 films under his belt Willem Dafoe was able to offer a wealth of experience and was extremely generous. Director Daniel Nettheim offers, "I kind of went into the relationship thinking I am going to let this guy help me as much as he can. So I encouraged him to offer up stuff. Not just about his character but about the whole story. And the good thing is that Willem Dafoe really believes in this project and is committed to it."
William Dafoe understood Martin's emotional journey and said, "basically I feel he's a man that goes from unfeeling and a certain kind of cut off-ness to someone that realises new possibilities in his life. One of the beauties of being a central, main character like this, and having a transforming journey that happens, is that you are working every day and you get very little distance from things. And for me in particular, it's a luxury of having a slow reveal in this way, so I just sort of play the scenes and have the story work on me."
William Dafoe continues, "I feel like a real collaborator with Daniel Nettheim, and he relies on me for that and lets me do that - which I like to do. But at the same time, the film is in his hands. Anytime with a director it's about creating a trust, and the fact that he entrusts so much to me and gives me this beautiful character to play, helps me to tell his story."
Co-star, Sam Neill (who plays Jack Mindy) has worked three times with William Dafoe and was intrigued by the script straight away, "The first thing I look for in a script is that I want to turn the page and see what happens next, and this was one of those where I wanted to know what happens."
Producer Vincent Sheehan and Sam Neill spoke about the role of Jack, an unusual role for Sam Neill, "Even Sam Neill said this is not what he usually gets cast for, and I think that's always a good thing, especially with characters that are less of the central role. I think Sam Neill has given us an amazing Jack Mindy just because of the ambiguity of where Jack sits in relation to all the characters, it is more profound, intriguing and more mysterious. 'Who is Jack and where does he sit?' That is played very beautifully and that's what Sam Neill's given us, which was beyond what was on the page."
Sam Neill adds, "Jack is seething with secrets and undercurrents. He has different agendas and really, I think he wants the best for everybody, but it's not to be. He has an undeclared passion for Lucy - a much younger and more attractive person. And that is never going to happen, and he knows that - but it's nice to try."
In The Hunter, it is Lucy Armstrong and her spirited children that transform Martin to reveal the vulnerable man underneath.
"The role of Lucy presents an interesting challenge for an actress, as she has to redeem herself from the dark place - that of a self-medicating, semi-comatose, neglectful mother. Once emerged from her cocoon, she will need to display an enormous amount of vitality, warmth, beauty and love to win the respect of both Martin and the audience. Casting an actress who naturally possesses these qualities was crucial," says director, Daniel Nettheim.
Frances O'Connor found Lucy an interesting character, "Lucy is a free spirit. She's somebody who really enjoys life, but when we meet her she's broken; her husband is missing and she is addicted to sleeping pills and painkillers. Through the course of the film she kind of wakes up and is saved in many ways, by Martin's character, and then we see who she really is, who she was before."
Director Daniel Nettheim wanted to show how Lucy was also transformed by her connection to Martin in the film. "Lucy was a vibrant academic hippie mum and she is invigorated by Martin's presence in the house to try and find her former self, in a way, she's trying to find redemption for her neglect of the kids - the suffering. We witness Lucy returning to form," he adds.
As Lucy, Frances O'Connor plays the mother of two children, Sass and Bike who in many ways are the catalyst for Martin's personal journey. Until Lucy's emergence from her drug-induced apathy, the children carry the bulk of the joy, humour and lightness of the film. The entire cast and crew think the kids were a real find.
Morgana Davies (Sass) had just been seen in The Tree and there was something about Morgana's personality that was inherently in sync with Sass the character. "You know she's a real tomboy, kind of boisterous, energetic and very confident around adults and that embodies the Sass character," explains Daniel Nettheim.
Finn was sitting waiting for his big sister to finish her audition for Sass when he was discovered. There was something about Finn's great doughy eyes and soulful face that really worked for the character. Daniel Netthiem describes the difference between Finn and Bike, "Bike is mute, but Finn likes to talk, a lot! And that's what he told me. He said the only difference between me and Bike is that I really like to chat! So between takes he did, but it was amazing once we called action how still and composed he could be."
It was very important and challenging for William Dafoe not to get too taken in by the kids. For the sake of the development of Martin's character William Dafoe had to try to remain reserved, "I had to always watch myself. Because you can enjoy playing with them… but then you get sweet and kind of paternal with them. But Martin is a very detached character, so I always had to find my reasons for keeping a distance," laments William Dafoe.
And Francis O'Connor (Lucy) adds, "The wonderful thing about kids is they have a great enthusiasm and that's terribly infectious to work with. And Morgana - I think she's great at improvising. So you'll do the scene and play it and she'll add stuff, so you'll just riff on that."
Shooting in Tasmania
The Landscape
Filming took place entirely in Tasmania, starting in the south where The Grand Chancellor Hotel Foyer in Hobart was used as a Paris airport location; then on to the top of Mt Wellington for a snow blizzard; then west to the small logging town of Maydena and National Park for the pub, general store, forest walks and a real Forest blockade; and then north to Deloraine, a small town set under the backdrop of the Great Western Tiers where the Armstrong house was located. Above Deloraine filming also took part on the majestic escarpments of Tasmania's Central Plateau. And finally to Derwent Bridge, for the distinctive button grass plains and eucalyptus forests.
The landscape provided as many opportunities as challenges, with rain and snow putting the whole production crew on their toes, and offering the director a chance to work with the weather rather than against it. It's not an easy environment, and as director Daniel Nettheim says, "There were a great variety of landscapes and weather, literally within an hour. Blizzards, rain, snow!"
The brooding atmosphere of the Tasmanian wilderness is a character in itself, as it affects everyone involved in the drama, and the scenes are breathtaking in their wild beauty. Martin's a lone figure in the landscape, with no one else around and just nature to respond to, making him aware of himself, which helps him question what he is doing in a moral ethical way.
Production Designer, Steven Jones-Evans, was brought on right at the start to ensure the location conveyed the right visual feeling and reflects, "we were looking for a variety of landscapes to convey the journey he makes - it starts out as an ascension, from the bottom through rainforests, through creeks and works his way up over the plateau."
The Armstrong House was the Location scout Brendan Shanley's biggest challenge. Daniel Nettheim and designer Steven Jones-Evans had many boxes to tick; "we needed to find a house that expressed the idea that these characters have embraced the wilderness. We went about finding a house that was built of recycled materials, that was very green efficient… something that could express the character's spirit and their relationship to wilderness, and to nature."
Forest Wars
A backdrop of the story is the interface between loggers and the Greenies/activist. The character Jack Mindy (Sam Neill) is someone in between this struggle, "Jack is someone who understands you have to save wilderness and big trees, but at the same time people need jobs and there would be no life in these little communities if it wasn't for forestry and this is something that's red raw here. And you have to come here to kind of experience how real and emotionally charged that is. So you couldn't do that - you could not tell this story anywhere else," says Sam Neill.
Vincent Sheehan adds, "It is a sensitive issue but also such a significant part of the culture that you could not avoid it. We didn't want to sanitise the issue but our story doesn't take sides. The Loggers on site and at the pub were real, the protestors were too." Vincent cites a very special moment for him being greenies and loggers sharing tables at lunch."
In Search of Love, Hope, Redemption and the Tasmanian Tiger
According to director Daniel Nettheim, in The Hunter the figure of the Tasmanian Tiger is a catalyst for Martin's deeper journey, "The tiger is Martin's goal, one which often seems unattainable, perhaps impossible."
He elaborates on how the tiger represents the themes that are also reflected between characters in the story, "The tiger certainly represents hope, but it's a double edged sword because the tiger represents our failings as a colonising nation. It asks the question, can we redeem ourselves as a race?"
"In some way The Hunter is a love story too… But it's about people who don't know how to express or receive love, so it's a thwarted love story. The characters sublimate their quest for love into something much more elusive - in this case it's the Tasmanian Tiger - which, although it's not a story about the Tasmanian Tiger, it is there, on the fringe as this ever elusive kind of creature that everyone's hoping to find but will anyone ever succeed? A bit like love."
The elusiveness of the Tasmanian Tiger has made it an iconic figure and Production Designer Steven Jones-Evans spoke to quite a few believers who claimed sightings as late as the early 70's. He explains, "There's been no strong photographic evidence since the last one died in captivity in 1936 but it doesn't dull their belief. So to me it's akin to a kind of religion. Yeah - it's a faith."
The tiger's extinction, which remains a contentious issue to some, is seen as somewhat of a tragedy, "it's very easy to romanticise because there's such limited understanding of it, becoming even more mythic, so it becomes a perfect creature to chase" say Sheehan.
William William Dafoe feels that the tiger represents a certain kind of nostalgia, "A hope that we haven't poisoned our planet…. It also seems because so much of Tasmania is wilderness… it's easy to imagine that something could exist for many, many years without coming into human contact. So there's a little part of me that hopes that Tasmanian Tigers still exist."
From the Director: Story, Design, Photography, Hunting and Music
I was attracted to The Hunter as a film project initially because of the power of its story. It's a highly focussed narrative with a strong emotional core, exploring the themes of isolation, loneliness, grief, survival and compassion. It is a story about the fragility and vulnerability that occurs when we open ourselves up to the experience of human emotions.
From the outset, this was a story I felt a strong personal connection with. Ever since I was a young child I have spent a lot of time in the Australian bush - walking, camping, climbing, exploring, including many family trips to Tasmania. I have always been deeply drawn to the sense of isolation and calm that the bush can offer, the deep sense of escape into another world and the opportunities for meditation and reflection that this world invites.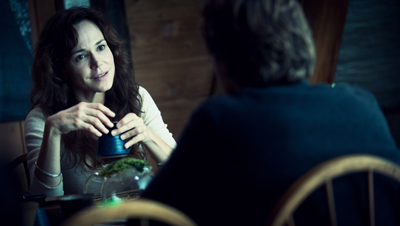 The film of The Hunter sets out to use this landscape to strong dramatic effect. It is an environment that for some can appear familiar and inviting, yet to many others appears wild, exotic and inhospitable. The main character, Martin is comfortable with this setting, indeed with any isolated natural terrain. Paradoxically, while he is highly respectful of the bush, his business within it is essentially destructive, and this story explores the uneasy relationship that has always existed between man and nature.
The Hunter is intended as a contemporary take on the traditional 'adventure in the wilderness' genre, depicting the beauty and poetry of the landscape in a way that doesn't need to be explained or psychologised. The figure of the tiger in this story is not mythologised, nor is its presence purely symbolic. It serves primarily as an elusive goal for the main character, one which often seems unattainable, perhaps impossible, but which is a catalyst for Martin's much deeper journey into himself.
Working closely with a talented cast and crew, we have endeavoured to produce a visually rich film, with the landscape being used to evoke shifting emotional states. In collaboration with cinematographer Bob Humphreys we chose to shoot in the widescreen format to best capture the majesty of the landscape. During our preparation, we referred back to many examples of classic widescreen filmmaking, including New Hollywood films of the 1970s, and many of the great Westerns.
In collaboration with Humphreys and Production Designer Steven Jones-Evans, we chose locations primarily for their prevailing topography and weather conditions, allowing a transition across the story from verdant rainforest through to barren mid winter. Some of the final exteriors of the story were shot on the peak of Mt. Wellington, during blizzard conditions. Artificial snow was used in the surrounding scenes to further underscore the bleakness of Martin's emotional state.
The shooting schedule was carefully designed to avoid filming exteriors in the middle of the day, as we were after an atmospheric look of low light and long shadows. We also wanted to avoid direct sunlight wherever possible. Fortunately, the perpetually shifting light conditions in Tasmania allowed us plenty of scope to achieve this result and the weather was kind to us in that it was frequently 'bad'.
In collaboration with Sound Designers Liam Egan and Sam Petty we have endeavoured to convey Martin's heightened senses - his ability to hear the slightest twig crack in a forest, his ability to detect the presence of another living thing, human or animal, from a great distance. To this extent the sound design is sometimes heightened in a highly subjective manner. Together with the score, by the talented team of Andrew Lancaster, Matteo Zingales and Michael Lira, sound design has been used to build the tension and suspense during Martin's search as a hunter, and later as the hunted.
Source music is also critical in setting the tone and pace of the film. Martin's classical and opera music informs certain scenes within the story, one of the few small luxuries he allows himself. In stark contrast, there is only contemporary song - Bruce Springsteen's I'm On Fire. We have negotiated permission to license the original recording from the artist, who is very particular about its use. Busting to life from Jarrah's record player, as if his ghost, I'm On Fire underpins a key emotional moment - the awakening of Lucy.
One of the great revelations for me in the making of this film was the intricacy involved in the laying of traps and snares. There can be a great deal of artistry, and philosophy, involved in the act of hunting. Willem was determined to capture this aspect of his character as accurately as possible, and we employed a talented and charismatic 'survival expert' to help us in this pursuit. This infused Martin's character with a great amount of authentic detail, from the way he used his tools to the way he moved through the bush. Although the hunting sequences in the film may appear as cruel or brutal to some, hunting is one of the oldest pursuits known to mankind, and carries with it a long tradition of wisdom and skill. I hope we have been able to capture some of its inherent beauty.