Real Steel
Cast
: Hugh Jackman, Evangeline Lilly, Dakota Goyo, Kevin Durand, Anthony Mackie
Director
: Shawn Levy
Genre
: Drama, Action
Running Time
: 127 minutes
Synopsis
: A gritty, white-knuckle, action ride set in the near-future where the sport of boxing has gone high-tech, Real Steel stars Hugh Jackman as Charlie Kenton, a washed-up fighter who lost his chance at a title when 2000-pound, 8-foot-tall steel robots took over the ring. Now nothing but a small-time promoter, Charlie earns just enough money piecing together low-end bots from scrap metal to get from one underground boxing venue to the next. When Charlie hits rock bottom, he reluctantly teams up with his estranged son Max (Dakota Goyo) to build and train a championship contender. As the stakes in the brutal, no-holds-barred arena are raised, Charlie and Max, against all odds, get one last shot at a comeback.
Release Date
: October 6th, 2011
Courage is Stronger than Steel
In DreamWorks Pictures' gritty, white-knuckle action ride "Real Steel," Hugh Jackman stars as Charlie Kenton, a washed-up boxer in the near future who, because his sport has been taken over by 8-foot steel robots, now lives in a world where he doesn't fit in. With no fights and no prospects, Charlie Kenton is forced to hustle as a small-time robot fight promoter. He earns just enough money to survive by piecing together low-end "bots" and traveling from one seamy underground boxing venue to the next for whatever prizefight he can wrangle for his automatons. Just when things can't become any more desperate and complicated, his estranged, tough-beyond-his-years son Max (Dakota Goyo) suddenly and unwillingly comes back into his life.
The alienated duo reluctantly team up to rebuild and train a scrap-heap robot and turn it into a boxing contender. As stakes in the brutal, no-holds-barred fighting arenas are raised, against all odds Charlie gets one last shot at a comeback.
"Real Steel" is an underdog story with cinematic scope and a unique premise that offers surprises along the way. The film combines the best of grand spectacle with relatable, grounded storytelling. "Real Steel" Director Shawn Levy experienced the story as a tale of redemption for three lost and forgotten souls. "The main characters--a father, his son and a machine--are each abandoned beings," Shawn Levy says. "All three of them have been cast aside and forgotten. The substance of the story is about how this trinity has a chance of returning to grace."
Don Murphy, Susan Montford and Shawn Levy are producing "Real Steel." Executive producers are Jack Rapke, Robert Zemeckis, Steve Starkey, Steven Spielberg, Mary McLaglen and Josh McLaglen. The screenplay is by John Gatins, from a story by Dan Gilroy and Jeremy Leven.
"Real Steel" is based in part on legendary sci-fi master Richard Matheson's short story titled "Steel," which was adapted for a 1963 "Twilight Zone" episode, starring Lee Marvin. Richard Matheson's prolific career has spanned over half a century, with many of his popular novels, including "I Am Legend," "Hell House," "Somewhere in Time" and "What Dreams May Come," adapted to feature films. Richard Matheson was inducted into the Science Fiction Hall of Fame in 2010.
"Real Steel" also stars Evangeline Lilly, Anthony Mackie, Kevin Durand, Hope Davis and James Rebhorn.
The Premise
Imagine a time in the near future (2020) when boxing fans have become bored with watching human beings pummel each other. It's a time when the public's thirst for violence and carnage is greater than what mere mortal athletes can give--or take. It's a world in which boxing has evolved to the point where men no longer compete against each other--robots have replaced pugilists. The skill and grace of talented pros is a thing of the past. Instead, fans want full on, mega force, deathly poundings and the complete destruction of opponents.
The idea of boxing robots was a provocative one for noted Director Shawn Levy, who is widely regarded for his box-office hit comedies, the "Night at the Museum" franchise and "Date Night." When DreamWorks first presented him with the idea for "Real Steel," he says he was attracted to the project because of the pitch from Steven Spielberg and Stacey Snider. "They called me up and talked about what at first sounded like a crazy idea for a movie," Shawn Levy recalls of his initial response to the story. "Of course I was super-flattered, but I was on the fence about the premise. Then I read the script. What I found was an opportunity to make an exciting father/son/sports movie with heart. That was galvanising for me."
"We were thrilled to get to work with Shawn Levy," comments Stacey Snider, Principal Partner/Co-Chairman/CEO, DreamWorks Studios. "And we believe that with this movie, he's even surpassed the great work with which he's previously been associated. 'Real Steel' is a real game changer."
Executive Producer Steven Spielberg agrees and offers this additional insight: "Shawn Levy created a reality. This movie is probably the most realistic movie Shawn Levy has ever made and I think Shawn Levy reinvented himself as a filmmaker. I looked at the picture; it looks gorgeous, the shots are both subtle and imaginative. When it was over, I said to Shawn Levy 'You know, you've made a lot of really great movies, but this is your first film.'"
Shawn Levy grew up not only as a fan of boxing but also as an ardent admirer of boxing movies such as "Raging Bull" and the "Rocky" series of films. "Even the not-so-great ones are awesome because there's usually an underdog hero and you want him to have a comeback and to give his all and ultimately triumph," the Director says. "'Real Steel' is absolutely homage to those boxing movies that I watched with my brothers fifty times."
As Shawn Levy further explains, "I think that people respond to the clear-cut winner/loser aspect of boxing competition. It's very simple, and I think interest in the sport is enhanced by that simplicity. When we get brilliant fighters like Ali or Sugar Ray Leonard, there's something electric that happens and I think it's unparalleled in any other sport."
Regarding the scope of "Real Steel," Shawn Levy points out that the film is "definitely not a little chamber piece" but instead a film with cinematic scale that exceeds anything he has previously done. "Robot boxing is a big sport with huge spectacle," he says, "but beyond that, the movie itself is extremely cinematic with big, wide-open vistas and locations. It's a road-trip through the American landscape."
But Director Shawn Levy did not want to rely simply on either the wide-open vistas or fantastic robot machinery in order to explore the relationships in the story. "For me, this movie couldn't be just big and loud and cool," says Shawn Levy. "That would have been unoriginal. The screenplay had a unique human heart at its core, so the movie had to be an interesting hybrid of bad-ass action and scale, with a really sincere and warm-hearted story that is ultimately about salvation."
Perhaps Steven Spielberg describes the emotional core of the story best when he calls it "a heartfelt story of two comeback kids; one over forty, one under twelve and even another comeback kid named Atom, who is really the secret sauce of 'Real Steel.'"
Hugh Jackman's character, Charlie Kenton, was a heavyweight boxer in his youth, but he's become a relic in his own time. Director Shawn Levy explains, "What's worse is that Charlie now has to make his living off of the machines that put him out of a job. He has a combination of need and resentment towards the very robots that he's plying and promoting in fights."
When Charlie is begrudgingly reunited with his long-abandoned son Max, it is clear that the only thing they have in common is a mutual resentment. But they do share one interest- robot boxing-and step by hard-fought step they begin to connect. It's not a very deep connection at first, but when they discover an old robot in a junkyard, their journey toward mutual rediscovery begins.
Producer Don Murphy elaborates, "When we first meet Charlie, he's at his lowest; he's doing robot fighting on the county fair circuit. But throughout the course of the movie we follow him on a roller-coaster ride toward his ultimate goal of competing and winning in the WRB [World Robot Boxing League+."
But with the unlikely combination of an underdog, scrap-heap bot and a tough kid who knows every stat of the WRB by heart, Charlie has a chance at more than just winning-he's got a chance at redemption.
Coming from the world of comedy films, Shawn Levy says that although he thought that comedy sets are light and fun, he also thought that a drama set had to be more intense and serious. He was happily proved wrong. "I found that the bottom line is whatever kind of movie I'm directing, I love the job, I love being there every day, and that vibe spreads. I always want my sets to be a place where people know they're going to bring their best work and will be treated with respect. Part of that is me giving the team the game plan for the day but always leaving room for discovery and improvisation. There is a lot in this movie that was not scripted. I find that by keeping a set loose you give room for great creative surprises."
Because he is so admired for his creativity and amiability, Shawn Levy easily attracts some of the most talented behind-the-scenes artists in the business. As he says, "I'm really lucky. I make a movie every year or so and I couldn't keep up the pace without having a team of people who are at the top of their game--from Mauro Fiore [cinematographer] to Tom Meyer [production designer] to Marlene Stewart [costume designer] to Josh McLaglen and Mary McLaglen [brother and sister executive producers] and, of course, my editor Dean Zimmerman, who is like a magician. The same thing is true of my post team. We're on our fifth movie together."
Producer Susan Montford sums up the filmmakers' feelings about having Shawn Levy onboard to direct "Real Steel": "We are just amazed by Shawn Levy because he's such a great leader. He's very inspiring and he seems able to inspire his crew and actors to do their absolute best. Everyone coming to the set, wanting it to be a great movie, and loving what they're doing is quite an accomplishment for a Director to pull off."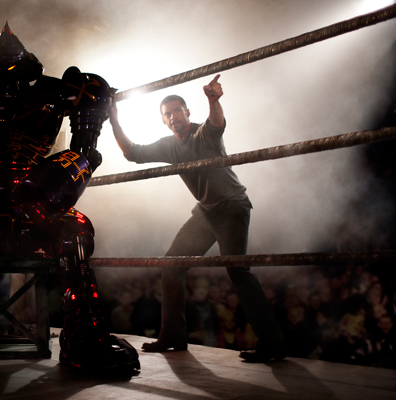 The Cast
Director Shawn Levy and his producing team spent a great deal of time finding the perfect actor for each of the roles in "Real Steel" and are thrilled that all brought more than expected to their characters. First on Shawn Levy's list was Hugh Jackman to play Charlie Kenton. Executive Producer Steven Spielberg says of the choice, "I thought Shawn Levy's instincts were just spot on. Coming up with Hugh Jackman as Charlie. I thought it was a brilliant idea. That really just became the power play that really got this movie rolling."
The value of the project that instantly drew Hugh Jackman ("X-Men Origins: Wolverine," "The Prestige") to the role of Charlie is one of the same things that made the director and DreamWorks eager to be part of this unique story. Hugh Jackman says, "What I loved first and foremost about the script is the father/son relationship and the idea that people who have made mistakes, who have regrets, can get a second chance, and they can become better people."
Hugh Jackman was also intrigued by the world in which the story is set. "I loved the idea of the time period being not too far in the future. It's a future that is seemingly accessible to us," the award-winning actor says. "Also, I'm a big sports fan, so the robot boxing idea fascinated me. And of course it's a real underdog story, with the person who has the most heart fighting to win in the end. It's definitely a feel-good movie. And for me it was something different from what I've done before. Also, working with Shawn Levy was a no- brainer. Shawn Levy is just about the most positive, energetic and fun person to be around. The shoot was one of the most challenging and enjoyable I've ever had."
Ramping up the mutual admiration society a notch, Director Shawn Levy raves, "Hugh Jackman is known as the nicest guy in show biz. I can confirm that rumor," he says with sincerity. "It's insane, but it's like no one's ever told him he's ridiculously good looking and a massive movie star. I'm hoping we can keep that secret because he is way too nice for someone who is all those things. He's the greatest and he brings an underlying kind of sympathetic, lovable trait to Charlie, who can be a really hard, tough guy."
For the role of Max, the son who was abandoned early in his life by Hugh Jackman's character, the filmmakers auditioned hundreds of boys and found many exceptional young actors. "We always had the feeling that there would be a kid out there who would be talented and who would have the right look, but would have that little something extra, something that you can't quite put your finger on but is magic up on the screen," says Shawn Levy.
The filmmakers put out an APB casting search and as Hugh Jackman relates, "When Dakota Goyo came in, Shawn Levy and I were really taken aback. There's something very soulful about him. The camera just sees right into his soul. He allows the camera inside, which for a young man of his age is very rare. He's got an angelic quality about his face. He's naturally very outgoing and a naturally happy kid. And he's very respectful and sweet. On the screen and off-screen, he's a really special person."
Steven Spielberg also saw a quality in Dakota Goyo that he looks for when casting actors for his films. He explains, "When I saw Dakota Goyo's test, I just saw a real kid. I didn't see an actor. You know you can just tell when somebody's real and that's what I look for when I cast adults or kids."
Dakota Goyo auditioned four times for the role of Max: twice on tape and twice in person in Los Angeles. In L.A., he had the opportunity to work with Hugh Jackman and says of the experience, "I wasn't nervous around Hugh Jackman because he is a great, awesome guy. He's so polite and he's always prepared to do his work. I'm really excited when I work with him because he's just really extraordinary."
For the role of Bailey, which went to popular television star Evangeline Lilly ("Lost"), Director Shawn Levy admits that he was already a big fan of the actress and was thrilled that she accepted the role. "I marvel at Evangeline Lilly," Shawn Levy enthuses. "I was crazy for her on 'Lost.' I was a big fan of that series. In 'Real Steel,' not only does she deliver in the big dramatic scenes between her and Dakota Goyo and her and Hugh Jackman, but also even when she was in a crowd of thousands of people reacting to the fights. In those tiny, short cutaways within the fight scenes she brings so much visceral, rousing energy. She was kind of an audience surrogate for us. She is so into it and so vested in what happens."
Evangeline Lilly was drawn to the role of Bailey after reading the script for "Real Steel," which her agent had sent her. Evangeline Lilly recalls, "I was so moved and so touched and it was so heartfelt and well written, I wanted the role."
Aside from the great script, there was another factor that attracted Evangline Lilly to the project and that was the opportunity to work with Hugh Jackman. "A while ago, after seeing a movie called 'The Fountain' by Darren Aronofsky, in which Hugh Jackman stars, I told myself that if I ever had the chance to work with Hugh Jackman I would take it. He is so breathtakingly impressive in that film. So I decided, by virtue of the fact that he was attached, I had to do it. The bonuses were that the script was so darn good and Shawn Levy was directing."
Evagneline Lilly met with Director Shawn Levy to audition for the part and as soon as they were introduced the actress says she knew it was right for her to do the film. "Shawn Levy is such a nice guy," the actress says. "I always say he's so 'sparkly.' He's a man who's happy and energetic and he has a really positive energy. I think in this industry it's easy to fall into the trap of taking yourself too seriously and becoming very heavy-handed about the work that you do. Shawn Levy couldn't be lighter or more playful. He couldn't be more collaborative, too, and so much fun."
In the movie, Evagneline Lilly's character Bailey is the daughter of Charlie's former trainer from back when he was a young fighter. The two characters have known each other their whole lives. They may have had a crush on each other when they were younger, but the attraction isn't just physical; it's based on the fact that they know each other inside and out. They know what makes the other tick. Bailey knows Charlie better than anyone else and yet there's a gravitational pull between them that is very much a subtext in the story.
After watching "Hurt Locker," Shawn Levy knew he wanted Anthony Mackie to read the "Real Steel" script for the part of Finn, the host of The Crash Palace. As Anthony Mackie recalls, "I was blown away by it. I had never read anything like it. The character Finn is so charismatic. I talked to Shawn Levy and told him that Finn would be really exciting for me to play."
Rounding out the cast, the filmmakers hired Tony® Award nominee Hope Davis ("God of Carnage") for the role of Deborah, Max's aunt who has her heart set on obtaining custody of her orphaned nephew, and James Rebhorn ("White Collar," "30 Rock") as Marvin Barnes, her wealthy older husband, who can support young Max if the court decides to let them adopt him.
Kevin Durand, who had previously worked with Hugh Jackman in "X-Men Origins: Wolverine" and with Evangeline Lilly on "Lost," was cast as Ricky, the robot fight promoter who, despite a long-standing friendship, isn't shy about fighting Charlie to collect on a debt.
Russian actress Olga Fonda, with little previous film work, was cast as the Russian robot owner, while Karl Yune ("Memoirs of a Geisha," "Speed Racer") portrays Tak Mashido, the world's premier robot designer and the pioneering legend behind the sport of robot boxing.
"Hope Davis, Kevin Durand, James Rebhorn, Karl Yune, Olga Fonda and Anthony Mackie. They are all amazing actors," Director Shawn Levy states.
"Their roles may be considered supporting but each of these wonderful people brought so much life and so much texture and dimension to what could have been ordinary characters. Every time they're on screen they bring something unexpected and the movie is so much better for them being in it," he concludes.
The Bots
Executive Producer Steven Spielberg was active in the design of the robots and told Director Shawn Levy early on that he should not make everything digitally, although the technology exists to do so. Steven Spielberg says, "In the digital world, the actors are reacting to practically nothing. When it's actually a physical representation of the main attraction, the main event -and the actor can actually interact with it and touch it and look it in the eye-the performance blossoms. It's good for the actors to have something real, something tangible in the space to act with. That was the only advice I gave Shawn Levy -every chance you get, build these robots full size."
Shawn Levy elaborates on the discussion: "Steven Spielberg said he made 'Jurassic Park' a long time ago, but because they built some real dinosaurs and animatronics, there's a reality to the acting that you don't get if it's just fake. And so it was at that very first meeting where Steven Spielberg said to build some of the robots. So we built four to scale. And that was huge advice because that's why the performances feel so real and emotional. The actors were interacting with a real robot."
The filmmakers turned to a talented team of incredible craftsmen at Legacy Effects to design the robots. The designers created a wide range of fascinating boxers for "Real Steel"-all with distinct looks and abilities.
In the film the robots are operated by human handlers, with high-tech remote controls and control panels, but they are all very unique characters. As producer Susan Montford says, "You could easily make a film about each robot because they are almost like fully developed personalities." Adds Producer Don Murphy, "The key is to create characters. They have to be fully formed. Though clearly not living beings, they need to be the next best thing so the audience can feel for them. These are characters that are recognisable and identifiable."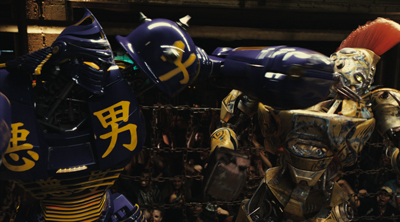 Boxer Bots
ATOM: Atom may not be the biggest or flashiest "bot" in the ring, but he is the most extraordinary. He is the "hero" robot.
ZEUS: He is the champ of the WRB. He is enormous. He is described as "The Death Star." Zeus is painted reflective black. He has piston-programmed punch mechanisms in his arms. Not only has he never been beaten, but also no other robot has even survived beyond the first round with him.
MIDAS: Colored in gold and red, he sports a Mohawk. He's a brawler. He follows no rules. He'll use whatever means necessary to win a fight.
NOISY BOY: This robot is a former league bot. When he started losing fights he was exiled to doing boxing exhibitions in South America and Asia. He's now back but he's no longer league caliber so he's fighting in underworld venues.
AMBUSH: Ambush is a low-rent circuit bot. The best fight that Charlie can arrange for Ambush is literally against a piece of livestock.
TWIN CITIES: With a block-shaped upper body, Twin Cities is a vicious two-headed robot.
METRO: With one green arm and one blue arm, both of which are different shapes and sizes, Metro looks like a beat-up Frankenstein. With this in mind, the filmmakers wanted each of the hard-hitting robots to have specific personas and aesthetics, as well as different color palettes. The robots range in size from 7' 6" to 8' 5", and are anthropomorphic in that they have two arms, two legs, a torso and a head (or in the case of robot Twin Cities, two heads). But they are able to do things that human beings can't. It was a challenging but ultimately fulfilling, creative process between the robot designers and the filmmakers to come up with the perfect cast of robotic personalities.
Director Shawn Levy says, "I want the audience to be conscious of the fact that although the film has a science-fiction premise, these are not science-fiction robots. These robots are fighting machines that we'd like to believe humans could create and build in the near future. Apart from the scale of them--they're not 'Transformers' scale and they're not indestructible--we've given them some frailty and humanity in a way that reminds us of such antecedents as Iron Giant or Wall-E."
Just as Shawn Levy wanted the individual robots to look different and feel original, he also wanted every robot to have a specific sound personality. That meant two things. One, when a robot lands a punch, there's a sound specific to his skeletal material, his mechanisms, his bulk and his mass. There's also an aura sound, so that just merely by being turned on every robot has a whir or a whoosh or an engine hum or the sound of a computer.
Sound designer Craig Henighan enjoyed creating sounds that don't already exist in sound libraries. He went out and recorded his own material, such as the sounds in a junkyard, car crash sounds, metal smashing against metal, etc. With a variety of sound influences, he played some of them backwards, or tweaked the pitch of some.
As Director Shawn Levy points out, "Every robot sound was custom made individually, and that's the kind of thing maybe nine out of ten audience members won't know or care about, but I believe that it creates a variety within the movie that's original."
While the other robot boxers are super-flashy and distinctive, Atom, the hero bot, is rescued from a scrap heap and definitely shows his wear and tear-dents, scratches and all. But his blue LED "eyes" shine brightly, giving him a presence that can't be denied.
Atom has an unusual "shadow mode" function that mirrors every move he sees, so when Charlie shadowboxes with him, Atom takes on Charlie's old-school moves and brings a level of humanity to boxing with a grace and finesse long forgotten in the ring.
What makes Atom "special" is a question that the writer and filmmakers spent a lot of time discussing. Is Atom just programming and metal or does he have something resembling consciousness?
Levy adds that early on during production, Executive Producer Robert Zemeckis suggested that the line between saying that Atom has feelings or not was the hardest line to walk. "But if you get that right, that's where the movie can have its poetry," Shawn Levy says. "That's where the movie can give audiences goose bumps."
For some of the cast, the appearance of life-size robots on set was a complete surprise. Anthony Mackie recalls, "It was my first day on set and I was talking to Shawn Levy and out of the corner of my eye I see this huge, imposing robot. I did not expect to see that…it was amazing. Then the robot starts looking around and I'm just waiting for it to just click and start beating me up! I realised then that the type of movie we were making was very different than what I had imagined. It was a great experience."
The Boxing
Contemplating the choreography of the fights, Shawn Levy knew that he wanted every fight to be different and wanted to take advantage of the fact that robots aren't humans. "They don't get tired. They don't slow down," Shawn Levy says. "And so the possibilities for choreography were wide open. As a result of Garrett Warren, who choreographed our fights, every fight is distinct."
"A league fight abides by conventional boxing rules, whereas an underworld fight is much more like MMA (mixed martial arts)," explains Shawn Levy. "Choke holds, knees, elbows, anything is allowed. And so there's a variety to the choreography that's really fun. There's also a narrative structure to every fight. Someone's in the lead, the momentum shifts, there's kind of an arc to it that makes every fight a story within the choreography."
The production hired Sugar Ray Leonard-widely considered to be one of the all-time greatest boxers, winning titles in five different weight divisions-to serve as the film's boxing consultant and to train Hugh Jackman for his appearance in the ring. As Producer Don Murphy explains, "One of the first things we did in order to make robot boxing not only realistic but relatable was hire Sugar Ray Leonard to come in and do the fight choreography, not only to show the actors in motion capture suits how to do it, but also the director and the stunt guys just how blows should be landed. He's really provided a similitude to the matches-they don't just look like robots clunking each other."
Sugar Ray
A native of Palmer Park, Maryland, Sugar Ray Leonard began boxing in 1969 when he was 14 years old.
An introverted child, he says that one reason he got into boxing was to protect himself from his brothers. "They used to beat me up for no reason," Sugar Ray Leonard recalls.
"No one believed I'd be a boxer because I was such a quiet and shy kid. But none of the other sports appealed to me. Football was too dangerous. Basketball I couldn't play. Baseball didn't work out because I was afraid of the ball. But boxing was a sport that I could control."
Hugh Jackman was pumped when Sugar Ray Leonard was brought on board, especially since Hugh Jackman's father had been a boxer and an army champion, fighting until he was in his early 20s.
Hugh Jackman says, "When I told my dad I was doing this film and was working with Sugar Ray Leonard, I don't think I've ever seen him more amped or more jazzed in my life. He's an Englishman, so he's quite reserved. He told me that of all the people who have boxed, Sugar Ray Leonard is a true champion. There have been other champions, but there's probably no one more respected than Sugar Ray Leonard. And when you meet him, you see that. He's so generous and giving. He's got a great, positive, effervescent way about him. He's very respectful to people.
"It seems almost impossible to believe this guy was in the maelstrom of a boxing match, in some of the most vicious and tough situations anyone can imagine, because he's just so congenial and nice. I mean just to meet him was cool, but to actually be taught by him was great. He invented punches that no one had ever done before. To have Sugar Ray teaching me, that's about as good as it gets," Hugh Jackman concludes.
Curiously, despite the often-vicious nature of the sport, experts agree that boxing is equal parts mental and physical fitness. Sugar Ray Leonard concurs. "If you're able to get into your opponent's head, you're up a round or two," he says. "It's the mental stability that for the most part sends you to the championship. I look at the sport as an art form. Before any fight I would choreograph a scenario in my head and nine times out of ten the fight turned out the way I imagined it."
Sugar Ray Leonard adds that he believes boxers are born, not made. However, he was able to teach Hugh Jackman to look completely convincing as a boxer. "I've watched Hugh Jackman for many years, and he has the right intensity and the right body to be a boxer. He was a great student. He listened well, took in what I said, digested it, and then brought it to life."
Although Hugh Jackman has boxed in real-life, he was interested to learn the subtleties of boxing from one of the all-time greats. From Sugar Ray Leonard he learned the proper way to protect himself, how to throw a hook with the right hand, and that when he throws a punch to an opponent's body, his free hand has to be up for protection. "There were just little adjustments here and there for Hugh Jackman," Sugar Ray Leonard says. "He is, after all, an athlete and in incredible shape. He caught on so quickly."
Perhaps the most important element that Sugar Ray Leonard brought to the film is authenticity. In the film Hugh Jackman becomes the corner man to the underdog robot-boxer Atom, so Sugar Ray Leonard talked to Hugh Jackman extensively about the connection between the corner man and his fighter and the intensity of what it means to be the ringside corner man.
"My character in the film is the corner man," Hugh Jackman explains. "He's not the boxer. I own and control these robots and promote them, so I'm the guy in the corner. Sugar Ray Leonard really got very intense with me. He said that he didn't think I realised how important the corner man is in boxing.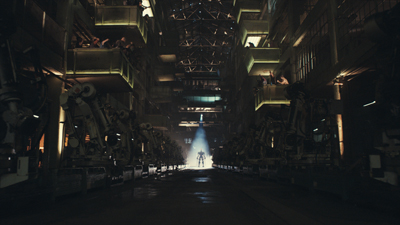 "And, even though there are robots in there, what you need to convey is that you're the rock; you're the strength. Sugar Ray Leonard said he used to hire Angelo Dundee for the last two or three weeks leading up to a fight, precisely because Angelo knew exactly how to talk to him during a fight. He said that if you get a corner man who doesn't know how to talk to you, there's nothing worse. I need to know when to pick my fighter up, when to shut up, when to say the right thing. The connection between the fighter and that corner man cannot be broken at any point. That was something I hadn't really focused on, so it was terrific."
Director Shawn Levy adds, "It may sound a little weird talking about how Hugh Jackman relates to the robot, but Sugar Ray Leonard really influenced the way Hugh played the scenes in the corner. The ways that Leonard contributed to the film are both overt and subtle and really valuable."
The World of Robot Boxing
In "Real Steel," there is a very clear delineation between two worlds of robot boxing. There are two levels to the sport. There is the league, the WRB (World Robot Boxing), which is equivalent to NASCAR or NBA. It's corporate sponsored, with big money, sanctioned venues and strict rules.
Welcome to the WRB League, the highest echelon of robot boxing. Home to the greatest robot fighters of all time, our roster of mechanical magnificence is the driving force behind the most powerful sport in the world. Two robotic warriors enter the ring, programmed for destruction. Only one will leave. - from the WRB datasite
At the polar opposite is the gritty underworld, which has unsanctioned venues, with no rules, no restrictions- the robots fight to the death. It's down. It's dirty. It's no holds barred.
The WRB is driven by huge budgets, delivering stadium-filling spectacle that culminates in the Real Steel Championship. The league features the most advanced robots in the world on its roster, all custom-built with state-of-the-art technology, exclusively for the global stage.
In "Real Steel," Charlie Kenton pounds his way through the dangerous underworld venues with his robot boxers, driving hard to have one of his bots make it to a WRB league venue, where big money prizes and fame await.
The flashy, hard-hitting, mega-bucks, league-sanctioned robot boxers have pedigrees that extend from the robotic engineers who designed them to their owners and handlers. Each robot is distinct and unique, with its own personality, color palette, graphics, fighting style and traits. An entire league was envisioned for the film, complete with statistics on each boxer.
When the movie opens, we are in the near future-2020 to be exact-and the WRB has been in existence for 7 years, having had its auspicious start in 2013 with the first televised robot vs. robot fight. The match was a runaway hit and shortly thereafter the WRB was formed. By 2014, underworld robot boxing was well underway.
By 2016 the "super bots" were ruling the WRB and robot boxing had become a global sport. In 2018 a new breed of robot boxer hit the scene-Zeus, who is larger and more powerful than any other robot ever built. He was built for domination and intimidation. His only goal is to dismantle and annihilate his opponents. Zeus is the reigning world champion.
The WRB is a world of global televised events, trading cards, sponsorships, big money, prestige, media hype and excitement. It is exactly the world that small-time boxing promoter Charlie Kenton wants to be a part of-and he'll do whatever it takes to get him there.
The Technology
Director Shawn Levy gives credit where credit is due and says that for the amazing technology used in "Real Steel," he and the special effects teams "borrowed many pages from the technology that James Cameron developed for 'Avatar.'"
Shawn Levy further explains, "This is a next generation approach to visual effects. Simply put, instead of the traditional way, where we shoot an empty frame and then computer animators draw in a robot later, we did motion capture, where we had real boxers choreographed by Garrett Warren and Sugar Ray Leonard actually boxing each other. We took the data of their body movements. Digitised it. Stored it. Then, months later, we came to a real set and lined up a shot. I could then take that programmed motion-capture data and use what's called Simul-Cam B to feed that stored data into a real-world place.
"It's taking the technology that was literally invented on 'Avatar' but doing something a little different with it. 'Avatar' took motion-captured performances and put them in a virtual world. We're taking motion-captured performances and plugging them back into the real world."
Shawn Levy admits that the process sounds complicated and does us a favor by putting it in even simpler terms. "Here's what it all really means," he says. "We put fighters in the ring wearing data-capturing jumpsuits. They do the fight. Their moving data--the data that is their motion--is converted into a robot avatar on the screen simultaneously. Then we're able to go to our live fight venue, line up a camera on an empty ring, and the technology allows you to take the robot fighting that you did six months earlier and put it in that ring in real time as you're watching it. And that's Simul-Cam B."
To further illustrate the technology, Shawn Levy recalls his work on some of his previous films. "What's cool is that when I made the 'Night at the Museum' movies, or even the way that Hugh made 'Wolverine' and 'X-Men,' the actors had to do their scenes opposite nothing. You had to just hope that it turned out all right. Whereas now we can line up a shot with Hugh Jackman in the frame and I can see the robots already there. And Hugh Jackman can look at what he is reacting to. So frankly, it takes all of the finger-crossing guesswork out of the equation."
With robotic motion instead of human motion being key, the pure motion capture had to be adjusted. Shawn Levy explains: "We couldn't use the pure motion capture. If we did, the robots would have moved too humanly. So we slowed them down to 89 percent speed. That was a big thing. Real human speed doesn't work in robotic form. Just taking the edge off the velocity by a few percentage points gave the robots mass. Also, because sometimes Atom was too good, we had to add stiffness in his joints to give him weight and girth."
More on Real Steel -
www.femail.com.au/real-steel.htm