The Fairies - Live On Stage!!!
For the first time,
The Fairies
will appear live on stage in Queensland and Canberra, and returning to Sydneys North Shore this April. Tickets are now on sale!
So dont miss out as The Fairies sprinkle their magic in Canberra and Sydney, then spread their wings and fairy dust to Queensland during the April school holidays.
Have you ever searched in your garden for a fairy?

Did you once truly believe that fairies were real?

Well, they are!
Come join the magic with 'The Fairies' Live on Stage
Adapted from the popular childrens television series, 'The Fairies', now comes the enchanting and magical stage production. Full of sparkle and laughter with lots of sing-along songs and audience participation, The Fairies and all their friends in Fairyland will enchant audiences of all ages.
Join Harmony and Rhapsody, along with the energetic, all-dancing Elf the Fairy Cake Maker, Barnaby the Bizzy Buzzy Bee and the flighty, flamboyant Wizzy the Wizard, who drops in for some hilarious wizardly magic... which as usual doesnt quite go to plan !
So dust off your wings, wave your wand and sprinkle magic fairy dust everywhere, as we get set for a spectacular, magical adventure - live on stage with 'The Fairies'.
This show is currently not on tour
---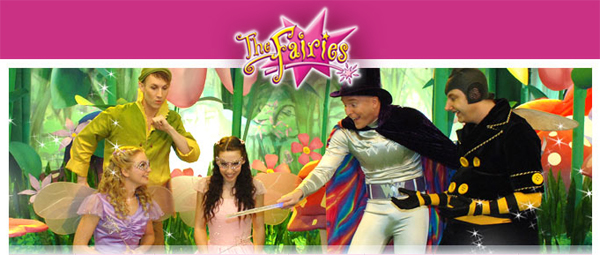 MEET THE FAIRIES
Harmony
Harmony is the purple fairy, and purple is her favourite colour.
The more practical fairy, Harmony often has to calm down her excitable best friend, Rhapsody. She is pretty, clever and very considerate of others, and has a very wise and a logical approach to solving the daily challenges in a fairys life. Harmony is the "ideas fairy".
Harmony loves order in her life and Fairyland. A clean space is important to her, but she knows you can make jobs more fun if you sing while you work plus it will brighten your day.
Rhapsody
Rhapsody is the pink fairy, and pink is her favourite colour.
As her name suggests, Rhapsody is an expression of ecstatic and excitable enthusiasm! Her bubbly personality is expressed constantly via her always smiling, cheeky face.
Best friend of Harmony, Rhapsody is very giggly and bouncy and easily excitable. She is very impulsive, often rushing in before she thinks.
Rhapsody is not a "home-body" like Harmony - although she realises cleaning has to be done, its certainly not her favourite thing to do - not when she could be flying, dancing, singing and so much more...
Wizzy the Wizard
Wizzy the Wizard is from a planet called Wizzle Gazzelles and his introduction to Fairyland was through Elf the Fairy Cake Maker, whom he met at a spell school.
Wizzy is an extremely flamboyant character who always provides great comic relief whenever he is in Fairyland. Whenever Wizzy arrives by magic, he arrives somewhere strange (and very funny!). On top of the mushroom, in a patch of flowers, hanging upside down from the swing.
Wizzy believes in his heart he is a very good spell maker and magician, however unfortunately his spells usually take a few hilarious tries before they deliver! He will often produce something a bit strange and cause his audience to giggle and laugh. Wizzy, although generally mystified at the spells not working, always takes his friends laughter in good humour and is capable of laughing at himself.
Elf the Fairy Cake Maker
Elf The Fairy Cake Maker is a young adult cake-making elf, quite slight of build, with pointy elf ears, renowned across all of Fairyland and beyond for his exceptional recipes and culinary talents. Elf lives close to The Fairies and his flower pot kitchen is in the midst of Fairyland. He cooks up a storm whenever there is a celebration and Tricky Treats are his speciality.
He is an energetic, positive, happy character who makes the most of every situation, looking on the bright side of life and is never without a smile.
Elf is constantly bounding into fairyland displaying his agile and acrobatic form, often breaking into fabulous cartwheels, handstands, back flips or a tap dance routine. Elfs performance has pronounced hand movements and is cheeky and energetic.
Barnaby the Bizzy Buzzy Bee
Barnaby The Bizzy Buzzy Bee is a slightly eccentric, quite frenetic, extremely lovable and huggable Bee, who makes honey for all his friends in Fairyland. Barnaby lives in a honeycomb, close to Fairyland.
Barnabys walk and dance is a bit frenetic - slightly eccentric and muddled. He often buzzes around like hes a bit confused -Well he is a bizzy buzzy bee after all!