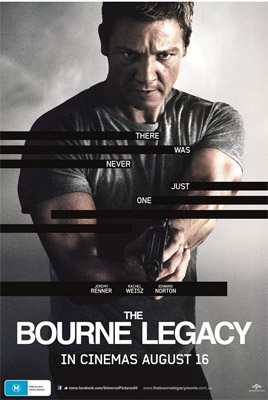 The Bourne Legacy Review
Cast
: Jeremy Renner, Rachel Weisz, Edward Norton, Albert Finney, Joan Allen, Scott Glenn, Stacy Keach, Oscar Isaac
Director
: Tony Gilroy
Genre
: Action, Thriller, Adventure
Rated
: M
Running Time
: 135 minutes
Synopsis
: The narrative architect behind the Bourne film series, Tony Gilroy, takes the helm in the next chapter of the hugely popular espionage franchise that has earned almost $1 billion at the global box office: The Bourne Legacy.
Verdict
: The Bourne Legacy follows tightly from The Bourne Ultimatum as Aaron Cross (Jeremy Renner) delivers an action-packed storyline set in gorgeous international locations with intense chase and fight scenes. The action is impressive, well edited and jam-packed throughout the exhilarating film.
Aaron Cross is a more emotional and passionate lead than Jason Bourne (Matt Damon) and skilfully creates a sense of sympathy with the audience.
Complicated, intense and thrilling The Bourne Legacy leaves the series wide openů
Rating
: ***
Brooke Hunter
Release Date
: August 16th, 2012
For more see
:
www.femail.com.au/jeremy-renner-bourne-legacy